The Coronavirus Business Continuity solution is now available to deploy with ArcGIS.
The first release of Coronavirus Business Continuity includes a collection of maps and apps turning ArcGIS into a system that helps businesses, utilities, and governments understand how the capacity of their workforce and operational status of their facilities are affected by the coronavirus disease 2019 (COVID-19) pandemic.  A clear understanding of workforce capacity and facility status enables organizations to adapt and ensure business continuity.
After deploying Coronavirus Business Continuity, organizations will get several ArcGIS applications.  You can choose to use the applications together as a comprehensive system or just use the apps that meet your current needs.
For government agencies, deploying Coronavirus Response along with Coronavirus Business Continuity provides a common system that helps you respond to the COVID-19 pandemic, provide authoritative information to your stakeholders, and understand workforce capacity and facility status.
To access additional COVID-19 resources or request GIS assistance from Esri visit the COVID-19 GIS Hub.
Understand COVID-19 Workforce Impacts
The rapid switch of office workers to home offices, frequently changing government regulations, and employee inability to report to work has made it difficult for organizations to understand the capacity of their workforce during the COVID-19 pandemic. Organizations need to know who is able to work and where employees are working from to make business continuity decisions. Having personnel perform a daily self check-in, or having supervisors check-in their teams, gives organizations clarity into workforce capacity.
The Coronavirus Business Continuity solution can be used to understand workforce capacity using two distinct methods – via individual check-ins or team check-ins.  Organizations have the flexibility to choose a method that best meets their needs.
The Individual Check-in Survey collects information (for example, work status, work location, and wellness information) directly from personnel in your organization.  The survey allows individuals to self-report on a daily-basis, or when their work conditions change throughout the day. Personnel information can be loaded into ArcGIS after deploying Coronavirus Business Continuity to streamline implementation.
Some organizations may find it more efficient to have managers, supervisors, or team leads report the status of their team members. Using the Team Check-in Survey, leads can report total counts for their team on a regular schedule.  This workflow is well suited for organizations that work in hierarchical structures or when personnel will not have access to devices required to submit the Individual Check-in.
Staff with appropriate permissions use the Personnel Status Dashboard to monitor results coming from the Individual Check-in Survey or the Team Check-in Survey.  The Personnel Status Dashboard  also shows historic trends.  Information in the dashboard helps organizations make informed decisions about whether business locations or teams lack the capacity to continue normal operations and take appropriate action.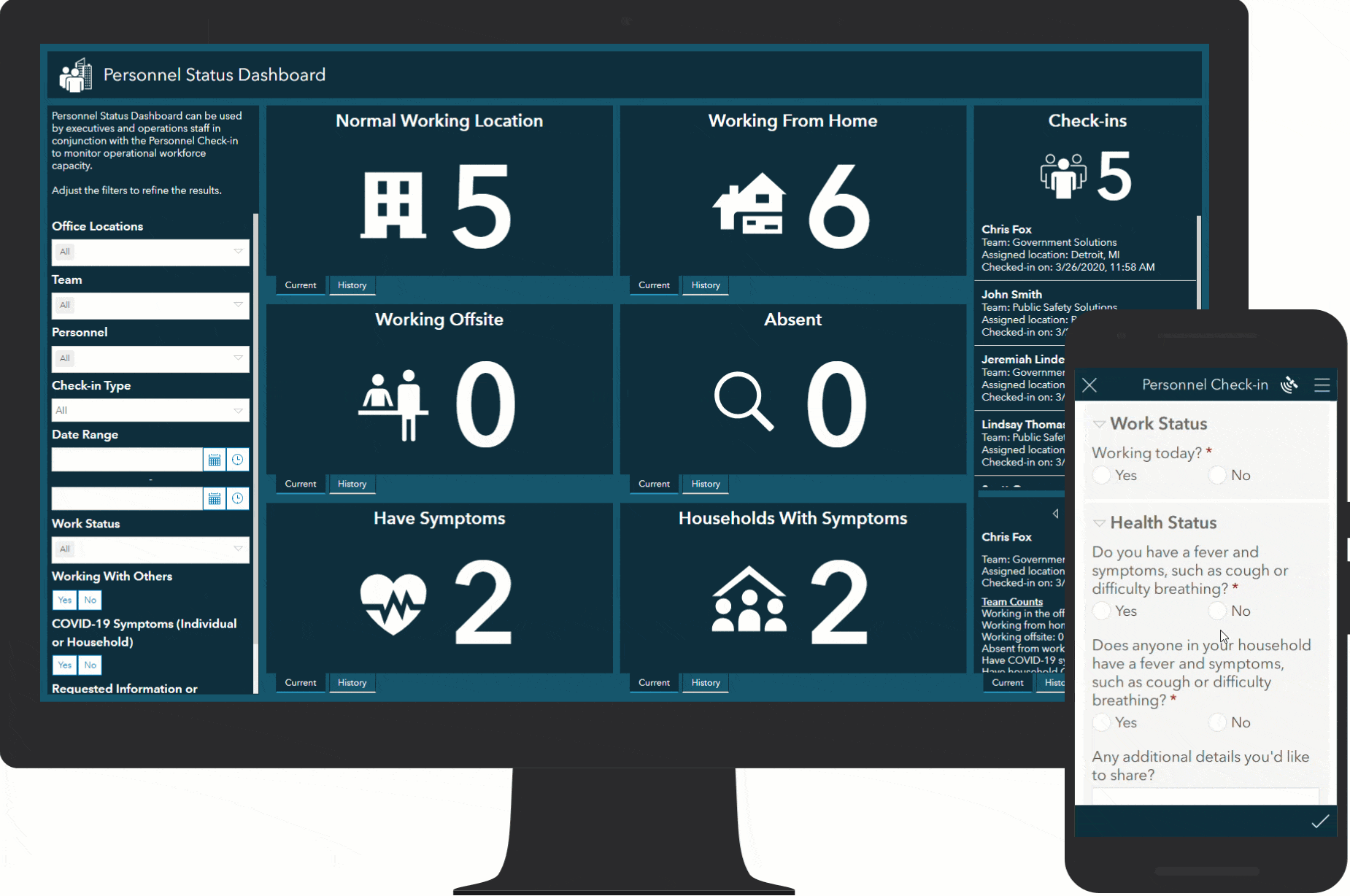 Organizations deploying the check-in surveys should review the preconfigured questions and adjust, as necessary, to remain in compliance with organizational policies and applicable laws. In addition, organizations need to ensure the survey and underlying layers are secured and only share the content with appropriate members of your organization.
Understand COVID-19 Facility Impacts
The COVID-19 pandemic is impacting facilities managed by many organizations through reduced staffing levels, changes to customer access,  government mandated closures, and other disruptions.  As the pandemic unfolds, organizations need a dynamic way to understand the status of their facilities and the ability to share facility information internally and externally as appropriate.
Coronavirus Business Continuity includes a Facility Status Report Reporter application for facility managers to look up the facilities they are responsible for and submit a Facility Status Report.  The Facility Status Report helps facility managers provide detailed information about the current status of each facility, including impacted operations, access restrictions, scheduled closures, and government restrictions. Facility information can be loaded into ArcGIS after deploying Coronavirus Business Continuity to streamline implementation.
Staff with appropriate permission can use the Facilities Status Dashboard to monitor facility status and react to COVID-19 pandemic impacts.  The information on the Facilities Status Dashboard can be filtered using variables such as location or date and can also show historic trends.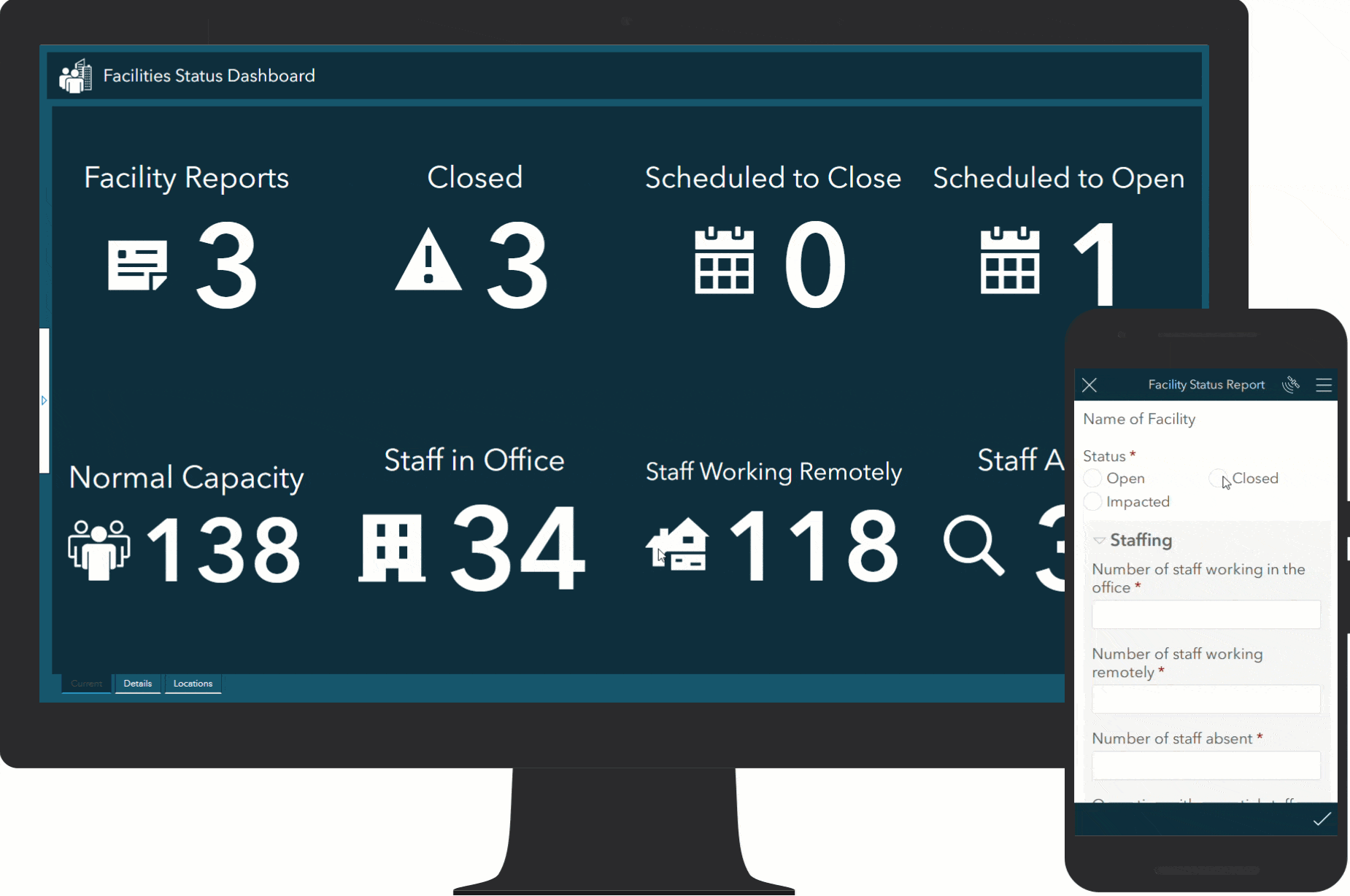 Share Facility Status with Stakeholders
The solution also includes a Status Map that can be embedded in your website and used to communicate disruptions to customers and stakeholders.  If you do not have a site currently, or wish to enhance an existing site with geographic context, you can use the Coronavirus Business Continuity Hub template.  This template quickly launches a destination for business continuity information and is available to all organizations using ArcGIS Online.
Additional Resources
Learn more about the Coronavirus Business Continuity Solution and how you can quickly deploy this solution for your organization on the ArcGIS Solution site.  For questions and feedback, chat with us on GeoNet or contact Esri Support Services.