The coronavirus (COVID-19) pandemic has hit BIPOC (Black, Indigenous, and People of Color) owned businesses especially hard. The U.S. Chamber of Commerce reports that "two in three (66%) [BIPOC owned] small businesses are concerned about having to permanently close their business." Following a surge of protests around racial injustice, for many there is a renewed focus on practices to promote racial and social equity. Many agencies have existing programs to enhance competition and participation of Women, Veteran, and BIPOC owned businesses in local economies. On the state and local level, these businesses are essential for providing jobs, and promoting economic growth.
The Business Inclusion solution delivers a set of capabilities that help you engage local woman, veteran and BIPOC owned businesses, learn how to support their retention and expansion, and promote their businesses and job opportunities so economic prosperity is available to all. The new solution includes a collection of maps and apps designed for local business owners, economic development staff, and the general public and can be deployed as a comprehensive business inclusion program.
Business Inclusion Destination
The Business Inclusion solution leverages ArcGIS Hub Premium and the Business Inclusion initiative to allow business owners to opt-in to a business inclusion program. The initiative includes a responsive, and accessible website to promote traditionally disadvantaged local businesses, as well as cultural, employment and business resources.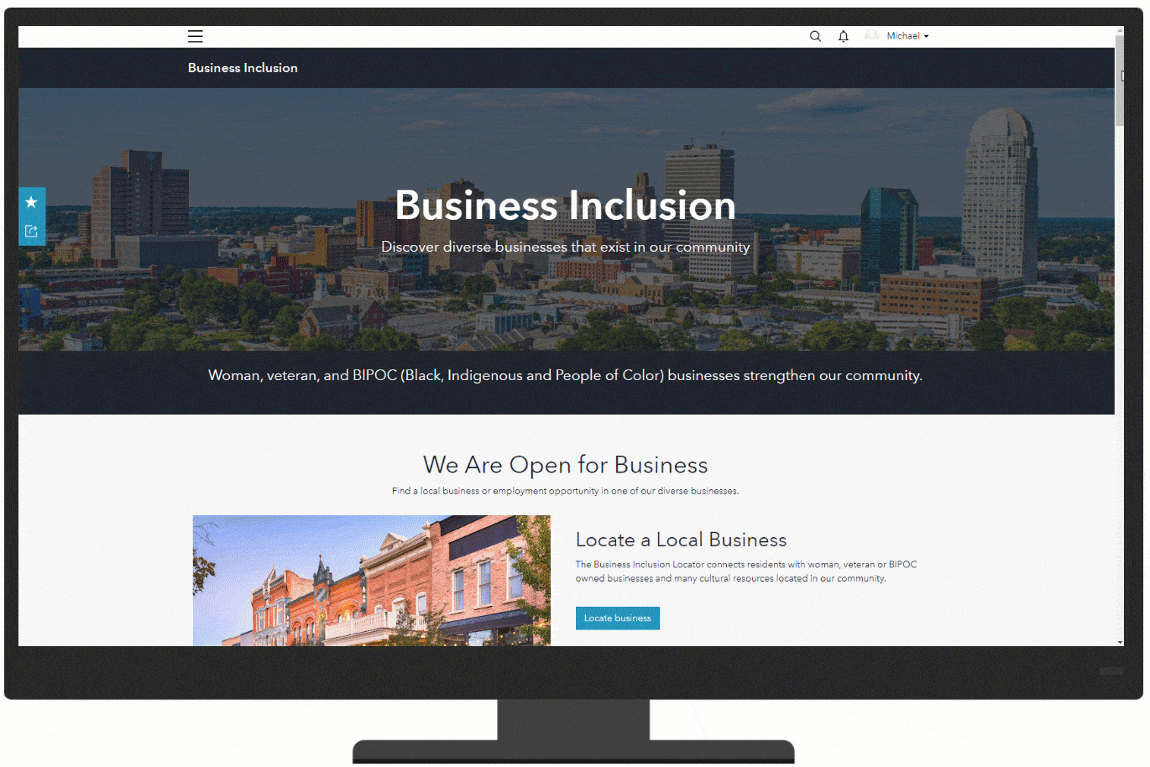 From this destination, economic development agencies can engage existing and prospective woman, veteran and BIPOC owned businesses. When a business joins the program, they create an ArcGIS Hub Community account and have access to a series of forms and applications to manage their business listing. They can also submit a business survey to help economic development staff understand their business structure and general information to help better support
Promote Local Businesses and Employment Opportunities
Using the Business Inclusion Locator and Employment Locator linked from the Business Inclusion website, the public can locate local businesses, and employment opportunities. The Business Inclusion Locator can be used to locate local businesses and cultural resources, including business details, hours of operations, and services provided.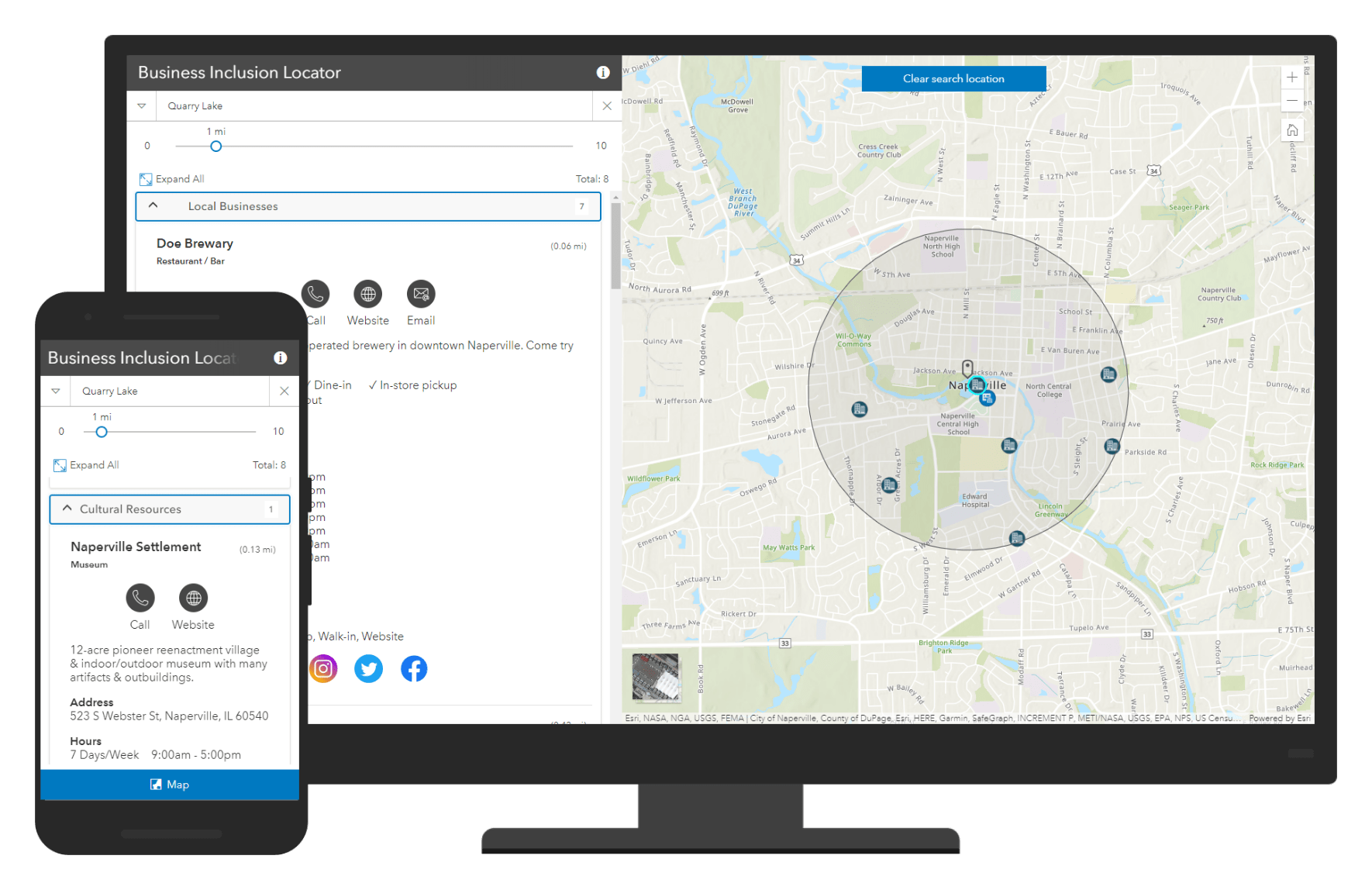 The Employment Locator advertises job opportunities submitted by business owners through the Business Listing form, as well as employment resources.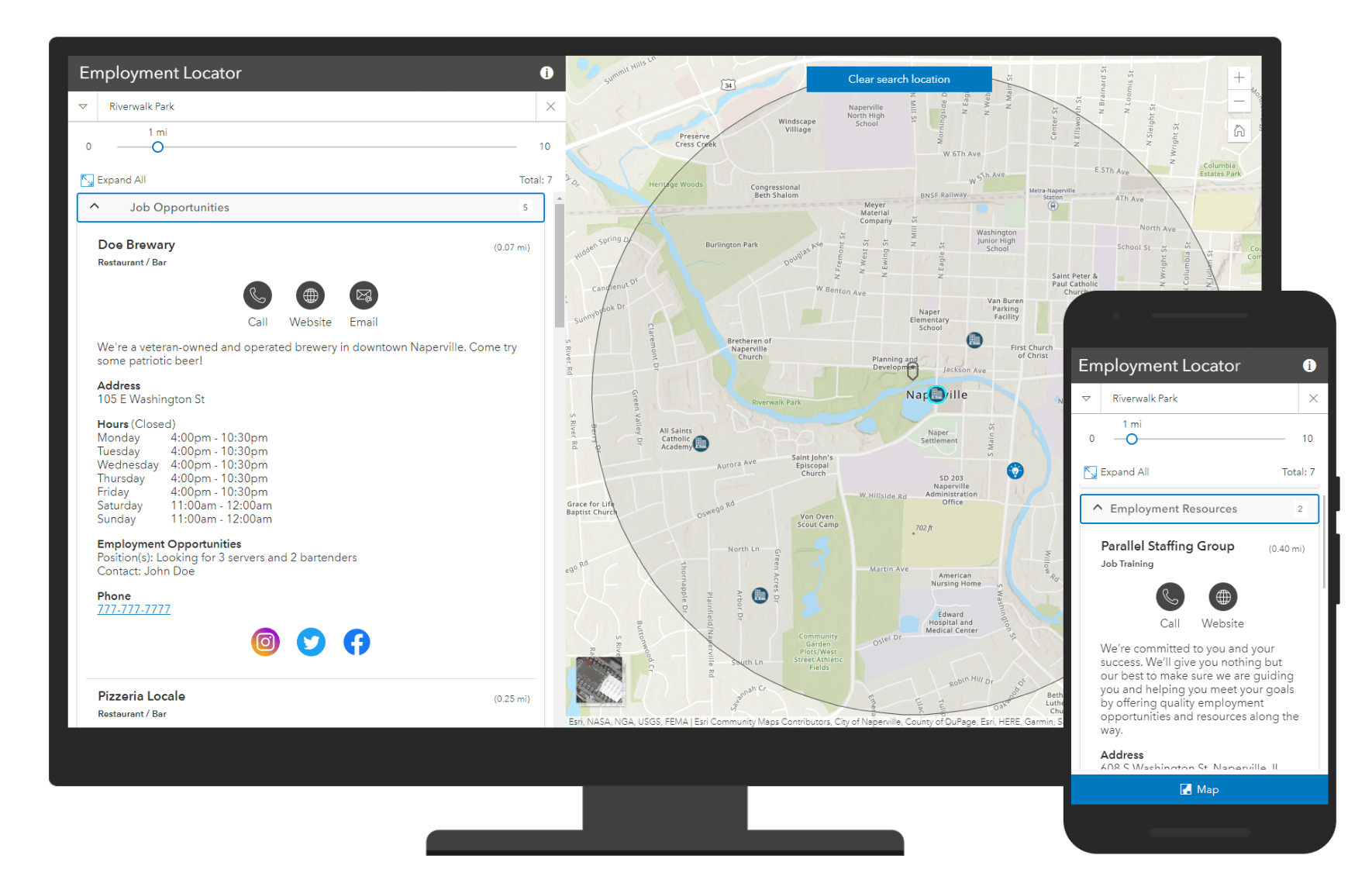 Manage Business Listings
Once business owners create an ArcGIS Hub Community account, the Business Listing form can be used to join the business inclusion program to list their business and provide business details and job opportunities. The Business Listing Manager can then be used by the same business owner to review their listing and update business offerings, hours of operation, and employment opportunities as they are filled or become available.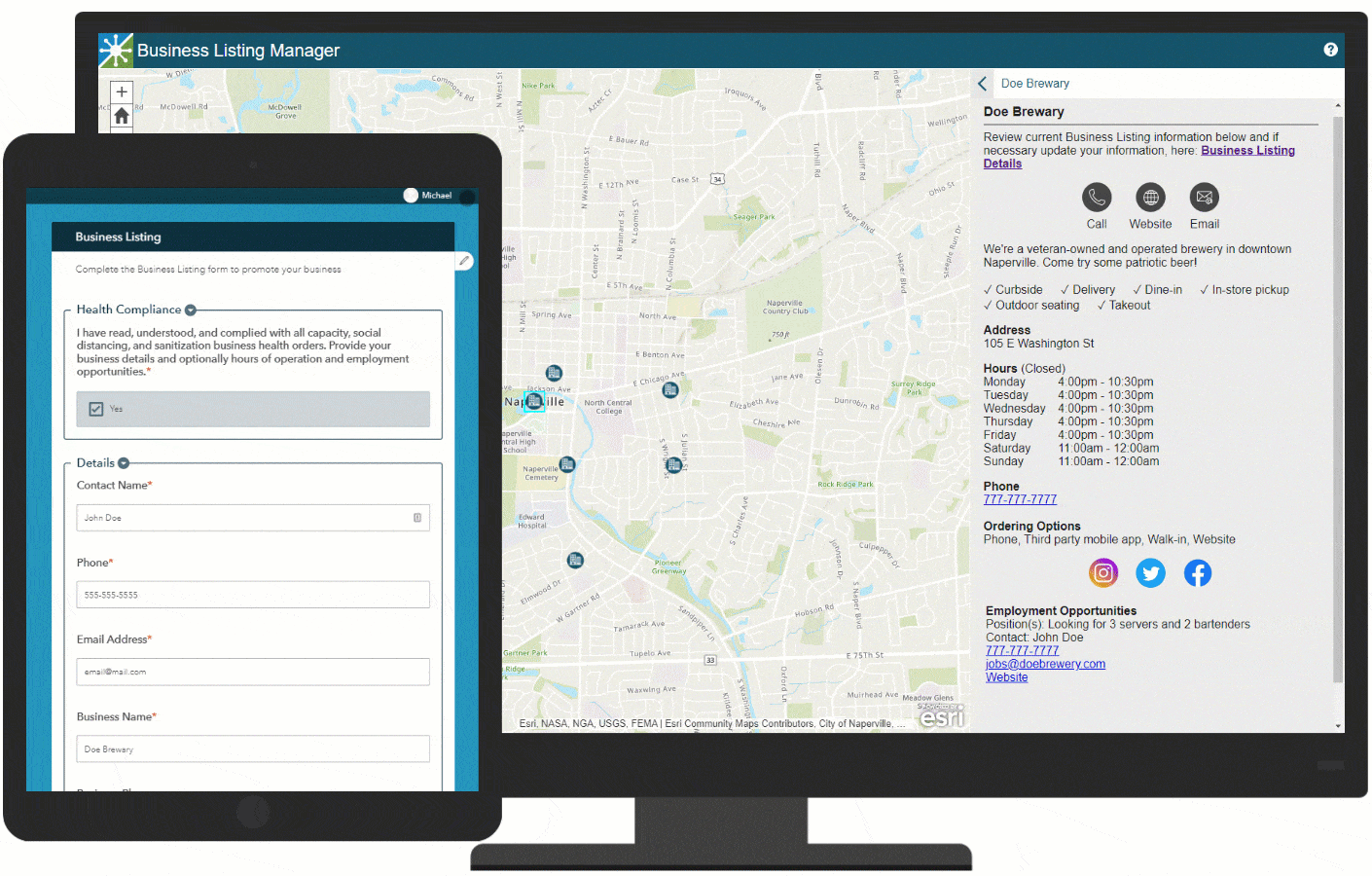 Administer Business Inclusion Program
As businesses join your business inclusion program, economic development staff may review business listings before promoting a business more broadly. The Business Program Manager application can be used to review business listings and, if necessary, remove them from the locators.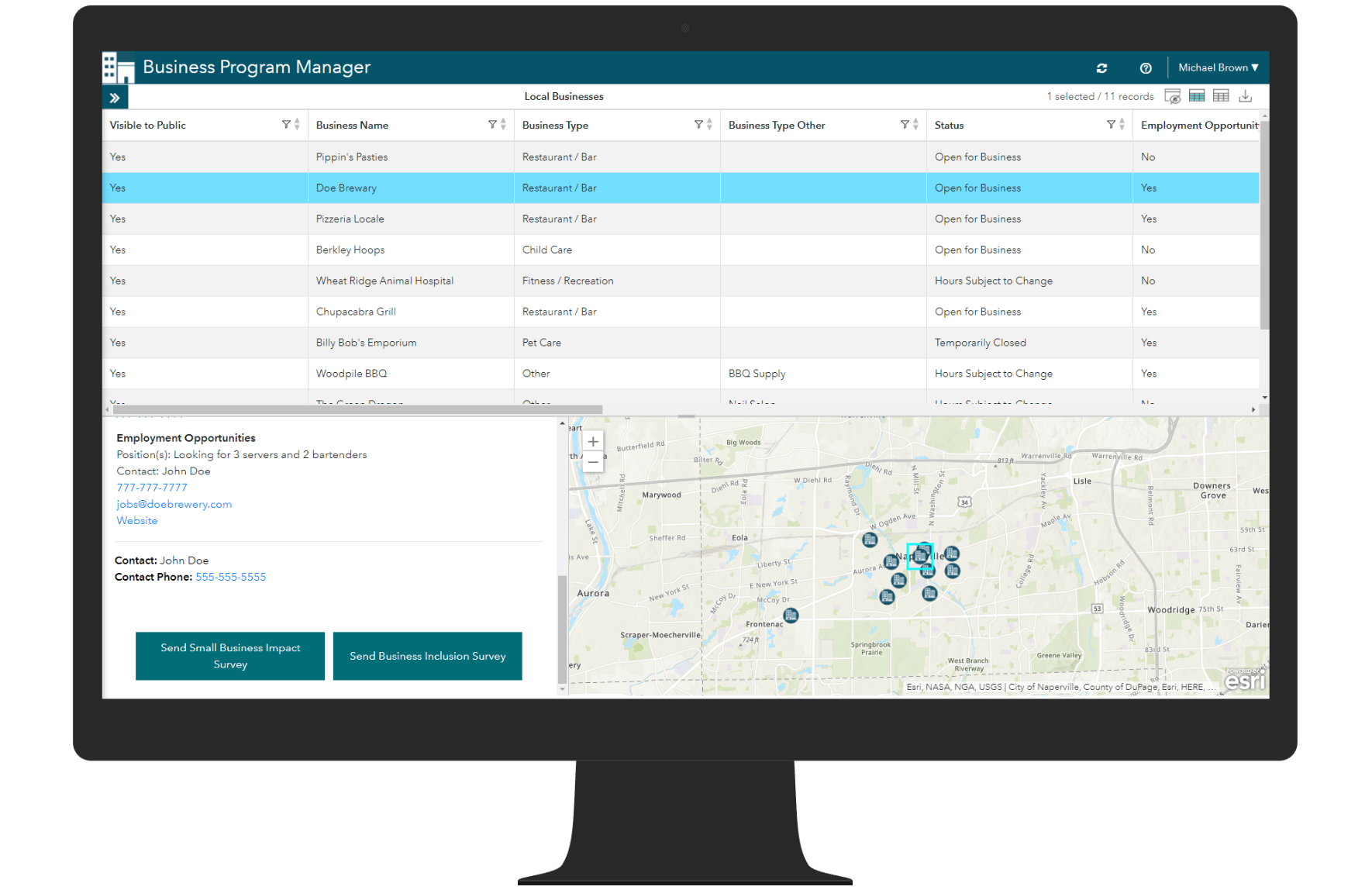 The Business Program Manager can also be used to send the included Business Inclusion Survey or Small Business Impact Survey deployed as part of the Coronavirus Small Business Recovery solution. The Business Inclusion Survey can be used to understand business metrics and demographics in the community.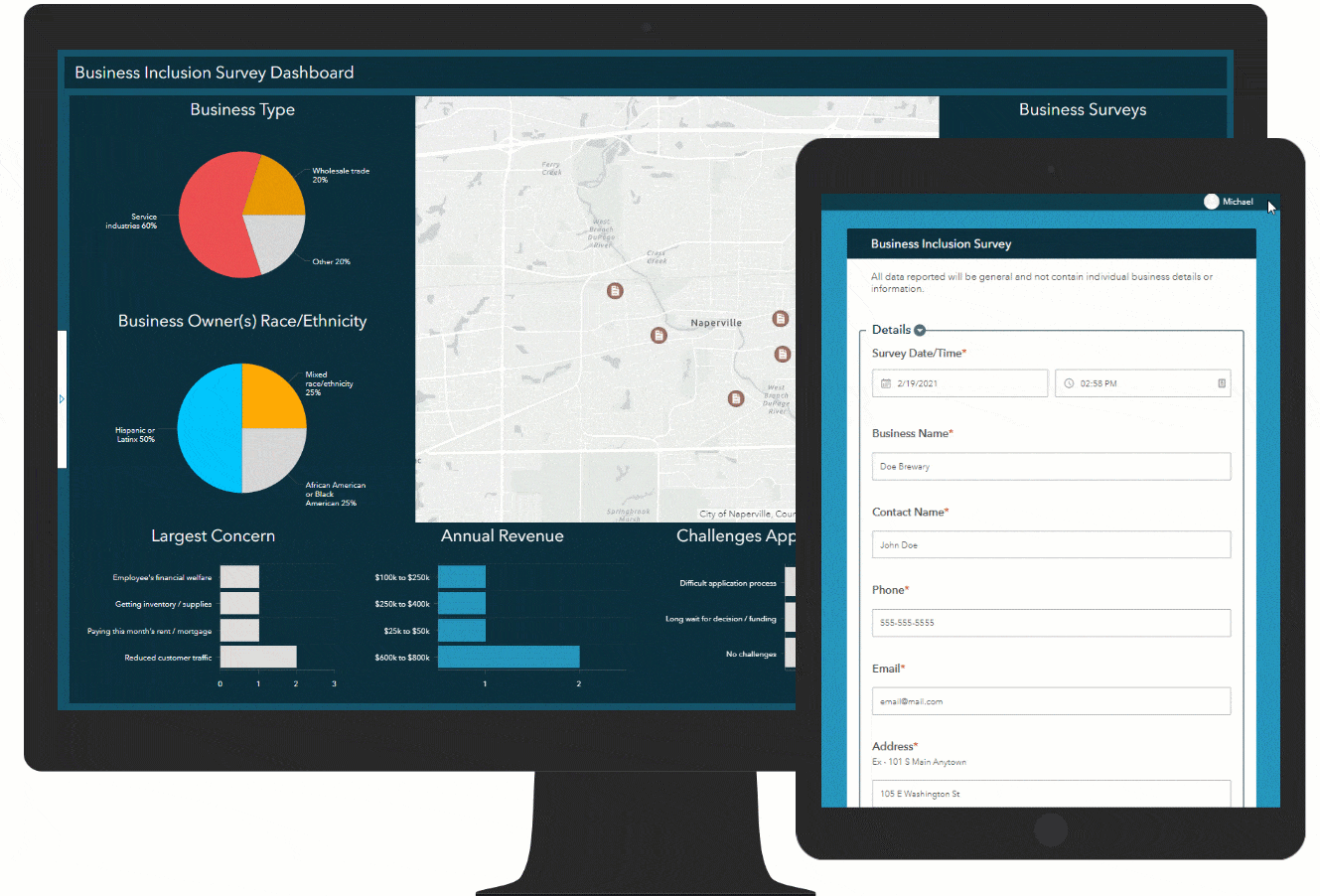 The Business Inclusion Survey Dashboard helps economic development staff track metrics submitted through the Business Inclusion Survey. This information can be used to manage the business inclusion program and align resources with business needs.
Additional Resources
Learn more about racial equity solutions and how you can quickly deploy these solutions on the ArcGIS Solution site. For questions and feedback, chat with us on GeoNet or contact Esri Support Services.
Finally, Esri is providing several resources to help organizations address racial inequities. The Racial Equity GIS Hub is the place to access additional resources and to request GIS assistance from Esri.