Small businesses have been uniquely impacted by the coronavirus (COVID-19) pandemic.  A vast majority have closed temporarily, which has had a profound economic stress on their businesses and the local communities in which they reside.  Main Street America's recent survey found that "nearly 7.5 million small businesses may be at risk of closing permanently over the coming five months".
As states have started executing their coronavirus (COVID-19) reopening plans, many have included reopening phases that dictate which business sectors can resume operations as key metrics are met.  They have also created small business recovery programs that promote small businesses operating during the pandemic, ensure health orders are complied with, provide economic resources to affected businesses, and align additional resources to business needs.
The Coronavirus Small Business Recovery solution can be used by economic development agencies to engage local business owners, measure the impact of the pandemic on small businesses, report potential health order violations and their resolution, and promote business recovery. The solution includes a collection of maps and apps designed for small business owners, economic development staff, and the general public and can be deployed as a comprehensive small business recovery program.
Coronavirus Recovery Destination
The Coronavirus Small Business Recovery solution leverages ArcGIS Hub Premium and a new Coronavirus Recovery Hub initiative to promote coronavirus recovery programs. The initiative template includes a responsive, and accessible, website that serves as a destination for several coronavirus recovery solutions (for example, Recovery Dashboard, Small Business Recovery, Wellness Checks, and Testing Sites).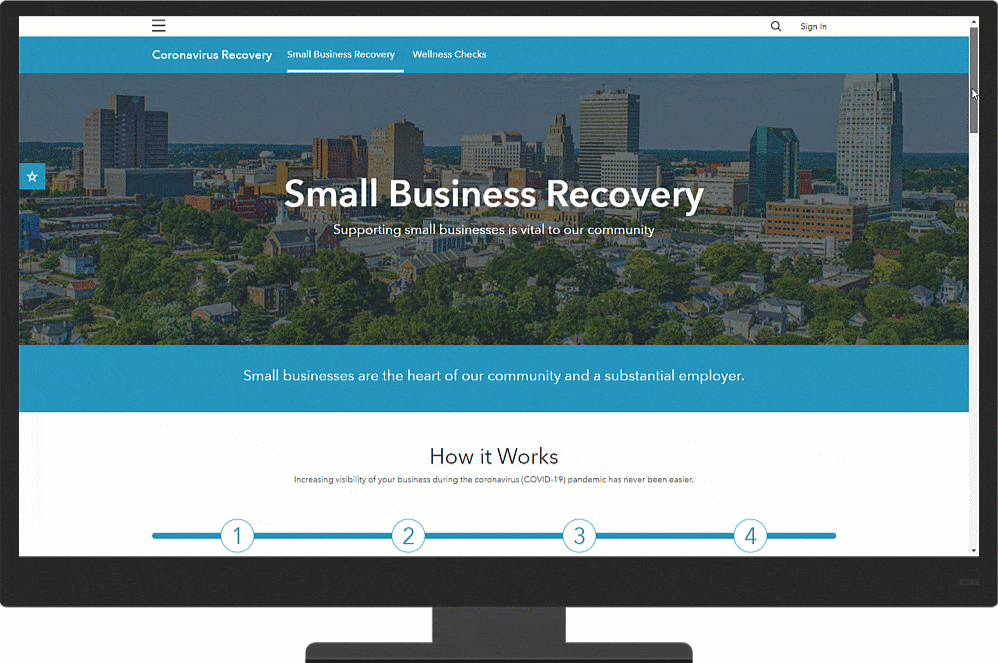 From this destination, economic development agencies can engage small businesses and enlist them in their small business recovery program. When a small business joins the program, they create an ArcGIS Hub Community account and have access to a series of forms and applications used to manage their business listing.  They can also share information that will help the community understand how the coronavirus pandemic has impacted their business, and promote job openings they may have as their business recovers.
Promote Small Businesses
Economic Development agencies can use the Small Business Locator to promote small businesses open during the pandemic.  After launching the Small Business Locator in their community, the public can use the application to locate a small business and review business details, hours of operation, services provided, and even employment opportunities.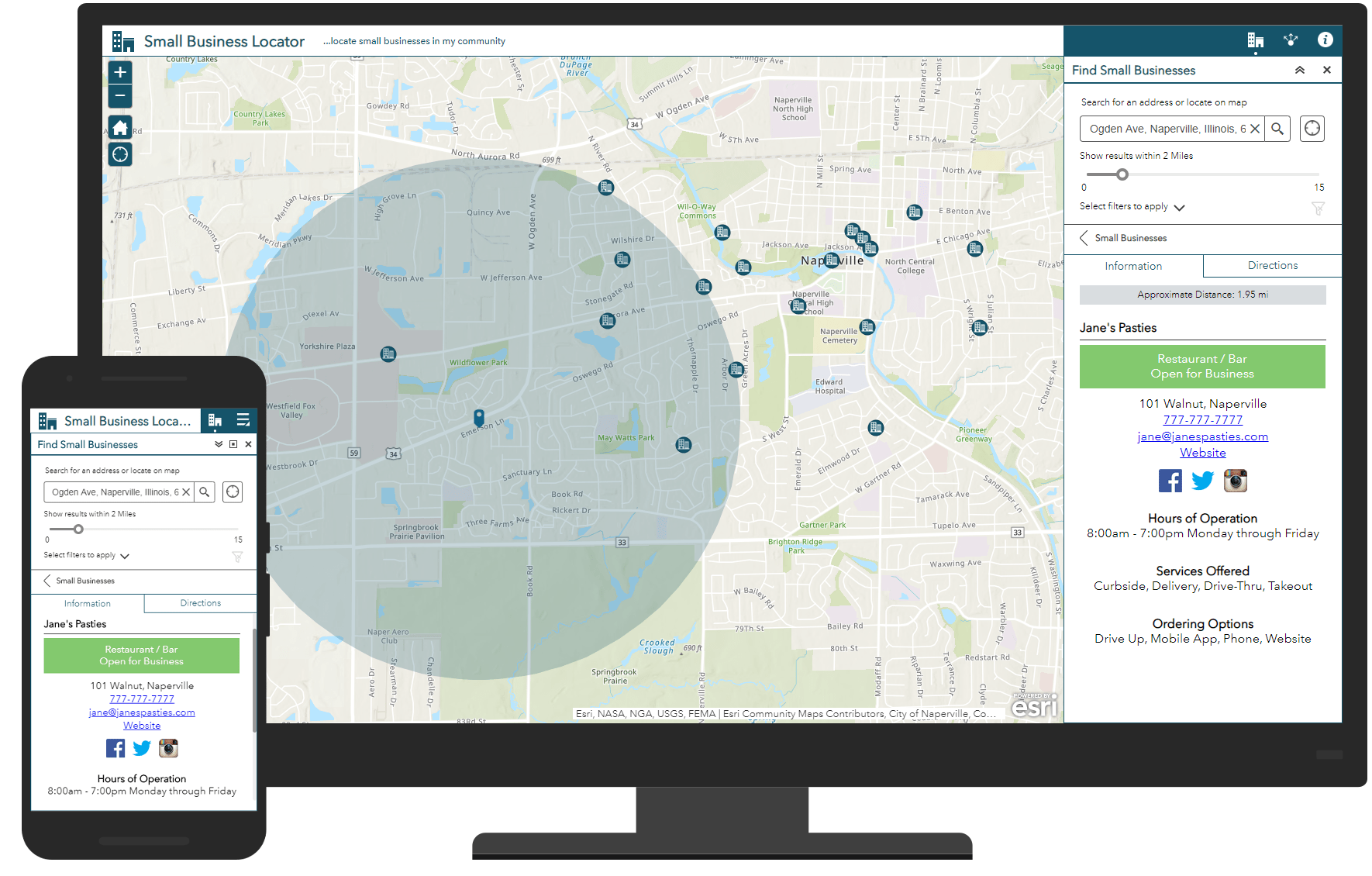 Manage Small Business Listings
At this point, you may be asking "How can I curate a small business listing from businesses in my community"?  The Small Business Listing form can be used by small businesses that join your recovery program to list their business and provide details that highlight the services they are providing. The Small Business Listing Manager can then be used by the same small business owners to review their listing and update hours of operation as they expand, additional services that may be offered, or employment opportunities as they become available.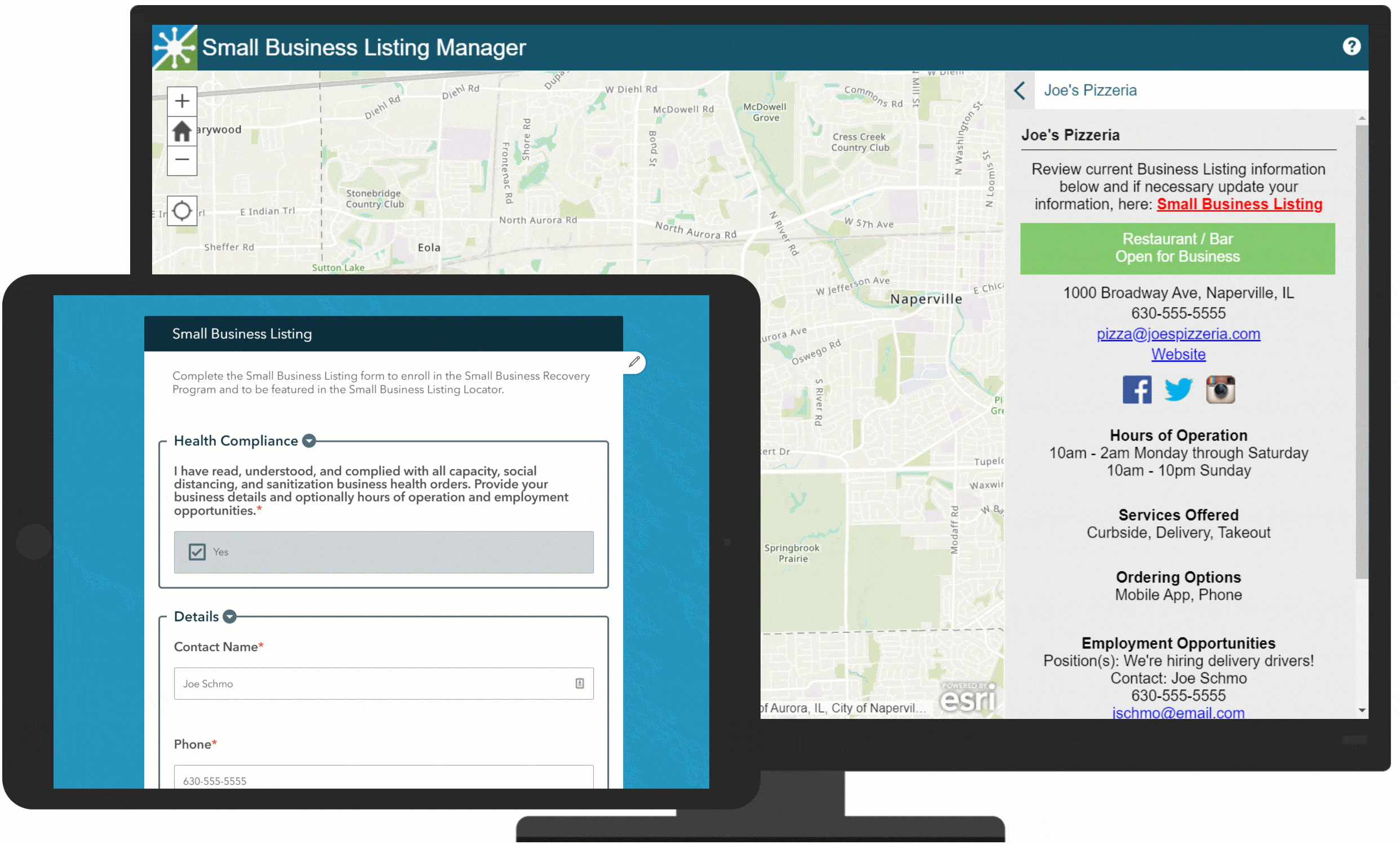 Administer Small Business Program
As businesses join your small business recovery program, economic development staff may review business listings before promoting a small business more broadly. The Small Business Program Manager application can be used to review the business listings and, if necessary, remove them from the Small Business Locator.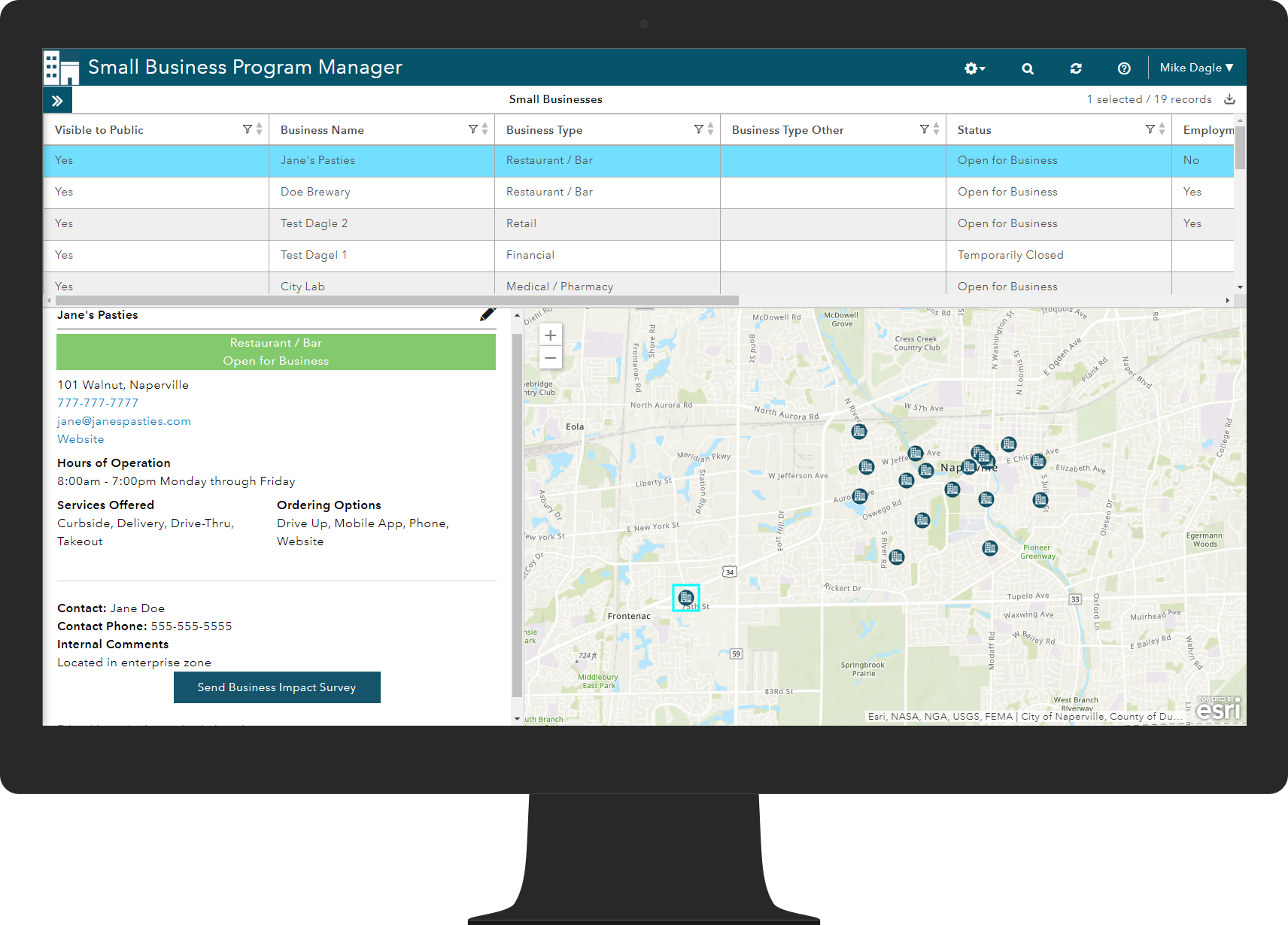 The Small Business Program Manager can also be used to send the Small Business Impact Survey. The Small Business Impact Survey can be used to understand how the COVID-19 pandemic has impacted small businesses in their community.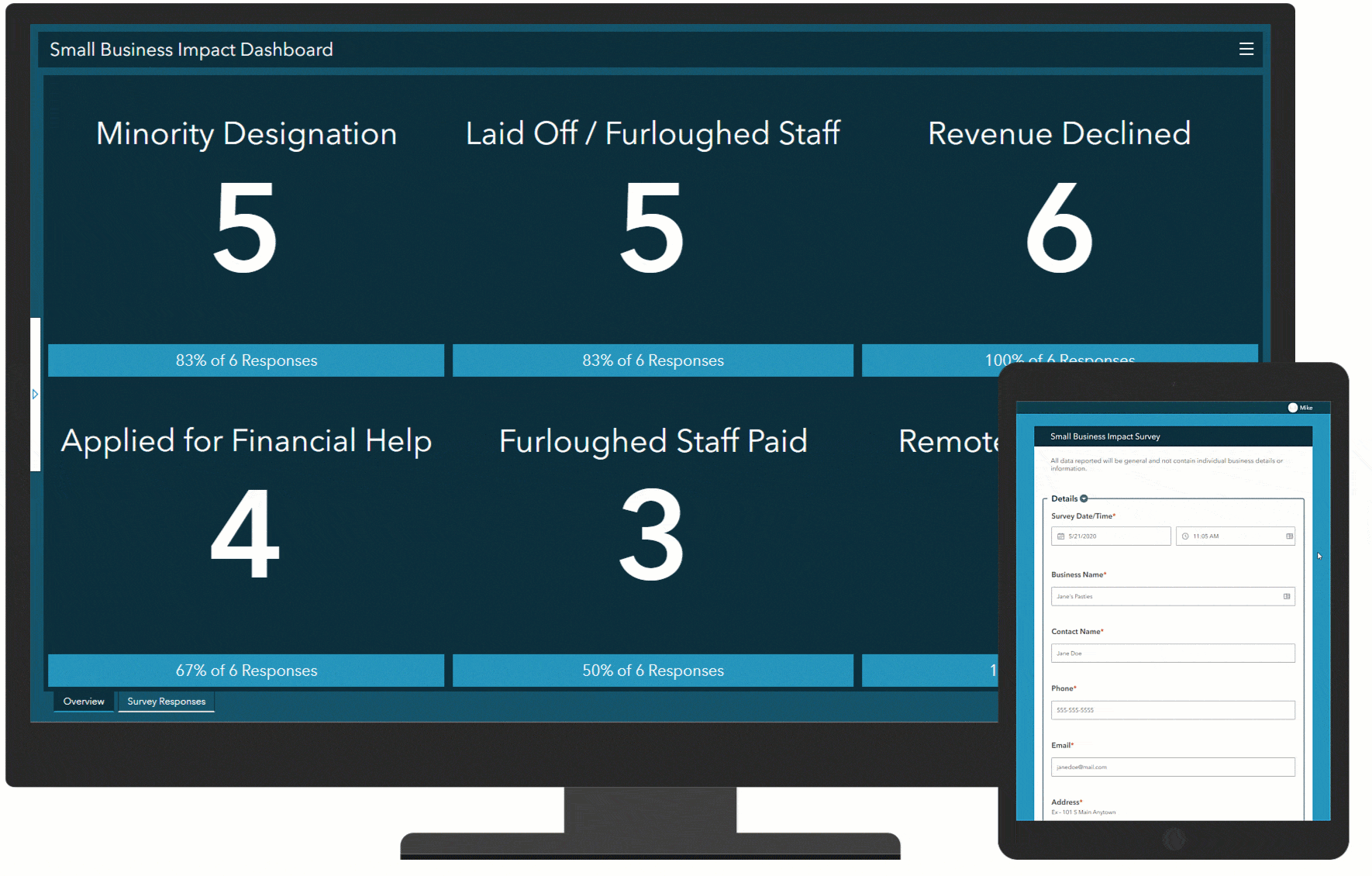 The Small Business Impact Dashboard helps economic development staff monitor information collected in the Small Business Impact Survey.  This information can be used by economic development staff to manage their small business recovery program and align resources with business needs.
Manage Health Violations
As businesses begin to open, the public may observe potential health order violations or unsafe business practices. The Health Violation Reporter can be used by the public to report potential health violations to the local health authority.  The Health Violation Manager can then be used by health officers to manage the reported violations and track their resolution; and the Health Violation Dashboard can be used to ensure these reports are resolved in a timely manner.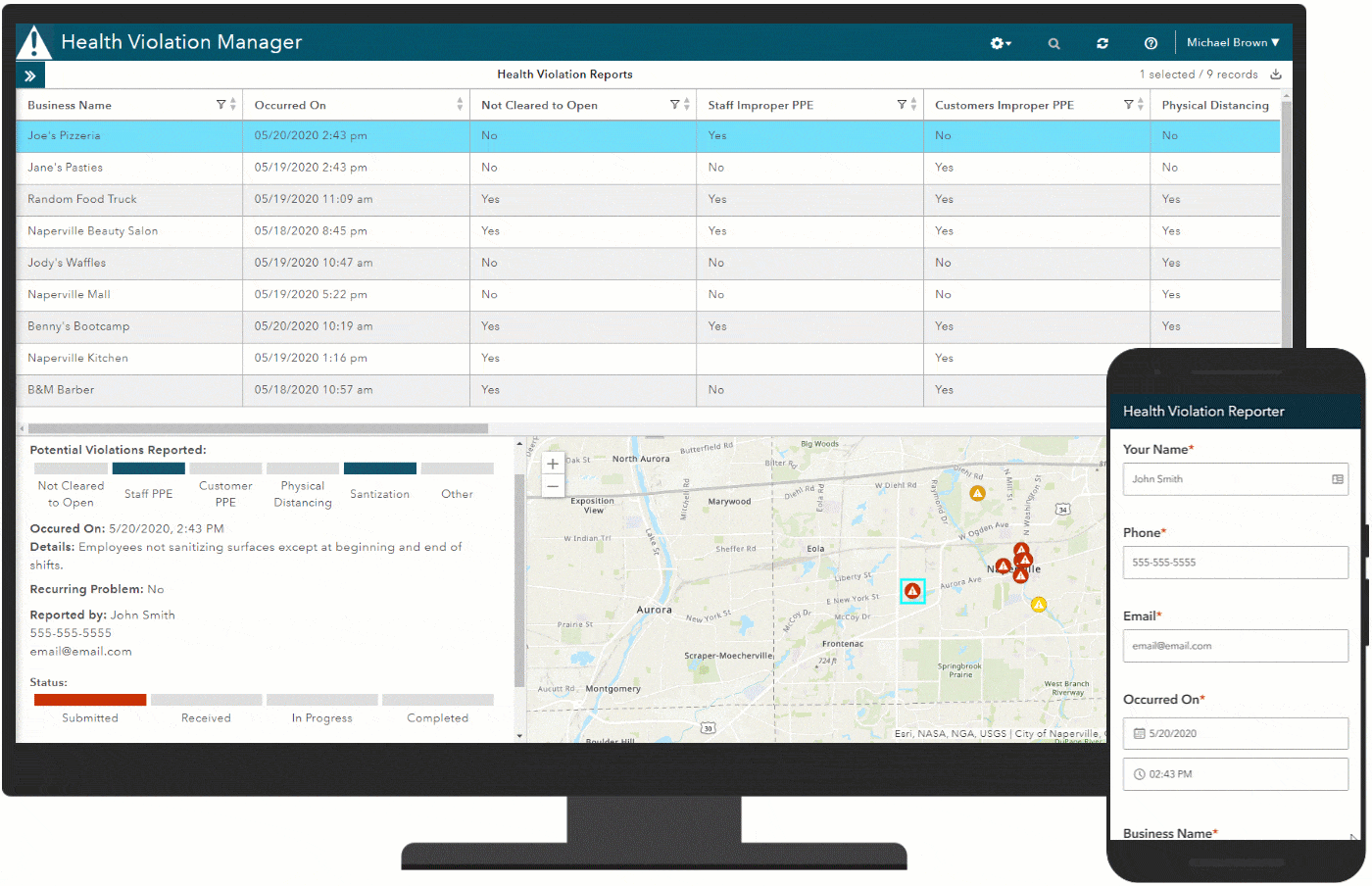 Additional Resources
Learn more about the coronavirus recovery solutions and how you can quickly deploy these solutions on the ArcGIS Solution site.  For questions and feedback, chat with us on GeoNet or contact Esri Support Services.
Finally, Esri is providing several resources to help organizations combat the coronavirus.  The COVID-19 GIS Hub is the place to access additional resources and to request GIS assistance from Esri.