Cemeteries are valuable historic resources that offer insight into a community's unique population. They also serve as memorials that comfort people as they process the loss of loved ones.
Unfortunately, cemeteries are threatened by encroaching development, the effects of extreme weather, and even a lack of usable space. When they fall into disuse or are neglected, they can be problematic for their communities.​ Improving cemetery management is key to addressing these issues, but a local government cannot effectively manage these community assets unless it knows how many gravesites each cemetery has, who owns each gravesite, and who, if anyone, is buried there.
The Cemetery Management Solution helps local governments and private cemetery organizations alike to inventory cemeteries and gravesites, monitor cemetery operations, and increase transparency and public interest.
Streamline cemetery and gravesite inventory
The Cemetery Data Management ArcGIS Pro project can be used by GIS mapping technicians to develop a cemetery and gravesite inventory from record information. A series of tasks help you create or load cemetery data, and associate related burial and ownership information to each gravesite.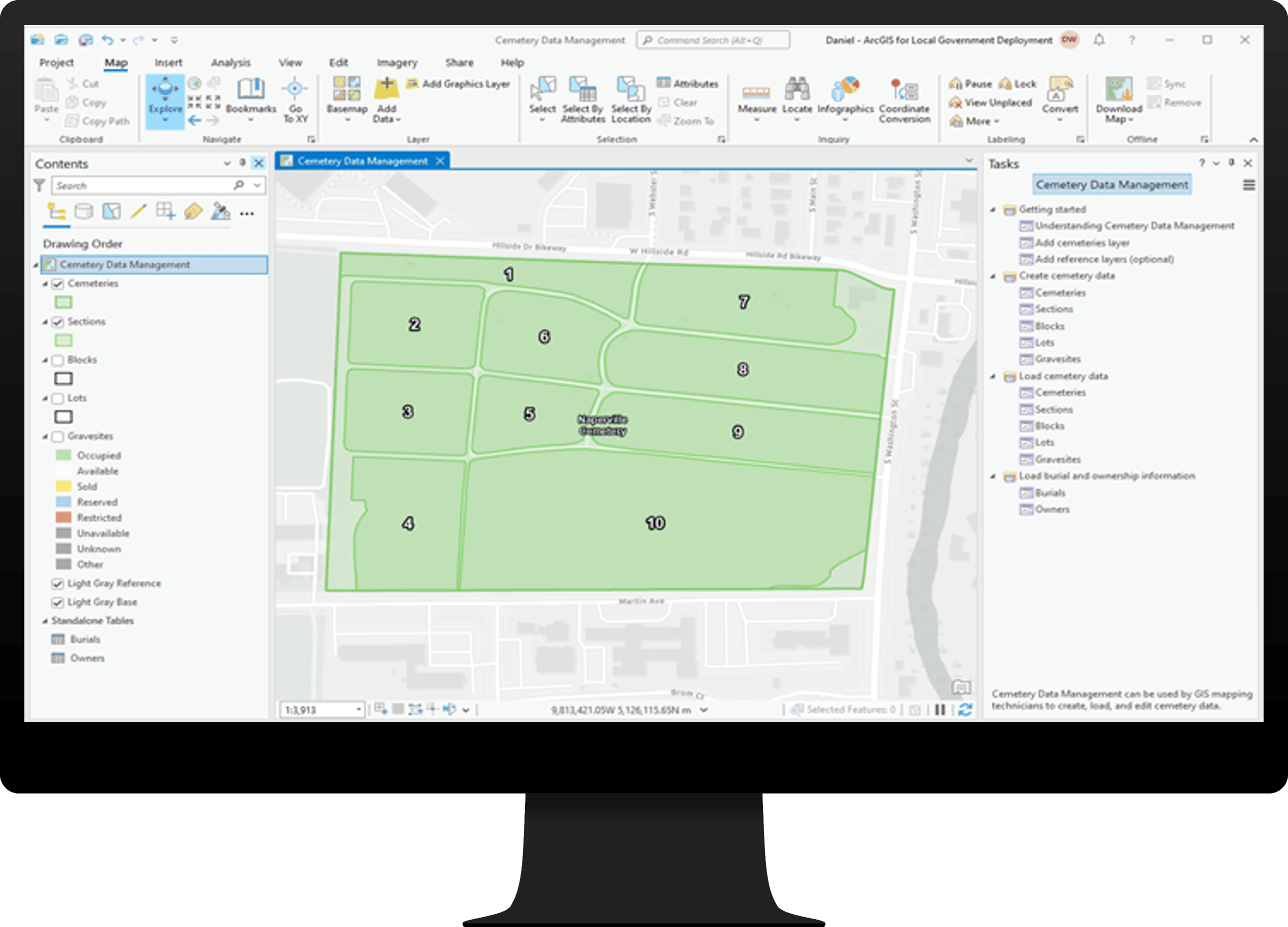 Once the initial data has been loaded in, the inventory can be enhanced and field verified by cemetery staff using the Cemetery Field Map. Staff can walk the grounds of the cemetery to validate the status of gravesites and collect or update burial information.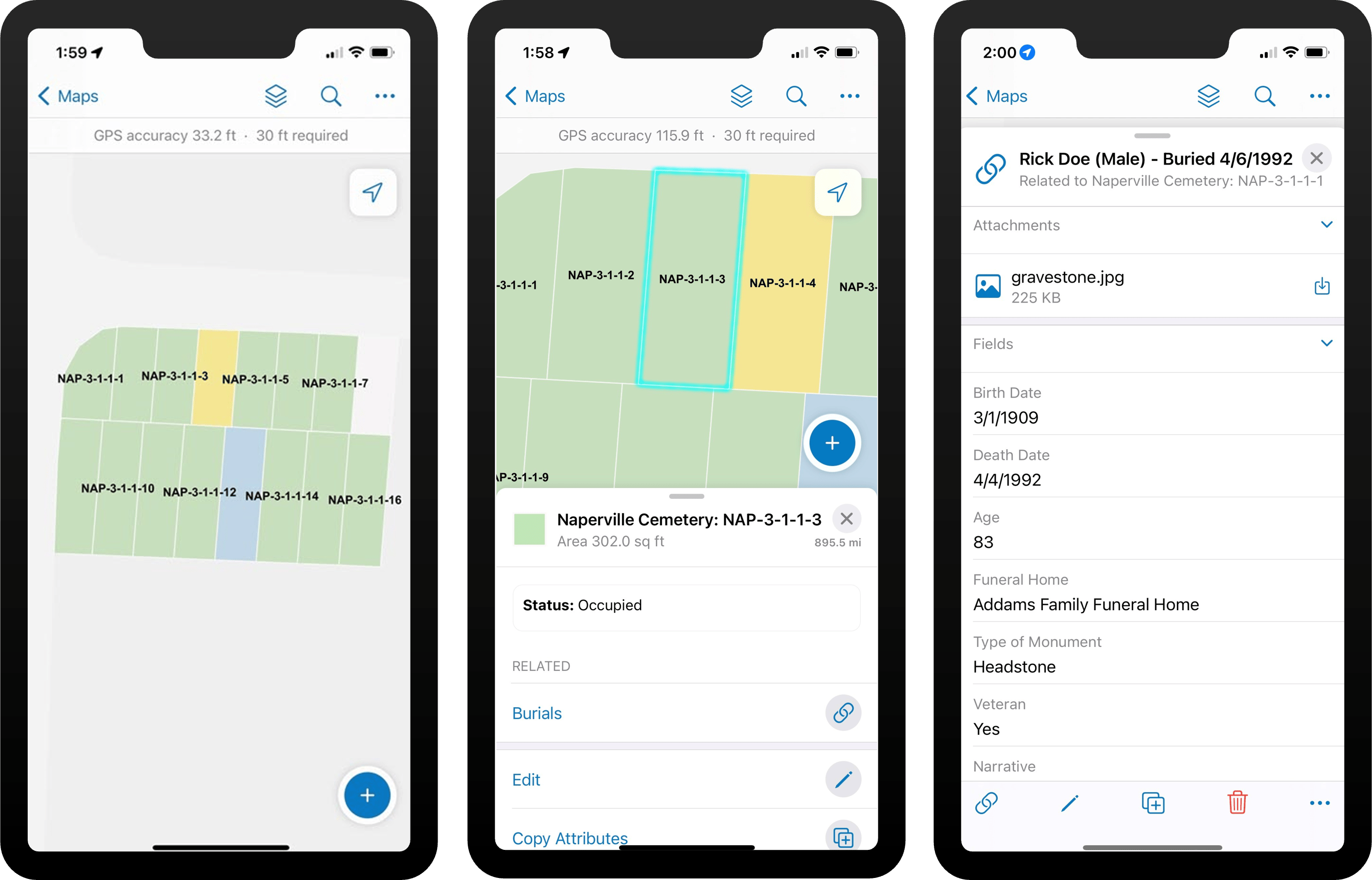 Manage and monitor cemetery operations
Once the inventory is complete, it can be put into day-to-day cemetery operations. The Cemetery Manager app enables cemetery administrators to manage the authoritative cemetery information and review memorials submitted by the public.
Cemetery administrators can use the app to update the status of a gravesite and its burial and ownership information. They can also manage the high-level cemetery information that appears in public applications, and review and approve submitted memorials.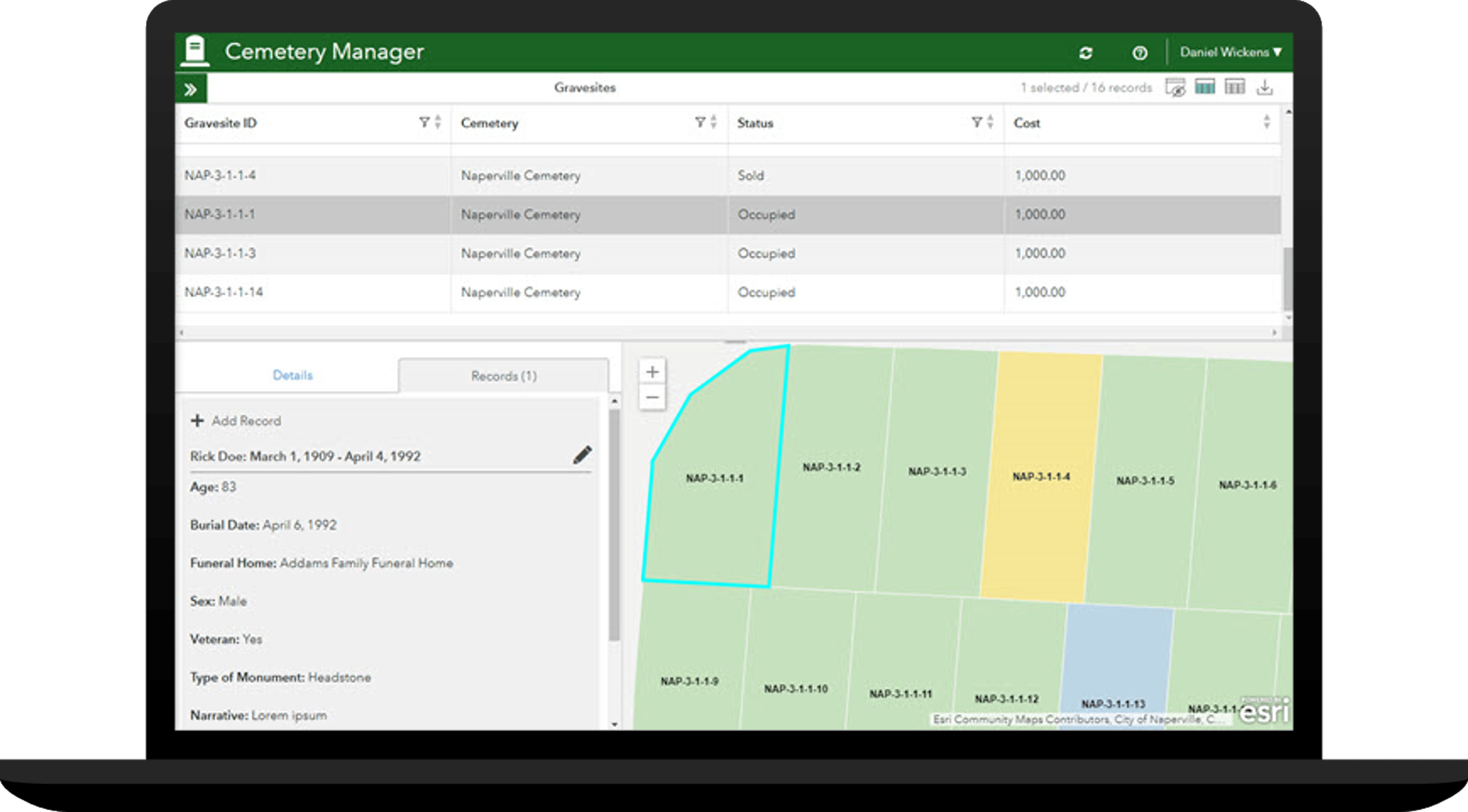 Cemetery administrators also have access to the Cemetery Dashboard, which allows them to monitor cemetery operations, and understand the status of gravesites, burials, and ownership details.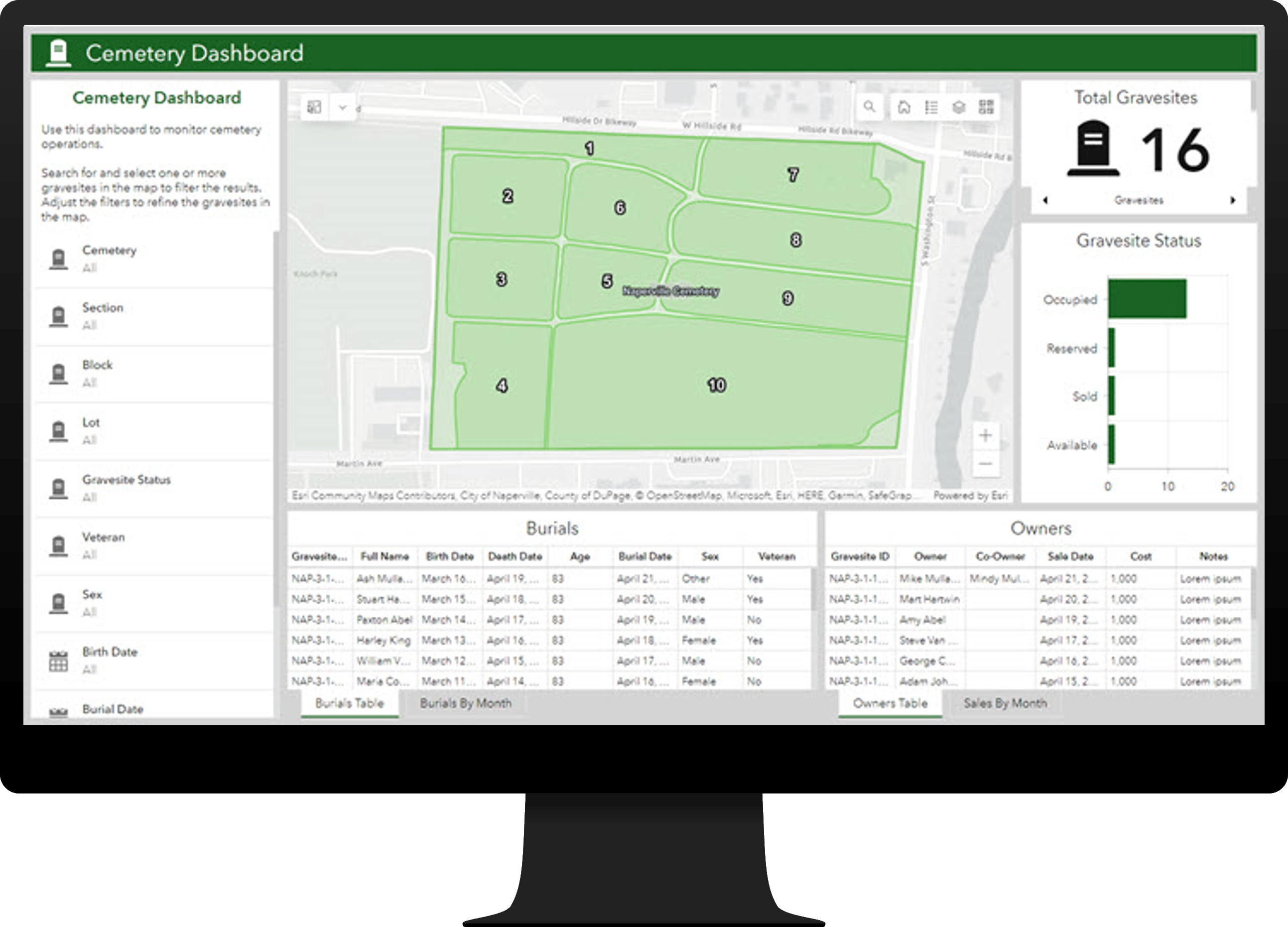 Increase transparency and public interest
Cemeteries garner significant interest from residents and visitors alike to learn about their history and locate loved ones that have been laid to rest there. The Cemetery Management Solution includes a public-facing Cemetery Viewer app to explore a community's cemeteries and locate burials and gravesites.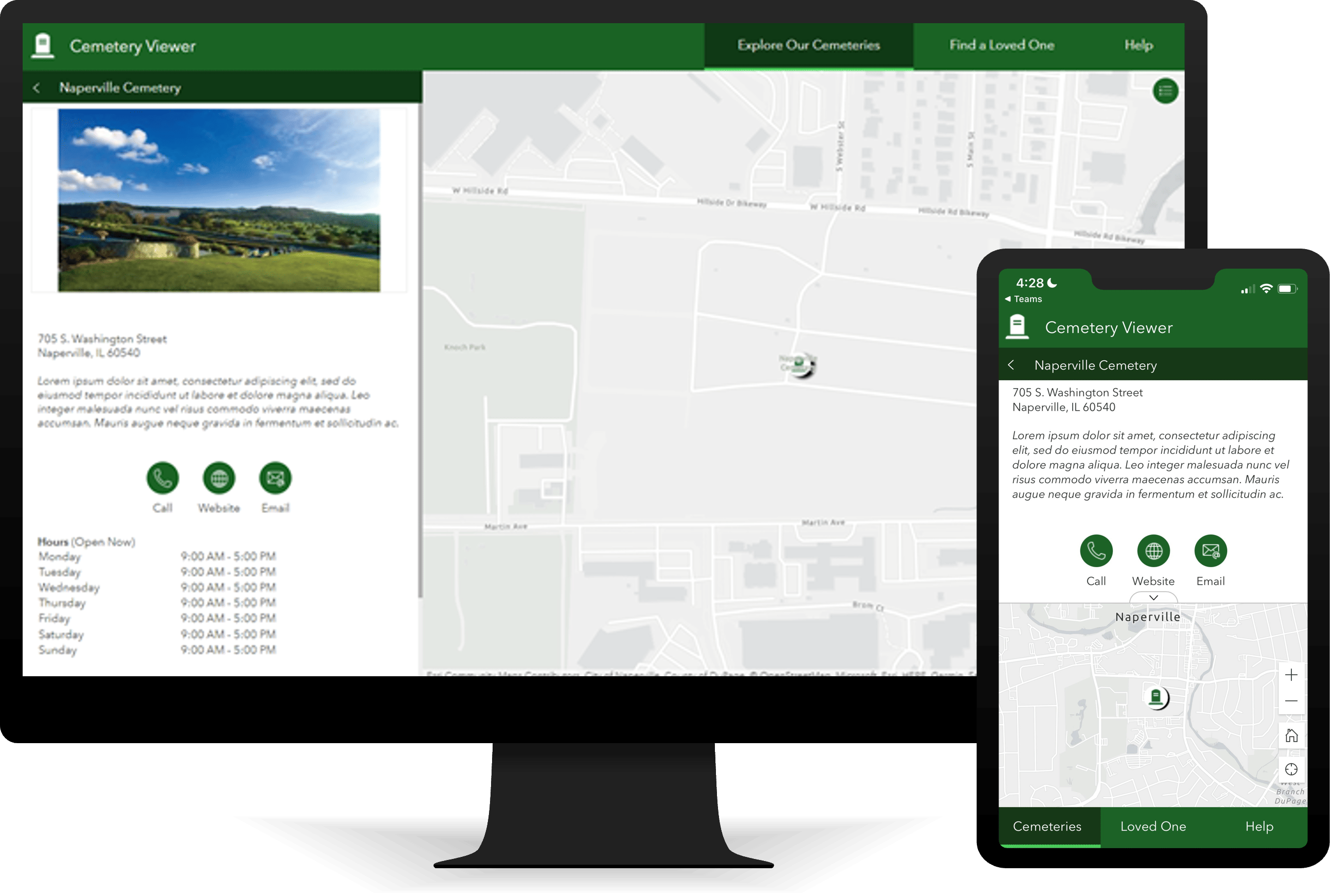 The app includes two pages. On the Explore Our Cemeteries page, a member of the public can see where the community's cemeteries are located and find information about them. They can also explore the map to find an available gravesite for purchase, for example.
On the Find a Loved One page, a member of the public can search for a loved one, locate their gravesite, and submit a memorial if they wish to do so.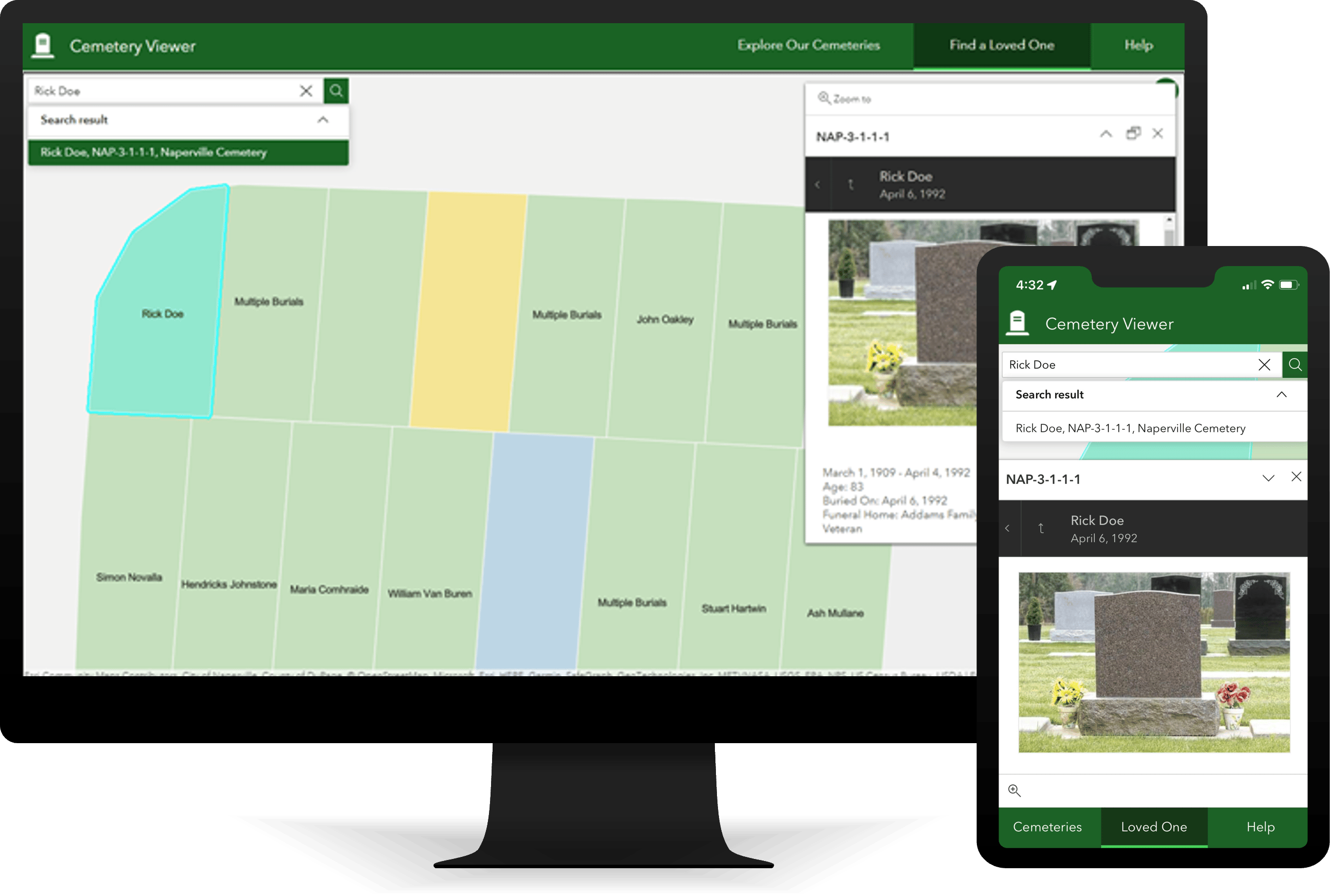 To submit a memorial, the person can use the Loving Memorial form and provide their relationship, memory details, and a photo. Upon submission, the memorial will be reviewed internally by cemetery staff prior to approval and public posting.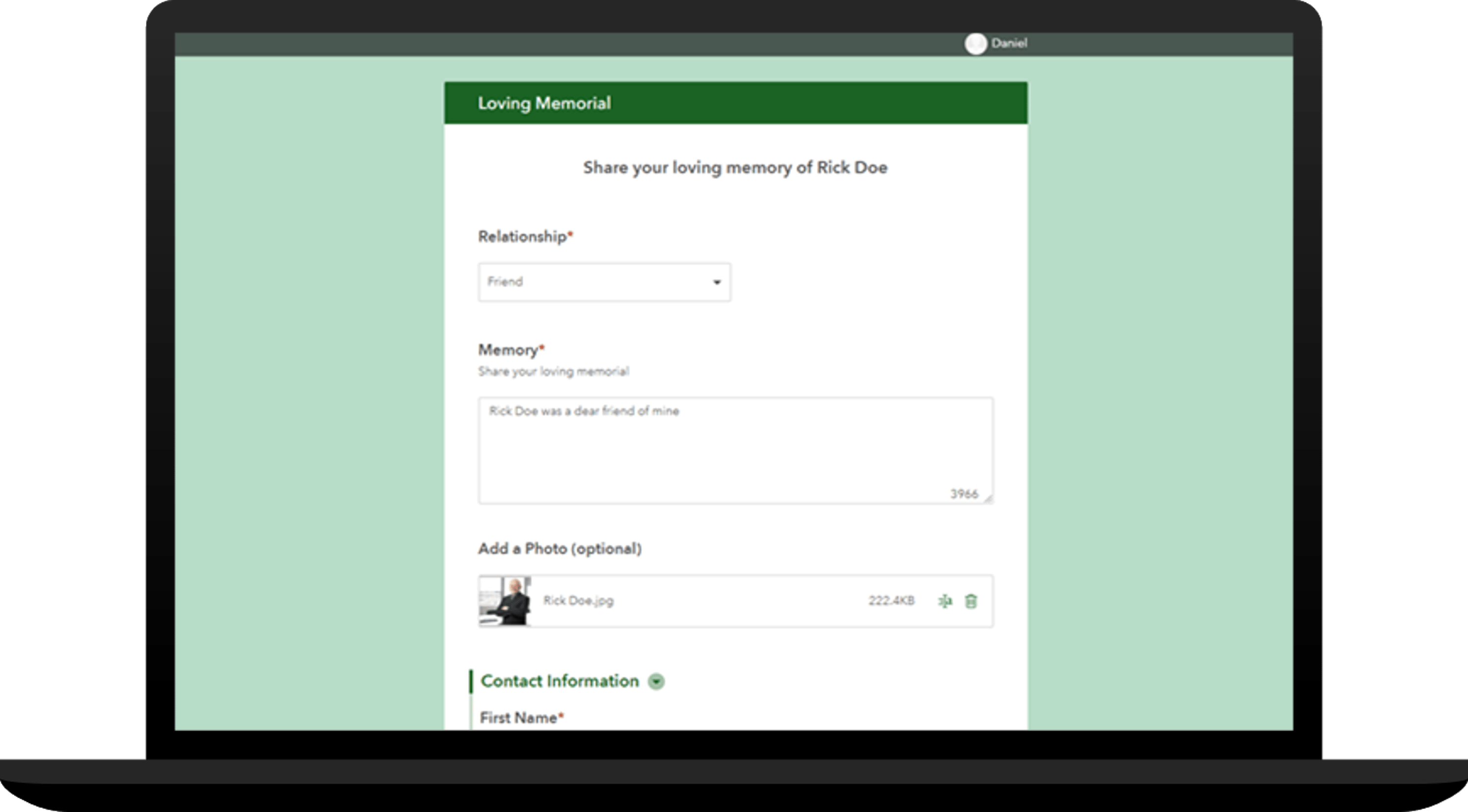 Additional resources
We're excited to share this release with you. Below, you can find additional resources you may find useful.