Protecting vulnerable populations during the coronavirus (COVID-19) pandemic is a priority.  The Centers for Disease Control (CDC)  has indicated that people 65 years and older are at a higher risk for severe illness.  Unfortunately, with social distancing in place, it can be challenging to determine the well-being at-risk individuals.
During the pandemic, many at-risk members of the community are homebound and feeling isolated. They may be anxious and uncertain about how they will get their medications, meals, and other necessary services. As a result, communities are turning to volunteers and asking them to check the wellness (for example, in good health, have food and medicines they need, etc.) of vulnerable individuals throughout their community. These wellness checks are an effective way to engage volunteers and extend the public health and safety workforce in this time of need.
The Coronavirus Wellness Checks solution can be used by Public Health staff to engage community volunteers, register homebound individuals, conduct regular wellness checks, and monitor the wellness of vulnerable individuals.  The solution includes a collection of maps and apps designed for volunteers, homebound individuals, and public health staff and can deployed as a comprehensive system for wellness checks.
Coronavirus Recovery Destination
The Coronavirus Wellness Checks solution leverages ArcGIS Hub Premium and a new Coronavirus Recovery Hub initiative to promote coronavirus recovery programs. The initiative template includes a responsive, and accessible, website that serves as a destination for several coronavirus recovery solutions (for example, Recovery Dashboard, Wellness Checks, Testing Sites, and Small Business Recovery).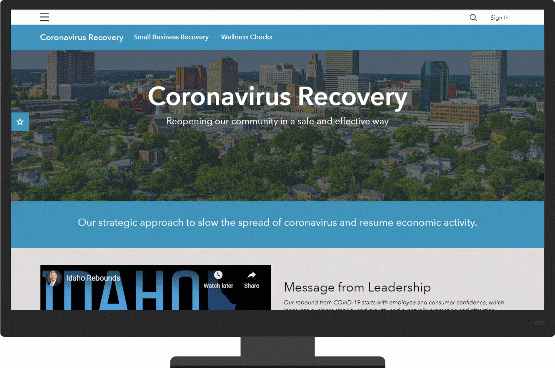 From this destination, communities can engage volunteers and ask them to check the wellness of vulnerable individuals throughout their community. When you decide to join the community, create an ArcGIS Hub Community account.  Complete the Wellness Check Volunteers form and await further instructions from the health agency.
Register Homebound Individual
With a local wellness check program in place, homebound individuals can be registered and regular check-ins scheduled to minimize the impact of the COVID-19 pandemic.  The Wellness Check Registry form can be used by a homebound individual, or a resident in the community with a homebound family member, to register for the wellness check program.  Enter details about the individual, select a preferred method of contact (for example, phone or in person), and identify any additional services or resources you might need.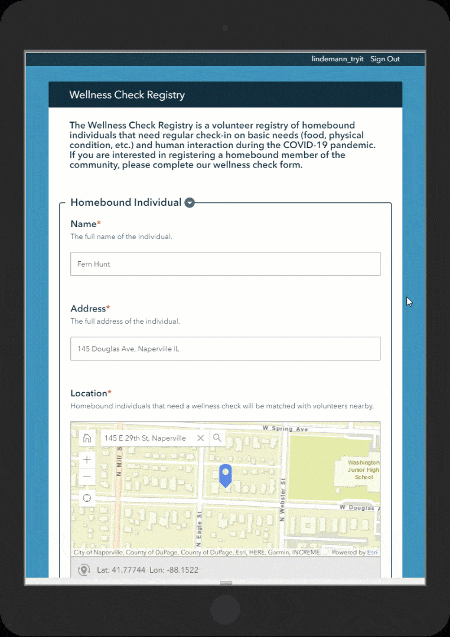 Manage Volunteers and Wellness Checks
Engaging volunteers is one strategy your public health and safety organizations may use to expand capacity during the COVID-19 pandemic. As volunteers join the wellness check program, background checks and other screening questions may be conducted before volunteers can participate fully. Organizations must manage the status of volunteers and be able to remove residents that have registered for the wellness check program if they leave the community for any reason.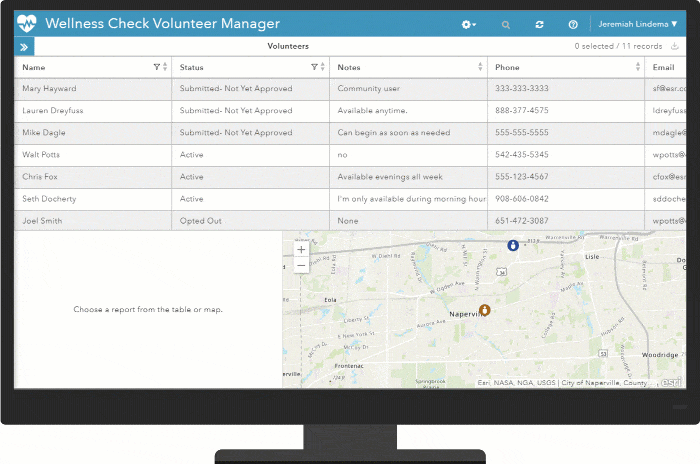 The Wellness Check Volunteer Manager can be used to manage the status of volunteers and homebound individuals, assign a volunteer to a wellness check, and reassign wellness checks when necessary. After updating the status of a volunteer, you can assign a volunteer to a homebound individual in their neighborhood (near them). Using location to guide assignments helps volunteers establish a relationship with the homebound individual and makes it easier to deliver food and other essential needs when necessary.
Conduct Wellness Checks
When a volunteer is accepted in the wellness check program, they will receive a welcome email with links to a series of applications that will be used to conduct the wellness checks.  Once a wellness check is assigned to a volunteer, the volunteer will receive a notification in the Workforce for ArcGIS mobile application.  The Wellness Check Report can then be used to report the status of a homebound individual in your neighborhood.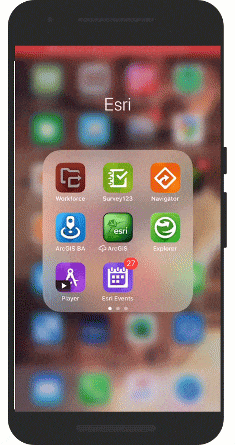 Monitor Wellness Checks
Volunteers can help loved ones better understand the physical and mental wellness of a homebound individual. In addition, a widespread wellness check program within your community can help your organization better understand symptoms vulnerable populations may be experiencing.  The Wellness Check Dashboard can be used by emergency response and public health staff to monitor the wellness check program and outcomes from wellness checks.  Visualize key performance metrics, track the overall well-being of homebound individuals, and understand how outreach activities may be encouraging volunteers to participate.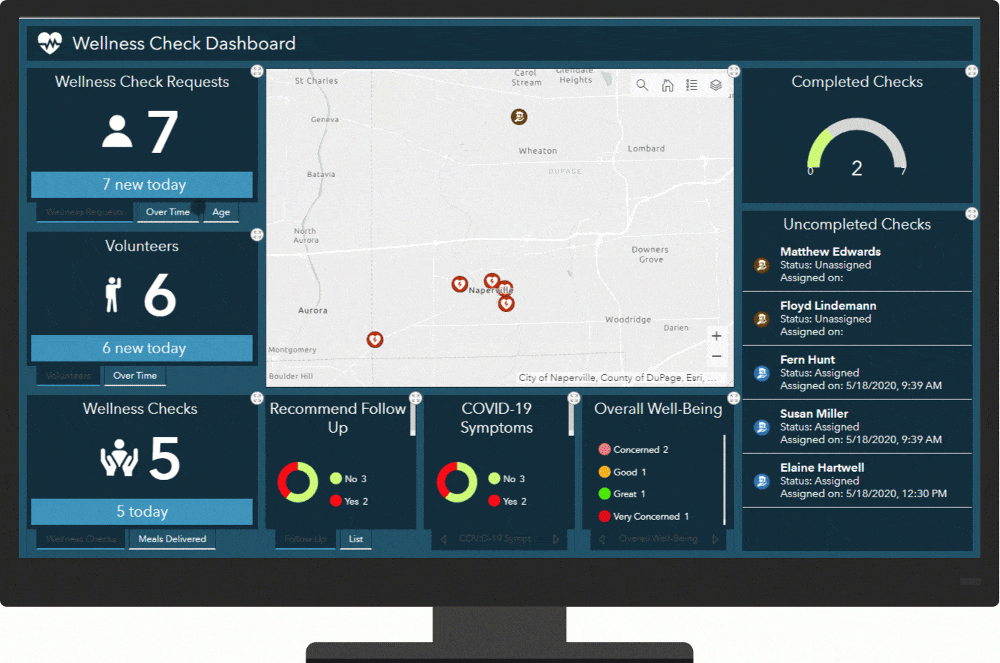 Additional Resources
Learn more about the coronavirus recovery solutions and how you can quickly deploy these solutions on the ArcGIS Solution site.  For questions and feedback, chat with us on GeoNet or contact Esri Support Services.
Finally, Esri is providing several resources to help organizations combat the coronavirus.  The COVID-19 GIS Hub is the place to access additional resources and to request GIS assistance from Esri.