On April 10, 2020 the Secretary of Health and Human Services (HHS) issued a letter to all Hospital Administrators in the United States requesting daily hospitalization reports.  The daily reports are to include data on testing, capacity, supplies, utilization and patient flows to facilitate the public health response to Coronavirus 2019 (COVID-19).
The Hospitalization and PPE Inventory solution is designed to help health departments collect this information and report to federal programs such as the National Health and Safety Network (NHSN).  In addition, it can help emergency managers understand resource capacity and determine when and where assistance is needed.
Report Hospitalization and PPE Inventory
The solution includes the Hospitalization and PPE Report which can be used by hospital administrative staff or health department personnel on behalf of each hospital.  The report includes all the information requested by HHS in the form of survey questions.   In addition, the report also includes questions about the number of days left for each type of Personal Protective Equipment (PPE) as outlined by FEMA.  The number of days left can be calculated using the PPE Burn Rate Calculator from CDC.   If your organization (for example public safety agencies or commercial businesses) has essential personnel and must understand the capacity of your PPE inventory, you can configure the report to collect this information.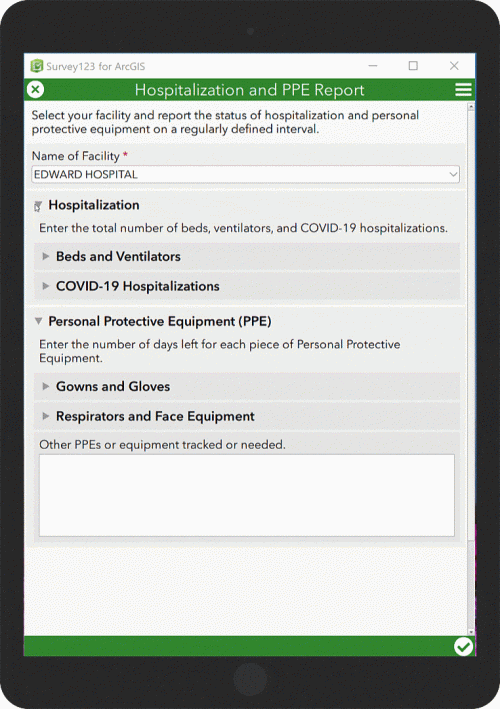 Use the Hospitalization and PPE Report to collect daily reports from each hospital
Monitor Daily Hospitalization
Information collected from each hospital can help local, state and federal agencies plan, monitor and allocate resources during the COVID-19 public health emergency.
The Hospitalization and PPE Dashboard can be used by local or state health officials to monitor the daily reports.  It combines information from the reports on current hospital utilization such as bed availability, ventilators in use and number patients for each hospital.  Metrics also include the number of COVID-19 patients, patients with symptoms, and deaths.  This dashboard can serve as an indicator of the resource deficiencies that specific hospitals may face during the pandemic.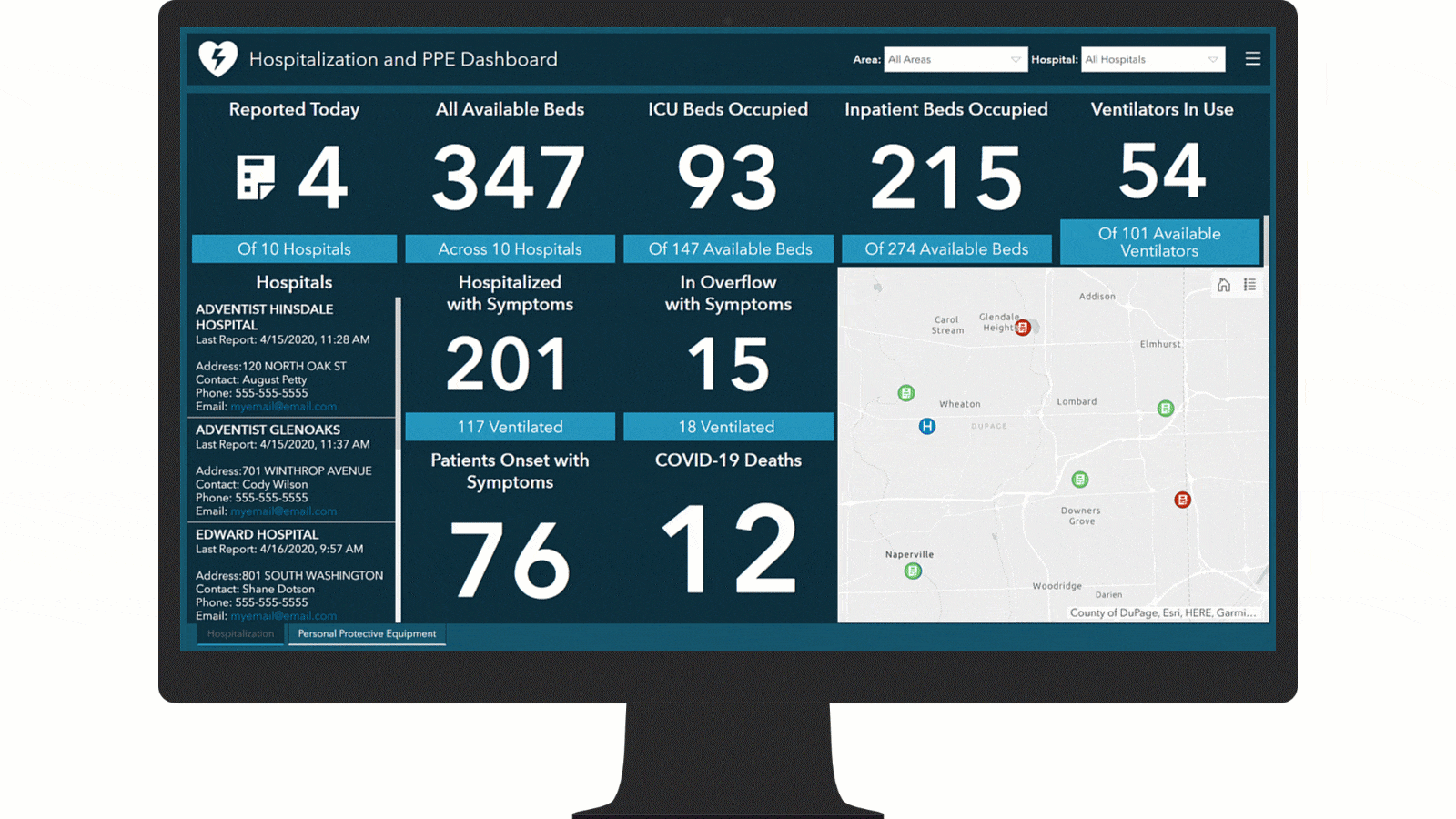 Review daily reports for each hospital or aggregated by area
Monitor Daily PPE Inventory
Personal Protective Equipment information collected from each hospital or other facility can help state and federal agencies identify areas of increased resource consumption over time.  The most common types of PPE such as gowns, gloves, respirators and more are collected in the report and shown in the dashboard.  Additional requests can also be captured in the survey.
The Hospitalization and PPE Dashboard also includes information on the number of days left for each type of PPE.  Users can select individual hospitals or geographic areas to see which hospitals are critically low on PPE supplies.  The dashboard specifically guides the user to highlight facilities that are running low on PPE so preventative action can be taken.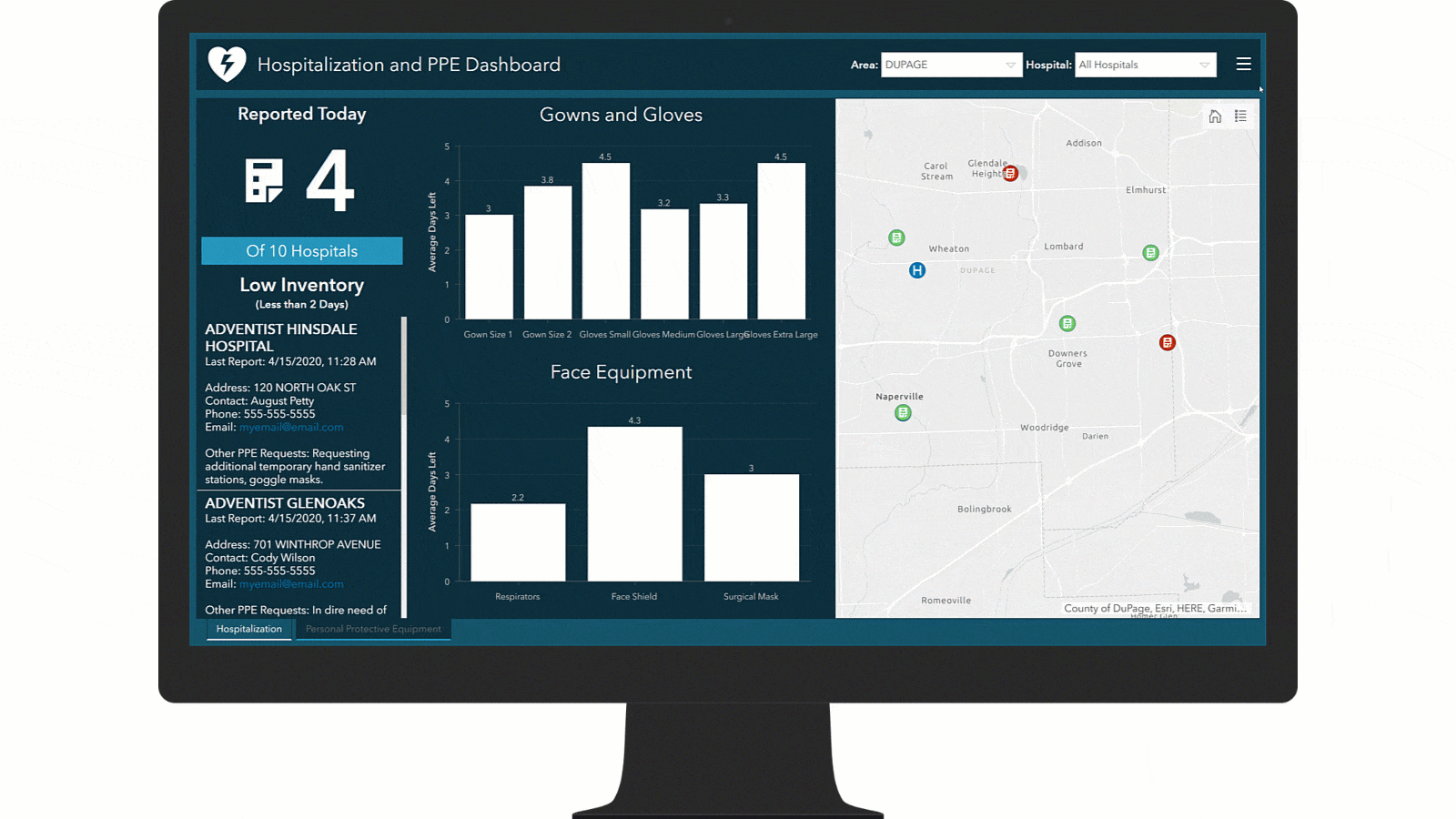 Identify hospitals that have critically low personal protective equipment supplies
Additional Resources
Visit the ArcGIS Solutions site to learn more about ArcGIS Solutions for COVID-19.  For questions and feedback, chat with us on GeoNet or contact Esri Support Services.