Anybody who has tried to plan an outdoor adventure knows sometimes it can be to hard to find authoritative information. Is the trail I want to use open? Can I bring my dog? Even for seasoned pros, seasonal and emergency closures can make it difficult to know what recreation opportunities are available. Limited resources mean that agencies that manage outdoor recreation need a simple, streamlined way to update and communicate outdoor recreation opportunities with the public.
Of particular interest are licensed activities, such as hunting, fishing, and boating, since they often fund conservation efforts. Participation in these activities has been on a downward trend for decades, but the last 18 months' unprecedented outdoor activity offered an opportunity to recruit, retain, and reactivate participants.
To help meet this need, the Recreation Outreach solution has recently been updated; it delivers a set of capabilities that help you understand recreation license trends, engage the public about their recreation experiences, and promote recreation opportunities to the public. This blog highlights those updates.
Improved Hub Site
The Outdoor Recreation hub site included with Recreation Outreach now features a Trails page. Like the other pages, the new Trails page features useful information for potential trail-users: orienting statistics, steps for getting started, links to regulations, links to the Trail Locator, featured trails, events, and FAQs.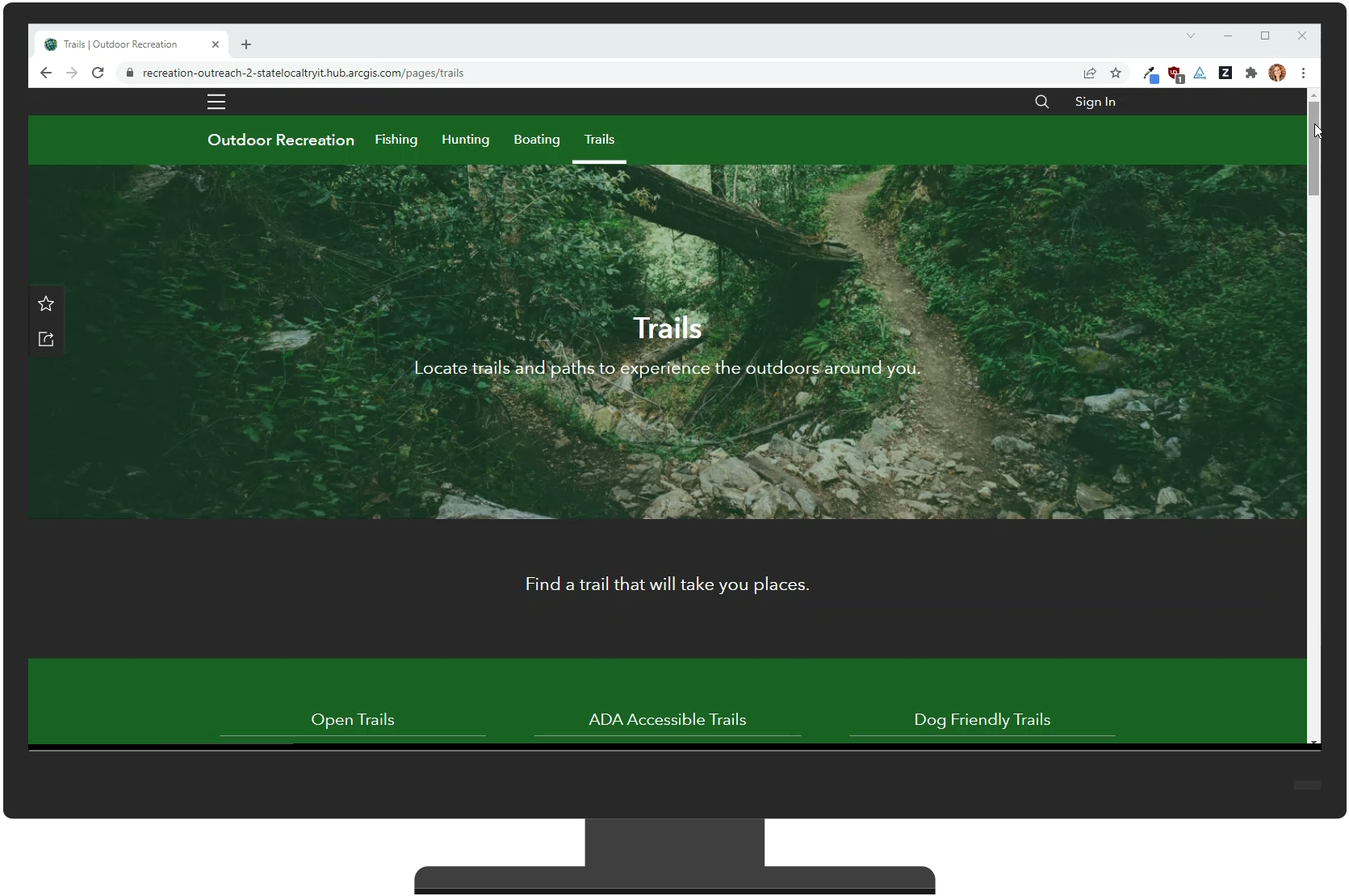 When they're back from the trail, the Trail Experience Survey lets the public share their experience with the managing agency, who can then use that information to allocate resources effectively. Information gathered includes quantitative information, such as how many people used the trail, and qualitative information, such as trail activity and overall experience rating. The survey is configurable, so agencies can add or remove or change any questions they'd like.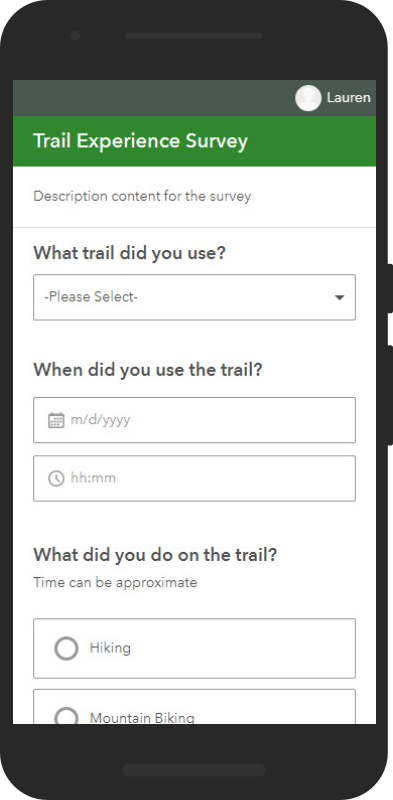 The Hub site's main page also features a section to link to a Service Request system, so if a member of the public runs into a washed out trail or a non-functional bathroom, they can report it.
Updated Locators
Our classic outdoor recreation locators have gotten a much-needed face lift. We've migrated the Locator apps to the Nearby app template from Instant Apps for a friendlier mobile experience. Of particular note is the Trails Locator, which now features a robust pop-up describing amenities, trail conditions, and other useful information, as well as an elevation profile, so you can see what kind of climb you're in for. Filtering has been made more robust on the Trail Locator as well, including options to filter by trail length, trail difficulty, and activities allowed.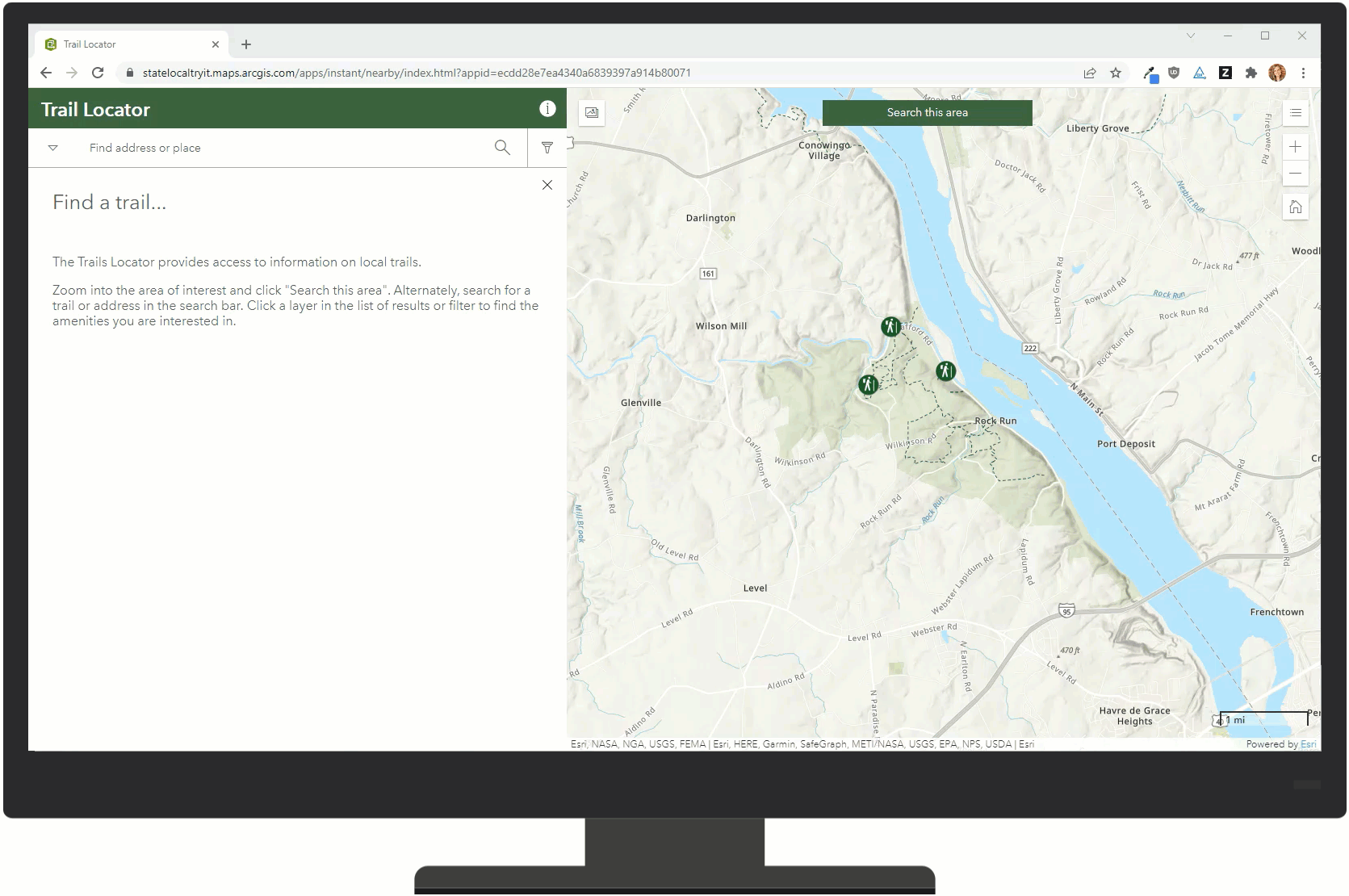 Recreation Outreach also features the Park Locator (to help the public find nearby parks), the Recreation License Locator (to help the public find retailers that sell fishing and hunting licenses), the Water Resource Locator (to help the public find fishing and boating locations), and the Wildlife Locator (to help the public find hunting and wildlife scouting locations). They have all been updated too, with an informative pop-up and robust filtering.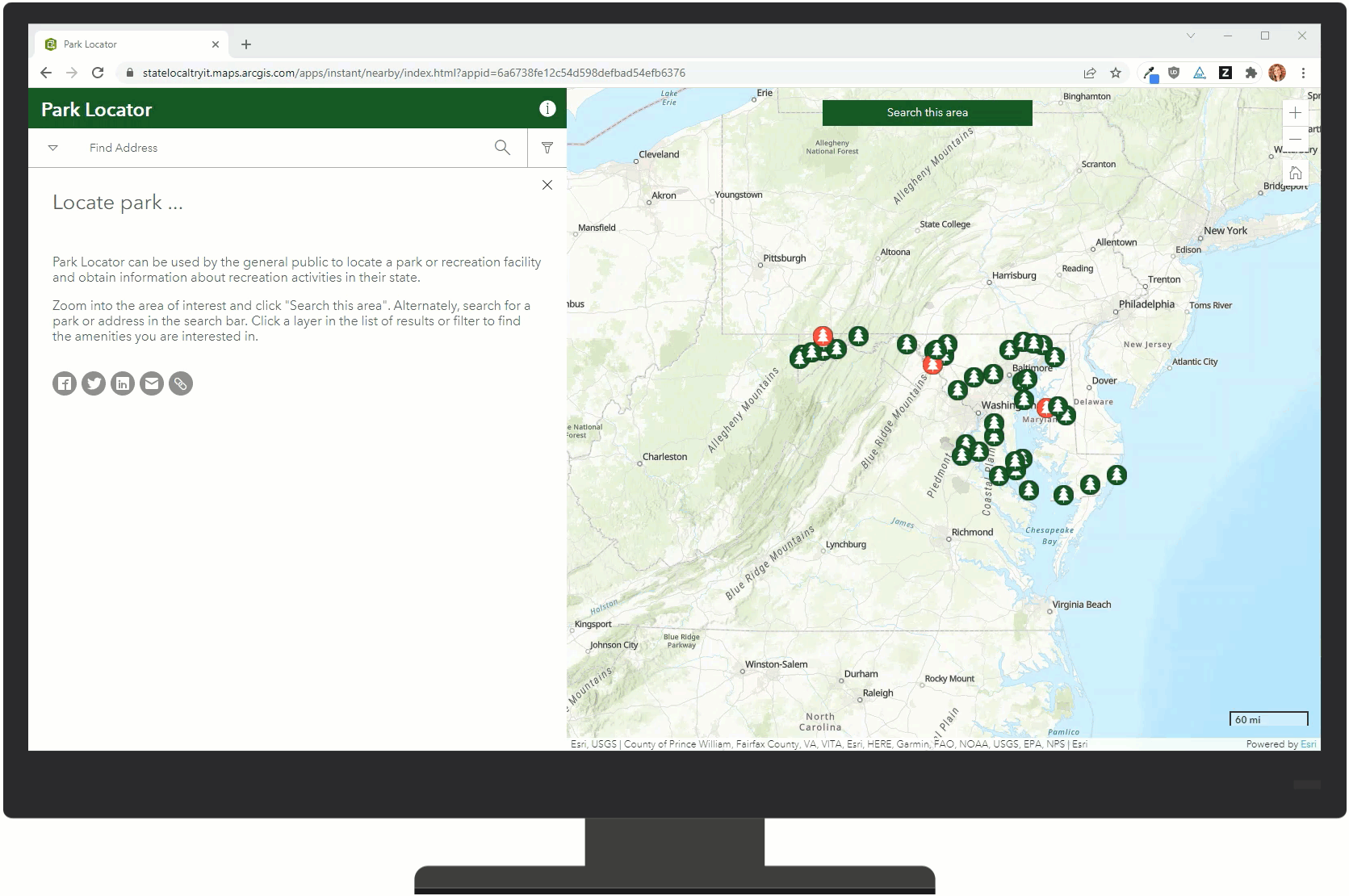 Each Locator also now shows which locations are open and closed, so users can easily see the status of locations at a glance. The Park Locator includes not only locations, but also amenities such as restrooms, picnic areas, and trails within each park when zoomed in.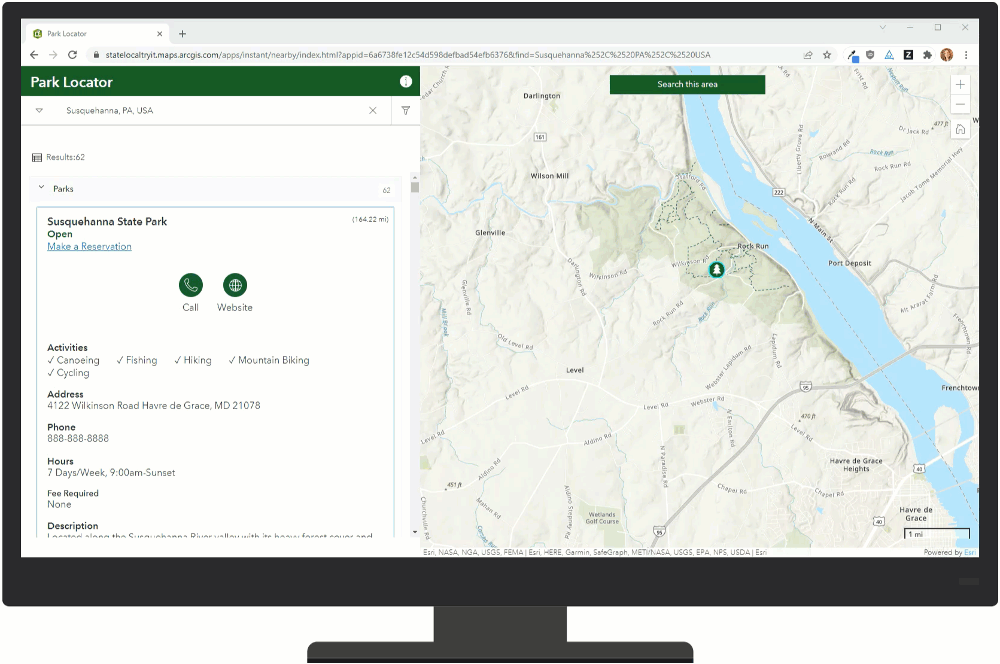 These updates make it that much easier for your users to find and enjoy outdoor recreation opportunities around them.
New Native App Options
For those looking for a native app experience, the Recreation Outreach locators can be used to create a native app using the Nearby template in ArcGIS AppStudio.
New Data Management Tools
For the recreation staff managing outdoor recreation, Recreation Outreach features two new applications to help streamline data management: The Recreation Inventory App and the Recreation Closure Manager.
The Recreation Inventory app makes data management simple. The app features editing capabilities that make updating any Locator features a breeze with just a few easy steps. It can also add new features to any Locator layer.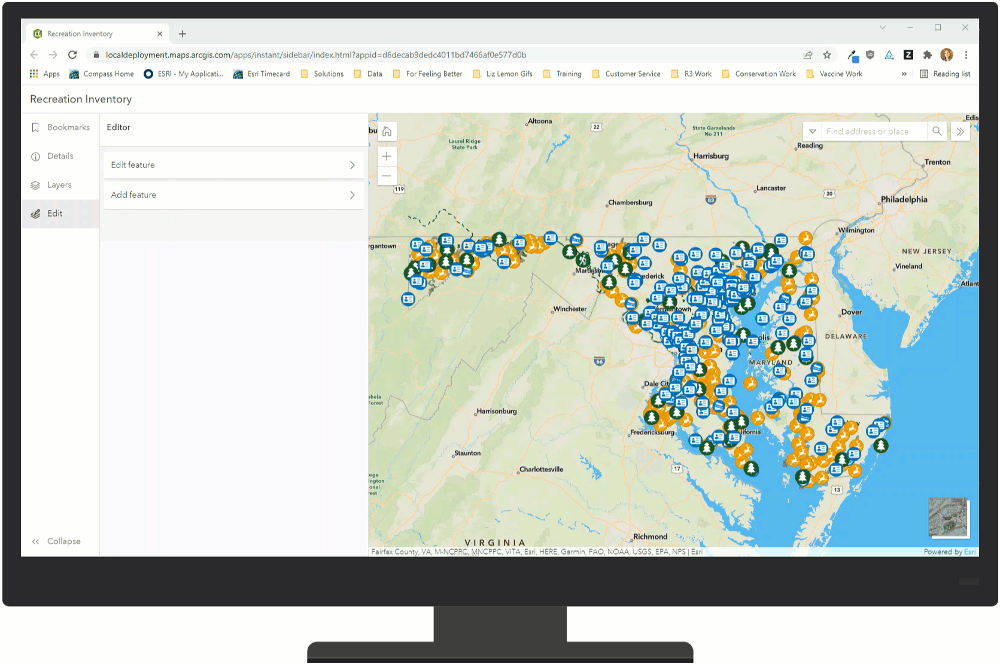 The Recreation Closure Manager lets recreation staff create closure areas within their boundaries. If a certain section of the park or wilderness area is closed, e.g. for maintenance or seasonally, the staff can create a new closure polygon and change all features in it to status: closed. Labels can be added for more context.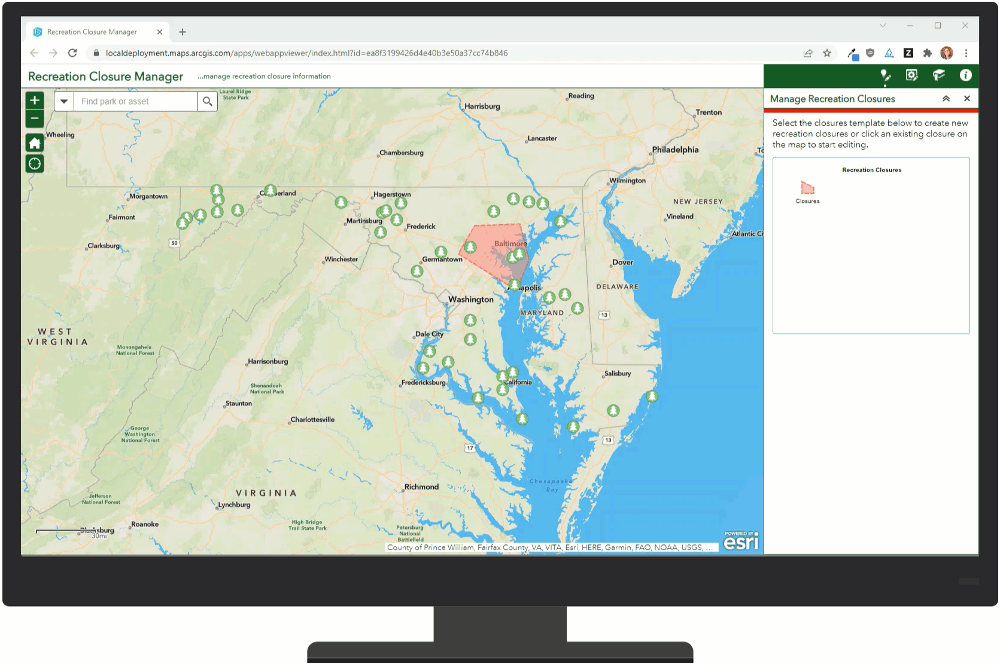 Integration with Park Infrastructure Management
Recreation Outreach integrates closely with another solution, Park Infrastructure Management. Park Infrastructure Management offers park agencies a streamlined way to manage their infrastructure from conducting a thorough inventory of assets to managing maintenance on those assets. The data requirements for Recreation Outreach and Park Infrastructure Management are very similar as the two share some layers.
Additionally, Park Infrastructure Management includes a survey for the public to report any issues they may find with anything in a park or wilderness area. As mentioned above, Recreation Outreach's main site offers a place to link to this survey, making it easily accessible for the public.
Additional Resources
Learn more about the Recreation Outreach solution and how you can quickly deploy it on the ArcGIS Solution site.  For questions and feedback, chat with us on Esri Community or contact Esri Support Services.