January 2020 update: In addition to all the functionality described below, a new feature was added to slideshow this month that provides you with a few different styling options for narrative panels. Use this new menu to choose between three styles: a themed style with a semi-transparent background, a dark text color with a fully transparent background, and a light text color with a fully transparent background.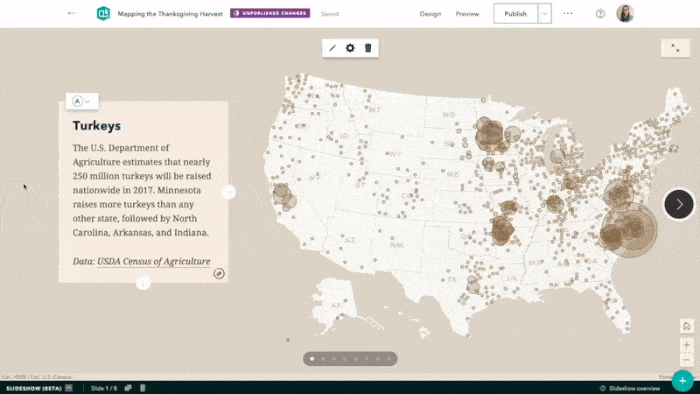 ____________________
If you've spent any time in the ArcGIS StoryMaps builder, you know the block palette is at the heart of the authoring experience. Whether you're adding text, a YouTube video, a map, or something else, it all starts right there.
But not all blocks are created equal. There are some special, immersive blocks that go the extra mile when it comes to engaging your readers. These blocks combine a few different elements—like a large media panel and a smaller narrative panel—to create rich, captivating experiences that really bring your content to life.
Sidecar was the first immersive block available in the new builder, its design largely inspired by the classic Story Map Journal template. But among the new features added to StoryMaps in October is the next immersive block: slideshow (currently in beta).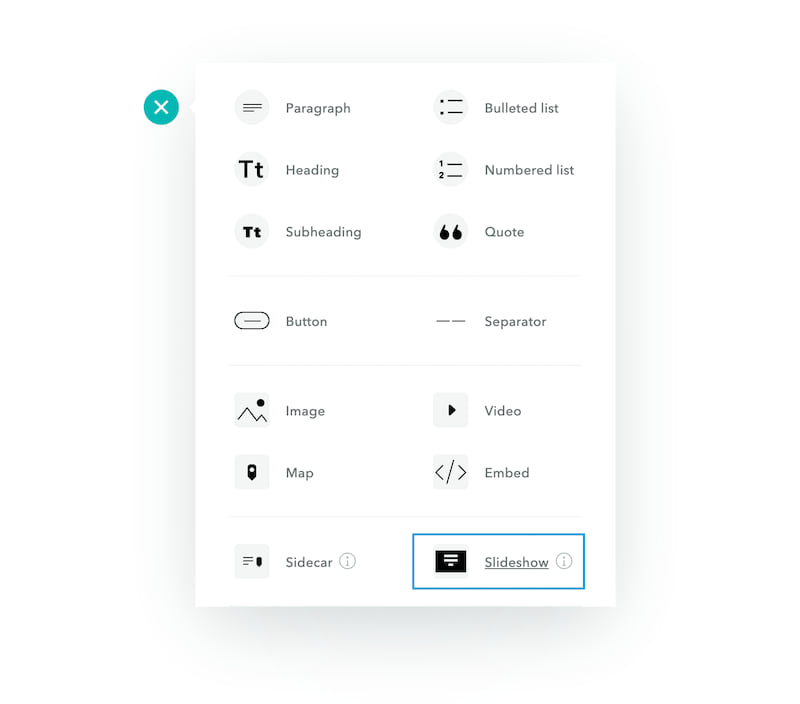 This block is all about your media; it lets your map, 3D scene, photo, or video fill the screen. The small narrative panel that floats atop your media is optional, and you can choose between nine placement options to ensure your text doesn't obscure a key element of the media behind it.
Readers navigate a slideshow laterally, using the arrows on the left and right edge or the dot navigation along the bottom to move from slide to slide. (They can also swipe to advance on touch devices.) Once they've had their fill of slideshow content, readers can simply keep scrolling to see the rest of your story.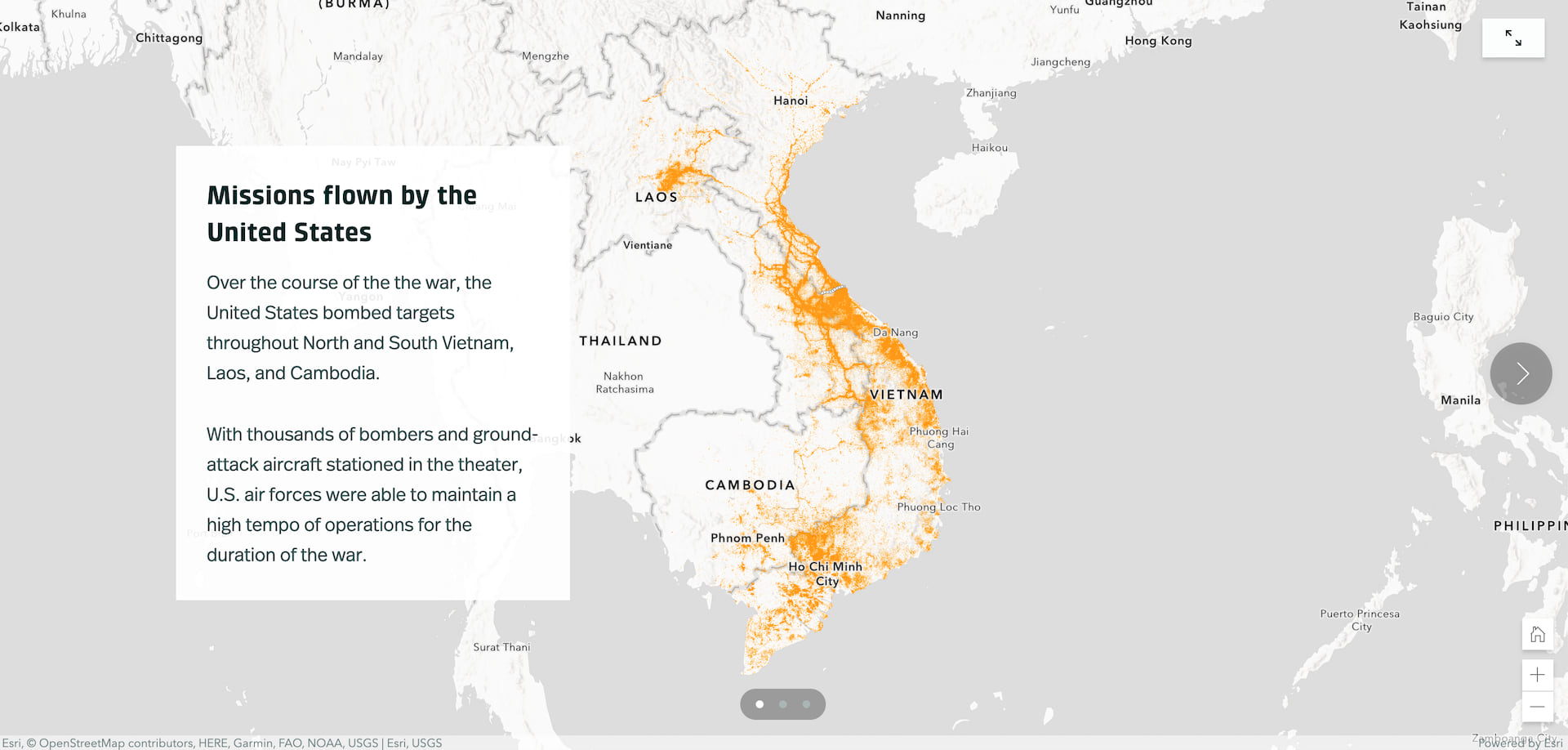 Some ideal uses for slideshow (beta)
When designing slideshow, my teammates homed in on a few key needs we've heard from the storytelling community. These do not exhaust its possibilities by any means, but here are the main uses we had in mind for the new immersive block:
A presentation tool
A way to mimic the narrative-style use of the classic Story Map Series
A way to include an aside or case study in your story
A carousel of photos or other media
As a presentation tool
We know there are lots of you out there who've ditched traditional slide decks and replaced them with story maps when giving an in-person talk—heck, we do this too! But, delighted as we've been to see this, we've always felt a little guilty that we never actually designed our tools with presentations in mind.
Thankfully, those days are behind us now that slideshow has entered the picture. With navigation that's primarily click-based, this block eliminates some of the pain points of scroll-driven presentations, including the nausea they can induce for some audience members. Slideshow's narrative panel also keeps your audience in mind as you're adding content. It will politely suggest you duplicate your slide to break up your text if you start getting a bit verbose.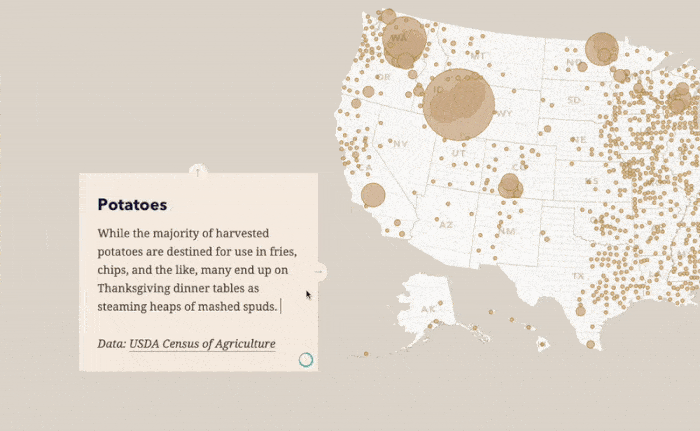 If you want to add a text-only slide to emphasize some major points, go for it. Instead of adding any media, simply choose a background color from the dropdown menu at the top of the block.
To mimic the narrative-style use of the classic Story Map Series
One of our goals for ArcGIS StoryMaps is to bring together all of the popular reading experiences currently spread across our different classic templates. Many of you used the classic Series to sequentially step your readers through a set of related maps, and we know you've been waiting for a similar capability in the new builder. Slideshow should help fill this need.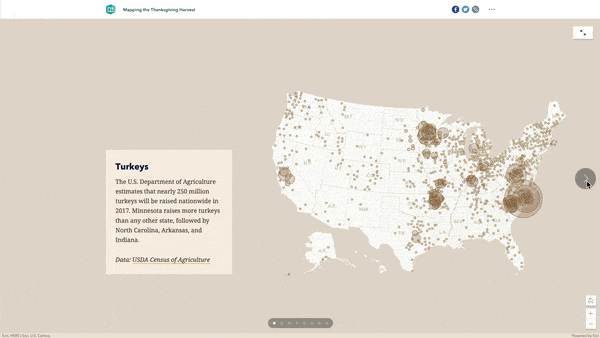 You can configure a slideshow to show the same map extent while turning various layers on and off as a reader advances from one slide to the next. My team found this to be an effective technique for our story showing the locations of U.S. farms supplying classic Thanksgiving dinner ingredients.
Or you can keep your map layers the same across slides and instead pan and zoom around to highlight different areas of significance. My colleague Cooper took this approach in the third slideshow in his story Bombing Missions of the Vietnam War, focusing each slide on the area of a particular campaign. This combination of storytelling technique and story topic makes for a pretty powerful read.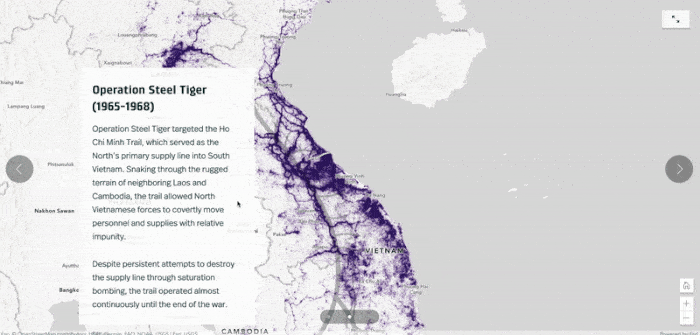 While we're on the topic of Series, I'm sure some of you will be wondering about that classic template's other main use—to group together related resources on a particular topic. If that's what you're looking for, slideshow isn't your answer. Instead, I'd encourage you to check out collections, which were designed with this exact need in mind.
To include an aside or case study in your story
A common pitfall we see story authors make is trying to cram so much information into a single story it can become overwhelming for the average reader. Sometimes these extra details may only be of interest to a particular audience segment or an especially curious individual. In these instances, what authors really need is a digital equivalent of the aside sections that you generally see as insets in a textbook or magazine.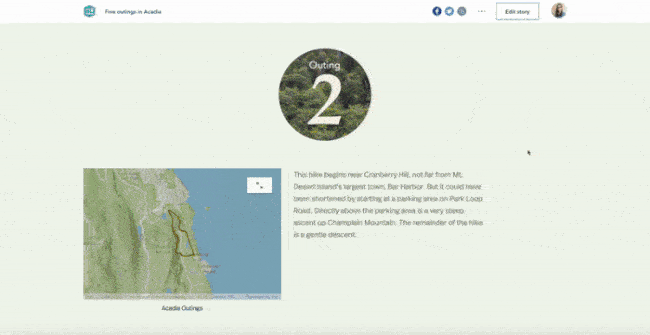 Because slideshow has a relatively small content footprint—meaning it doesn't add much vertical scrolling to your story whether you have one slide or seven—it can be a nice solution to the this-is-probably-information-overload-for-most-but-very-useful-for-some conundrum. Use a clear heading and some straight-to-the-point text on your opening slide to get your most invested readers clicking through to the rest of your slideshow content. Those who prefer to stick to the basics can simply move along without experiencing any extra scroll fatigue.
As a carousel of photos or other media
Sometimes you just want to let your readers pause and enjoy some really nice eye candy, or maybe explore a set of maps after you've already explained the data and symbology at length. Building in these visual breaks not only helps combat mental fatigue for your audience, it also increases the likelihood that they'll remember your message by giving their brains a chance to process what they've read before diving into the next topic.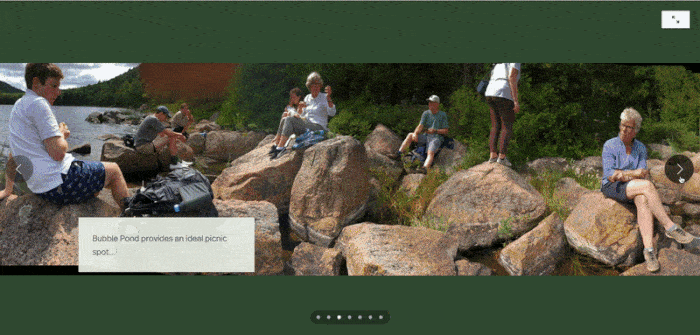 If you want to create a nice, enthralling media carousel, just add a slideshow to your story, like Allen, the StoryMaps team lead, did in his personal narrative Five outings in Acadia. You can include short descriptive captions if you like, but don't introduce too much new information or your break is no longer a break. Another option, if your media doesn't need a caption or credit, is to leave all of your narrative panels blank—they'll simply disappear in the published version of your story.
Authoring your first slideshow
Now that you have some ideas for when you might want to use this new immersive block, let's quickly take a look at how you actually configure it. First things first, you'll need to open up the block palette and click Slideshow to add the block to your story.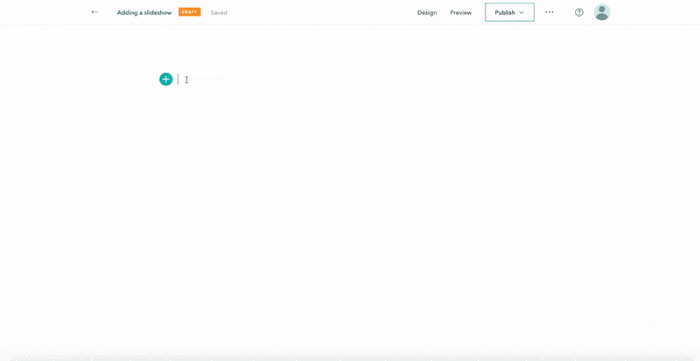 Like magic, an empty slideshow will appear, ready and waiting for your content. Use the Add background media menu to load in whatever map, image, or video you'd like to occupy your first slide, or choose a background color if you're in a text-only mood.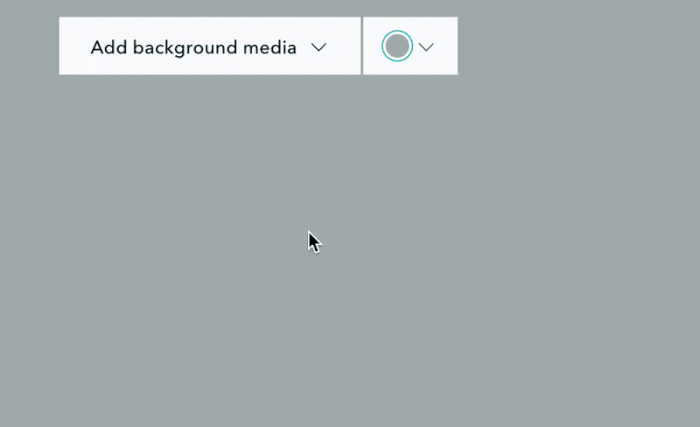 If you've added media, use the Properties menu to add in alternative text. This is also where you can also set the focal point for images that fill the whole panel, or opt to fit the entire image in the slide instead.
That's about it for media—next, the text. You can start typing right in the narrative panel or paste in text if that's more your style. While there's no character limit for copy in a slideshow, you'll see a warning if things start to get a bit long, accompanied by a handy Duplicate slide option. Use the arrows that appear on the narrative panel edges to adjust where it sits atop your media. Nothing too complicated there.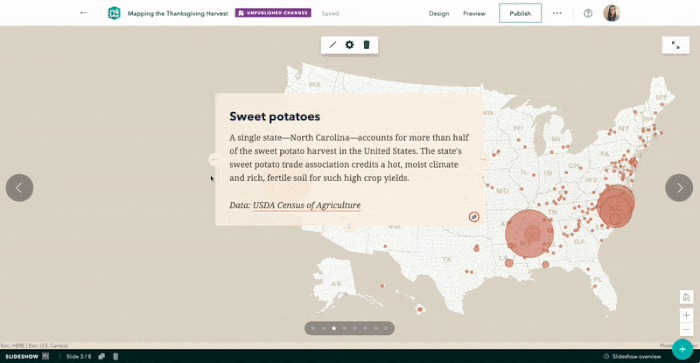 The collapsed slide panel along the bottom of a slideshow block might look familiar to anyone who's worked with sidecar before. This is where you manage all of your slides. With the panel collapsed, you can duplicate or delete your current slide, add a new one, or adjust the speed of the transition from this slide to the next. All these options remain with the panel expanded, except now you can also re-arrange your slides by clicking and dragging them into your desired order. You can also delete the entire block from this expanded view, if needed.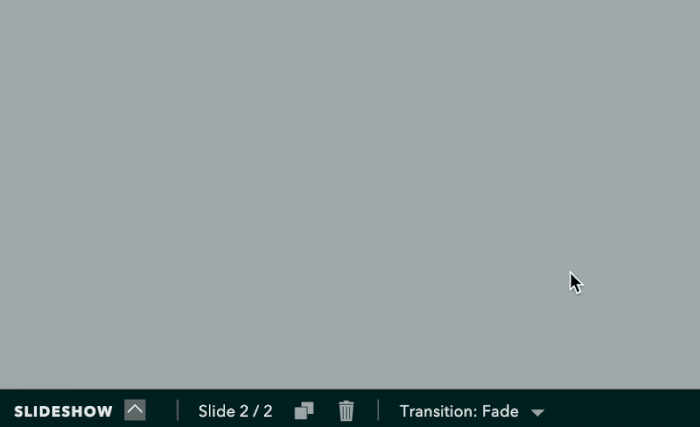 If you want to continue adding content to your story below your slideshow, just scroll down past it, open up the block palette, and keep on working. Easy peasy.
________________
Well, that about covers it for slideshow. As a reminder, this immersive block is in beta, and we have some additional enhancements already on our roadmap. But we'd love to hear what you think or where you'd like us to take slideshow next; if you have ideas, reactions, or questions, please add them to this discussion on GeoNet.
The team also has plans for even more immersive blocks in StoryMaps. Some will mimic other classic capabilities, while others will break new ground for our storytelling tools. To stay in the loop about when these new features become available, be sure to follow us on Twitter or subscribe to our monthly newsletter.