Hello, we have some exciting news. Our 2016 Data Update has arrived and is ready for download.  Here is a quick list of things to know.
(1) Unlock The Data:  Esri Customer Service sends your organization an email with updated data licenses.  These will unlock the 2016 Data.  The 2016 Data is certified on Business Analyst 10.4.1…and all the way back to 10.3.
(2) Get The Setup:  You can download the content from My Esri / My Organizations / Downloads.  If you need it on a USB drive, you can order that too.
(3) Install The Files:  The data is larger this year, pushing 60GB.  We've conveniently broken the files into 5 smart 7-Zip archives.  You download them and with 7-Zip installed, select Extract Here and the setup populates itself for you automatically.  You don't have to worry about manually copying any files or folders.  Our install guide tells you lots more.  We recommend installing the most current version of 7-Zip (v.16.02).


(4) A New Map View:  We've added a great new Map Document as a convenient starting point.  It's FAST AND FUN AND BEHIND THE FIREWALL.  Fast to zoom, pan, scroll, redraw and everything else.  It's vector-based so you can change symbology, reorder layers or add your own.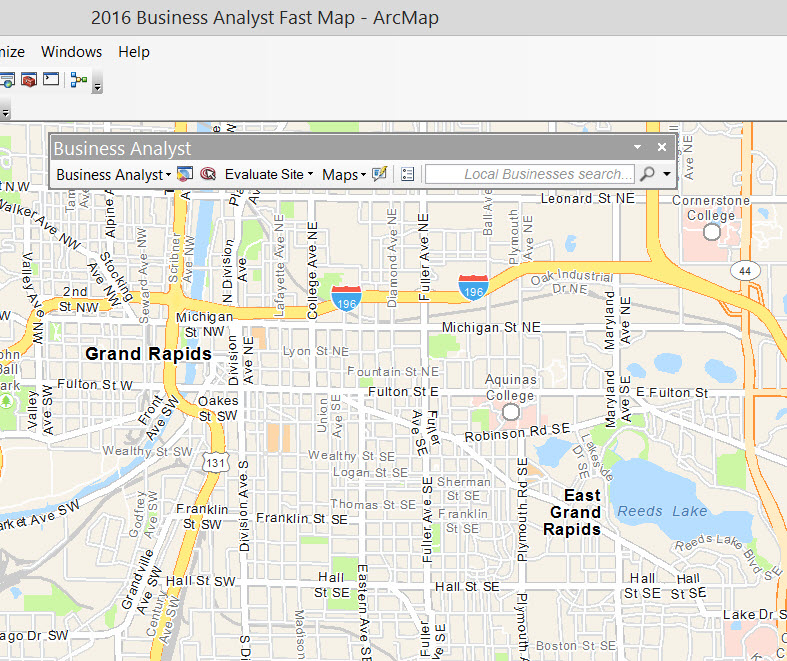 The "Fast Map" dataset is installed by default and is an extra 5GB or so, you can view this in the Custom install settings and turn it off .  But it's a joy to use and works great for performance intensive tasks such as large geocoding jobs.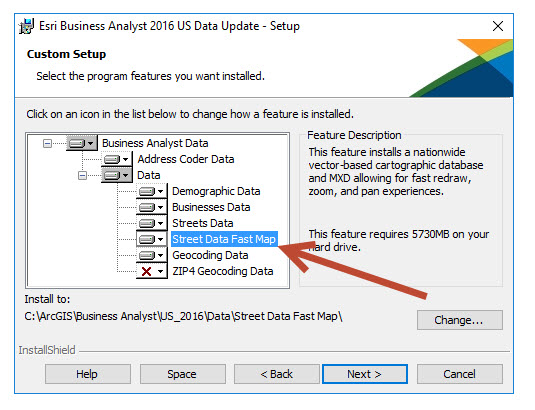 (5) A More Convenient Search: You can always start with a blank MXD if you'd like.  There is no need to have BDS layers in the map any longer – Business Analyst uses underlying "Data Collections" to populate demographic variables in the wizards.  So all the variables are searchable under one roof – for example I filter on "ACS" and return all American Community Survey U.S. Census data…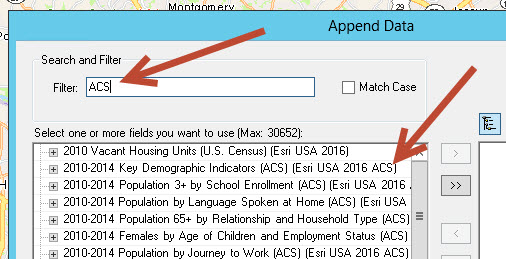 (6) Additional Datasets Included:  Speaking of American Community Survey – this 2010-2014 data is now included in the base dataset!  In 2015 we offered it as a separate add-on.  No need for that as it's simply available standard now.  For that matter, with a Standard data license level the Retail MarketPlace "Supply and Demand" data and its report is included too.  These are two great adds to the product at this release.  Find out more of What's New here.
(7) Add The Patch:  We have a patch available that contains improvements made to the core ArcGIS geocoding functionality.  It specifically deals with using Address Coder with Business Analyst 10.4.1 and the 2016 Data Update.  If you use Address Coder, go ahead and install this patch.
We hope you enjoy working with the 2016 Data Update.  More info to follow.
The Business Analyst Dev Team