What's more exciting than releasing a new version of ArcGIS CityEngine? That's right, releasing a new version of ArcGIS CityEngine just before the weekend!
Why? Because now you get to play around with it all weekend long!
It's been a busy year for us, aside from releasing some new plugins and connectors, like the ArcGIS CityEngine Connector for NVIDIA Omniverse, heading to conferences to spread the word on how great CityEngine is (come and talk to us at the Esri UC in San Diego), we have of course also been hard at work on the new release!
…and now it's here! We're really proud to welcome our little bundle of joy ArcGIS CityEngine 2022.0 earth-side.
We can't wait for you to test it out. If you actually do spend all weekend doing that, you won't regret it. The team worked tirelessly to bring this release to you – well, almost tirelessly, they do still have free time, of course…also there's this thing called "labor laws".
N.B. Esri is an awesome place to work, and we're actually looking for new CityEngine team members, so check out the careers page.
If you want to know everything that was worked on in this version, you can scour the depths of the release notes, or you can just scroll through this blog for the top new features.
Without further ado, this is CityEngine 2022.0!
Export to Twinmotion
Twinmotion, a tool for architectural visualizations from Epic Games, is now supported in the Unreal Datasmith exporter. Create high-quality visualizations of your ArcGIS CityEngine scene using the Export Twinmotion Compatible checkbox in the export dialog.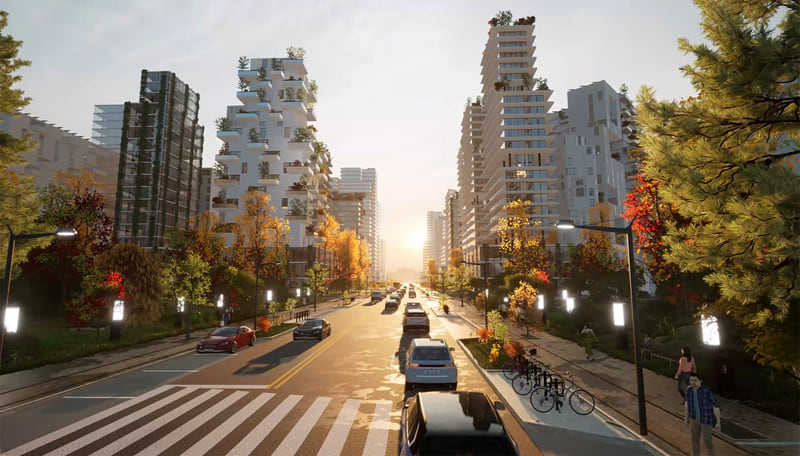 Transform tools: Integrated CRS tool
The custom reference system (CRS) tool is now fully integrated into the transform tools. You can create, edit, or load a CRS when using a transform tool and the current CRS is stored when switching between different tools. The position is centered to the current selection except when the Adjust Position and Orientation mode is used.
Also, the new Transform Individually tool option allows you to rotate or scale multiple objects around their respective center points. For example, you can transform multiple trees individually while they remain in place in the scene.
Finally, now when you click a tool with tool options, the tool options window automatically opens.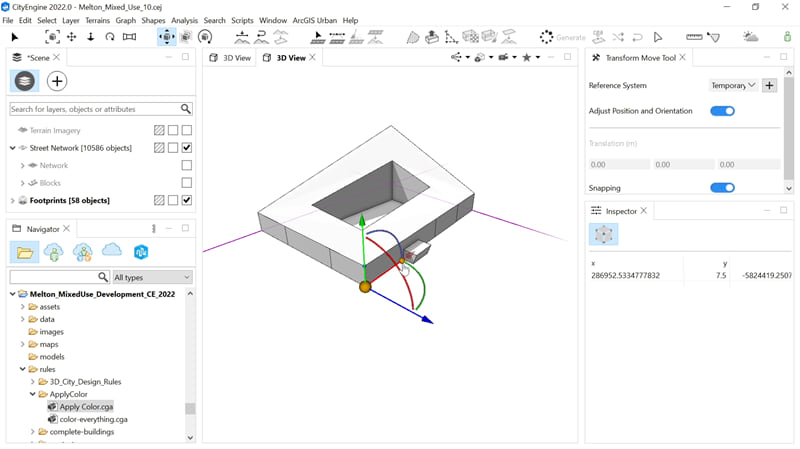 New start-up experience
The welcome screen is completely redesigned. It's now integrated into the UI and can be opened anytime. Furthermore, a new Get Started window appears at start-up, and guides new users through the ArcGIS CityEngine Tour tutorial, which is automatically installed and added to the default workspace.
Also, Webstyles assets, such as vegetation, are now bundled in the installer, added into the new workspaces, and no longer need to be manually downloaded. Finally, the new screen includes links to the most common ArcGIS CityEngine help resources.
Inspector and streets
The Street Inspector is simplified: different object types are now grouped as Nodes, Segments, Sidewalks, Blocks, and Lots. Also, when selecting a street or sidewalk shape, the matching node or segment is now selected automatically.
This allows for quicker selection, attribute control, and editing with the transform tools. Finally, the object types have new icons, and the parameters are rearranged, renamed, and have more descriptive tool-tips.
New lasso selection
The new Lasso Selection tool allows you to select multiple objects in the viewport when they do not fit into a rectangle.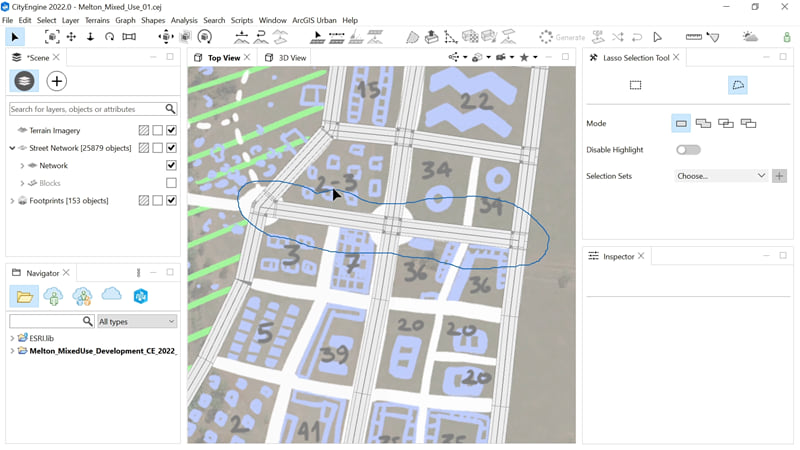 CGA
There are new extension point rules that can be redefined in import statements, in the same way as attributes.
The resetMaterial operation now has an option to reset the material of the geometry. The readMaterial function now correctly reads map entries with empty strings.
You can preview CGA material files (*.cgamat) and material definitions for OBJ files (*.mtl) in the Navigator.
See the CGA changelog for a comprehensive list of changes and bug fixes.
Want to stay up to date? Sign up for the ArcGIS CityEngine newsletter to get all the latest and greatest news. If you're new to ArcGIS CityEngine, try a 21-day free trial to take it for a spin!