We are starting off 2020 with an update to Collector for ArcGIS on the iOS platform. Following our previous, minor release in October, this update is rich with new features that we are excited to make available.
Included in the 20.1.0 release:
Snapping to existing features
Update form entries for multiple features simultaneously
Reuse field entries between forms
Scan a code to sign in
View local tracks created using Tracker for ArcGIS
Feature Snapping
One of the top most requested enhancements you've asked for is feature snapping and we've added it in this release. You can snap to existing point features or vertices of lines and polygons when using the map to create new features or when updating the location of existing ones.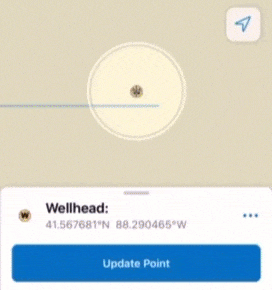 You'll know when snapping is applied both from the visual feedback that you see above and from the haptic feedback you'll receive when holding your device.
If you don't want to apply snapping, we've added a setting for you to turn it off as well.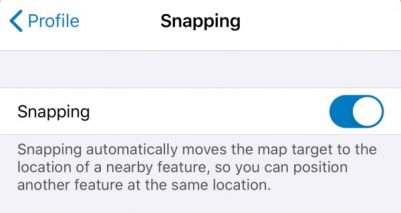 Updating Form Entry for Multiple Features Simultaneously
Quite often you find yourself in a situation where you need to update a number of features that you've captured or modified with the same field value. For example, updating the inspection status as "Complete" once you've finished walking an entire block or neighborhood. Instead of tapping on each feature, editing the attributes and submitting changes, you can use Edit Multiple to update all of their form entries at once.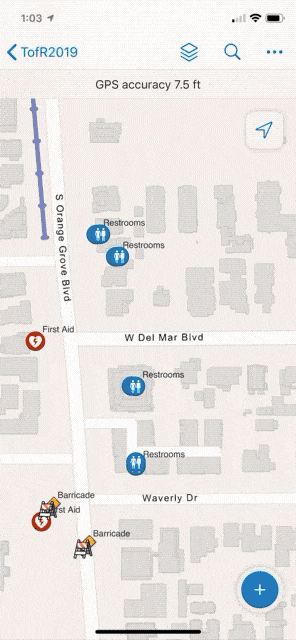 Reuse Field Entries
Now you can easily reuse values that you previously entered into your form to minimize repetitive data entry and spelling mistakes. This can be quite useful when entering frequently used text such as a street name or Inspector.
Directly above the keyboard, in the keyboard accessory view, you can tap on "Recent Values" and find up to  3 previous values entered for that field to choose from.
Scan a code to Sign in
When you sign in to Collector using ArcGIS Enterprise, you need to enter the URL of your portal first. This can be quite challenging for your field staff to type in on their devices. Tapping Scan Code will open the camera so that they can scan a QR Code or barcode and bypass having to type anything but username and password. To create the code, simply create a QR Code using the PORTAL URL app link for your ArcGIS Enterprise portal. You can read more about app links from our documentation site.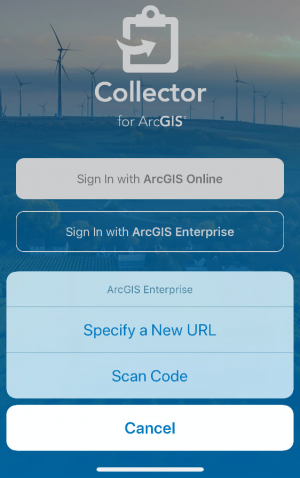 View local tracks from Tracker for ArcGIS
If you record your location using Tracker for ArcGIS, now you can view those tracks inside of Collector. If you tap on the Layers tool you will find a new entry titled "My Tracks" and you can tap on Tracker to open the Tracker app to turn on/off tracking or adjust the history of tracks to display. Collector displays the tracks that are stored on your device so you can see previous locations even if you lose connectivity. It will honor the display settings from Tracker as well so if you only want to see Todays tracks in Collector, set Tracks to Display to Today in the Tracker app.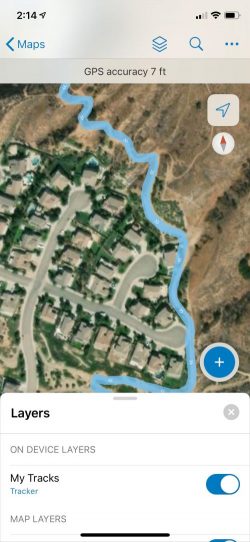 In addition to all of these wonderful enhancements, we've made a number of smaller, additional updates such as:
Adding direct support for 2 new GPS receivers – the Dual XGPS160 and Juniper Systems Geode
Separating the Layers and Legend tools and providing quicker access to the Layers by placing it on the toolbar
You can use a magnifier now to accurately drop a pin where you want to collect something
We've updated the field guide template with the UX changes.
Plus we've squashed a lot of bugs. You can read about them all here.
Coming Next
We've mentioned in previous articles that our Android release is coming soon. We have over 15,000 beta testers right now and we are done adding new features to the release. We have 2 more beta updates that will focus on stability and are planning to release in the next couple of months. If you haven't joined the beta program, please join today. You can join our Early Adopter Program and get access the most recent beta version on Google Play directly from the store.
We are moving forward with a bunch of exciting new improvements to Collector in 2020 and you will have several opportunities to beta test the new features we add. Please stay tuned for upcoming announcements from us very soon!
Commenting is not enabled for this article.