The next update of Community Analyst is planned for late March 2019. Here are the key highlights of what's planned for this release:
Better, Professional Infographics at Your Fingertips
Use a brand-new set of seven visually stunning starter infographic templates to summarize data and analysis. Easily customize them to reflect the logo, branding, and variables of your choice. Whether you are trying to understand Employment Overview, Office Market Profile, or Health Statistics for an area, the new templates have you covered.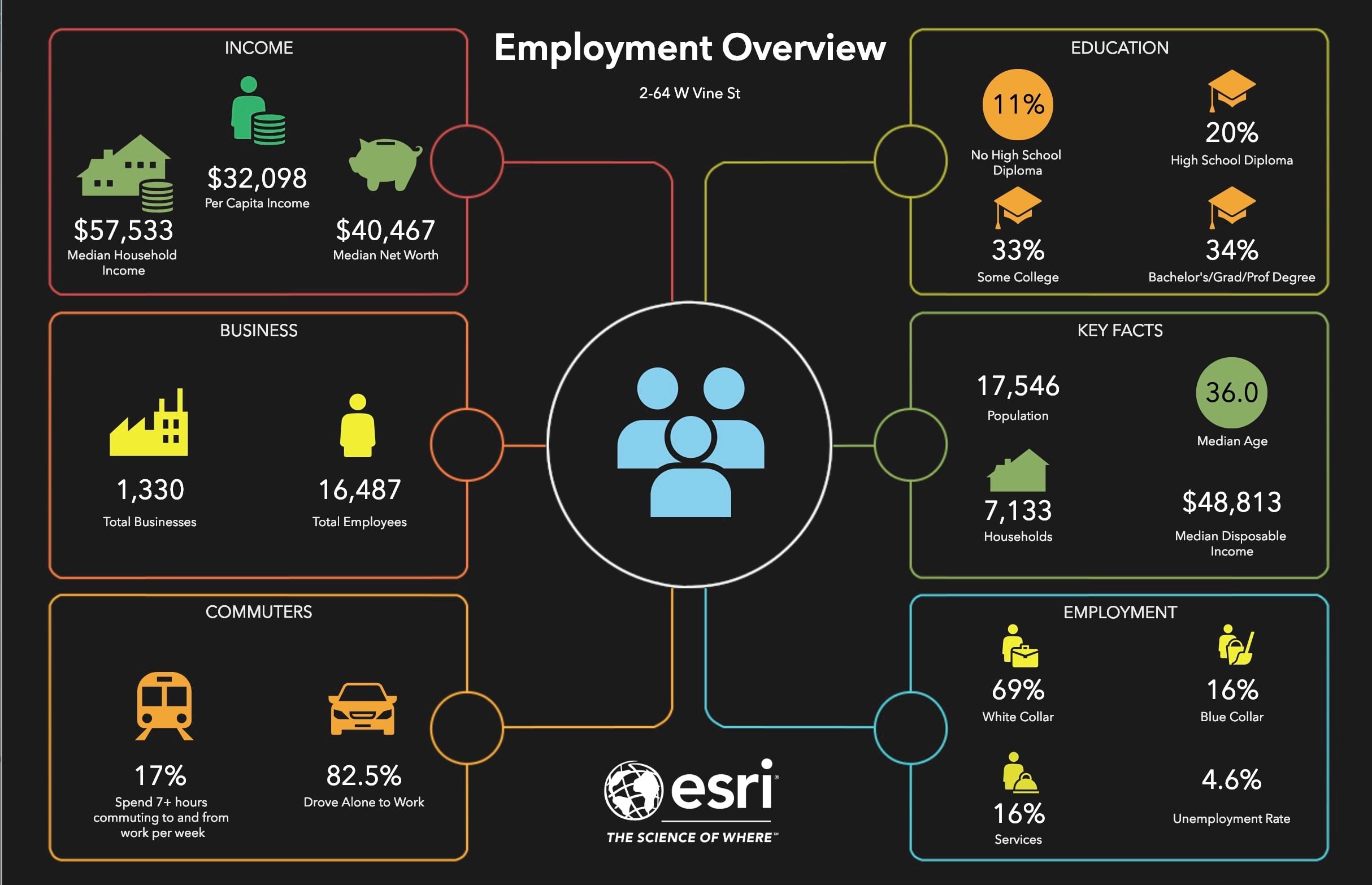 Get More Out of Comparison Reports
Interactively compare sites easier than ever using informative benchmark tables, beautiful charts, and more in the new Comparison Reports workflow.
The old Comparison Reports workflow will be removed with this release, but there's no need to worry! Its replacement, the new Comparison Reports workflow, is already available in the application. The new workflow gives you all the old Comparison Report features and so much more. Learn more about how to migrate to New Comparison Reports.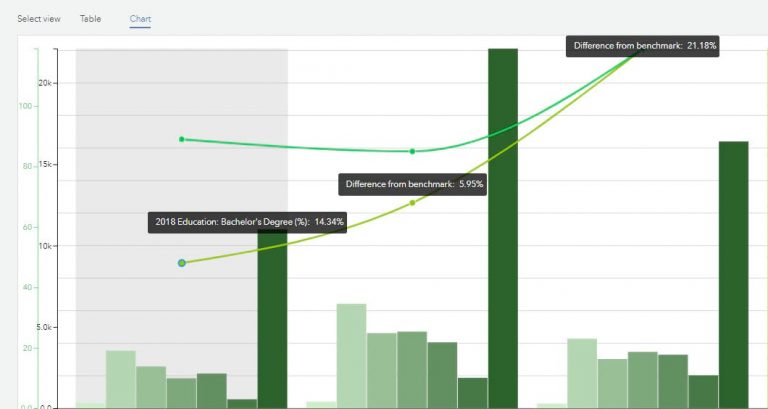 Access crime data for reporting
Use a new Esri Crime Summary report that helps you understand crime statistics for seven major categories of personal and property crime. You will be able to use the crime data in custom reports, infographics, and comparison reports to classify crimes by local demographics and type of incident.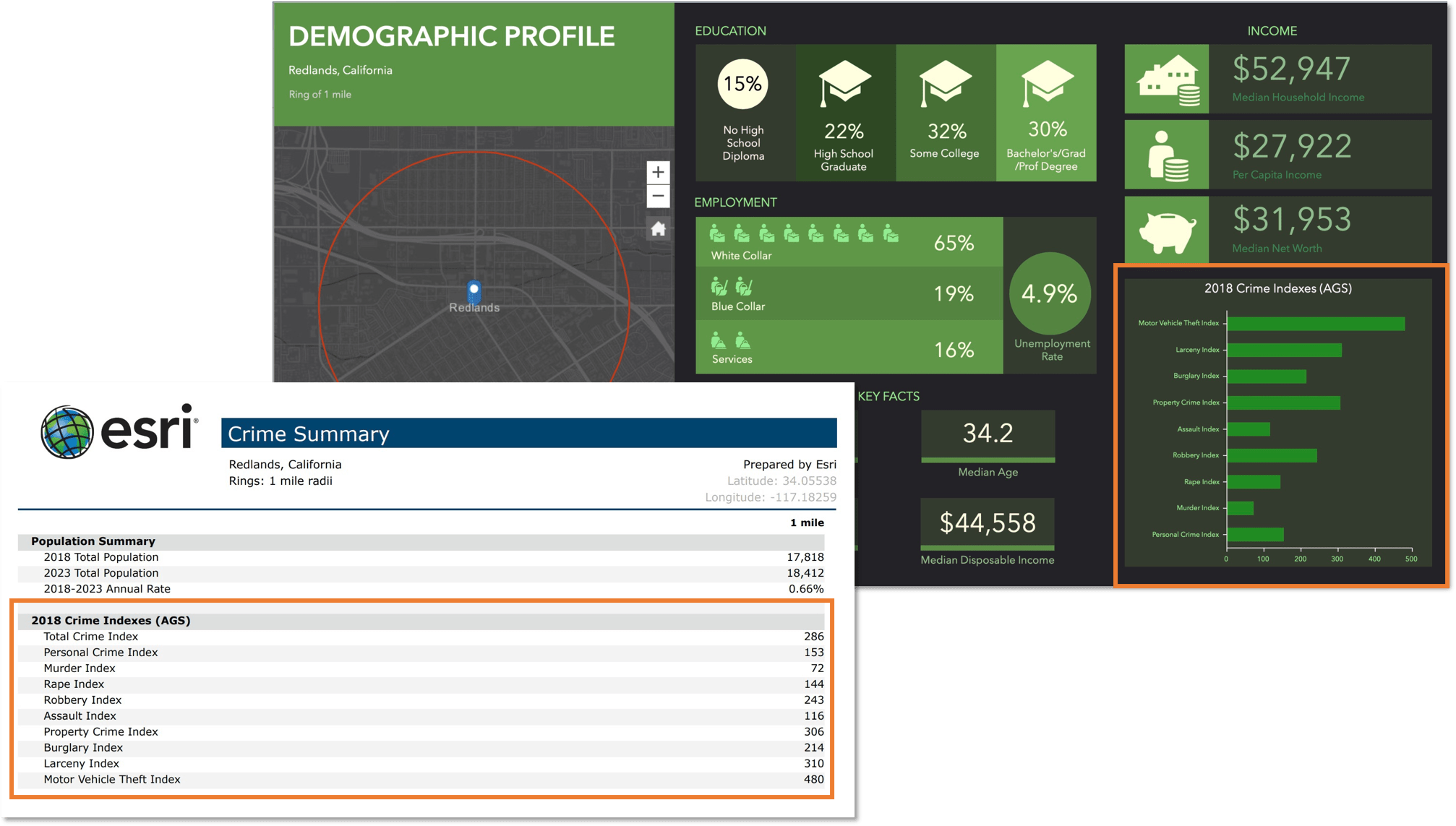 Add Nearby Location Counts and Summaries
Summarize attribute values in Nearby tables. When running infographics with a Nearby table, click the gear icon, choose the attributes that you want to summarize, and see the results added at the bottom of the table. Optionally, you will be able to choose to display the Nearby table as a summary count in its own panel.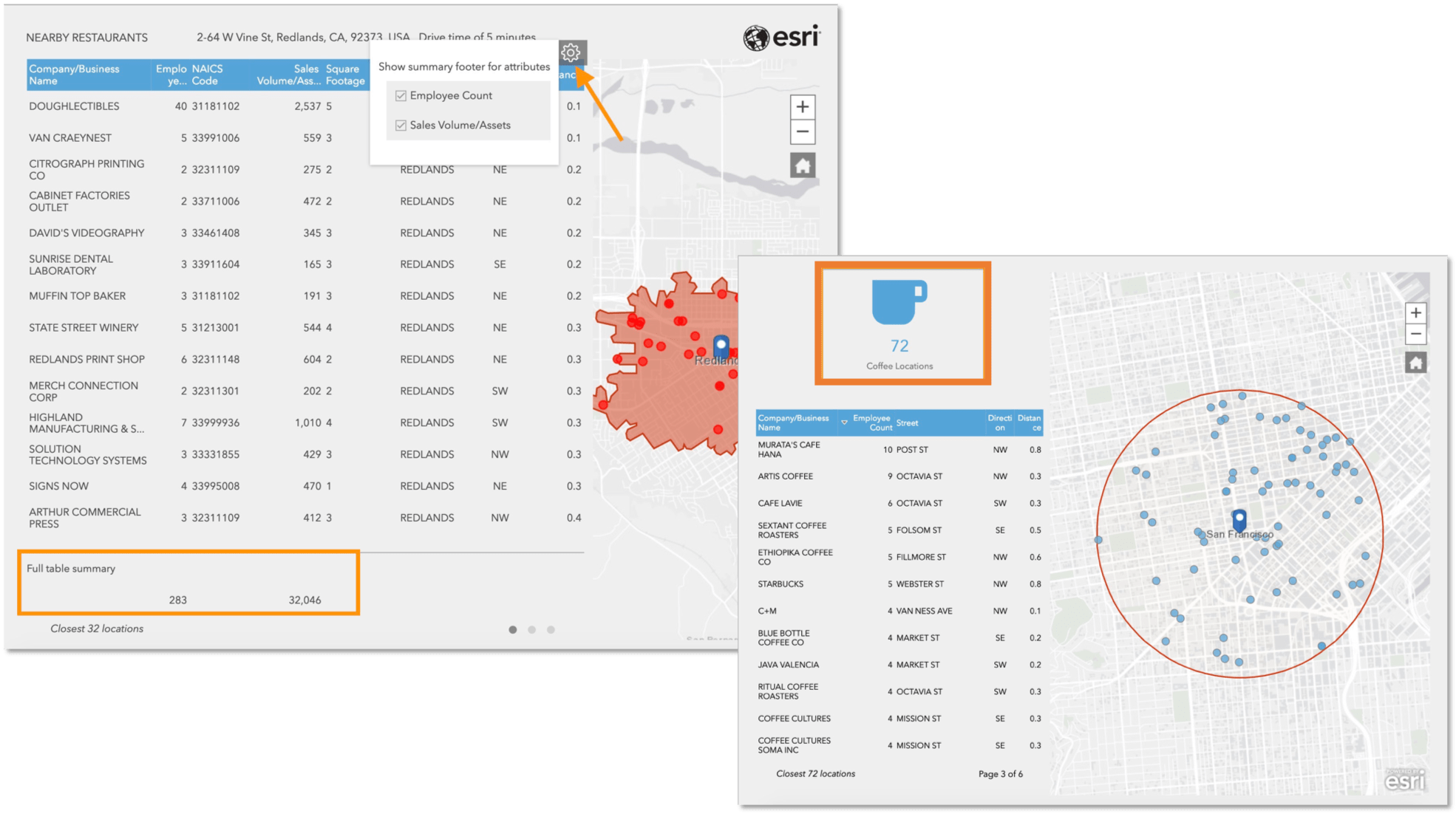 Modern Symbology for Your Mapping Needs
Hundreds of new map markers now available to symbolize locations the way you want. Start with vector graphics and color them to present locations with the best visualization.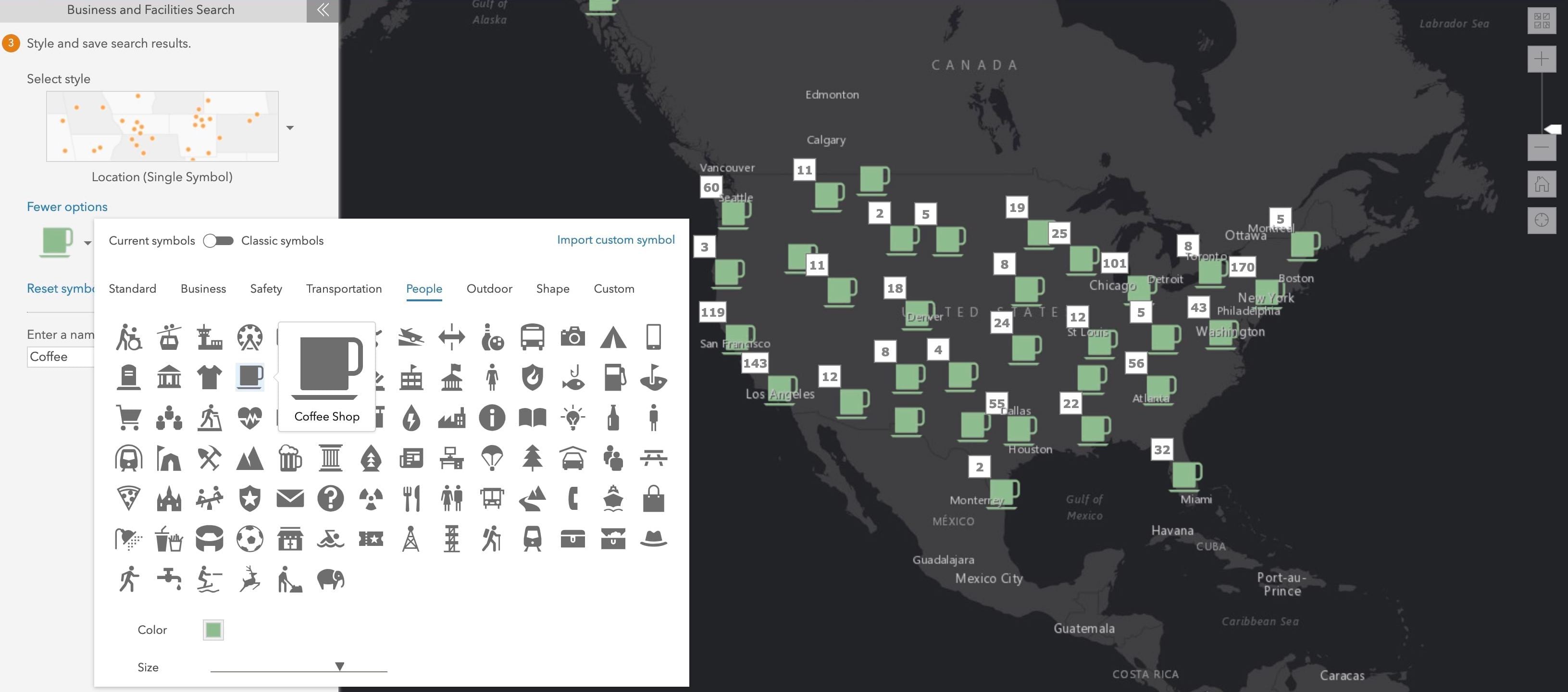 Combine Dot Density Visualization with Color-Coded Maps
Use a new option to display a dot density map with a color-coded background. You can view one variable represented in the dot density style in the foreground and a second variable with a color ramp background map.  For example, show total population using dot density mapping shaded by a color coded background map of median household income.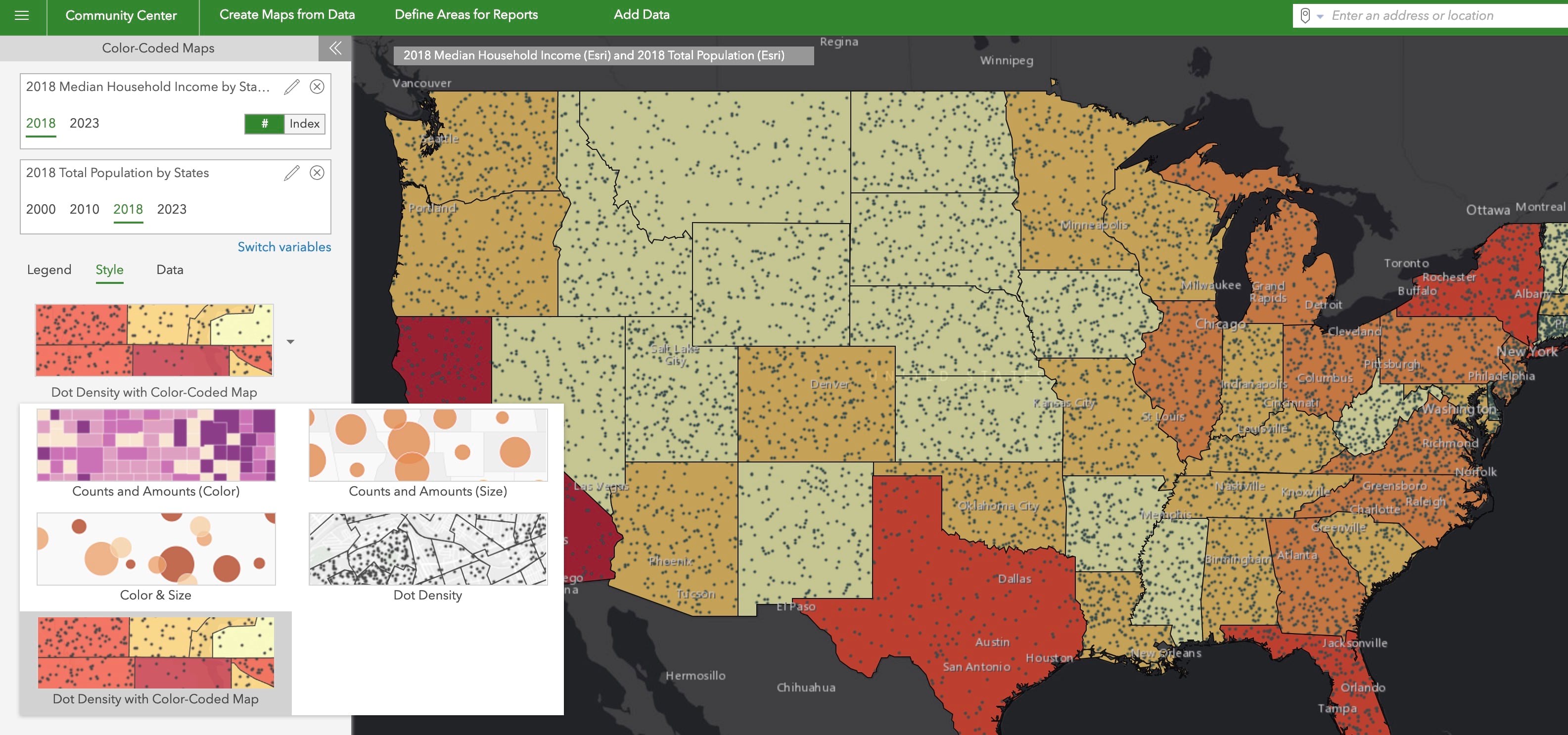 Use Top Consumer Segments for Canada
Determine top 3 consumer segments for any area in Canada using the PRIZM5 segmentation data. Simply add the PRIZM5 segments panel in your infographics and run it for any area.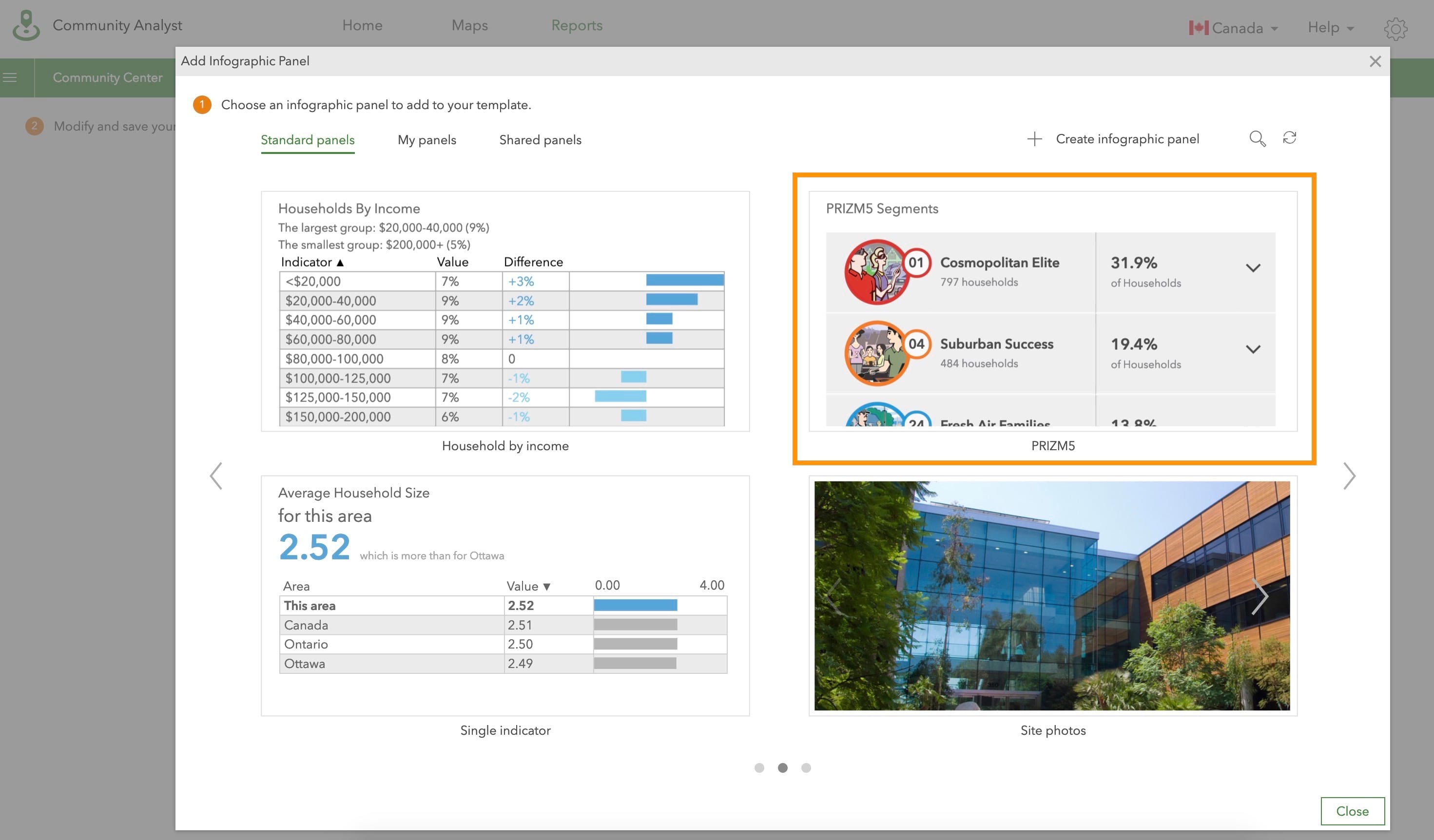 Use Web Layers Directly in Reporting Workflows
Bring in location layers from ArcGIS and run reports, infographics, and more without having to convert them into sites.  With the new Setup layer option, you can use services already published in ArcGIS in Suitability Analysis, Infographics and reports without the need to duplicate locations.  The Setup layer feature also allows pre-filtering by attribute and by map extent.
Data Update
New advanced data for Netherlands sourced from 4Orange. Working with Esri Netherlands, we will be releasing a new advanced dataset summarizing socioeconomic, life stage, and personal interest data for Dutch consumers. This data available at the 5 digit postal code level will provide additional attributes covering:
Demographic & Socioeconomic topics: Households, Population, Age, Education, Household Size, Stage of Life, Habitation, Heating Fuel, Home Value, Housing Type, Year Built, Income, Industry, Profession, Marital Status

 

Behavioral topics: Alcohol Consumption, Automotive, Charity, Cultural Engagements, Sports, Internet, Social Media, TV, Pets, Travel, Personal Viewpoints, Buying Behavior, Internet Shopping, Finances, Insurances, Retirement, Mobile Phones

 

Segmentation: Personicx Lifestyle Segments

 
U.S. data updates for businesses locations and DMM major shopping centers to January 2019, Kalibrate traffic data to Q4 2018, and Crime data to November 2018.
Michael-Bauer Research data update to 2018 vintage for 18 countries including New Zealand, Panama, United Arab Emirates, Venezuela, Qatar, Oman, and more.
Please note that all planned updates are subject to change without notice. A comprehensive list of implemented updates will be provided in a post-release What's New blog.
Commenting is not enabled for this article.