Note: This blog covers the classic Esri Story Maps. Story authors are encouraged to use the new ArcGIS StoryMaps to create stories; however, Esri will continue to maintain the classic templates for your use. For more information, see the Product road map.
---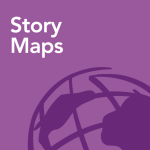 It's easy to create a Story Map Tour of your own photos from directly from Flickr or Picasa/Google Photos, but you can also create a Map Tour using a CSV file. A CSV is a simple text file that stores information in a tabular format and is easy to edit in Excel or a text editor. A CSV containing information about your tour points can be imported into the Map Tour app to create a feature layer in ArcGIS Online.
If you have a lot of photos on a web server or in a file storage service like Dropbox entering the titles, descriptions, and photo URLs of each tour point into a CSV is usually faster and easier that adding points one at a time using the Map Tour Builder. It's also worth noting the feature layer created by this process can be edited by you or others with ArcGIS Online accounts who have permission.
Another interesting option, and the subject of the rest of this blog, is to upload the Map Tour CSV to a cloud document service such as Google Sheets and link to it for your Map Tour points. An advantage of using a cloud-hosted spreadsheet is that you can enable others — even people without ArcGIS Online accounts — to easily add or modify your tour points. Anyone you authorize can edit your spreadsheet and their changes will show up in your Map Tour. You could even use this workflow to crowdsource a Map Tour by making the spreadsheet editable by anyone or linking your Sheet to a Google Form.
As part of the December 2017 update, you can now easily create layers (and Map Tours and Shortlists) from spreadsheets hosted in Microsoft OneDrive, Dropbox, and Google Drive. See this post for details on how to publish files from these services.
Prepare and host your photos
The process below assumes you already have your photos on the web somewhere like a web server, cloud file storage, or photo hosting service. It's always a good idea to optimize your photos for the web by creating appropriately sized copies (more about this here and here). For each tour point you'll want a larger image for the main photo (about 800 x 600 px) and a smaller thumbnail image for the carousel. If you are using a photo hosting service like Flickr, you don't need to worry about this since resizing is handled automatically.
Step 1: Download the Map Tour CSV file template
First you'll need to download a CSV template that has the required fields and field names needed by the Map Tour app. Go to the Story Maps Apps page, click Build a Map Tour, choose Advanced Options, then right-click Download the CSV template.
Step 2: Import the CSV template to Google Sheets
Now log in to Google Sheets and upload the CSV template by 1) opening the file picker, 2) selecting Upload, and 3) dragging or browsing to your file.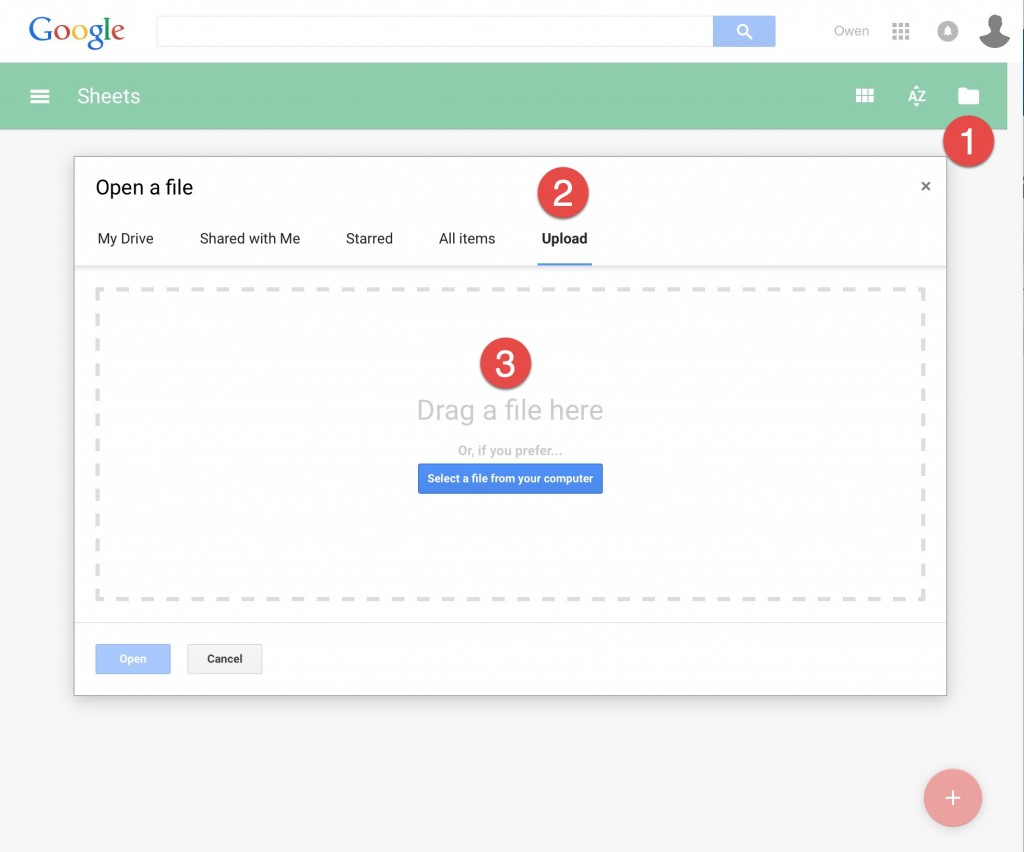 Step 3: Add information about your tour points to the Google Sheet
Edit the spreadsheet to include all the required information about your tour points. There is sample data in the template file that you should delete once you understand how to format the information.
If your photos are geotagged you can get the latitude (Y) and longitude (X) by looking at their Properties on Windows or choosing Get Info on a Mac. If your photos don't have geotags you can use the Measure tool on arcgis.com to find coordinates for the locations where you want to place your tour points.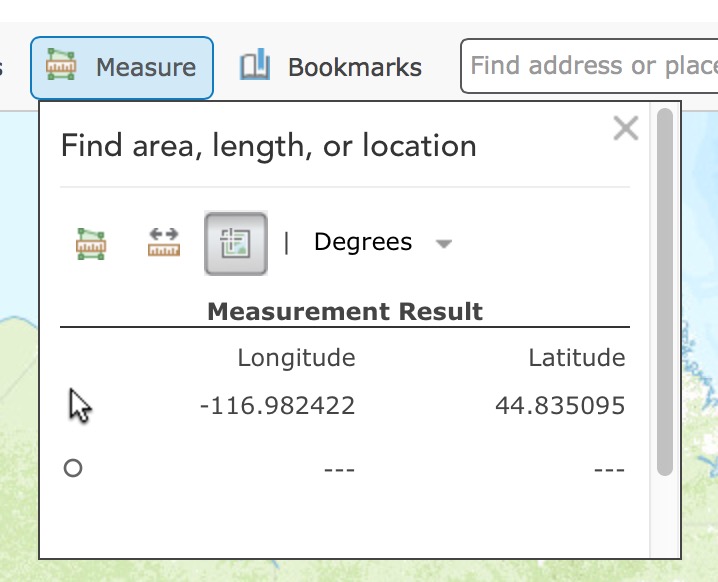 Step 4: Publish the Google Sheet as a CSV
Once your file is ready choose Publish to the web… from the File menu. Then 1) choose CSV as the format, 2) make sure auto-republish is enabled, and 3) click Publish to make the file available on the web for your Map Tour.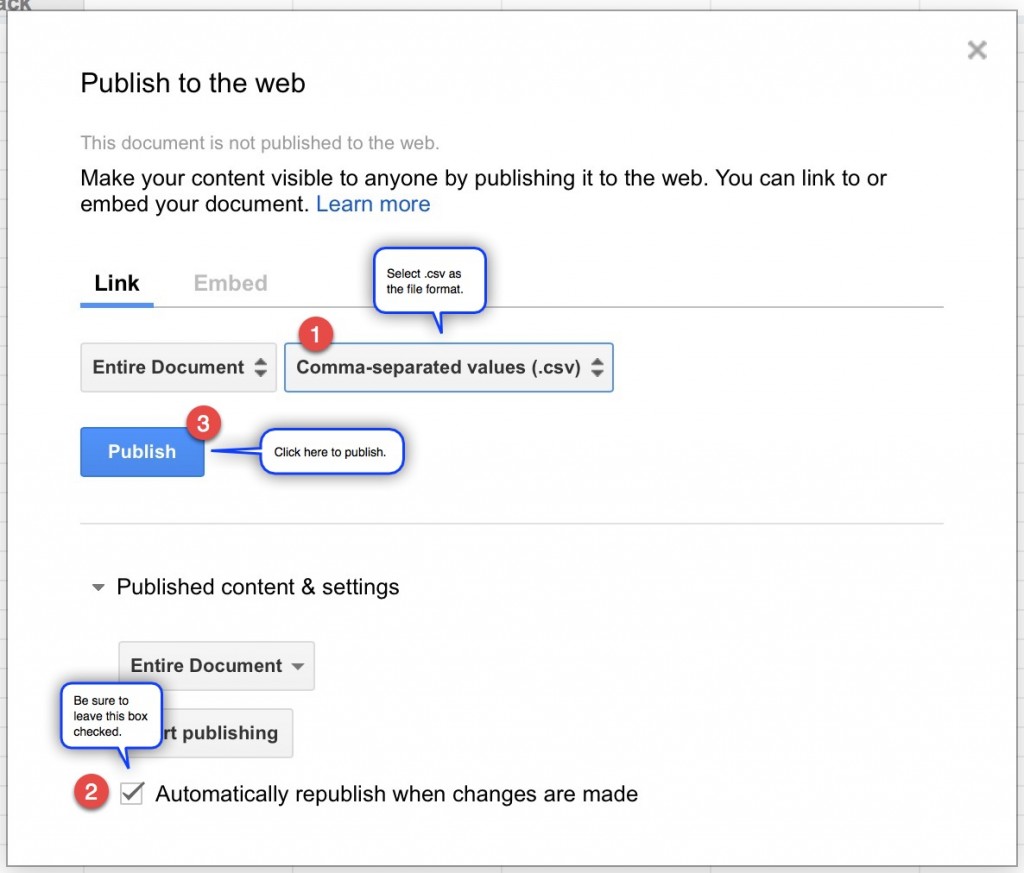 Copy the URL of the CSV; you'll need it in the next step.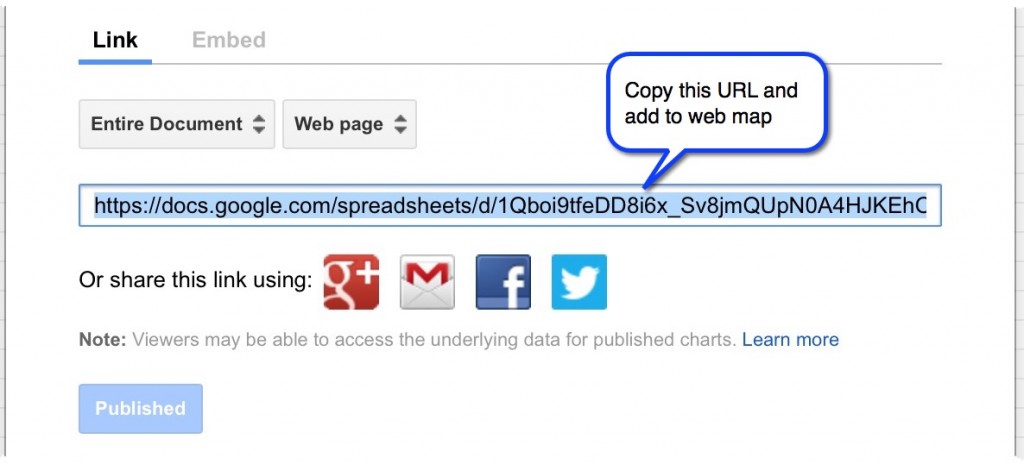 At this point you can optionally invite others to edit your spreadsheet. Just click File…Share… and enter the email addresses of your colleagues and make sure "Can Edit" shows next to the addresses.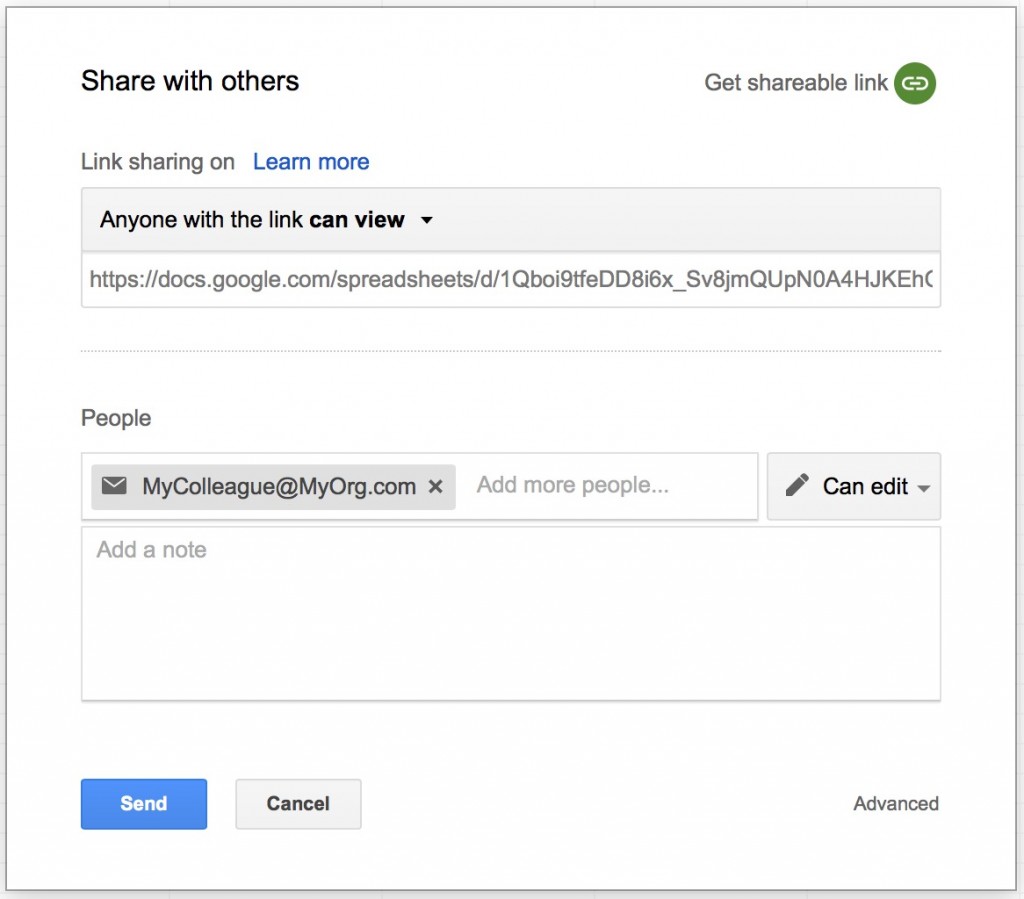 Or, to open the editing up to a larger group, choose Anyone with the link can edit under Link sharing. There is the possibility that the quality of your Map Tour will be compromised with this approach, so be aware of the risks of crowdsourcing and be sure this complies with your project goals and organization's policies.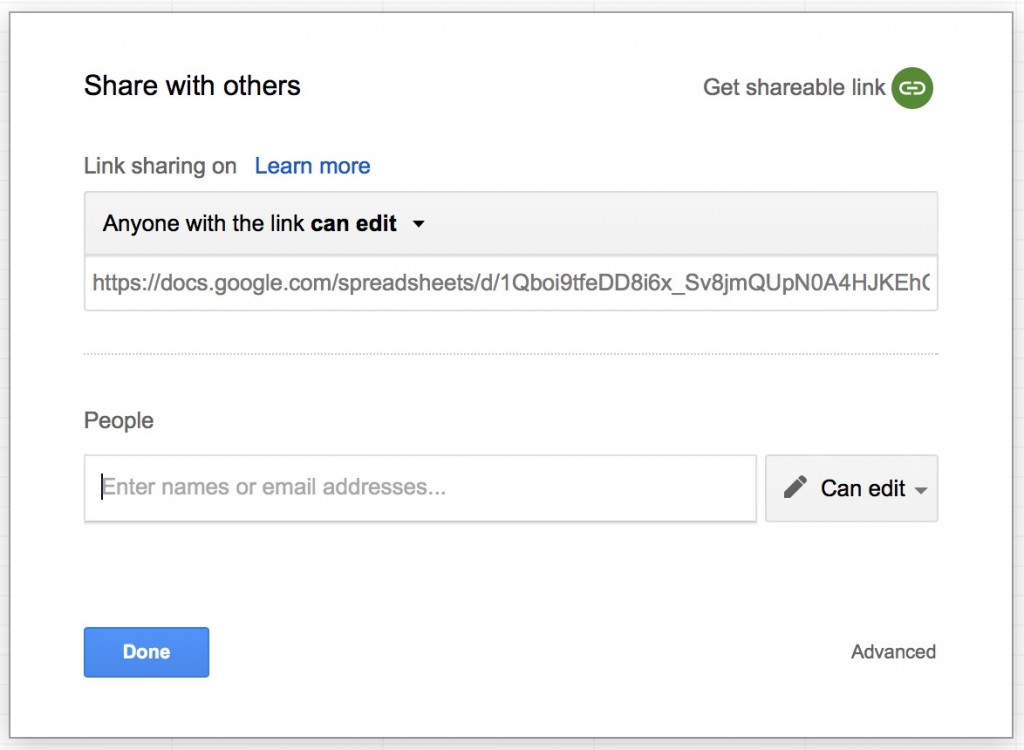 Step 5: Create a web map and share it as a Map Tour
Log in to arcgis.com and create a new web map. Then add the CSV file as a layer using Add > Add layer from web using the URL you copied in the previous step.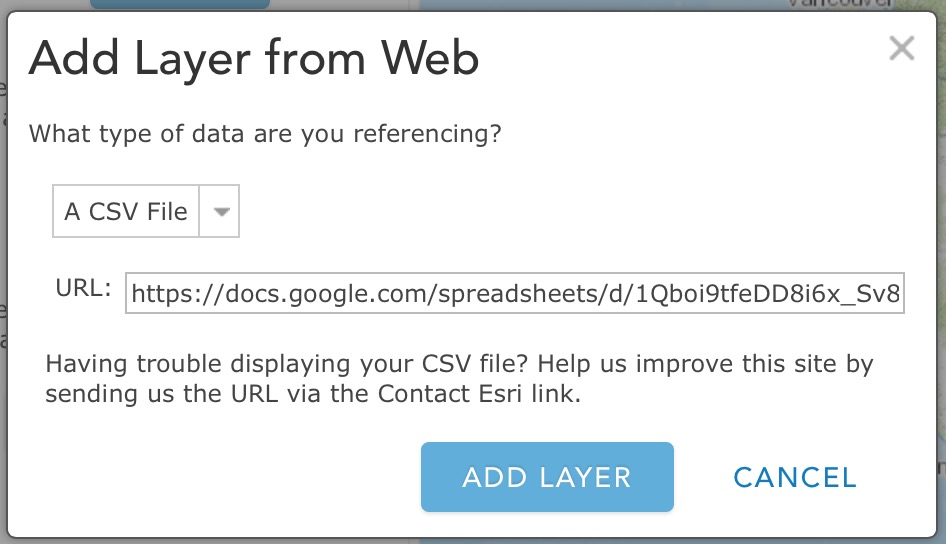 Save the web map and Share it using the Story Map Tour app. Be sure to share your web map and Map Tour app with Everyone. Once the app is created it will launch in the Map Tour's builder mode where you'll be able to configure the Title and other app settings.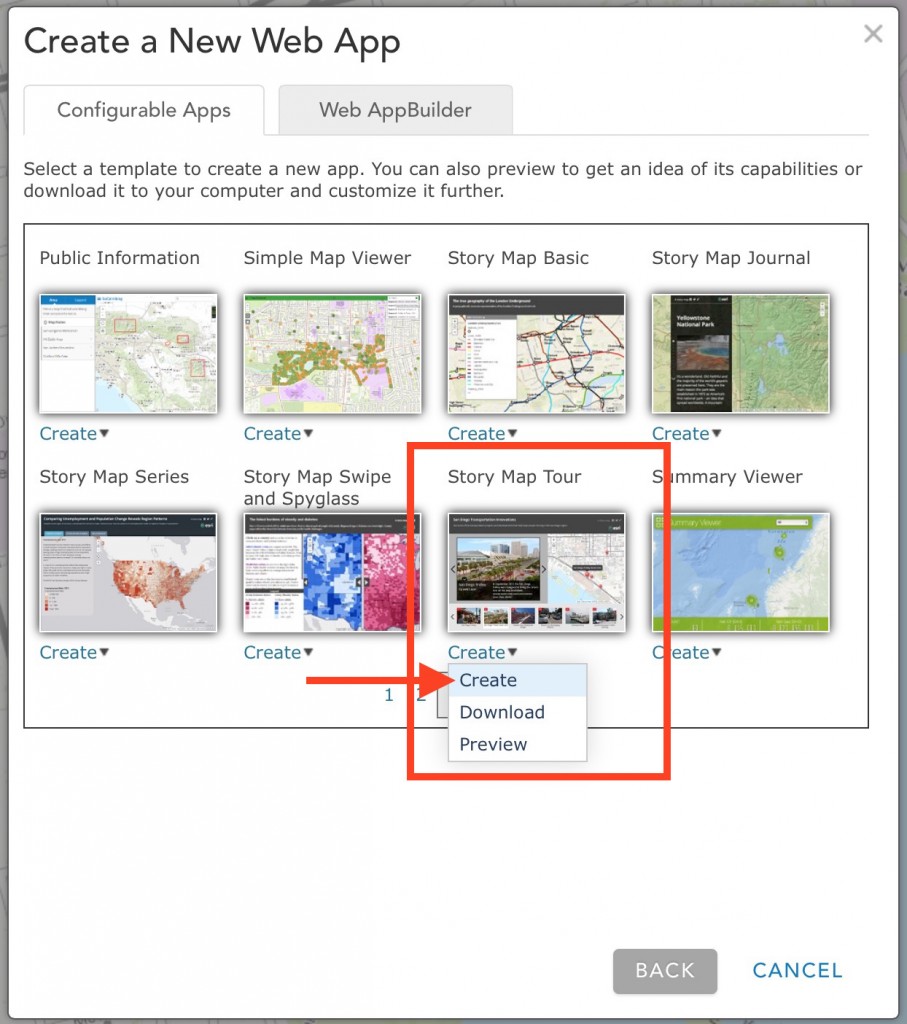 Step 6: Update the tour points as needed
When changes are required you (or any of the collaborators you invited) can update the spreadsheet to add, remove, or update tour points. There's a short delay between edits to the spreadsheet and updates to the published CSV, so your changes may take a few minutes to be visible in your Map Tour.
To make data entry more friendly you can create a Google Form to populate a Google Sheet with the same fields in the Map Tour's template CSV.
Final thoughts
For tours that only require infrequent updates, the Map Tour app's Builder mode is the easiest maintenance tool to use, but if you anticipate making frequent bulk updates or need to collaborate with others (especially people who don't have ArcGIS Online accounts) the workflow above is a good option to consider.
For more information
This article was original published in August 2015 and was updated in December 2017.