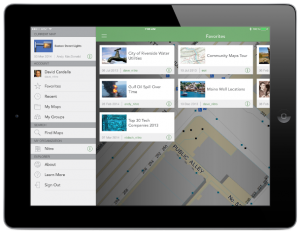 Explorer for ArcGIS is a beautiful general purpose mapping app for iOS and Android smartphones and tablets.  Explorer can put your maps literally in the palm of your hand.  With Explorer you can easily search for items in a map, toggle on/off layers, query features and share sketches on maps with others.
Explorer truly is for everyone. Anyone can download and use Explorer without a login to view thousands of the public maps hosted on ArcGIS Online. Members of an ArcGIS Organization who login to Explorer can then access the maps they have created or that have been shared with them.
An Explorer for ArcGIS update (ver 10.2.8) was recently released for both iOS and Android.
For iOS users this update brings:
Better support for layers in presentations
Secure layer enhancements
Better support for displaying legends
Overall stability improvements.
For a list of issues that were fixed in Explorer on iOS visit: http://doc.arcgis.com/en/explorer/#whatsNew
The 10.2.8 update for Explorer on Android upgraded the app's stability, made it more secure, and improved support of ArcGIS Portals.
If you have not already we encourage you to give Explorer for ArcGIS a try on your Android or iOS device.