Esri released version 1.3.2 of the Full Motion Video add-in (FMV), including new features and updated support for ArcMap 10.3 to 10.5. The FMV add-in is free for customers current on ArcGIS Desktop maintenance.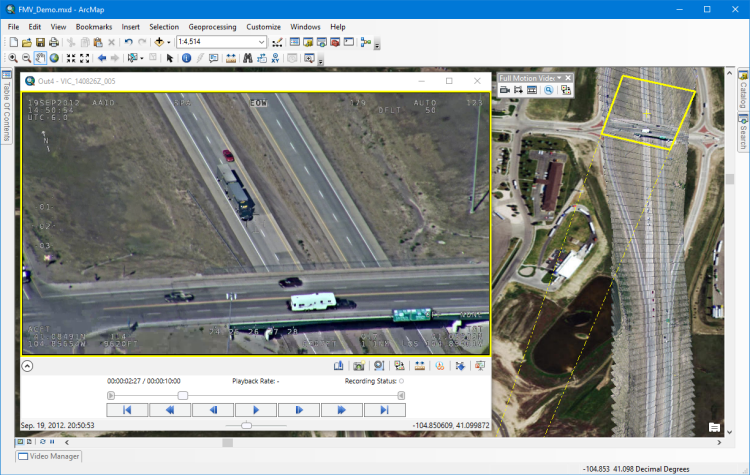 With FMV, users can view, process, and analyze video in a mapping environment. As long as common video metadata are available, FMV is compatible with a variety of common video formats, whether captured from fixed vantage points, airborne platforms, or drones. With FMV, search a collection of videos covering an area of interest, easily capture individual video frames, integrate your videos with aerial imagery or maps, and more.
FMV v1.3.2 includes new features and enhancements:
Support for 2.7K, 4K, and higher resolutions of digital video to boost performance
A new workflow for digitizing GIS features directly in the video that automatically populates video-specific metadata fields
A new workflow for searching video, including an improved search algorithm and an updated UI to make searching for archived videos faster and more intuitive
The Capture Groups of Images tool, which allows users to extract multiple frames while streaming live video
The Mosaic Video geoprocessing tool now supports JPEG, JPEG2000, PNG, NITF, and TIFF file types
Frame georeferencing now uses the projective transformation to increase accuracy and eliminate unnecessary resampling
The Extract Video Frames for Orthomosaic geoprocessing tool extracts individual frames and associated MISB metadata for input to the Orthomapping tools in ArcGIS or Esri's Drone2Map application, where the frames can be used to create orthorectified mosaic images and other derived products
To find out more about FMV or download the software today, click here.
Have questions? Want to share the awesome ways you're using FMV? Join the discussion on the Imagery and Remote Sensing GeoNet Community.
Commenting is not enabled for this article.