In case you missed it, or perhaps you just want a refresh, our June 2017 post highlighted over 100 million km² of high resolution satellite imagery updates through our partnership with DigitalGlobe.
A quick reflection on the past year reveals a massive expansion in both coverage and currency…we know that we have raised the bar for World Imagery.  We need to continue to push hard to bring our users the most value we can.  With our sights squarely on the road ahead, we not only see continued expansion and updates of our imagery content, we also see continued innovation in how imagery is delivered to our users.  Stay tuned for more on this throughout the year…
For now, let's have a look at some of our most recent updates to the World Imagery content.
Community Maps Imagery
Here on the Living Atlas team, we absolutely love our community contributors and the value they provide to our entire user base.  Over the last couple of months, we have published more than 20 new contributions!  Here is the list of updates:
Salinas, CA, USA

Kane County, IL, USA
Roseville, CA, USA
Santa Cruz County, CA, USA
University of Alabama, AL, USA
Camrose, AB, CAN
Cornwall, ON, CAN
Toronto, ON, CAN
Kitchener, ON, CAN
Moncton, NB, CAN
Bathurst, NB, CAN
Miramichi, NB, CAN
Thompson-Nicola Regional District, BC, CAN
United Counties of Stormont, Dundas, and Glengarry, CAN
Rheinland-Pfalz, Germany
Thuringia, Germany
Salzburg, Austria
Tirol, Austria
Extremadura, Spain
Castilla La Mancha, Spain
Region de Murcia, Spain
Canary Islands, Spain
Check out this Story Map for some of the highlights…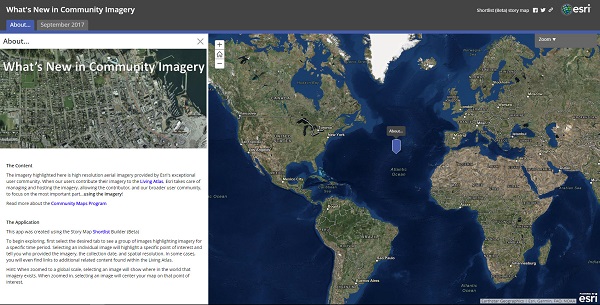 Have you acquired imagery for your local community?  Contributing your imagery to the Living Atlas means that we take care of hosting the data for you, simplifying your process and making your content broadly available to your customer base as well as the larger GIS community.
DigitalGlobe Imagery
Our partnership with DigitalGlobe continues to bring great value to our users.  Have a look at the most recent Basemap +Metro updates via the Story Map below.  The 'Recently Published' tab contains a list of more than 40 recently updated cities.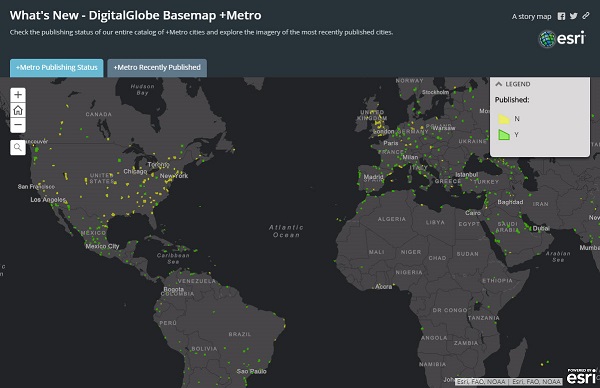 Until next time…enjoy the updates!