ArcGIS Insights combines data visualization and analysis to accelerate decision making. From interactive charts and maps to advanced analytics, Insights offers a wide array of capabilities to help you understand your data, answer important questions, and create interactive reports.
The Insights 2022.1 release (March 2022) includes new configurations for reference tables, new options for enabling location, and settings that will elevate your reports to the next level. Keep reading to learn more about these new features and try them out the next time you use Insights.
Reference tables
Reference tables are used to view your data in its raw format and add context to other visualizations. You can now apply additional formatting to your reference tables to increase functionality and appearance, including the following:
Table and column formatting
Rule-based or data bar conditional formatting
Column, line, and win/loss sparklines
Learn more about reference tables in Insights by watching this video:
Enable location
Enable location now supports using standard boundaries from ArcGIS Living Atlas and configured boundary layers without adding the layers to your workbook. You can search for standard boundaries that match your data from the Enable location pane, saving you time and reducing clutter in your data pane. If you want to work more with the standard boundary layer, you can always choose to add it to the data pane by checking Add boundaries to workbook.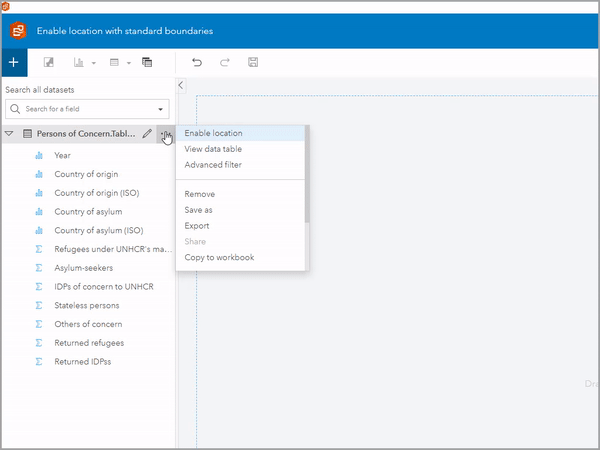 Workbook banners
The workbook banner is visible for analysts working in Insights and viewers reading a report as either a shared page or workbook. The workbook banner can now be updated using an image, which can help you to create a compelling report. The banner image can be configured, including repositioning the portion of the image used for the banner and changing the image alignment (for example, left aligned or horizontal fill).
Learn more about workbook banner enhancements
Page settings
The page options now include settings to update backgrounds and borders for all cards on the page, and to apply the settings to all pages in the workbook. These page settings can save you time and help increase consistency when creating your reports.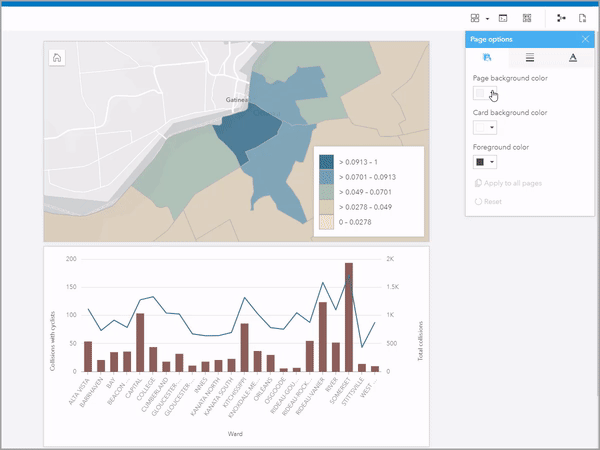 Learn more about page settings enhancements
Other updates
More resources
You can now access these and several other enhancements in ArcGIS Insights. For a full list of new features, visit What's new in the Insights help documentation.
We love hearing from you! Visit Esri Community to ask questions, access resources, and submit ideas for new features you want to see in Insights.