Another Esri User Conference has come and gone, leaving us all abuzz with ideas and excitement on how to bring the latest in GIS back to our respective organizations. This year, Esri's grassroots Employee Resource Group for women & allies – the Women's Empowerment & Career Advancement Network (WeCan) – was excited to invite you to participate in activities at the conference focused on the principles of diversity, equity, and inclusion. We truly believe that by bringing these principles into our GIS community, we can make the world a better place: creating a space for true collaboration, creativity, innovation, and idea exchange to thrive.
This year there were more than 30 sessions, meetups, social events, and demonstrations at the UC focused on these important topics. Hopefully, you found time to attend one or more of these events. To refresh your memory, WeCan has complied short summaries of several sessions, meetups, social events, and demonstrations at the UC that, in all different ways, advanced the broader principles of diversity, equity, and inclusion.
Women and GIS @ the Map Gallery Reception
In early 2019, the Esri Press published a new book, Women and GIS: Mapping Their Stories. This book tells the stories of 23 women in the GIS industry, highlighting how they used maps, analysis, and GIS to contribute to their professions and the world. At the User Conference Map Gallery, Esri had the honor of hosting some of the amazing women featured in the book in a special exhibit. At the exhibit, hundreds of conference attendees had the opportunity to meet one-on-one with women from the book, get their copies signed, and hear about their experiences firsthand.
I was so honored to get my Women and GIS book signed by so many of the women I look up to! Representation matters! Seeing women and women of color being recognized for their work matters!
Ask Me Anything: Women and GIS Panel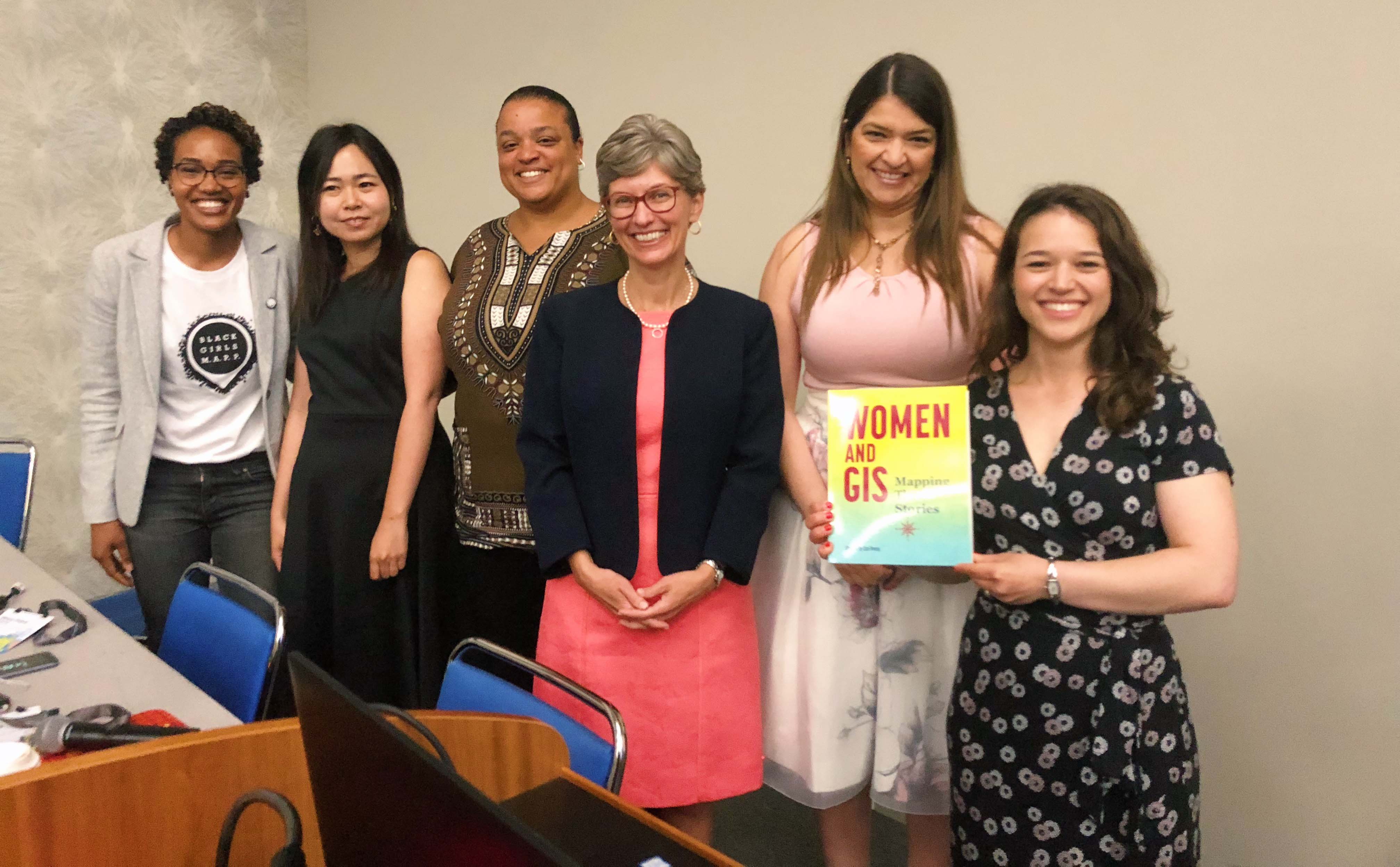 A highlight for many at the User Conference this year was the Ask Me Anything: Women and GIS Panel, presented by Esri's WeCan. This panel featured five influential women from different industries and professions within the GIS community, some of whom are also highlighted in Esri's Women and GIS book.
Panelists included:
Nicole Franklin, Chief Equity Officer, King County Department of Information Technology
Miriam Olivares, GIS Librarian, Yale
Deirdre Bishop, Chief of the Geography Division, US Census Bureau
Whitney Kotlewski, Esri Senior UX Architect, Esri Founder, Black Girls M.A.P.P
Wan-Hwa Cheng, GIS and Data Project Manager, International Union for Conservation of Nature Species Survival Commission
Throughout the hour, dozens of questions streamed in from the audience on topics ranging from overcoming challenges, empowering others, and keeping passions strong.  Each panelist took turns answering, providing their unique perspectives on important topics such as leadership, overcoming implicit bias and microaggressions, and balancing work and motherhood.
Panelists Miriam Olivares and Wan-Hwa Chen described how persistence and a steadfast sense of purpose helped them overcome challenges they encountered when immigrating to the United States from Mexico and Taiwan, respectively. Panelist Whitney Kotlewski shared how she balanced a PhD program, leading a team at Esri, and having her first baby all around the same time, advising the audience, "You have to start prioritizing and learning when you need to ask for help." Whitney also treated session attendees to a special preview of a video from Black Girls M.A.P.P., a new initiative which focuses on celebrating and connecting marginalized communities, as well as using GIS to investigate social issues & empower change.
Overall, this session was a huge success. It was amazing to directly ask questions to and hear from this panel of accomplished, driven, and professional women in the GIS industry. It was hard not leave the room feeling inspired, and the consensus was that everyone could have spent all day listening to this panel.
We need to have these conversations, so we can do better for ourselves, and for our children.
Young Professionals Network (YPN) Fireside Chats
Throughout the conference, there were many opportunities to socialize and connect with likeminded individuals. A networking event to note was the YPN Welcome Social on Sunday, where several Esri employees hosted informal "fireside chats" on various topics. Margot Bordne, leader of Esri's WeCan hosted a "Women in Tech" fireside chat, while Clinton Johnson, leader of Esri's Employee Resource Group focused on people of African descent (NorthStar) hosted the inaugural "GIS for Equity & Social Justice" fireside chat. These informal gatherings, hosted side by side, brought together likeminded people from different backgrounds to exchange ideas on how to improve diversity & inclusion in the GIS industry and advance equity & social justice in the world using GIS technology.
Advancing Equity & Social Justice: Ensuring Equitable Outcomes through Performance Management
Networking & social events are a fantastic way to get inspired – but at a conference focused on how spatial technology can solve the world's greatest challenges, it was important to spend time learning how Esri users leverage GIS to advance equity & social justice in communities all over the world. Throughout the conference, there were a plethora of Demo Theater presentations and User presentations available to attend to learn specifically how GIS is being applied to advance these principles. One that was especially popular was an Expo Demo Theater presentation "Advancing Equity & Social Justice: Ensuring Equitable Outcomes through Performance Management". This session was co-hosted by WeCan and NorthStar in partnership with Esri's Solutions Team, and featured Nicole Franklin, Chief Equity Officer from King County. During this session, attendees learned how King County is preparing to use equity-infused performance management dashboards and demographic data to ensure that investments are allocated according to the greatest needs.
Check out the conference proceedings for a look at the Demo Theater presentations and User presentations.
Special Interest Group Meetings
Special Interest Groups – or SIGs—are communities within a larger organization with a shared interest in advancing a specific area of knowledge, learning, or technology. This year, the UC supported dozens of SIG meetups, both technical and non-technical. SIGs are a great way to network with your peers and learn something new. There were several SIG meetups focused on Diversity, Equity, and Inclusion hosted at the conference this year: two are highlighted below.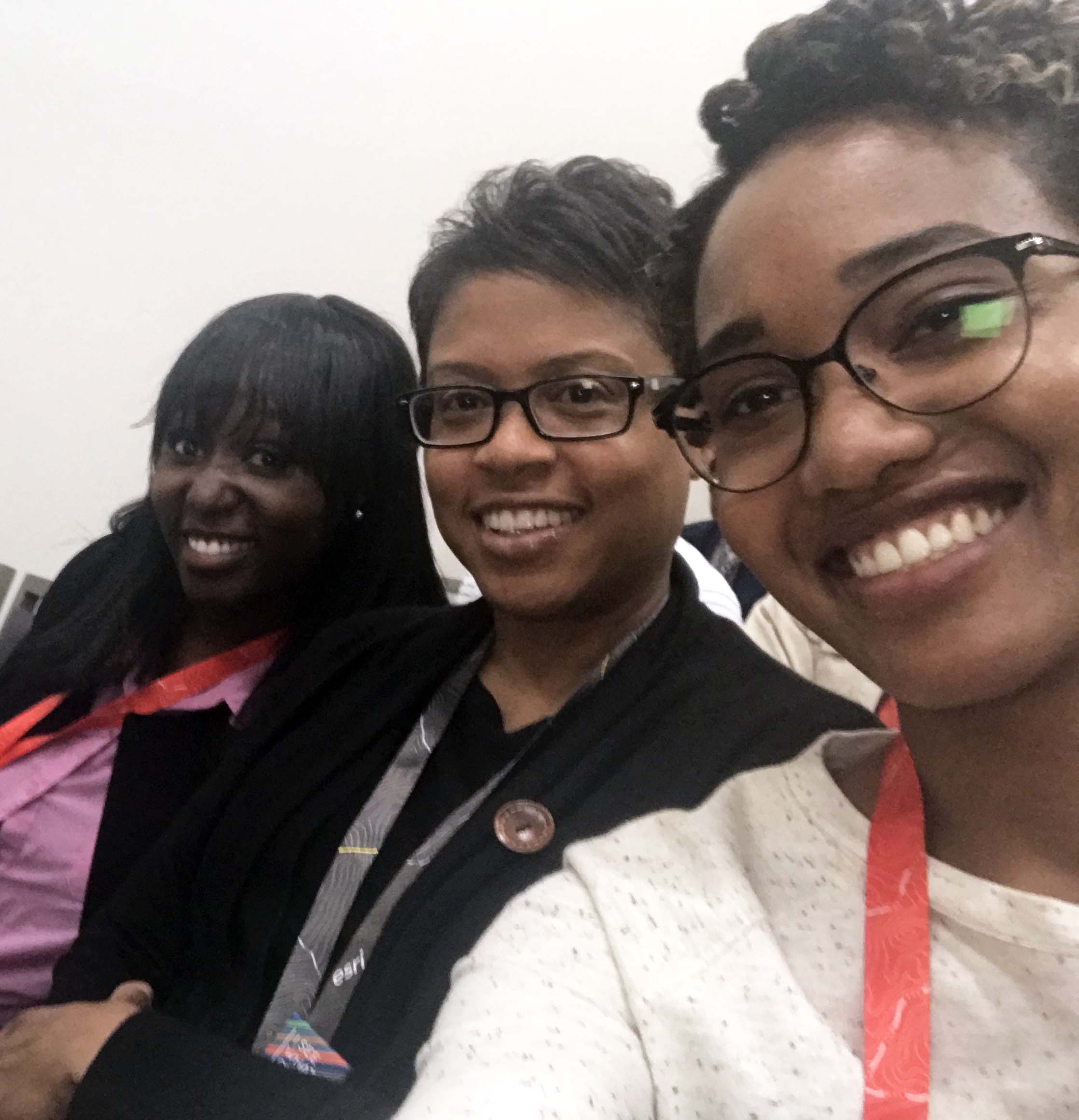 Blacks in GIS SIG
The first-ever Blacks in GIS SIG was a huge success, creating connections between over 150 users from across the African diaspora in ways that enhanced the overall experience for attendees at the conference. Jeff Peters, Esri's Director of Global Business Development, opened the event. He expressed his interests in diversity and inclusion and described some of the energy, discussions, and actions currently in play at Esri. Clinton Johnson followed Jeff by introducing Esri's new employee community, NorthStar, and delivering a talk about industry best practices for driving business growth through diversity, inclusion, and belonging. Next up, Whitney Kotlewski and Raynah Kamau shared a glimpse of how Black women of all shades and ages are impacting their lives and our world through GIS. Additionally, Dr. Dawn Wright shared her thoughts with the group, helping to make everyone in the room feel a part of a community.
The event featured a panel discussion and presentations from several Black professionals, including business owners and educators. Panel speakers included:
Kendrick O. Faison, CEO SpatialGIS (Moderator and event organizer)
Valrie Grant, CEO, GeoTech Vision & Executive Board Member World Geospatial Industry Council
Ivan Deloatch, Executive Director for the Federal Geospatial Data Committee
One of the most potent messages from the panel's discussion came from Valrie Grant, who advised attendees to "Do it afraid." Essentially saying to act on passions despite fears or the fears of others. And lastly, closing out the event, special guest speaker, Keith A. Searls, owner and CEO of Urban GIS, left attendees with a message encoded in three themes:
University –> Unity through Diversity
Black Quarterback –> Be it if you can't see it
Box –> Never let them put you in a box
Overall, this was a very impactful and informative event at the User Conference. The event served as a forge for the building of strong new personal and professional relationships, an incubator for growing a community of Black GIS professionals and entrepreneurs, and a platform for elevating concerns all too specific to Black people in the GIS industry. Many attendees shared that the event and the connections it fostered created a sense of belonging that they had never experienced in GIS and enhanced their experiences through the close of the conference.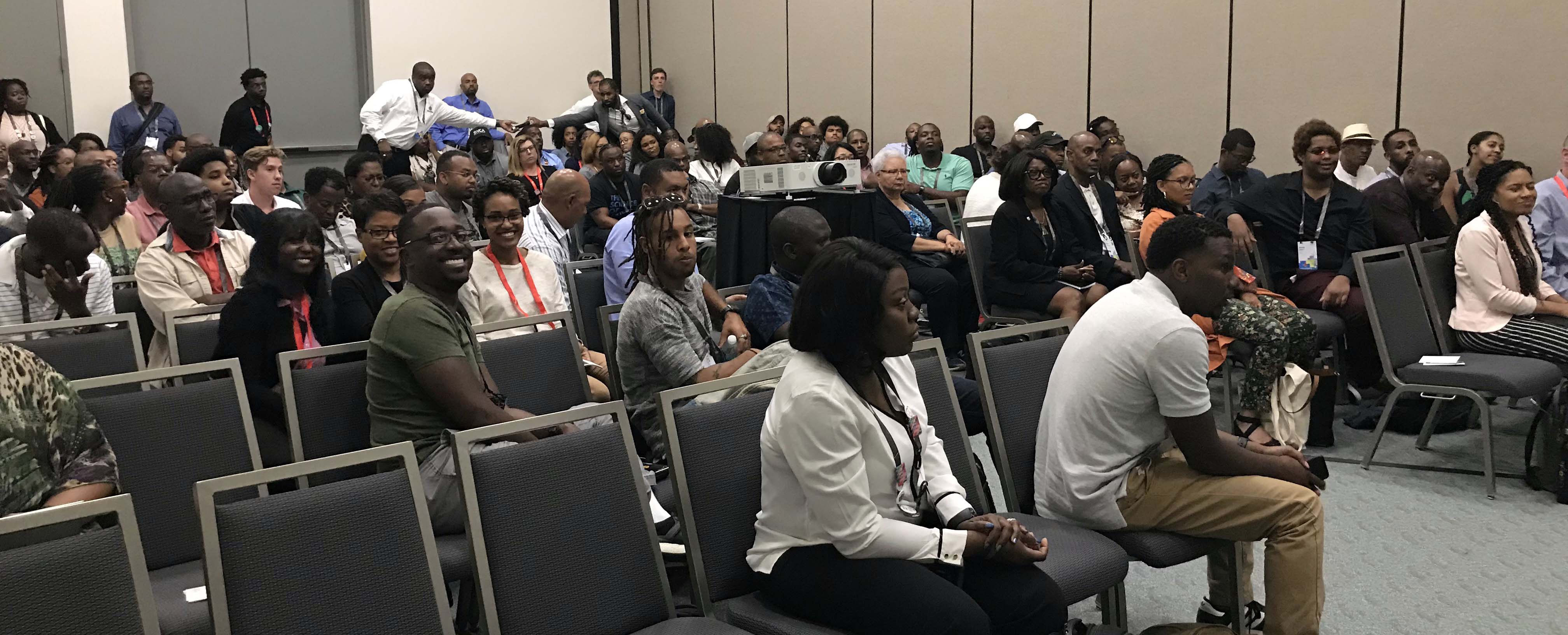 Women in GIS SIG
The Women in GIS SIG was another successful gathering, hosted by the international group, Women in GIS. 'WiGIS' is an international, professional, and social advocacy group for women and their allies. The meeting hosted guest speaker Maggi Kelly, a Professor and Cooperative Extension Specialist in the Environmental Science, Policy and Management department and affiliated Professor of Geography at UC Berkeley. Maggi discussed her research, which focuses on mapping for a changing California. Her team used a range of geospatial data and analytics to gain insights about how and why California's landscapes are changing, and what that means for those who live on, use, and manage our lands.
This event was a great opportunity to hear from Maggi, network with other women, and understand the resources and opportunities available through WiGIS & WiGIS partners. The event also updated the organization with the latest. You can join this excellent organization here.
Summary
This year's User Conference was an amazing place to learn about and embrace the core principles of Diversity, Equity, and Inclusion in the GIS Industry. We hope you were able to incorporate at least one of these events into your Conference schedule, bringing new perspectives into your work & allowing you to see things in ways you might not have before. With GIS becoming more powerful and accessible, it is important to know how you can leverage its capabilities in unique ways to create a more equitable world.
One thing to note – this blog post is not a comprehensive list of all events related to Diversity, Equity, and Inclusion. Several other SIGs and meetups took place this year, including Tribal GIS SIG, Caribbean SIG, the HBCU User Group and others, that brought a sense of inclusion and belonging to the UC for so many people. If you have feedback regarding any of these events that you would like included in this post or have an idea for an event for next year, please share: https://arcg.is/1aP4O4
We would like to thank all our partners who made these events a possibility, but also all of those who attended, who made it real. We absolutely cannot do this without you and appreciate your support. See you next year!
PS – Connect with the Women's Geospatial Forum, a GeoNet group for women across all geospatial sectors to find information and resources, ask technical or professional questions, and engage in discussions with women and allies in the GIS industry.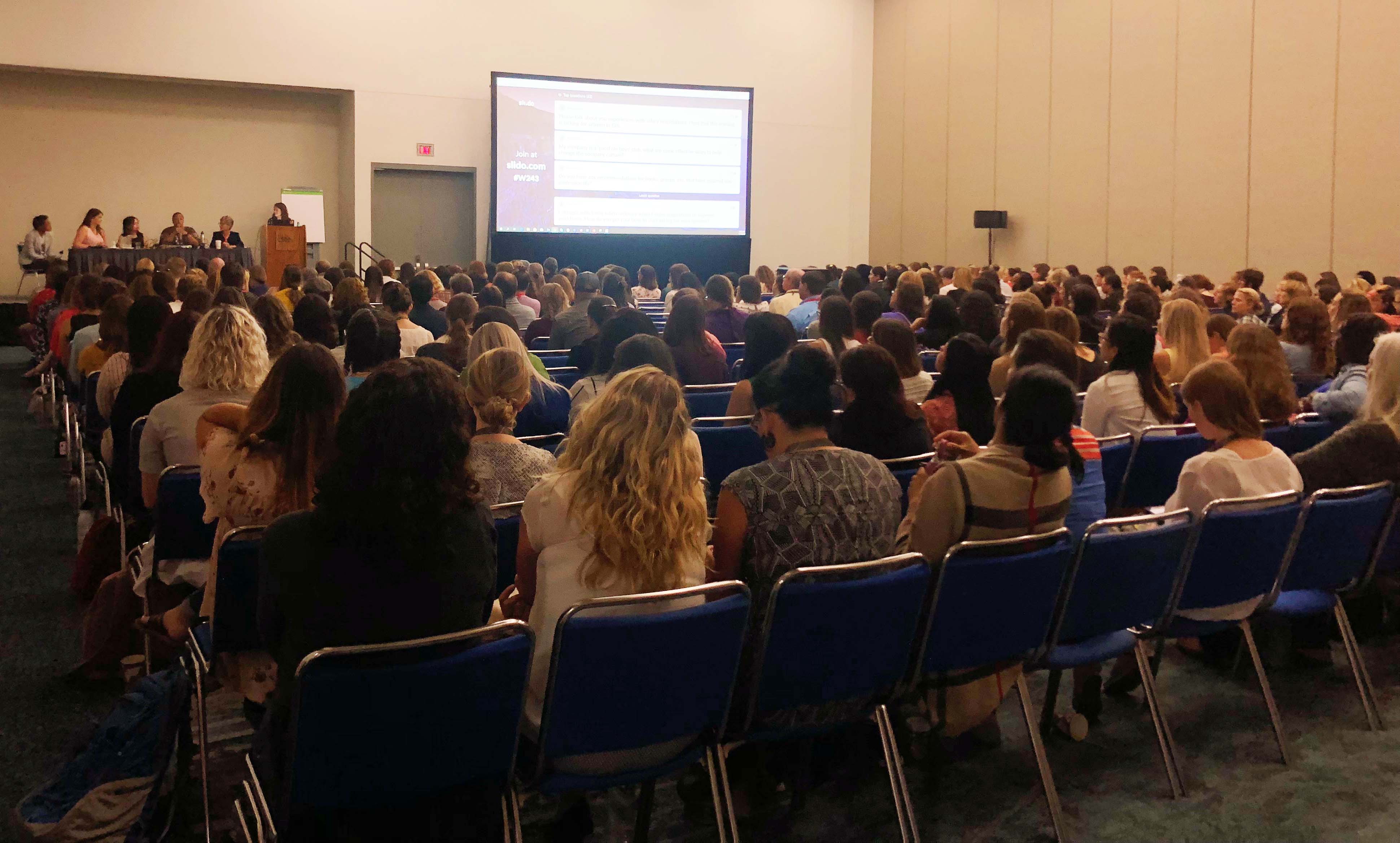 Commenting is not enabled for this article.