It's interesting to see the range of disciplines that share common 3D data structures and tools.
In a recent post on the University of Texas's CRWR blog, Eric Hersh demonstrated how Subsurface Analyst tools are used to describe water masses in the Chukchi Sea (off the northwest coast of Alaska) that were identified based on density differences in salinity and temperature.
Using Subsurface Analyst tools, Eric was able to create a set of indexed rasters and derive volumes representing the water masses.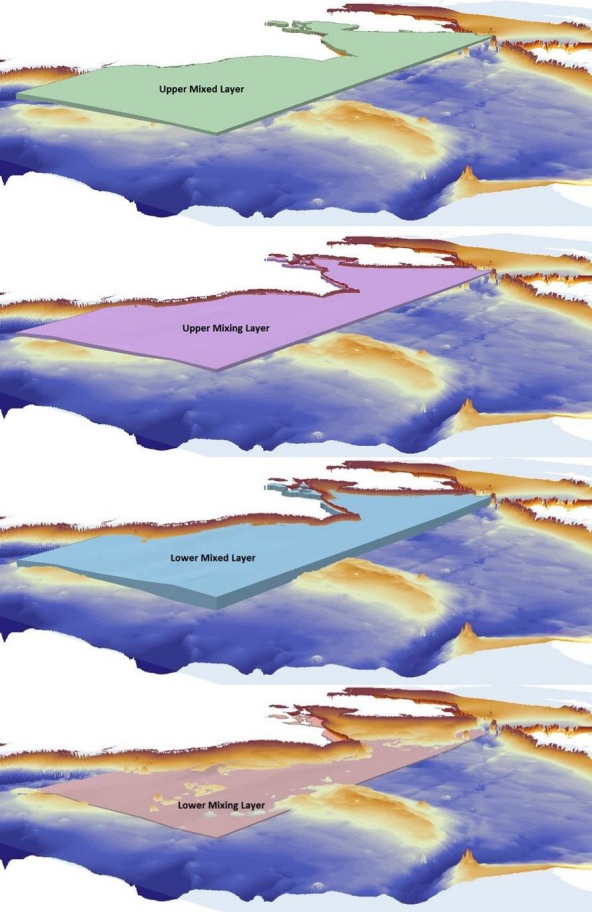 Volume elements representing water masses in the Chukchi Sea.
Eric includes in his post
"Although the AHGW [Arc Hydro Groundwater] Tools were developed for modeling groundwater
and geologic data for applications in hydrogeology, similar stratigraphic concepts allow for the
exact same tools to be applied in a very different realm-physical oceanography!"
We see similar potential for applications in any discipline that uses 3D data structures to describe the environment, be it the subsurface, oceans and lakes, or the atmosphere.
For more information on Arc Hydro Groundwater, visit the Hydro Resource Center Groundwater page, Education gallery, or

Special thanks to Gil Strassberg for providing the post. Questions for Gil: gstrassberg@aquaveo.com