Arc Hydro Groundwater's MODFLOW Analyst tools help you integrate MODFLOW models into ArcGIS. The tools enable you to import a complete MODFLOW model into a geodatabase, and special editing and visualization tools help you edit the model and create maps of the model inputs and results.
Because the tools were developed as geoprocessing tools we can create different workflows that combine MODFLOW analyst tools with the standard ArcGIS tools, scripts, and other 3rd party tools.
One common example is the process of well permitting: In a well permitting workflow, a MODFLOW model is used to estimate the effects (either the change in water levels, drawdown, or flow) of new wells or increasing pumpage in existing wells. MODFLOW analyst allows you to add wells to your model and visualize the effects of the new wells on simulated heads or drawdown.

General workflow for analyzing candidate wells in a well permitting application.
Aquaveo developed a workflow to support running a regional MODFLOW model in the Coastal Plain aquifer in Virginia. The model is a 10-layer MODFLOW model used to analyze impacts of candidate wells on the potentiometric surface and drawdown. Model builder was used to link together a set of geoprocessing tools, which enabled the automation of the workflow to quickly add candidate wells to the baseline model and create maps of simulated heads and drawdown to analyze the effect of the new wells.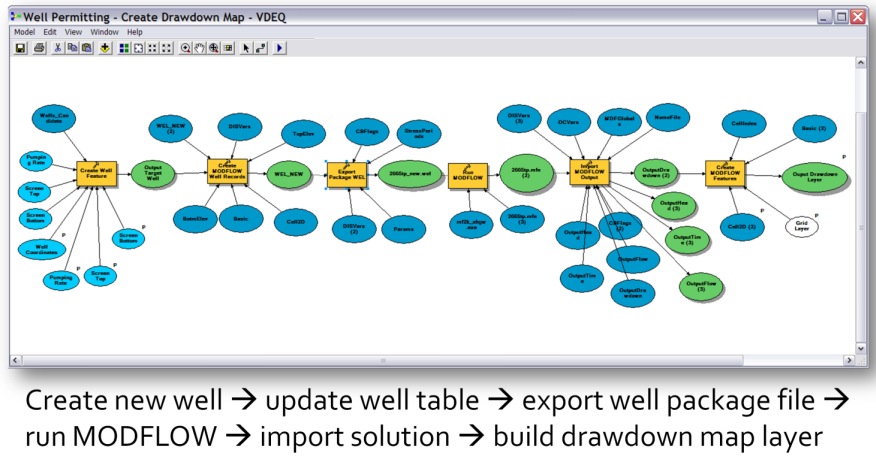 A workflow for updating a baseline MODFLOW model and creating drawdown maps.
The end result is a set of maps showing the areas of impact, which is defined in this case as drawdown of 1 foot. Using MODFLOW Analyst tools enabled the development of ArcGIS based workflows that could support decision making and reduce the time required to perform the analysis.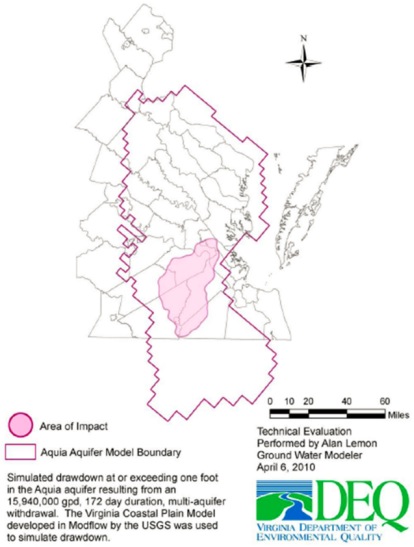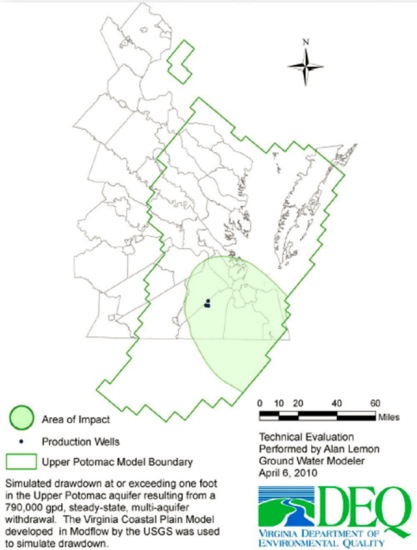 Maps showing simulated areas of impact, created as part of a well permitting workflow.
For more information on Well Permitting with MODFLOW analyst please view Aquaveo's MODFLOW presentation from Esri's 2010 User Conference.
Special
thanks to Gil Strassberg for providing the post. Questions for Gil:
gstrassberg@aquaveo.com