Last update: October 15, 2021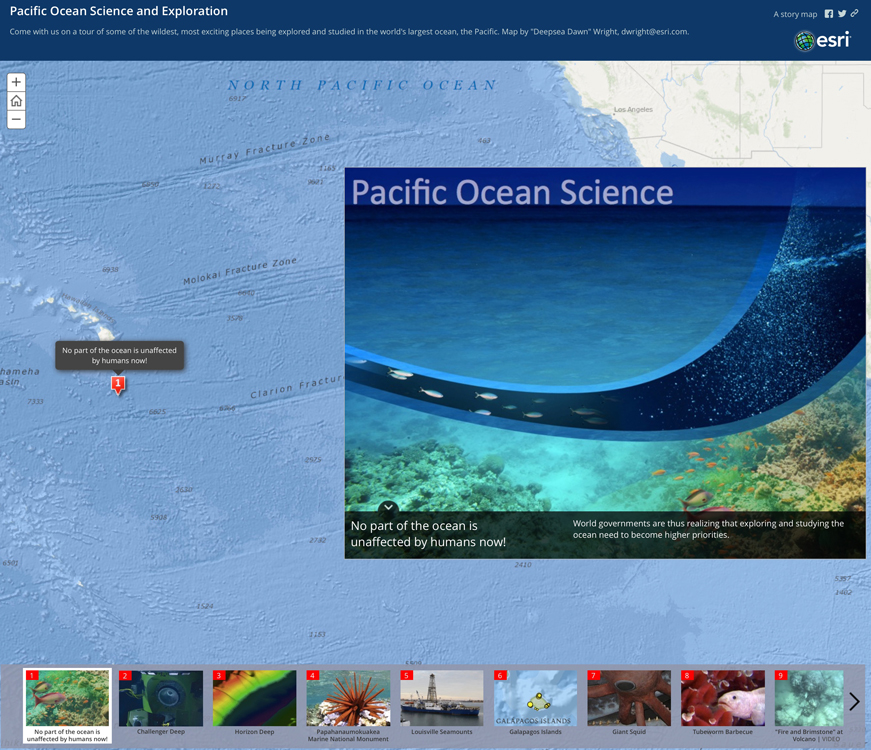 In 2015, I announced that for the Esri Press research monograph to be released that year, Ocean Solutions, Earth Solutions, we encouraged the chapter authors to prepare a story map as another way to communicate their work. Indeed, the story map is an Esri medium for sharing not only data, photos, videos, sounds, and maps, but for telling a specific and compelling story by way of that content. This is all done with sophisticated cartographic functionality that does not require advanced training in cartography or GIS. Therefore the beauty of Esri story maps is that, depending on the chosen complexity, they can be built in anywhere from a few minutes to a few days, using the free public accounts and data available within ArcGIS Online. Story maps are essentially applications built from web maps which in turn are built from web-accessible data (including OGC WMS, WFS). With the beauty and utility of underlays such as the Esri Ocean Basemap, as well as a small tsunami of ocean content percolating up through free public accounts on ArcGIS Online, and on premium subscription accounts, it's no wonder that we are seeing an "ocean" of interesting story maps.
See the January 2015 webinar An Ocean of Story Maps.
See the November 2015 video Interacting with Esri Story Maps Using Gestures.
Hot! This story map is about ArcGIS Hub, a new technology currently in worldwide adoption, for creating and publishing open data in an easy and accessible way. See this great Hub example from NOAA NCCOS on Living Shipwrecks in 3D, as well as this gallery of Ocean Hubs, many of which include story maps. Hot!
HOT! The new ArcGIS StoryMap COLLECTIONS are a wonderful way to experience a series of storymaps, allowing you to go sequentially from one story to the next if you would like. See these favorites:
BELOW is a catalog of my FAVORITE ocean/coastal story maps for your enjoyment (use the "Find" feature of your browser, normally control-F, to search the entries):
Made by Esri, Inc. – See also the GROUP in ArcGIS Online and the COLLECTION compiled for the 2017 Ocean GIS Forum
Made by Esri Distributors
Made by Esri Users
Please come back and visit as I will continue to add to this page throughout the year!
Commenting is not enabled for this article.