It's no secret that people today expect an experience tailored for them when interacting with digital content. Sure enough, content created for targeted audiences typically performs better and resonates with the right readers. Providing dual language options for a story can create that custom content experience while offering a unique opportunity to connect with your audience and even possibly gain a new one. Bilingual or dual language stories are powerful tools to engage niche markets, as language choices offer audience inclusivity and help create an authentic connection.
Dual language stories
You might already understand the benefits of making your content more accessible to a global audience through translation. However, there are instances when the subject of your story simultaneously spans more than one country, culture, and/or community. In such cases a bilingual story might be just the solution.
Dual language stories are different from story translations. Unlike translations, which provide one, two, or multiple language versions of a story, bilingual content serves to tell a story in two companion languages with the goal of providing a more holistic experience for the reader. The two languages can exist simultaneously within a single story, or an alternate language choice can be offered within a story. Either way, they allow the reader to actively choose how they experience the content. The ArcGIS StoryMaps story builder, viewer, and website currently support forty languages, allowing a user to move seamlessly between many languages.
The benefits of bilingual stories
Telling a story in two languages can help you hone in on a specific audience with distinct language needs, while providing a singular storytelling experience. It can underscore your commitment to your audience by demonstrating empathy, inclusion, and your ability to meet them where they are. Bilingual stories can be especially impactful when establishing trust, sharing information, or highlighting your message to a multilingual audience is your main goal. Lastly, search engine and social media traffic in two languages can increase your content's exposure and help new viewers discover your content.
There are several tried and tested methods for creating bilingual stories. I'll explore the most successful approaches, show a few examples, and share best practices in the following sections.
Two (languages) in one
One of the most effective techniques for telling a bilingual story is to incorporate two languages into one story. This can be accomplished by tactics such as switching back and forth between languages, providing some content in one language and some in a different language, or any combination thereof. This two languages in one approach can be particularly useful when your copy consists of shorter text sections or is rich in images and media, and the two-fold language presentation will not dilute the impact of the story. This approach is also easier to maintain if you have a story that requires regular updates, as there is only one version of the story to edit and revise.
An excellent example can be found in the story Parque Nacional Laguna de La Restinga, where Spanish and English text are seamlessly interwoven into one story. The content is introduced in both languages a few paragraphs at a time so that the reader can experience the story nuances at the same speed regardless of their preferred language. The sidecar immersive block in the story builder helps to set a consistent pace in the story, allowing an equal amount of time for both English and Spanish readers to interact with the vivid images and maps.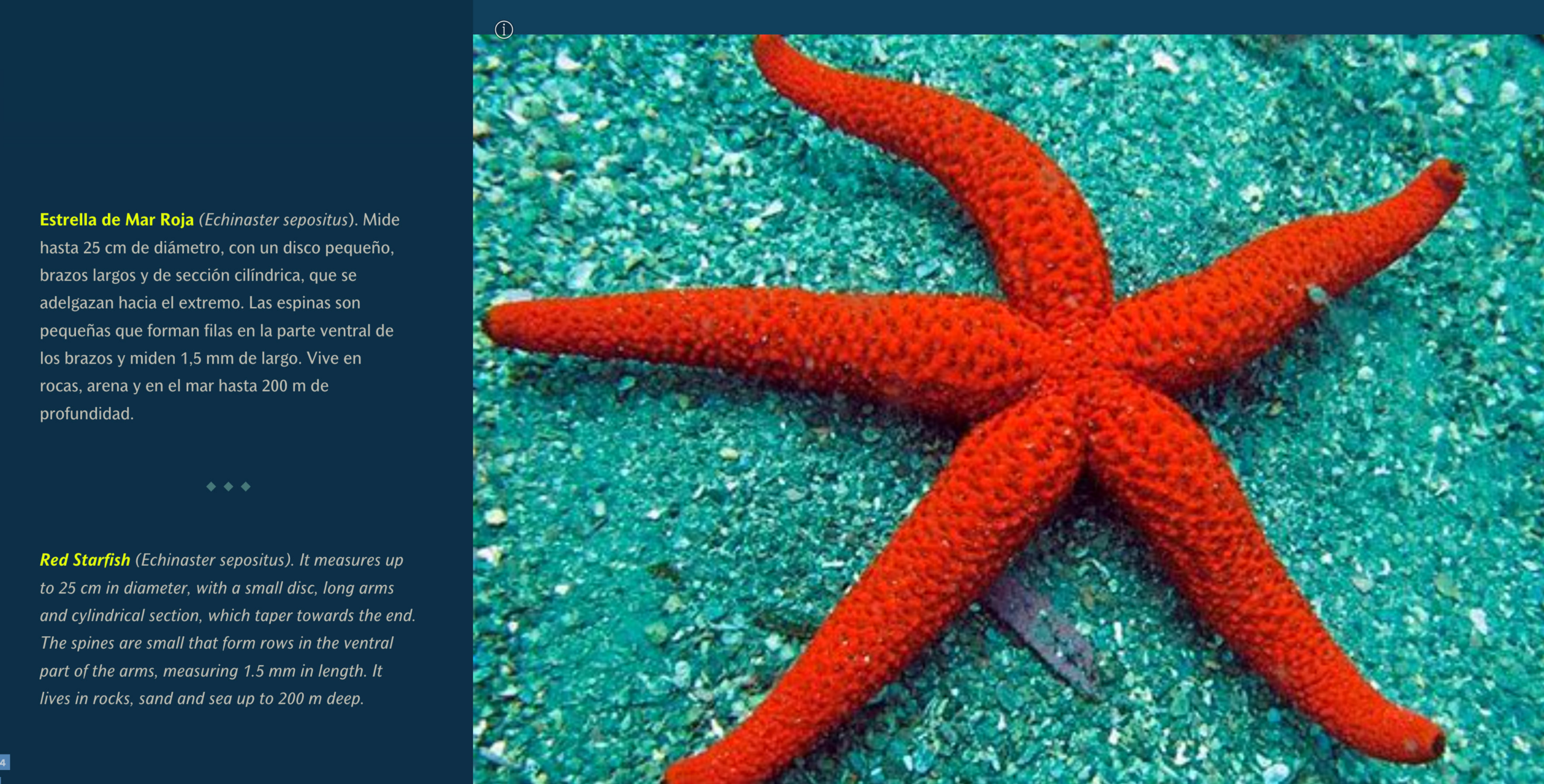 To minimize confusion and risk the reader losing interest, the authors prepare the readers for language shifts by keeping the same language cadence, Spanish followed by English, throughout the story. They also use separators between languages and italicize the English text to further denote the change in language.
The story Navajo Safe Water: Protecting You and Your Family's Health uses the same storytelling approach differently, combining English and Navajo to create one story. The text is in English, while Navajo is included through audio and video content. By layering the reader's experiences, the story media blocks act as dynamic tools to keep the content engaging, add depth, and provide authenticity to a bilingual story. This technique can also be used to feature uncommon languages and rich dialects that might not be easily recognized or technically supported in a digital space.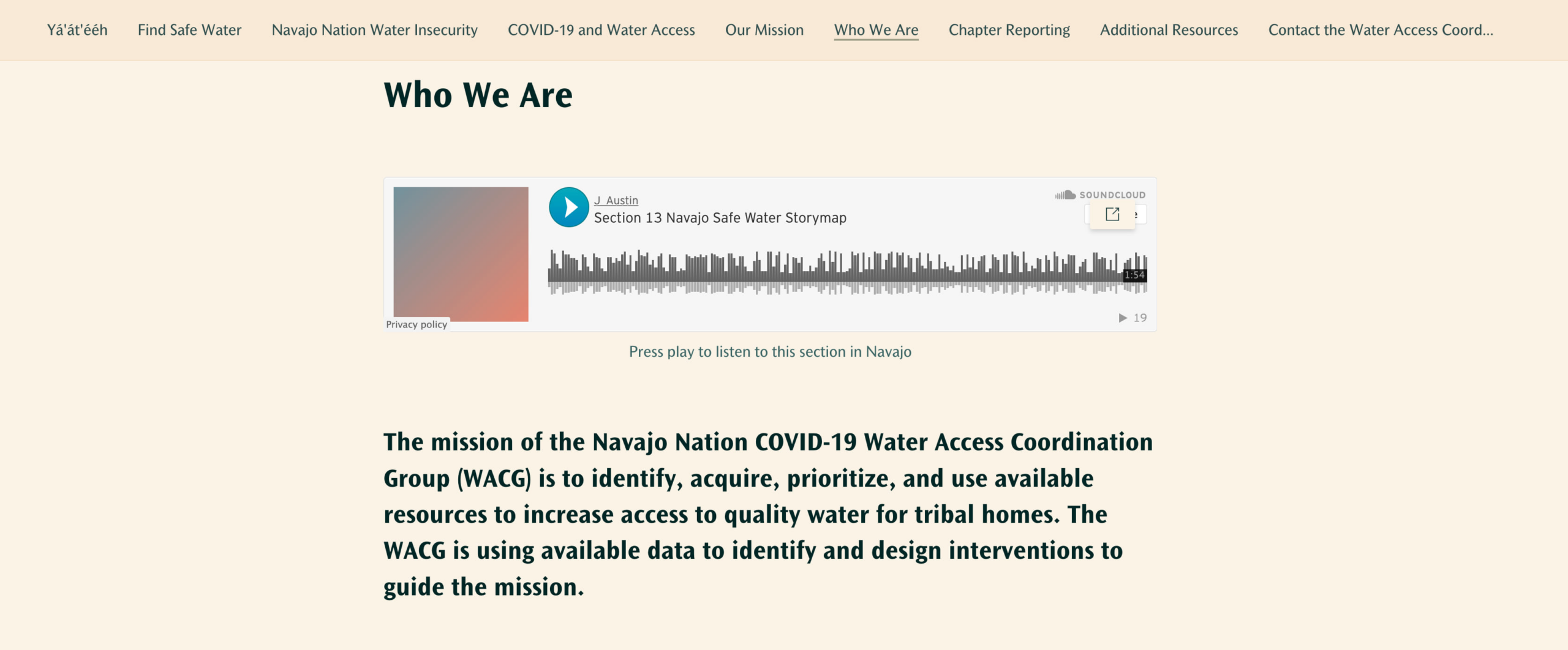 Choose your own (language) adventure
Another effective means to tell a story in two languages is to allow the reader to choose a specific language path within the text. The reader is offered a language choice at one or various points of a story, directing them to an alternative language version of the story. Creating two versions of a story is a smart approach when working with language pairs with vastly different alphabets and reading conventions, such as English and Arabic or Spanish and Japanese. It also works well in instances when your text takes a longer form or holds a great deal of information, which might cause confusion or lose your audience if presented simultaneously in two languages.
As seen from the example below, The Kingdom of Copper delivers a very clean approach to this method by adding a button with a link to the Arabic story, and an English button in the Arabic story, at the beginning of the story. Notice that the button text is written in the target language for reader clarity and ease of use.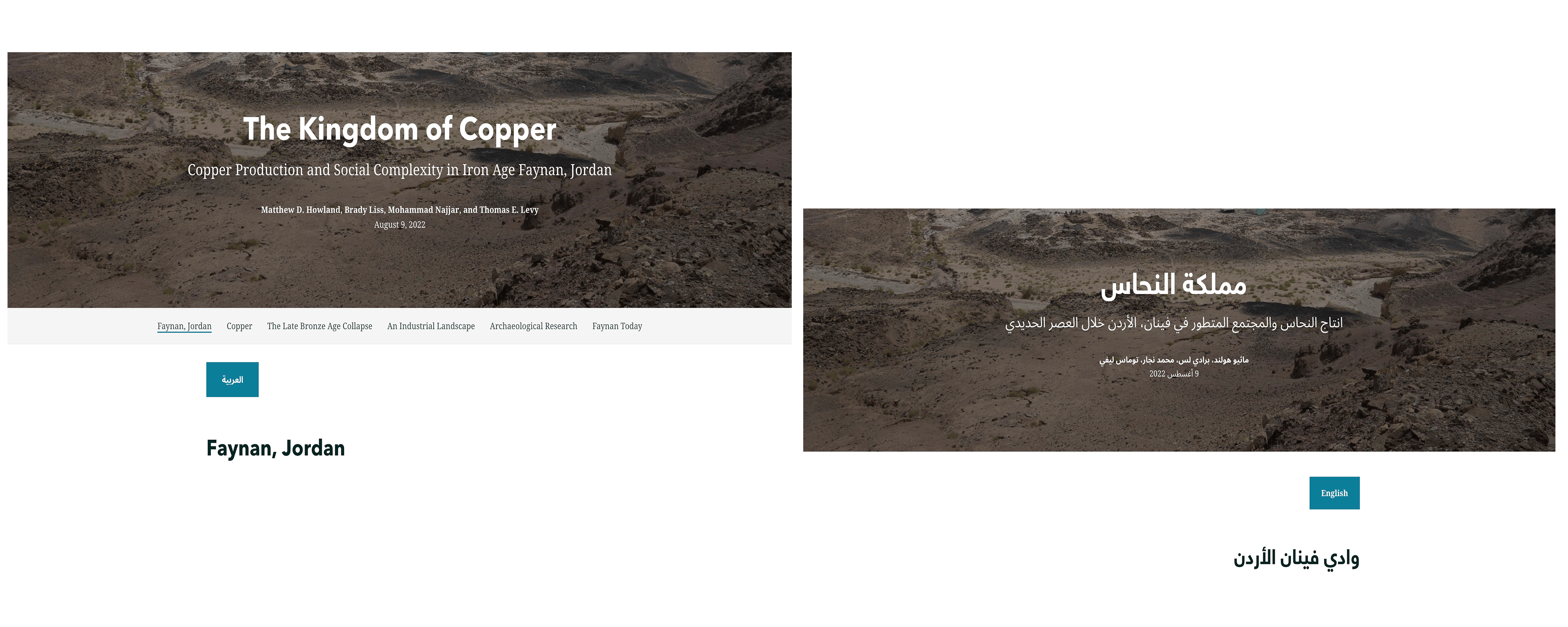 Another element to the success of this bilingual story is the attention to detail. Although the content and images are virtually the same in both versions of the story, the builder applies subtle style differences to the story to accommodate language syntax. For instance, the images and media in the sidecar immersive blocks of the English version are arranged on the right and the text on the left, while opposite in the Arabic version, to accommodate the fact that English is read left to right and Arabic right to left. Number and date formats are also adjusted between languages. The Story settings options within the story builder allows an author to set an intended language and format dates and numbers accordingly for each individual story. Setting the correct language helps browser translation tools and screen readers work as expected.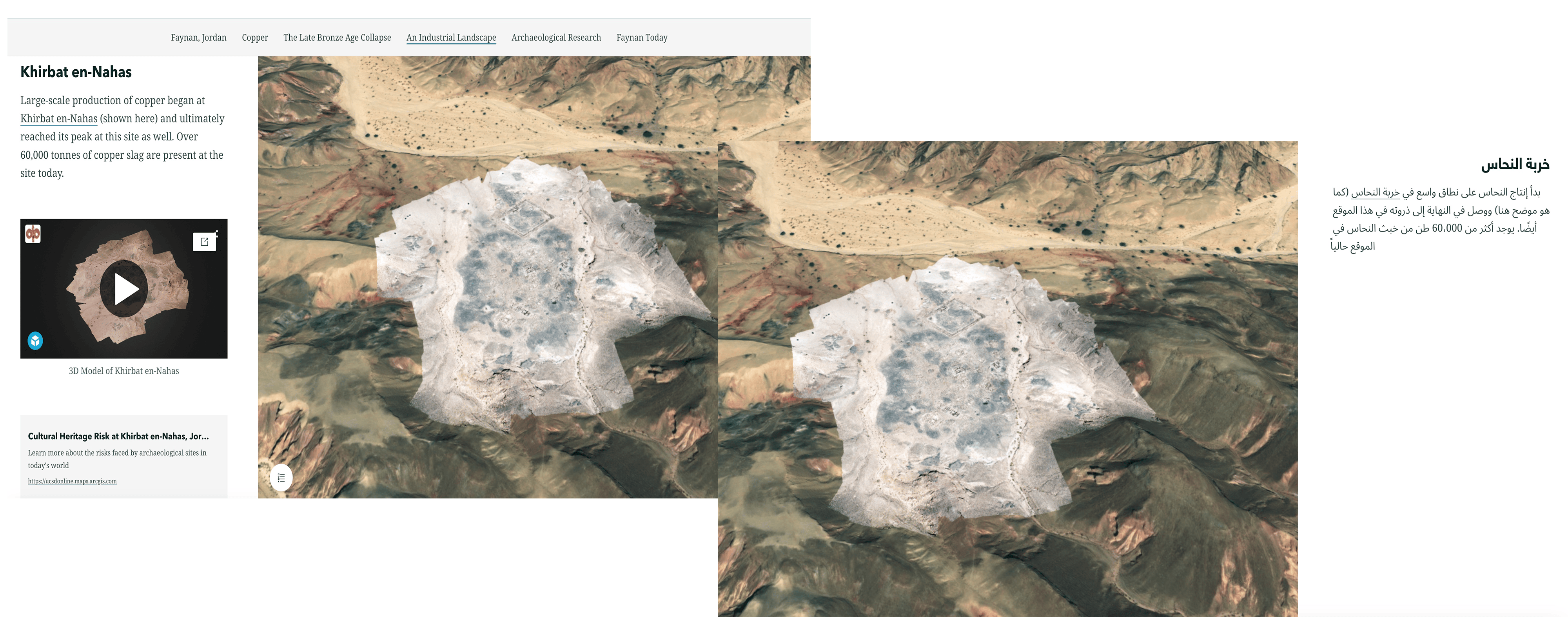 The stories of Lands of Freedom take a similar two language paths approach to dual language storytelling, introducing a language choice in button form. However, it utilizes collections to tell its bilingual account over the span of several stories and offers a Dutch and English button in the collections' first introductory story, respectively. This technique allows the reader to choose their language journey early on as they move through the six stories within each collection, reducing the possibility of the reader getting lost between language versions as they dive deeper into the collection.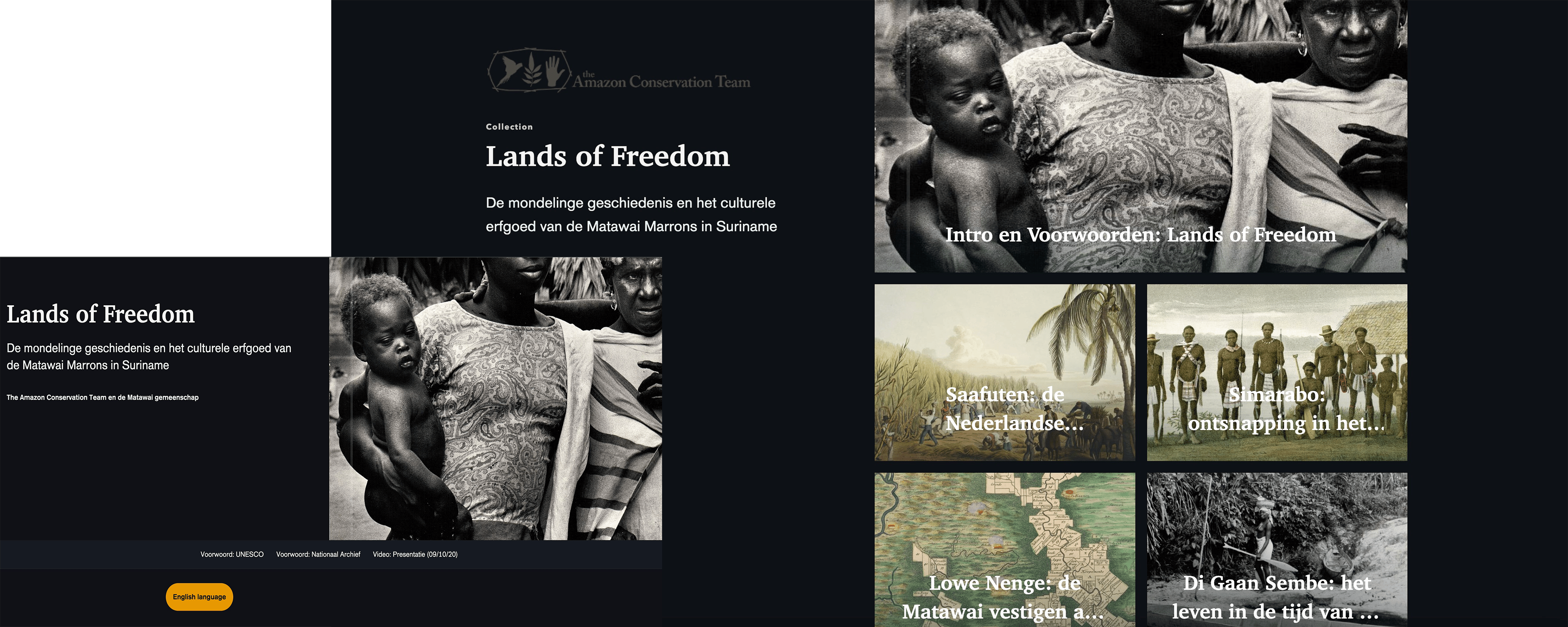 _______________________________________
In sum, creating bilingual stories can offer an opportunity to reach a diverse audience in a genuine way, by providing them with a custom reading experience. I hope these examples and best practices have inspired you to tell a story in two languages which can help set your content apart, share your message with new audiences, and create meaningful connections.
To learn more about the story builder, immersive blocks, and other topics visit the ArcGIS StoryMaps resources page. And if you know of or have an example of a bilingual story, please drop us a line on Twitter @ArcGISStoryMaps. We would love to hear from you!
_______________________________________
The following stories were used as bilingual story examples:
Parque Nacional Laguna de La Restinga by Paula A. Bustos R & David A. Bustos R. Navajo Safe Water: Protecting You and Your Family's Health by The Navajo Nation. The Kingdom of Copper by Matthew D. Howland, Brady Liss, Mohammad Najjar, and Thomas E. Levy. Lands of Freedom by The Amazon Conservation Team.