Our March 2021 update to ArcGIS Survey123 is here.  Here is what's new:
What's new in Survey123 web designer
Template gallery
With the Survey123 web designer, you can easily create your own smart forms; visually and from a web browser. You can get started with it with a Creator or GIS Professional user type.
In this release, you will find a new template gallery.  It provides ready-to-use smart forms you can use as a starting point for your own designs. Examples include: a code violation form, a trail hazard reporting tool, a UAS flight log and a right-of-way permit application.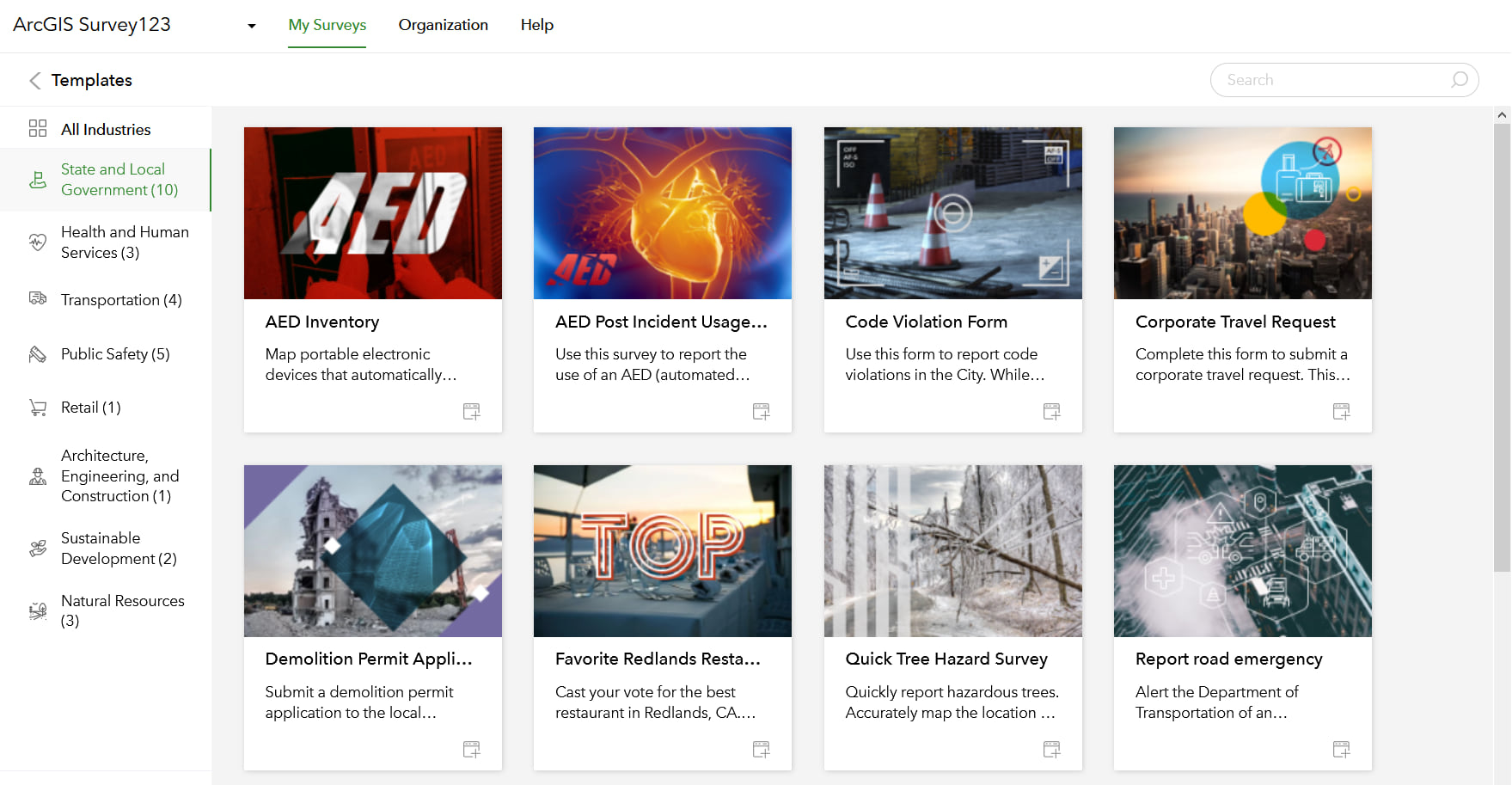 So far, 23 templates are available and we will be adding more progressively.
Collaboration
You can now grant other members of your organization permissions to update your own surveys. In this way, you no longer need to transfer ownership of your surveys for others to work on them. To grant others permission to update your survey, share it with a shared update group.
Members of a shared update group can modify items in the group, even if they do not own them. Only the owner of the item can delete the item and change its sharing, but other items properties can be modified by anyone in that group.

The screenshot above shows the new Update survey section within the Collaborate tab. Use it to share your survey with a shared update group.  Once shared, users in the share update group will be able to edit the theme, questions, webhooks and report templates of the survey.
What's new in ArcGIS Survey123 Connect
With Survey123 Connect, you can build smart forms in different languages, split questions into pages and groups, organize your smart form content in a grid layout and leverage dozens of different question types. Best of all, you can design your smart form a familiar spreadsheet editor, such as Microsoft Excel.  In that way, you can more easily manage large smart form designs using dozens of lists and hundreds of questions.
Expanded XLSForm support
XLSForm is a robust language specifically designed to build smart forms. Survey123 follows and expands this standard. This release incorporates support for additional XLSForm syntax:
The select_one_from_file and select_multiple_from_file question types allow you to work with large lists, that can include hundreds of thousands of choices. These questions files are particularly useful for use within the Survey123 field app.
The max-pixels parameter allows you to control the maximum size of photos, annotated images and signatures  uploaded by Survey123. It is a complement to the existing image-size controls in Connect, allowing you to specify the maximum photo size at the question level.
The compact-n appearance is now implemented. It allows you to specify the maximum number of columns that should be used when presenting a collection of choices in a list to the user.
The indexed-repeat() and position() functions will help you work with repeat data.
JavaScript logic for your forms
The XLSForm syntax is similar to formulas in Microsoft Excel, allowing you to design data validation logic in your forms without having to be an expert developer.  XLSForm is great in its own ways, but JavaScript provides an excellent complement for advanced users.  In this update, Survey123 Connect includes a new Scripts tab that you can use to incorporate JavaScript functions into your smart form design.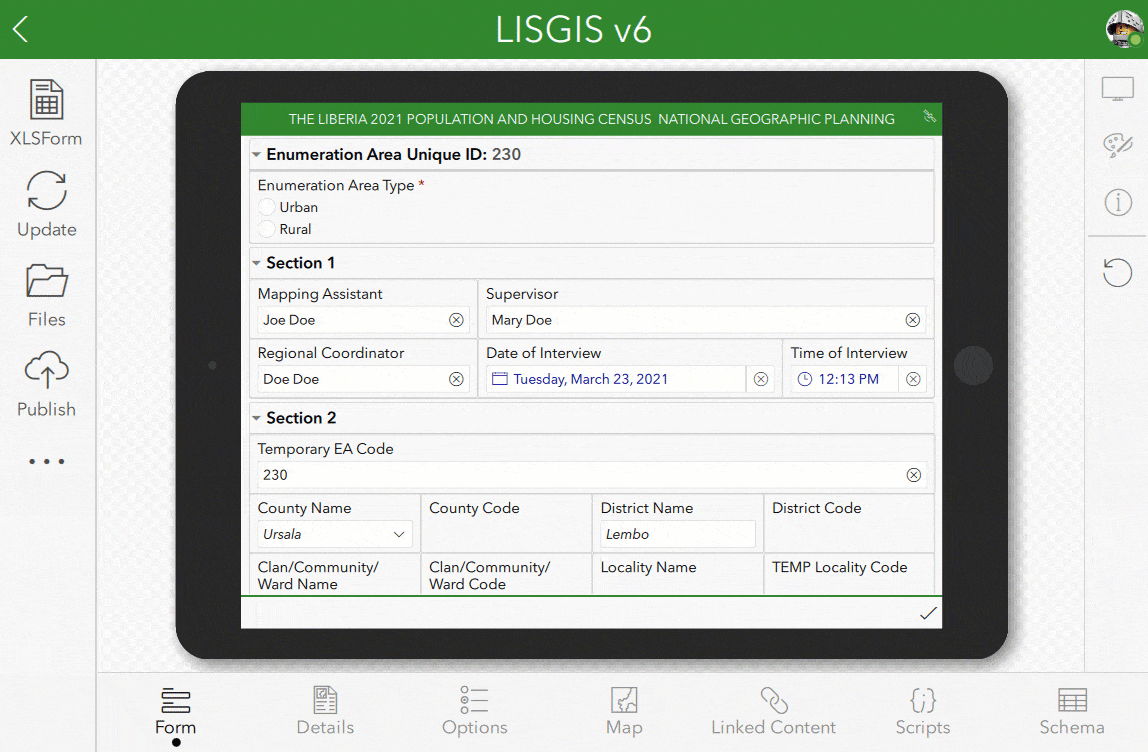 You can use custom JavaScript functions to calculate values in questions, write custom data validation rules, conditions to hide and show questions, groups and pages.  Custom JavaScript functions can also be used to control when a question should be read-only or compulsory. To learn more check this blog.
What's new in Survey123 automation
Survey123 includes out of the box connectors for Microsoft Power Automate and Integromat. Use them to automate tasks on top of Survey123 smart forms. For example:
Send an email notification when a smart form is completed
Share data submitted with Survey123 through an online spreadsheet
Upload photos, signatures and sketches into cloud storage
Enrich your Survey123 records using Esri demographic, geocoding or your own geoprocessing services
This release updates the Survey123 connector for Microsoft Power Automate. Here are the highlights:
More on this release and resources
There is a lot more to the March 2021 release.  Here are some additional resources:
Do you have comments or questions about ArcGIS Survey123? Join the Survey123 Esri Community, where you will find a dedicated blog, forums and much more.
Commenting is not enabled for this article.