The 2023 Esri User Conference is only a month away and we look forward to showcasing the exciting new functionality found in the utility network's 2023 Network Management release.  Join us to learn all about the latest updates and preview emerging functionality with the ArcGIS Utility Network. 
Navigating the options available might feel overwhelming given the breadth of presentations focused on configuring and working with the ArcGIS Utility Network but we've got you covered.  In this blog, we are highlighting some key sessions from this year's conference which should be of interest to you, along with a set of resources at the end that will help prepare you for the conference. 
This blog is focused on sessions and activities specific to the ArcGIS Utility Network. If you're interested in other utility-related sessions and activities you should take a look at one of the following industry-specific flyers: 
Agenda
Showcase
Visit us at our booth for ArcGIS Utility Network at the Utilities industry island. Talk to our experts, get a demo and learn more about the product. We can easily be found from all Expo entrances at the front of the Showcase.
Showcase hours
Tue, July 11: 9:00 a.m. — 6:00 p.m.
Wed, July 12: 9:00 a.m. — 6:00 p.m.
Thu, July 13: 9:00 a.m. — 4:00 p.m.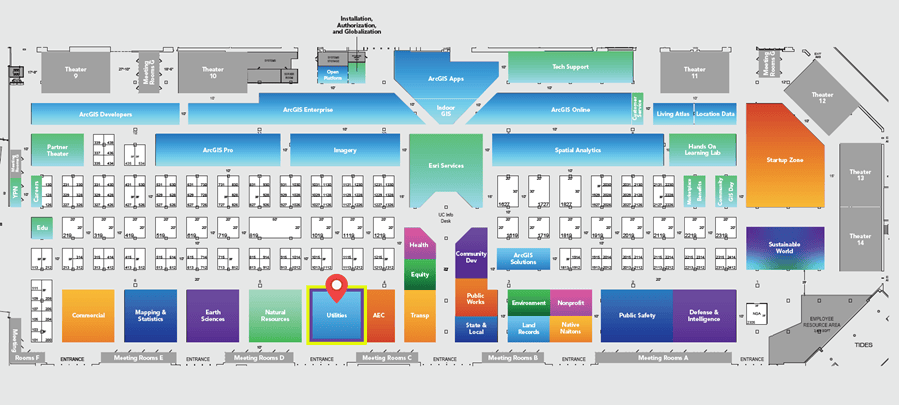 Tuesday, July 11
The ArcGIS Utility Network product team will be presenting introductory and advanced ArcGIS Network Management sessions on Tuesday. If you are unable to make it to one of these sessions each one will be repeated later in the week. 
Beyond this, the demos theatre has several sessions to help familiarize users with the utility network for telecom, electric, and water users. There are also user presentations from gas, electric, and water utilities who have implemented the utility network. 
Technical workshops
Demo Theater Presentations
User presentations
Other Activities 
6:00 PM – 8:30 PM: Electric & Gas Social

 
Wednesday, July 12
On Wednesday, we will reprise the introductory session on the utility network and provide an overview of the different utility network foundations (data models) provided by Esri. 
The demo theatre and user presentations are once again full of discussions from customers and partners from all industries who are sharing their experience with not only implementing the utility network, but how they've been able to use it to extend the capabilities of their organization. 
Technical workshops
Demo Theater Presentations
User Presentations
Other Activities
6:00 PM –

 8:30PM: Water Team Social

 

Thursday, July 13
Thursday is the last full day of the conference and your last opportunity to visit the team in the expo hall!
In the morning there are user presentations from electric utilities talking through the process they used to plan for their utility network implementations. In the afternoon we'll again be delivering the advanced session on the utility network. Immediately following that session will be the Thursday Night Party in Balboa Park.
Technical workshops 
User Presentations 
Other Activities 
5:30 PM – 10:00 PM: Thursday Night Party

 
Additional Resources
Often, the hardest part of every journey is taking the first step.  If you haven't already started preparing for your utility network implementation, we recommend you read the Journey to the Utility Network: First Steps blog so you can learn the five key steps common to every successful implementation. Once you've finished that you can check out the full Journey to the Utility Network blog series to relieve some of the apprehension experienced when getting started. If you're looking for some more in–depth content, you should check out this learn series for a compilation of all the most interesting utility network tutorials and blogs or this community post that includes a list of important videos and articles for utility network customers. 
Safe travels, we look forward to seeing you there!
Commenting is not enabled for this article.