Globally, there are thousands of mine tailings facilities that hold billions of tons of mining by-products. These tailings storage facilities pose significant environmental, social, and financial risks to mine operators and the communities in which they are located. Mine operators take these responsibilities seriously and are investing in new technologies to manage their tailings more effectively.
Unfortunately, as the world requires more resources and companies mine new deposits, the volume of tailings is likely to grow. This introduces more risk for mine operators. Despite best efforts, accidents can still happen, and disasters can occur. Companies are therefore looking to leverage technology to help reduce the likelihood of a tailings dam failure occurring since the impact to people, the environment, assets, and a companies' reputation can be catastrophic.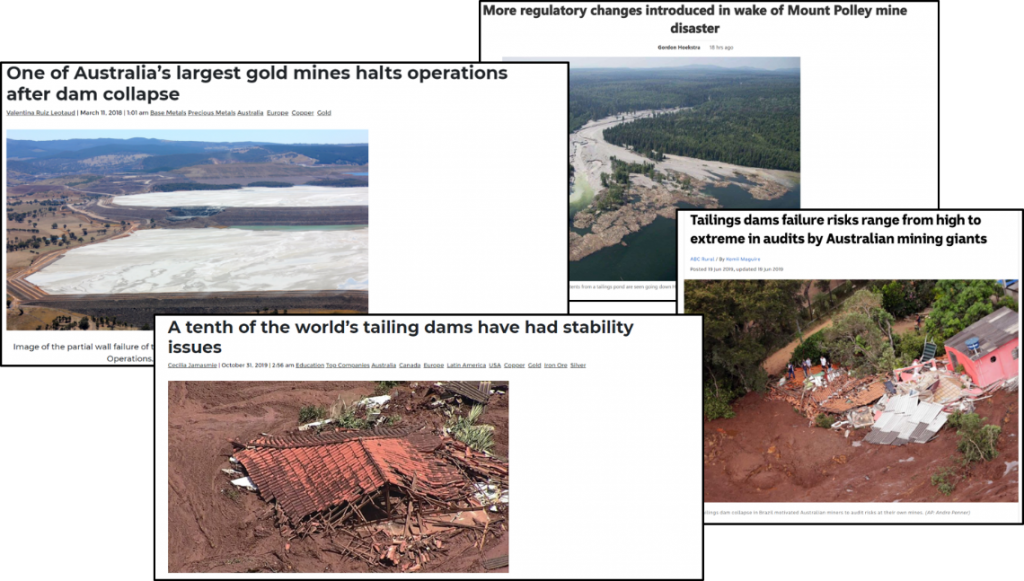 In response to recent events and the continuing risks, the Global Tailings Review has released the Global Industry Standard on Tailings Management ("The Standard"). The Standard advises companies on how to properly manage tailings facilities with a goal of "zero harm to people and the environment." ArcGIS enables operators to align with The Standard by providing capabilities to monitor tailings facilities, prepare for emergency response, and publicly disclose information pertaining to tailings management.
Monitoring a Tailings Facility by Leveraging a Digital Twin
Implementing comprehensive monitoring systems is a key principle of The Standard. A comprehensive system must include capabilities for remote sensing, real-time internet-of-things (IoT) sensors, and visual field inspections. Each of these data sources is inherently geospatial and can be integrated with ArcGIS to create a digital twin of your tailings facilities. Here, we describe some of the components of such a system:
Remote Sensing
Remote sensing can play a critical role in the monitoring of tailings facilities and includes satellite, aerial, and ground-based platforms. Satellites can capture Interferometric Synthetic Aperture Radar for early detection of structural changes, and multispectral platforms can quantify surface water content for quickly calculating beach lengths that can be compared against Trigger Action Response Plans (TARPs). ArcGIS Image is a full suite of remote sensing management and analysis tools to turn this type of data into actionable insights.
Also, drones are being used to safely inspect difficult-to-reach areas with very high resolution, enabling you to observe minor changes. Site Scan for ArcGIS provides cloud-based processing, data management, and analysis of drone data to aid in tailings monitoring. Newmont Corporation adopted Site Scan for ArcGIS which has improved their decision-making capability and enabled them to effectively analyze topography, slope stability, and more.
For more information, see this webinar: Remote Sensing for Tailings Storage Facility Management.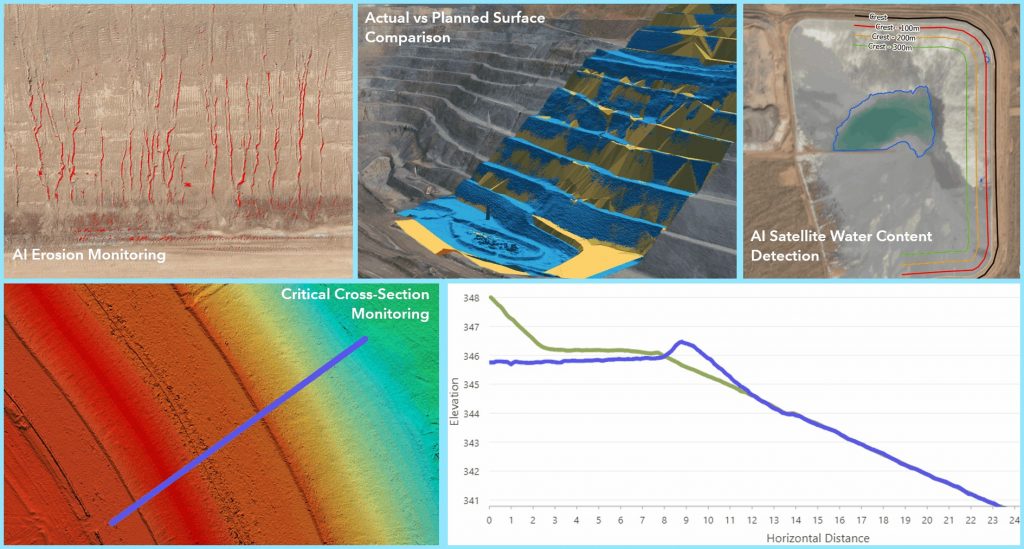 Location-Enabled Internet-of-things (IoT) Sensors
IoT sensors such as piezometers, inclinometers, and flow meters provide real-time, in-situ monitoring. Each sensor has a unique location that can be mapped and visualized in conjunction with remote sensing data. Sensor readings can be quickly viewed in maps and dashboards for remote monitoring from an operations room. Notifications can then be sent to alert users to potential issues. Data and time-series charts can be spatially filtered, using a map selection to compare co-located sensors.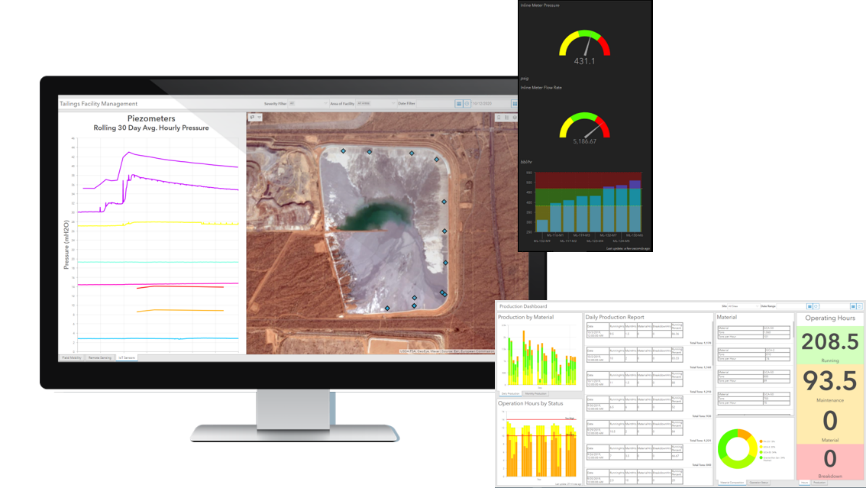 Modernized Visual Field Inspections
Remote sensing and IoT devices can't fully replace visual inspections that are performed in the field by trained professionals. Traditionally, companies have used paper or spreadsheet-based workflows for recording observations. This increases the likelihood of data loss and entry errors and poses challenges for maintaining a system of record for inspections. These techniques are also more difficult to act upon because it takes time for data to reach decision-makers.
ArcGIS Survey123 is a form-based mobile application that is designed to streamline field-based data collection. Users can enter data into smart forms with embedded data validation rules to minimize data entry errors. Inspection data are sent directly to a centralized database and are immediately visible on maps and dashboards to support decision-making. Automated emails can be generated based on the type or severity of the observation. All inspection data can then be quickly transformed into paper reports for disclosures or record keeping. Freeport-McMoRan recently presented how they are using ArcGIS to collect information on tailings deposition and dam inspections.
ArcGIS Field Maps is another application that lets users take maps into the field, find and inspect assets, perform data collection, and report their real-time locations. This application can be used by mine operators and engineers-of-record for facility visits. Maps can include infrastructure information as well as remote sensing and IoT data from monitoring activities. The application supports offline map viewing and editing for disconnected environments. Location tracking enables employees to report their live location for health and safety or situational awareness purposes.
To learn more about mobile apps and their application to tailings facilities, see: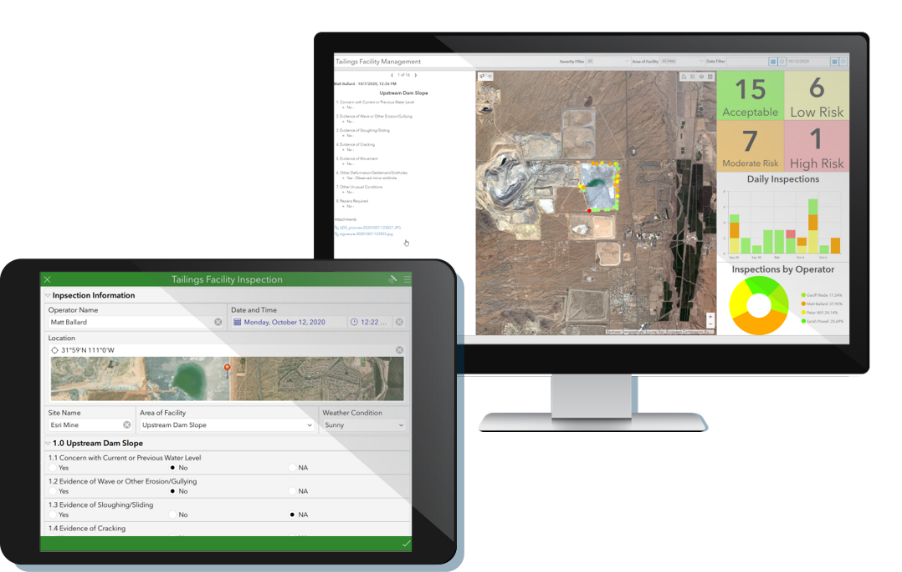 Geographically Enabled Emergency Response
In the event of an issue at a tailings facility, a response may be required. The Standard defines a set of requirements for operators around emergency response scenarios:
Develop Emergency Preparedness and Response Plans
Collaborate with local authorities and first responders
Perform regular training exercises
Provide immediate response in the case of a failure
ArcGIS Mission is a command and control software solution that provides teams with the tools needed to plan and manage emergency response. You can define an area of interest, map critical resources and high-risk areas, and then share this information with teams on the ground in real-time. ArcGIS Mission can be used in training exercises in collaboration with first responders to simulate an emergency response. All mission data is stored for after-action reviews and playback to help educate and inform response team members.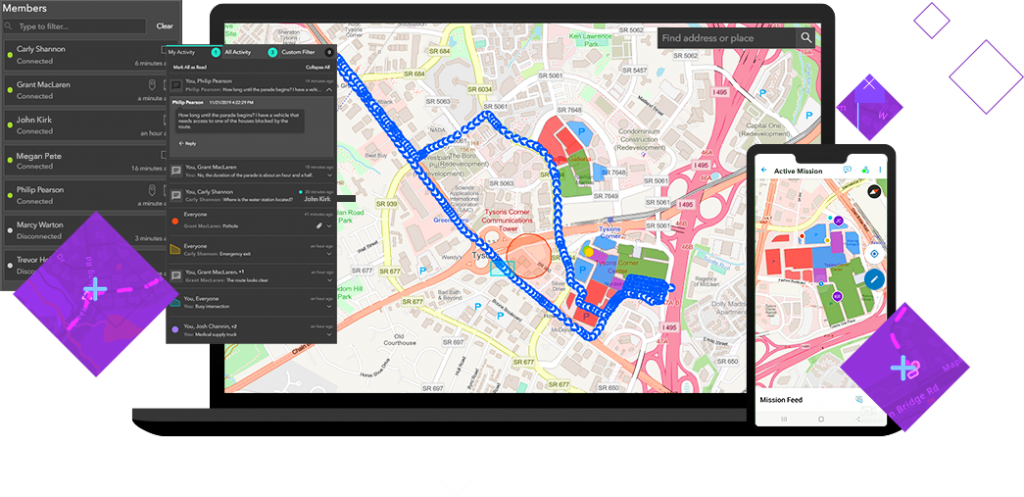 Public Disclosure with Maps
Finally, public disclosure is another critical component of the standard. Maps can be used to disclose the locations of tailings facilities and provide descriptive information about each facility, such as its construction method, status, and potential inundation areas. Valuable public feedback can be captured from local communities using form-based surveys. ArcGIS Hub is a community engagement platform that enables you to build simple open data websites to publicly disclose this information. For example, the United Nations uses ArcGIS Hub for their Sustainable Development Goals initiative to communicate data and maps that are critical to their mission. Maps can also be embedded in corporate websites and in investor relations presentations.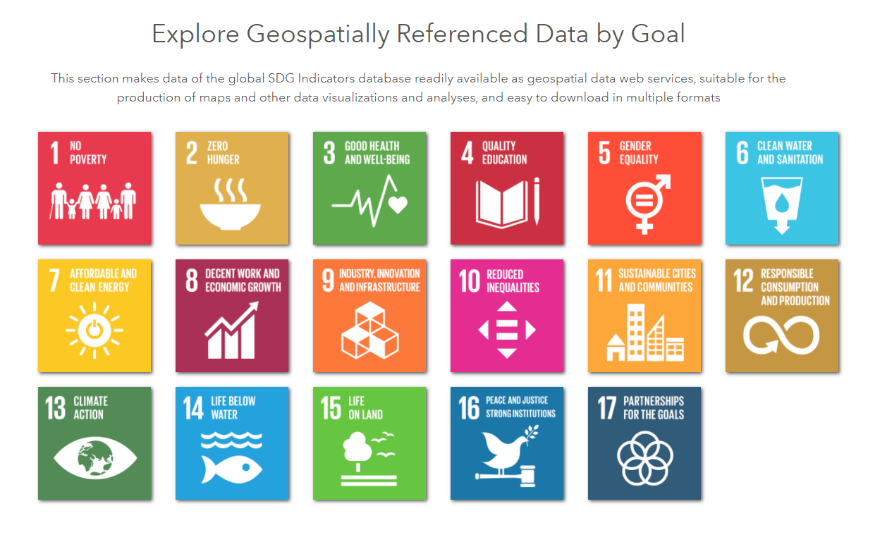 Summary
The risks associated with the management of tailings facilities are clear, and the potential consequences of a failure are significant. ArcGIS can help to reduce the social, environmental, and financial risks associated with managing tailings facilities. By improving monitoring and reporting, you can ensure that your facilities are operating safely and efficiently. Through enhanced emergency response planning, you can be prepared for incidents. Finally, public disclosure through maps and dashboards can improve how you communicate with all stakeholders, including regulators, local communities, and investors.
For more information on how Esri and ArcGIS can help you effectively manage your tailings facilities, please contact us at tailings@esri.com.
Sources for Highlighted News Articles