Esri Young Professionals Network (YPN) is proud to feature Faces of YPN, an article series highlighting professionals entering geospatial technology careers. In this series, we interview young pros from various sectors and work environments to learn:
How they use geographic information system (GIS) technology in their career.
What they love about GIS.
How they got their start in GIS.
What advice they'd like to give to other young professionals.
Our next Faces of YPN interview is with Gabrielle Abraham, a GIS research associate for Mona GeoInformatics Institute in Jamaica.
Below is our Q&A interview with Abraham.
Q: How are you using GIS in your career?
A: I am a GIS research associate with the Mona GeoInformatics Institute (MGI), owned by the University of West Indies Mona Campus in Jamaica. I was primarily hired at MGI to lead GIS research and mapping initiatives for the Surviving Storms | Caribbean Cyclone Cartography Project.
Our research has been progressing since 2020, and we are now in the third stage where we are analyzing the field data collected, and I am writing a research paper among other outputs. This project, led by partners at Goldsmith's University in London, is centered in the Commonwealth of Dominica and looks at mapping hurricane hazards, survival rates, and repair in Dominica.
This project has a few different areas of focus, which include: (1) using archival research and female farmers' oral histories, (2) The Ti Kai survey that looks at the traditional architecture of Ti Kai, which is small, traditionally built houses which have been known to survive storms for many years, (3) Dominica Story Project which includes community-based stories of Post-Hurricane Maria recovery, (4) creative repair, with art, (5) Mapping Hurricane 'Resilience' using GIS, which is my primary focus, and (6) a project focusing on water harvesting with woman farmers in Dominica.
All of the projects that I mentioned can be found here: www.survivingstorms.com.
Q: How did you get your start in GIS?
A: My start with GIS began 10 years ago. I went to college at Dominica State College, in the Commonwealth of Dominica where I completed an associate degree. I majored in geography and biology, and I had a great lecturer, Taihisa Hill-Guye, who had recently reworked the geography curriculum. She included coursework in GIS, which is where I had my first experience with GIS.
I love the ability to not only understand the environment from above (spatially) and being able to visualize it (through maps), but I also enjoy analyzing how humans interact with their environment. Studying these interactions has taught me so much and enabled me to contribute to informed decisions pertaining to our future and the way we live
Thanks to this course, I decided to pursue a bachelor's degree in geography. I attended the University of the West Indies, St. Augustine Campus in Trinidad and Tobago. During this time, we all received the Esri student license through the geography courses. We utilized ArcMap and ArcGIS Pro, which helped us learn GIS in-depth. Some additional courses in the program emphasized remote sensing and other fields, which really piqued my interest.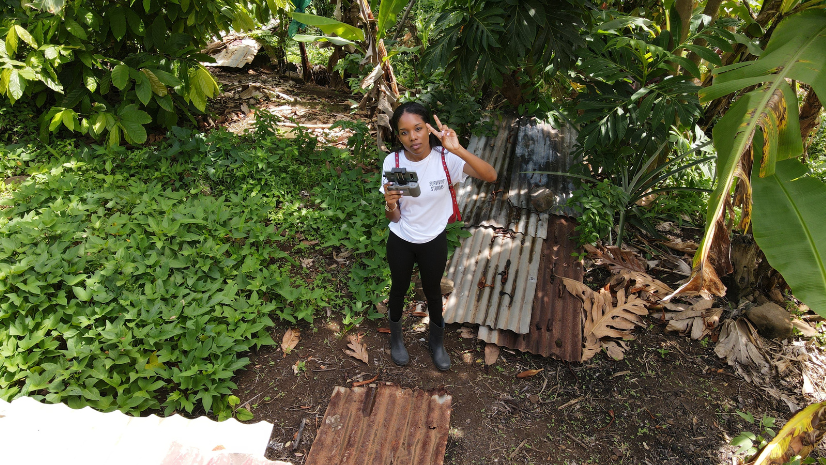 I really liked how GIS merged different geographies. I am more of a human geographer than a physical geographer, but GIS merges what you can see through spatial imagery and analyzes it both physically as well as understanding humans and why they are spread out the way they are. It is also able to take things a bit further, by modeling and predicting future changes, based on historical patterns.
After completing my bachelor's degree, I received a Commonwealth scholarship and flew across the world to New Zealand where I completed my master's degree in geospatial science at Auckland University of Technology.
Q: What GIS projects have you been working on?
A: I spent 2020 doing preliminary work and field preparations for the Surviving Storms project. After that was finished, I spent roughly all of 2021 conducting mobile work in Dominica and now I primarily perform data analysis on the data collected in the field.
I used a lot of Esri technology from the beginning. Back in 2020, we conducted an Exposure, Hazard, and Vulnerability (EVH) analysis using ArcGIS Pro. Using this data, we created a full hot spot map to determine what were the most hazard-susceptible and vulnerable areas in Dominica.
From this data, we selected the sites we wanted to focus on. Another key piece of software for me was ArcGIS Collector. I liked that I could use ArcGIS Collector on my phone to get accurate GPS points and fill out all the information and attributes of the data right there in the field.
Having the details of these areas already prefilled in ArcGIS Collector made my life easy. We then did an in-field survey in Dominica to assess the level of damage that was still present four years after Hurricane Maria.
I am currently finishing up outputs on the CCC project, and I have been doing some work on tourism asset vulnerability in Dominica and have some upcoming coastal hazard analysis work coming up.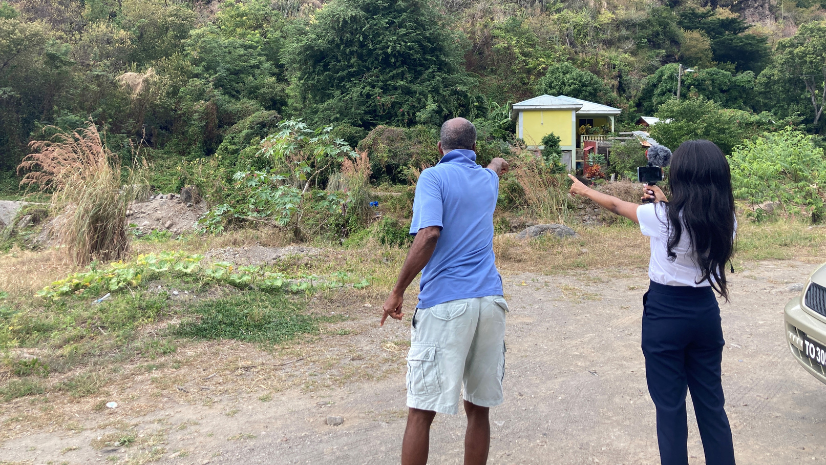 I love the fact that in our ArcGIS Online account, we can see updates on our laptops in real time and be able to download the data and work with it immediately through ArcGIS Pro.
I have also used ArcGIS StoryMaps, to create blogs for the project, where I am able to include my map data directly within the blog post. Some of the posts include A Four-Year Resilient Dominica,and Mapping Dominica's Road to Resilience.
Another technology that I've used is Drone Deploy software to process drone images into spatial TIFF files which I then seamlessly import into ArcGIS pro and can work on them from there. It's nice how well everything works hand in hand together. I would say that ArcGIS Pro is my favorite product to use. The usability of ArcGIS Pro speaks for itself.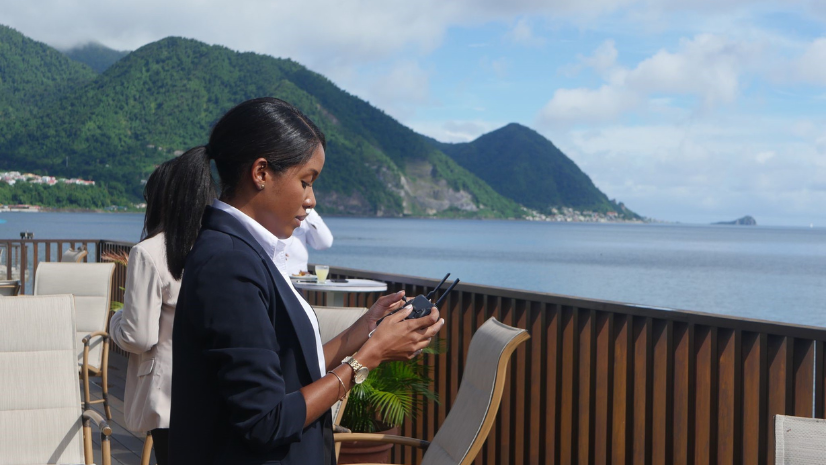 Q: Did you participate in any GIS internships?
A: I participated in a summer internship with Dominica Electricity Services Limited (DOMLEC) after completing an associate degree at Dominica State College. The college has a small GIS department that I greatly appreciate because I was able to get a lot of hands-on experience with GPS tools as we surveyed and mapped the island's electric meters.
At the time, DOMLEC had a small GIS department of about four people. Although the department was small, we played a key role on the island. Staff would come to the GIS department all the time for maps of different things.
Thanks to this internship at DOMLEC, I gained hands-on and real-world experience using GIS. It exposed me to one of the many ways GIS technologies can be applied to businesses, especially living in a country that, at the time, was new to GIS.
It was also my first time collecting data using GIS in the field and the internship at DOMLEC taught me how to efficiently prepare for GIS fieldwork, time management, and the value of networking! To this day, I still reach out to past coworkers to problem-solve and bounce ideas off one another.
Q: What first steps do you recommend to someone new in the GIS industry?
A: If someone is young, I would say try to do an internship to determine how interested they are. Even though I took GIS courses in college, getting real-life experience through my internship at the electricity company really opened my mind. The small GIS department where my internship was through played such an integral role in that company. I saw so many ways that GIS could be applied through that internship.
If someone is a bit further along and is looking to switch to a GIS career, I think the best way to break into the industry is by doing short courses with Esri Academy. That would be a good way to get their feet wet, and if they'd like to take it further, they could get a geospatial degree.
Q: What training courses would you recommend to young professionals?
A: I think if someone would like to continue with a higher education degree, especially a geography degree, there are many GIS training opportunities available. Esri Academy is a great tool where you can also receive Esri certificates and learn so much about GIS, cartography, remote sensing, and more.
I try to encourage people to not only do GIS but if they could also pursue a level of software development with their GIS coursework. You can enter a whole new world when you mix the two. The things that you can do and the applications that you can create can help you take your work to the next level.
Q: What value do you get from being part of a YPN community?
A: I am new to Esri YPN. I have participated in Emerging Spatial Professionals N.Z. in New Zealand, which is a young GIS professional network. This was something I really enjoyed when I lived in New Zealand and we were offered to participate in a session at the annual New Zealand Esri User Conference hosted by Eagle Technology and ESRI. Participating in this and witnessing other professionals in GIS was very inspiring. I hope to go to the next Esri User Conference in 2023!
Since I've been working in research, there is a true value there. When doing bids for international grants, sometimes you may have an idea but need advice from someone with a more specific background in something. Having a network where you can call on another professional creates opportunities for both of you through a large network.
Q: How would you like to use GIS in the future?
A: I would love to do more hurricane-related work. I have seen how I can take my current research further with science-backed data. Information like how far recovery has come, where vulnerable areas are, flood mapping, etc., benefits policy-making in certain countries.
If we know a certain area will be more prone to heavy flooding, then people should not necessarily be able to build in those flood-prone areas, or there should be regulations regarding raised foundations.
Even though I want to do more hurricane work, I am still that "human" geographer at heart. So, I also want to do more population and urban planning work with GIS as well. That's the thing with GIS, you can help individuals and large organizations, and apply it to several sectors.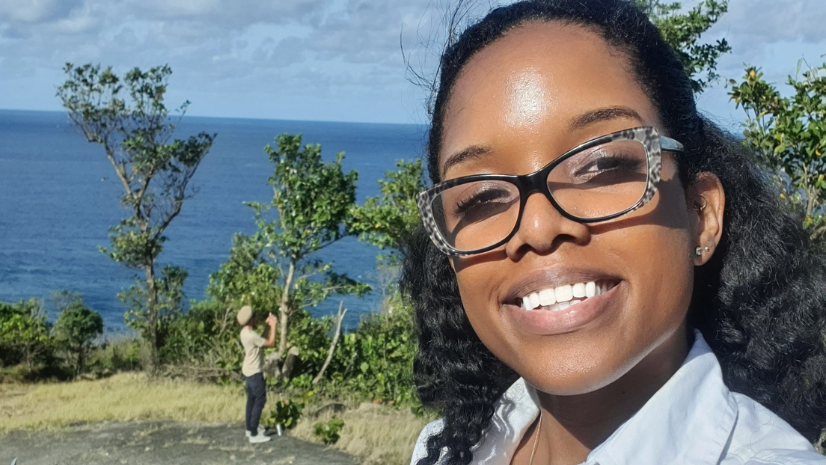 Q: What is your best advice for young professionals like yourself?
A: Young people can put so much pressure on themselves to figure things out. They should take their time to figure out what exactly it is that they would like to do and understand that you can change it or start something new any day and at any age! Things can grow for themselves as you gain more experience. Find what you like and put effort into that, and it will unfold for you.
Also, don't limit yourself, ever! The GIS part of me is just one part. I also own my own event planning company and I work with brands on social media. Having other hobbies like photography and videography, I bring those skills into editing my drone videos and helping with marketing at my workplace as well. Being multifaceted is just more interesting, and diversifying your skills creates security for yourself as you always have something you could do or fall back on.
You can learn more about Esri Young Professionals Network on our web page.
Check out these additional resources for students in higher education or young professionals entering geospatial technology careers: