Hampton Shaler Water Authority (HSWA) is a small water authority in Western Pennsylvania that serves Hampton Township; Shaler Township; Etna Borough; Sharpsburg Borough; and parts of O'Hara Township, Indiana Township, Richland Township, and West Deer Township. HSWA currently has 23,600 water customers and distributes five to six million gallons of water per day to its customers.
Challenge
HSWA was going through staffing changes and expressed the need to update its digital data inventory, including all its available geographic information system (GIS) data. After its in-house GIS specialist left, HSWA needed an experienced curator of GIS data to inventory what it has and make any changes or updates as necessary. They also needed a better tracking system for work order tasks, such as fire hydrant repairs or pipe replacements due to a water main break. HSWA wanted to modernize its workflow process and reduce the amount of outdated and time-consuming paper forms and maps. Through new technologies and workflows, HSWA wanted to enable their field crews to spend less time logging information and more time doing the work.
Partner
Esri partner geographIT, a division of EBA Engineering, Inc., is located in Lancaster, Pennsylvania. The firm has 15 full-time GIS staff providing full-service GIS and application development services. These services include cloud and on-premises enterprise GIS deployments, water/wastewater data and processes, Esri ArcGIS Utility Network implementation, emergency management, Next Generation 911 support, and local municipality support. The team includes geographIT project manager Joe DeLuca, GISP; geographIT Senior GIS Analyst John Watson, GISP, HSWA executive director April Winklmann; and HSWA field services coordinator Jacob Casile.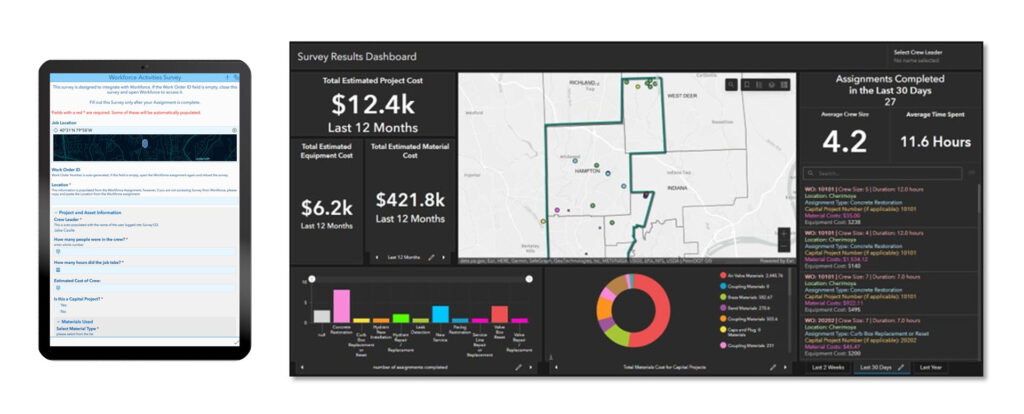 Solution
HSWA tasked geographIT with inventorying the current data and apps in ArcGIS Online and providing recommendations. Once HSWA reviewed the recommendations, geographIT stood up several apps that would begin the process of digitally collecting field data, while also modifying and updating existing apps to support its current and future needs. geographIT identified collection processes that could be automated with Arcade functionality or scripts run through Amazon Web Services (AWS). Automatically populating fields such as Location, Unique ID, Minutes Flushed, or Total Gallons Flushed saves time for the crews in the field and reduces user input error. A new ArcGIS Workforce project was created to help capture work orders and modernize the assignment process. ArcGIS Survey123 was linked to Workforce, so mobile workers can accurately account for all the materials and equipment used for each job, and ArcGIS Survey123 automatically calculates the costs associated with each. Dashboards were then created to aid in visualizing the data being collected for hydrant and valve inspections, flushing activities, Workforce activities, and the Survey123 results.
Results
The staffing transitions gave HSWA an opportunity to introduce new technologies and workflows to assist both the mobile staff with completing their tasks and office staff with seeing results more efficiently. HSWA's new field services coordinator was very open to the changes and played an integral role in helping geographIT understand the needs of the mobile staff and how they'd like to use this new technology. Giving the mobile staff Samsung Galaxy tablets empowers them to fill out simple forms that have logic and calculations built in. This enables office staff to see the results quicker and reduces the amount of time anyone must spend entering hard-copy data into their digital systems manually. The field services coordinator can quickly assign tasks to mobile crews using Workforce, who can then get to the job faster, know what materials are needed, and complete the job without the need to write anything down. All materials and equipment used are recorded in a simple, yet powerful Survey123 form that gets tracked in real time in an associated dashboard. This allows the office staff to know exactly what materials and equipment were used for each job, so they can better track their inventory and costs associated with each job.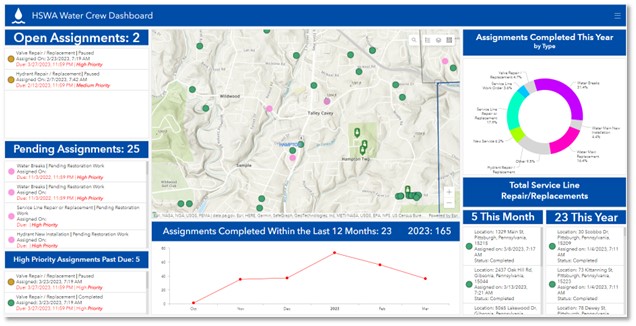 geographIT modernized our existing GIS by improving existing apps and implemented new, integrated apps that vastly improve our approach to collecting fieldwork data while being able to monitor it all in real time.
Stay Connected with Esri's Water Team
ArcGIS is an extensive information system that enables modernization of workflows with easy-to-use applications for the field and office. Strengthen your organization with smart water solutions that will increase efficiency and provide insight for decision-makers. Visit the Esri Water Utilities web site for more information.
Join the Water Utilities Community
Follow #EsriWater on social media: Twitter | LinkedIn
Subscribe to the Water Industry newsletter "Esri News for Water Utilities and Water Resources"
Learn more about how Esri supports rural and small water.