It's hard to believe we're just days away from the 2023 Esri User Conference in San Diego. This year, attendance will eclipse 20,000 for the first time ever. A little over 700 of those listed their industry as urban and regional planning, housing, or economic development. This doesn't even take into account the thousands of GIS professionals who work directly in this industry. In other words, this UC will continue a trend of a greater role of GIS in the planning and community development world, and I couldn't be happier to see it. It is nothing short of inspiring when I see more and more people at both the APA National Planning Conference and the Esri UC.
So, if you are one of those attendees, or if you're just interested in learning more about this industry, I wanted to provide you with some insight and suggestions for your UC experience.
Download the Esri Events app. There's a reason I put this first. This is a must-have app at the conference. If you're a first-time attendee (as about 40% of the attendees will be), you'll want this app to help you get around the Convention Center. It's also important to help you…
Plan your agenda. A rookie mistake is thinking you'll just wing it and see what's out there. Trust me when I tell you that the UC probably has more to see than you will probably have time for. Many of the more popular Esri technical sessions are offered more than once to help you be a little more flexible in scheduling.
The Plenary starts Monday morning at 8:30. The doors will open at 8:00. With all the monitors, there isn't a bad seat in the venue, but if you do want to sit closer to the stage, you should be there at 8:00.
We will be in the Community Development Island in the UC Expo from Tuesday through Thursday showing the latest tools and success stories from ArcGIS Urban, Hub, CityEngine, Community Analyst, ArcGIS Solutions, and more. The Expo closes on Thursday at 4:00. Please don't be the attendee we've seen from time to time that hasn't hit the Expo, shows up at 1:00 on Thursday, and hopes to get to everything. Plan enough time to be there. We would love for you to come by to tell us about the projects you're working on (or would like to work on)! I mean this sincerely. I don't run a planning department on the side. I have a lot of experience working with different planning departments, but I'm not foolish enough to think I know everything. Which leads us to…
If you would like to schedule a meeting during the UC, please feel free to reach out directly to me (kcooke@esri.com) or your account manager. We would be happy to hear about your challenges and help you put together a gameplan to better serve your planning, housing, or economic development initiatives.
Our Planning & Economic Development Special Interest Group (SIG) Meeting is Wednesday, July 12 at 11:30 in Ballroom 20 BCD Room 4. This will be a fast-paced hour to get you up to speed on how ArcGIS is positively impacting the community development industry. It was standing room only last year, so don't be late.
We've put together a custom agenda for Community Development professionals, including our demo theater schedule, industry focused sessions, and moderated paper sessions.
Esri personnel will all have red lanyards and name badges. If you're walking around and don't know where to go, you can always find a red lanyard, and we'll help you get to where you need to go.
You will be covering a lot of ground at the UC. I typically end up walking 6-7 miles per day. I cannot emphasize this enough…wear comfortable shoes!!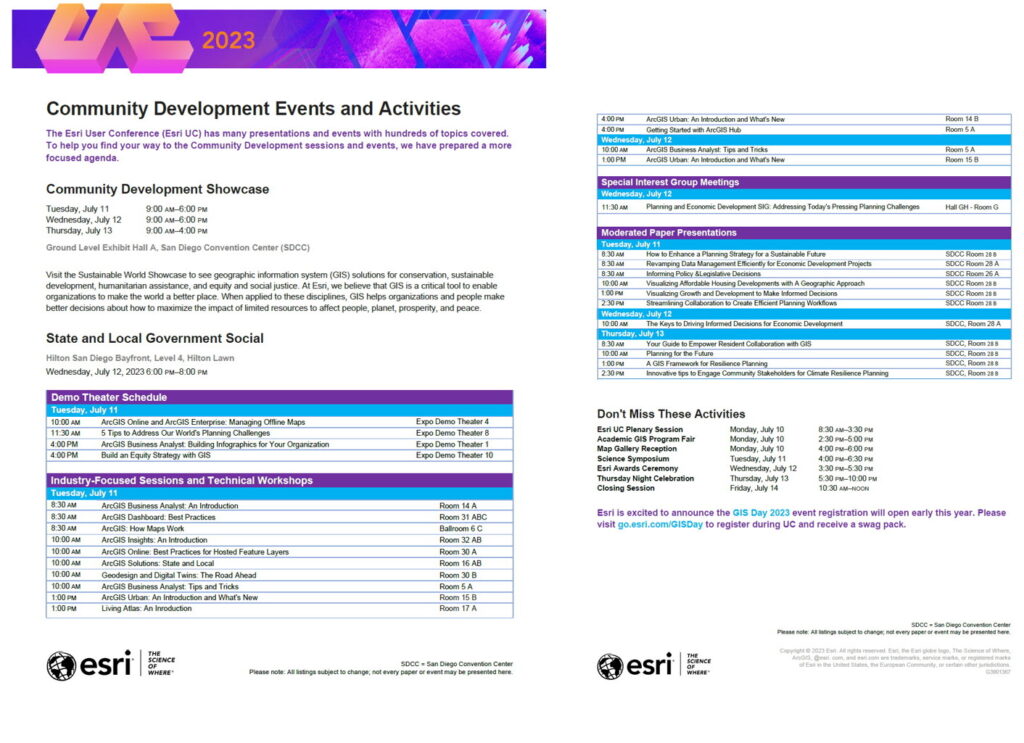 My goal is to make sure you have a successful UC experience. If there is anything we can do to help make that happen, please feel free to reach out to me directly (kcooke@esri.com), your Esri account team, or anyone at the UC. Looking forward to seeing you in San Diego!