We talk a lot about ArcGIS as a system of engagement around here.  Obviously, we're big fans because we've seen first-hand how much difference it can make within a telecommunications organization.  But it recently struck me that it's kind of a generic term and could mean a lot of different things to different people.  So today I'm taking the opportunity to share my thoughts and observations on what a system of engagement really is and how to best get started.
Since practically every aspect of a telecom's business involves location, it only makes sense to use maps and spatial thinking to collaborate, capitalize on opportunities, and solve problems.   But true collaboration and understanding can only take place if we are sharing the same authoritative information as a common foundation for our work.  Consider these examples:
The sales team can only sell services to on-net customers. If they are working from a six-month old paper map or static digital file, they don't have the same authoritative information the engineering group might have.  The sales team is doing the best they can, but with outdated information they are likely missing opportunities where new network or network upgrades have been completed.
A field technician keeps a set of paper maps in their truck with scribbles and notes marking any changes or updates they noticed themselves. The maps coming from engineering are never correct, in their opinion, so they just keep their own set of network records.  Now neither set of maps are complete or authoritative, adding to frustration and unnecessary delays.
It's quite common, in our experience, to see telecommunication organizations struggling to work through variations similar to the situations above.  Using ArcGIS as a system of engagement essentially removes those barriers because it provides the geospatial infrastructure for an organization to arrange all their geographic and business corporate assets in one central repository, aligned with their organizational structure, and securely share access to that content based on job role.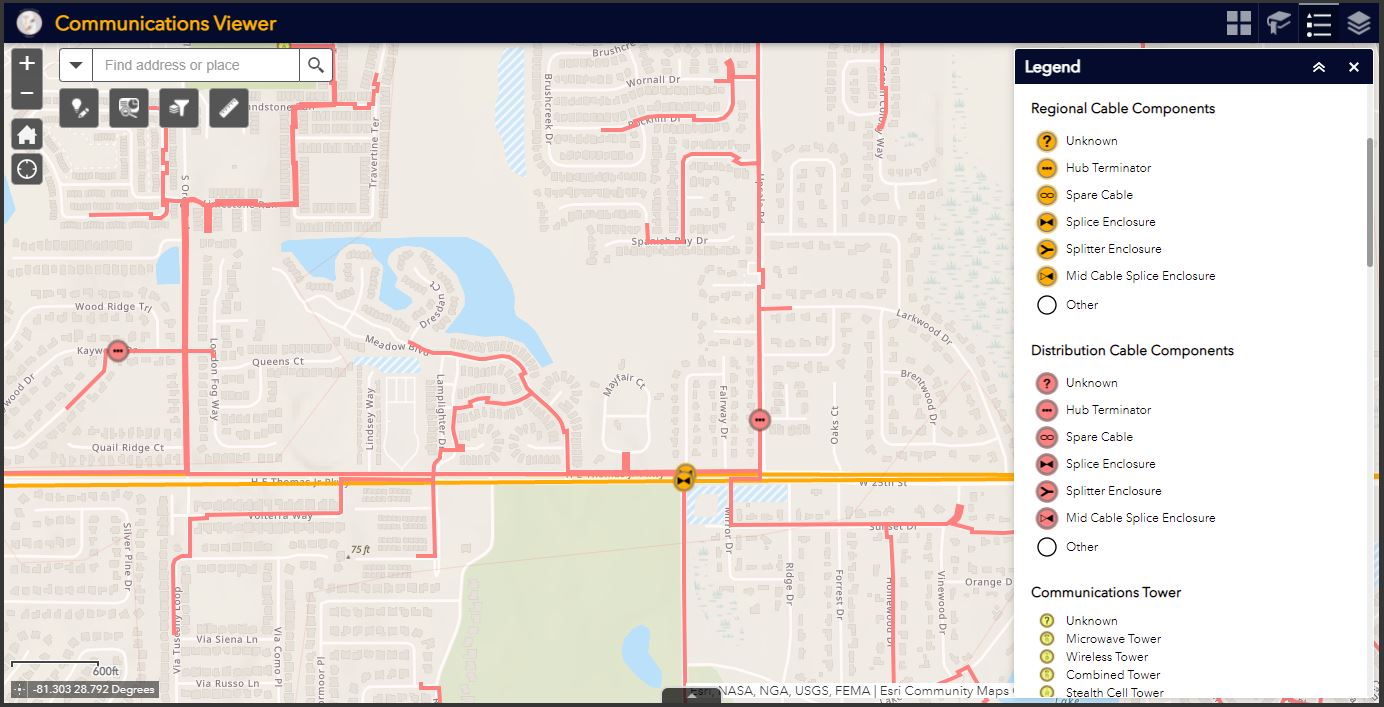 A system of engagement eliminates the operational and cultural friction that often comes with extract, transform, and load (ETL) processes.  No more arguing over whose data is right or correct, no more wasted effort when decisions are based on outdated information, no more duplication of resources to acquire the same data.  A company's business data is their intellectual property.  It's likely one of their most precious assets.  Digitally transforming a telecom company means treating that IP like a precious asset.  Secure it such that only the right people can edit it.  Then share it as read-only to other people so they can use it to collaborate and enhance their work.  What if you could make it easy for one of your other most precious assets (your workforce) to capture institutional knowledge throughout the organization in a definitive and lasting location?  Then as people come and go or grow within the company, the IP remains as a cornerstone to operations.
What does ArcGIS look like when you use it as a system of engagement?  To most end users, it looks like an app that knows who I am (my identity) and features relevant maps and apps based on my job role.  My identity follows me to the specific web apps or mobile apps I need for my job.  For a financial analyst, that might mean an authoritative map of capital projects is displayed in my Power BI reports.  For a field technician, that same map of capital projects might show up on my iPad, where I am responsible for updating that day's progress right there on the map.
The real value of your system of engagement comes from the trust people place in its content and the decisions they ultimately make because of it.  You could have the best network documentation in the world and the most sophisticated, accurate analysis to predict which equipment will fail when.  But if only two people in the whole company have visibility, it's probably not going to make a big difference to your business.
How to best get started?  After implementing ArcGIS as a system of engagement for many telecom companies, here is our best advice:
Brand your portal's home page and add groups that mimic the departments/organization of your company. Tie into your company's identify management system or add users manually.
Pick two or three maps that would make the most difference to the broadest group of people in your company. For example: a map of your network, a live weather map, and node/wire center/region boundaries.
Configure those map layers into a couple of different applications to serve different groups of users, like a Communications Network Viewer, a Map Notes app for field data corrections, and a dashboard.
It's tempting to begin with a very specific workflow or use case.  Our observations and experience from working with many different telecom companies consistently shows the most successful organizations start broadly with resources that bring value to large swaths of people.  Those people come to trust and rely upon the information shared within ArcGIS.  Then the more distinctive use cases and workflows begin to grow from the solid foundation set by the system of engagement.  The companies that are exceptionally good at executing this strategy then see the system begin to take off as a self-fulfilling prophecy.  As more groups contribute their authoritative content, the rest of the organization further collaborates.  Secure sharing and transparency precipitates trust and collaboration. With the trust your teams have in the foundation, your entire organization can streamline workflows and leverage truly authoritative information for data-driven decision making.
In summary, leveraging ArcGIS as a system of engagement within telecommunication companies is a great way to facilitate secure and thoughtful collaboration and communication.  To maximize its success, start with an organizational model that mirrors the way your company is organized and incorporate a focused set of maps most useful to a wide audience.  Then evolve it to serve more specific apps and content for directed use cases.  To do that, there are some interesting best practices and success stories such as implementing a Center of Excellence model.  But that's a topic for another blog.  In the meantime, click here to learn more or start up a conversation.