Portal for ArcGIS, part of ArcGIS Enterprise, is one of the most powerful tools you have in your GIS toolkit. The goal of this article is to share personal experiences and insights to help you harness the power of your Portal (or ArcGIS Online) as many of the elements you should consider are more about how you use it, rather than the product specification sheet and what it can do.
Many of us have led careers as GIS data managers, analysts, or developers. We've spent time in the trenches creating and maintaining data sets, doing analysis, making maps, and building valuable apps and dashboards. Much of this work is often for one specific project or user community and is rarely seen or leveraged beyond a small audience. This can lead to a large volume of Geospatial data and information products that may be underutilized.
Your Portal can help change this dynamic in its ability to act as a robust content management and dissemination platform. It provides a place to publish your live data products as well as associated maps, apps, and dashboards. Users can tag favorites and even add comments and rank content if you enable these features, creating a powerful "marketplace" to showcase your user's work. This allows you to open up your Geospatial products to a larger audience across your organization – increasing your business impact and value significantly.
In addition to being a "publishing" platform for your GIS Team, Portal enables your "citizen" users to create their own products. Allowing users to publish data, run analytics, create maps, build apps and dashboards will lead to more data and faster workflow innovation which leads to more creative solutions than a single team could ever accomplish alone.
Its true of course, that on such a portal journey you may also see some "junk" created along the way and this is ok – it is part of the trialing and learning process. Portal is designed to facilitate a sandbox-type work environment for the users alongside the authoritative publications of the geospatial professionals.
But as we all know, with great power comes great responsibility. The Portal does require some thoughtful configuration and ongoing management. To ensure a productive environment for all of your corporate users – data scientist looking to run analytics, geospatial professionals managing the system of record and core applications, and operators or executives that only require a simple KPI dashboard.
For the remainder of this article, I am going to share some thoughts, ideas, and resource links to help you get obtain greater value from your Portal. These are in no particular order as I believe they are all equally important to ensure maximum results. Think of them as ingredients to a recipe. You may leave out one or two items… but you may not want to eat what comes out of the oven. These ideas are based on my own experience deploying 30+ Enterprise Portal for ArcGIS deployments in a large energy company, however many of the elements also apply to using ArcGIS Online as well.
As you browse the items below you may also want to think about who will be ensuring all of these items are addressed. I would encourage you to consider a new role in your organization (or set of accountabilities applied to an existing role depending on the scale of your implementation) Something like a Geospatial Content Librarian who's role is similar to a traditional librarian in that their goal is to ensure all of the knowledge in your portal is on the right shelf, easy to find, has a space to be consumed, and tidies up after the "books/projects" are turned back in.
Below we will cover these Portal Ingredients:
Identity:
I know that I stated these are all equally important, but I do have to call out one item that may be a little more important than all the rest and this is your Portal identity. Whether you are using ArcGIS Enterprise or ArcGIS Online you want to really think about what you are going to call your Portal. You may want to align with other corporate system naming conventions or align with some other company initiatives. Just remember to choose something sustainable as changing the name of the portal could create pain and confusion for your users. Some examples include Shell My Maps, Chevron MapHub, or BP One Map.
Whatever you choose you want to go all in with the name, branding, corporate colors, vanity URL, logos, etc… we will touch on these further below.
Logo:
Take the time to create a simple recognizable logo for your portal. If you have an internal comms or marketing team perhaps leverage them for help on this or consider hiring an external firm to assist with this step. A logo will be used in your portal branding, your communications with your staff, on thumbnails for authoritative content, and maybe even on coffee mugs to help grow awareness across the company. You will want several versions of the logo – most design teams will supply these as a complete package.
Vanity URL:
A vanity URL is a critical early step. Your IT department should be able to help with this. Something simple is best – like: portalname.companyname.com. You want this to be simple enough that when people hear it – they can remember it as they walk back to their desk and short enough that it will fit on a coffee cup with your logo. It is fine if this is just a redirect to your Portal URL – the goal is an easy-to-use link people can remember.
Another key decision on this step is what should the vanity URL point to. If you only have one portal, you may want to jump straight to the portal home page, however, if you have multiple portals or have other information you want to present before the user gets to the portal (like training links, general instructions or support materials), then you may have an intermediate webpage that provides additional resources plus a link to the portal. Don't make this too complex as you want to get the user into the portal with as few clicks as possible.
Later, I also talk about external access – keep this in mind as you set up your URLs and any intermediate pages… as you want users to have the same experience whether they are in the office or on road.
Portal Home Page:
Another very important item that brings it all together for your users. The design, layout and maintenance of your portal homepage has a huge impact on how valuable (or not) users will think of the entire platform. You want it to look clean, modern and most importantly present useful content in as few clicks as possible.
First up, you will want to use your corporate colors, the new logo you just created, photos and art from your organization. You want the users to feel comfortable in the interface. There are many great resources online for building your home page and there are some significant differences in what is possible in ArcGIS Enterprise vs ArcGIS Online.
Portal Home Page – Navigation:
The Portal Home Page presents the users with lots of options and there are many different ways you can choose to organize and present content after you have decided colors, logos and images. I will share my thoughts on what I think is the best approach – but you will need to decide your own approach and then stick with that to provide a consistent experience for users.
I will walk through the areas by number: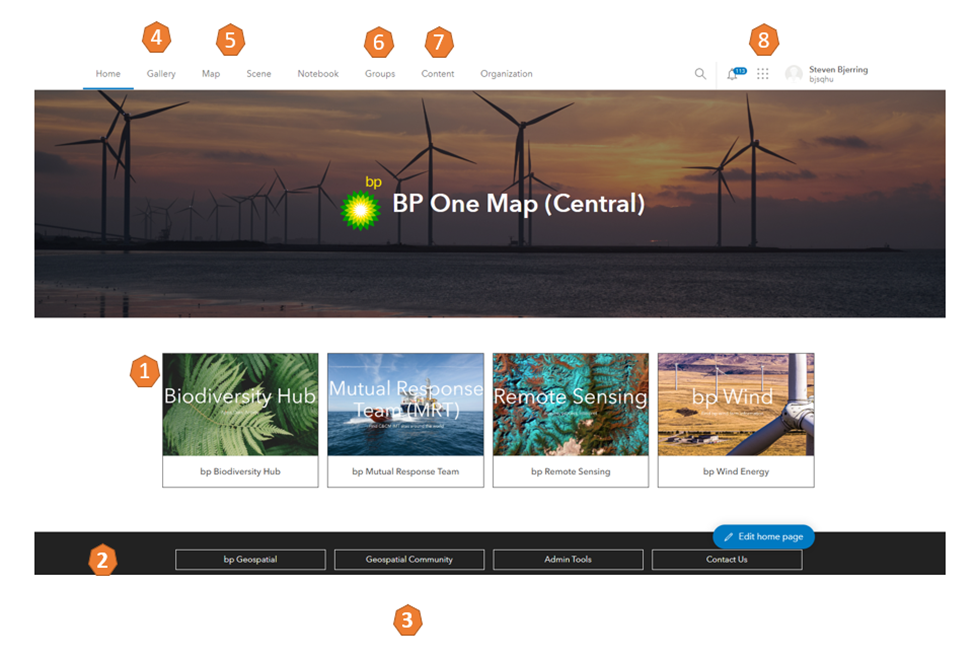 One of the most prominent items on the home page is the featured items section/carousel. Use these to grab attention from the audience – these should be a diverse set of curated ready to use maps, apps, or dashboards that are generally useful to a majority of your users. I suggest you represent items from several departments so that on the first four you have at least one a user may be interested in. eg. land, environment, operations, production, emergency response, or weather resources. Try to have strong examples, rotating them monthly to help keep the front page fresh, and ensure you have strong thumbnails for each of these. More on thumbnails later.
Under the featured apps carousel, you have space for "other" stuff. See examples and ideas in the design resources below. Be thoughtful what you use this for as you want it to compliment and support the user experience of the overall portal. These are often support links and other informational items.
At the bottom you have a footer. Be sure to update this info and include a "contact us" email which helps the user get back to your portal support team (or maybe your Geospatial Librarian)
Back at the top of your Portal Home Page the next link you have is Gallery. This is an important resource as it gives you a chance to layout the core navigation of authoritative content. I really like Enterprise Sites (or Hubs in AGOL) for team specific content pages – and the gallery is a great place to deliver all of your company Enterprise Sites in one place. You may also have some key Enterprise Sites for other purposes like a support site, or data hub, or some other informational resource. Include these here as well… at the bottom of the gallery view.
Next on your home page navigation is Map and Scene – by default these are blank for your users except the default basemap. Consider which default basemap you want to use, setting the starting extent to an area around your operations (if possible) and adding some additional starting data layers – maybe land position, or key assets. Just something to help user orientate to the basemap and give them a useful "one click" resource.
Next you have Groups… which again is empty by default for new users. Consider a process to ensure you add new users to the appropriate groups – and ensure the groups are full of useful content. As a starter you may want to include groups that are delivering the content to the enterprise sites of interest for specific users. You can batch manage/assign these – we will touch on this later in the batch management section
Next is content. This is also usually empty the first time a user leverages the portal as well. I encourage you however to go ahead and place a map or two into the users content area – something related to their work area to give them something they feel comfortable practicing on. This can also be accomplished with the bulk management tools… and you can keep starter maps in your admin area that you just copy in for each new user.
Another useful item on the main page here is the 9 dots app launcher over at the top right. This can be reconfigured with the app links that are most important to your user community. They don't all have to be related to the Portal. You can link out to other key enterprise systems for your users, maybe a document management system, or a financial or land system, or you can link out to some key specific authoritative geospatial apps for your company – or a mix of both.
There are lots of small considerations on your Portal Home Page that can have big impacts on your user experience. Be sure to take the time to carefully consider how all of your users will experience your home page – from new beginners to the experienced users.
Portal Home Page – Design Resources:
Shifting gears now from the home page layout and moving over to other elements to consider when building out your portal.
Thumbnails:
This is often overlooked or started but not finished as it is seen as just a nice to have – however I would challenge you to see this as a critical task item. Thumbnails show up throughout your user experience and can convey a significant amount of information to the end user with a simple glance. They give you an opportunity to describe what the product is (Data, App, Dashboard, Site, Service, etc), an opportunity to add an appropriate logo, show a title, or a preview image of the content. You can also add a "authoritative" badge to further help identify curated content. It is worth the effort to put in the time on the thumbnails to ensure a better experience for your users.
This is a great blog to help get the ideas flowing and some additional info here. There are even several free thumbnail generator tools like this example from the Oregon Geospatial Enterprise Office. Some of the batch management tools also have thumbnails generator options.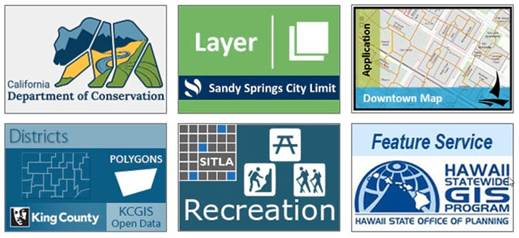 Key Maps, Apps & Dashboards:
You want to have some basic general use content highly visible in your portal. These may be maps, apps or dashboards that are useful to a general audience, and they don't have to be overly complex or a big effort. Sometimes simple is more impactful and will reach beyond your typical technical audience.
Some of the most used maps in my experience are weather maps focused over your areas of operations, or traffic with weather maps focused on the commute areas of your staff, or a simple asset map with generalized polygons over your land/asset areas. You can of course also highlight more technical maps and apps with more detail/functionality but don't forget some simple resources as well. These are also great resources to feature on your homepage carousel.
Crisis Response:
GIS plays a major role in crisis response across almost every industry and it is no different in the Energy space. Many companies have the concept of the 5 min map that has to be immediately accessible in case of emergency – for anywhere you operate in the world. This is fairly easy to deliver via your portal effort with maps, apps, dashboards and sites.
You can start with just a simple operational map, sitting in a crisis group, most likely exposed via a crisis enterprise site, with the key asset layers already added along with key potential resources at risk around your operations. The enterprise site should be available on the gallery – to ensure anyone in the company can quickly find these resources if ever needed. You can also list other important contact and procedures for response on the enterprise site – to ensure responders have everything they need to protect your operations. As the site matures you can add more apps and dashboards to the site to support wider or more specific response scenarios.
Enterprise Sites / AGOL Hubs:
ArcGIS Enterprise Sites & ArcGIS Online Hubs are some of the most important additions to the portal landscape since it came to market. Early on with portal you needed to create groups, and then build gallery apps that allowed limited context editing options to get specific content to certain groups. This all changes with the addition of sites and hubs.
Sites and Hubs give you an opportunity to deliver content to specific audiences with any additional context and/or user experience you want. They still leverage groups which makes it easier to manage content within the site but they also give you many other design element to create an engaging space for your audience. These can be simple single page interfaces or a more complex webpage like experience. For example, the PUG user group uses ArcGIS Hub for their community webpage.
I suggested earlier in the article that delivering sites via the gallery portion of the portal interface can be very effective. Think of these as mini portals within your overall portal environment bringing together context and content for specific groups. You may want to build these around organizational teams, geographic areas, by functional work areas, or shared project spaces. You can have as many as you need to cover all areas of your business.
You can also nest sites within sites. For instance at my last organization we had a global emergency response site that housed all of the general company policies and procedures for response and then nested inside there were links to the regional response sites specific to certain areas of the business. The reason for this approach is the organization wanted one global URL, that anyone could use to find all the response sites in the company.
Another good use of sites is for "supporting information" for your user community. Think about a training site, a support site, a site outlining dashboard options, a citizen developer site, a branded "Data Hub" site, or maybe marketing sites for "Top Apps" ,"New Projects", or "Global Apps" useful to anyone in the company. Don't forget as you build out your site ecosystem to include navigation to move between the related sites and back out to the home portal. I touch on this more in the "consistent navigation" portion of the article.
This video includes some great getting started info and some more advanced ideas are shared in this Partner story.
Tags, Categories & Search:
Tags and categories are both aimed at making it easier for users to find content in your Portal. Tags are aimed at improving the search experience. Most users will add the minimum tags necessary to get content published so it may take some curation work on your part to ensure tags are as effective as they should be.
Have a read of this blog which share some tips and tricks for using tags effectively. Having a plan and approach can greatly improve how Tags support your user experience, but also be ready to do some maintenance on behalf of your users – the batch management tools are very helpful for this task and are covered later in this article.
Next, lets touch on categories. This is optional in your portal and not enabled by default. I encourage you to enable this feature and build your own categories that make sense for your organization. There are some standard categories available but your own categories will be more familiar and useful to your organization.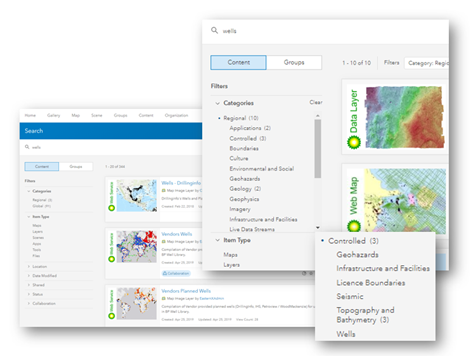 Then there is search. Portal by default has a powerful browse and search capability which includes a "google style" search bar supported by additional filtering capabilities. Users can search from the main page, from the content page, and from the add content interfaces. Learn more about the basics of browse and search as well as consider more advanced search capabilities that you power users will want to learn about
It is critical to give these topics targeted attention, and to build in the time to help curate items that are not tagged or mapped to categories correctly. There will always be some level of content management necessary to ensure the best user experience of your Portal.
Consistent Navigation / UX:
As you think about the user experience in your portal consider you need to consider all the elements together as one. The main portal pages together with the enterprise sites, apps, and dashboards you have published.
I encourage you to come up with a few "navigation standards" that flow across all elements. These don't have to be overly complex… it may be as simple as having a "return to portal" link in all apps and dashboards in one of the corners… Under marketing section I will talk about leveraging your Portal logo with a "built on portal name" tagline in each app – maybe this becomes your return to Portal home link.
For Enterprise sites consider adding navigation into these as well – with a return to portal home option, but maybe also navigation between key sites as well, especially if you have multiple sites that are interrelated.
These navigation elements are not there by default, and with just a little effort you can make overall navigation of your portal and content much better for the end users.
Another item to consider are some basic UX guidelines. I use the word guidelines instead of standards as you don't want to make it too hard for people to get started, however some UX guidelines will assist in selecting corporate colors, logo placement, navigation controls, as well as tool layout. For your corporate apps you should try and follow such guidelines consistently.
Monitoring:
Monitoring is essential to ensure a healthy portal as well as to understand how your Portal is being used throughout the organization. We had a customer recently implement monitoring on their portal and the first feedback we got was "we found active users of the portal we didn't even know existed"! This is very useful information when you are going back to management for budget and resources to support your team.
If you are admin on your portal, you will know there are some status details available via the organization tab – this will give you some insight to content, members and groups but it doesn't really provide what is being used, or by who.
Many companies have built additional reporting metrics internally to help track this additional information, such as reports to understand usage, activity, revisit rates, and content so they can focus their limited resources on what was having the largest impact in the company.
Esri Professional Services saw this repeated need at several customers which prompted them to build the ArcGIS Enterprise Usage Metrics web app. This is a simple add on app that connects to your Portal and Identity Management tools to deliver deeper insights into what is being used, by who, when and how much. This information is priceless when it comes to illustrating RoI, evaluating the impact of apps, or identifying other usage trends.
Monitoring is also critical for managing, promoting, and reporting platform value to management – be sure this is part of your operational plan, whether your build your own monitoring reports, or leverage something from Esri.

Batch Management:
So how do you manage a robust portal as an additional item on your to-do list with often limited resources. There are some best practices for organization maintenance that are hugely helpful for some of these tasks… but as your portal grows batch management will become key. There are two free tools to help with some of your admin tasks – these are the ArcGIS Online Assistant and the ArcGIS Assistant. Read the ArcGIS Assistant Guide to see some of the capabilities of these tools.
There are also some Esri partner tools in this space. These are inexpensive compared to the hours they will save you in administering and improving your portal content. My favorite two tools are from GEO Jobe – they are Admin Tools Pro and Clean My Org. I could write an entire blog on what these can do for you – but instead will encourage you to do your own research.
For Admin Tools – Just simple things like being able to bulk share/unshare, the bulk management of tags, insertions of bookmarks into webmaps, etc, are useful. Also, Clean My Org coupled with being able to monitor what is used/not used, complete/not complete, or that was shared that shouldn't have been, will allow you to prioritize your time and work on the elements most important to your business.
I encourage you look at these options to help work at scale to create the best possible portal experience for your organization.
Access and Mobility:
You may wonder why I have mobility in a Portal story? It has to do with Access. Mobile access exponentially increases the value of your portal. If you are leveraging AGOL you already have mobile access to the portal but if you are running Enterprise for ArcGIS – you will need to take the appropriate steps to make it available outside your firewall.
The reason for bringing this up in the article is to share that it is worth the effort. I encourage you to work with your IT teams – whether you are on premise or in the cloud – it is possible to put the right security and access in place to make your portal accessible not only to the Esri mobile apps – but also so your users can securely check a dashboard or leverage a web app from any computer and/or mobile device, wherever they are working.
Your entire Portal effort and investment will benefit if you enable this any device anywhere access!
Training:
There may be lots of training ideas that come to mind when thinking about your portal effort. Installation, configuration, maintenance, etc… I am not really going to get into these areas here – There are many resources available for this from Esri – like this Guide for Administrators – or any of these other Portal training options
Instead, I want to talk about training for your users – what training should your users need to access and find something useful in your portal? I would challenge you to shoot for zero! No training required to access and use basic maps and apps in your portal. Your users are able to download and use maps on their phone with no training… how can you make your portal experience and navigation this simple, access to a basic map easy, and a few ready to use apps that are accessible an usable with zero training.
There is no doubt you will have some complex apps in your portal that will need additional instructions and training, but for the overall experience and navigation shoot for as simple as possible. One way that we have seen companies approach this was to create very simple (and short) introductory videos. One to introduce the portal, one to focus on data, and one to focus on apps. These videos double as marketing materials, to help inform the user community on what is available and possible.
Marketing & Communications:
One of the challenges with GIS is that it is potentially useful to everyone in your company! But, it is important for different reasons, at different times, and at different value levels. This makes it very difficult to create one marketing message or one story on why a user should care about using your portal. Note: If you do implement monitoring effectively (discussed earlier) the usage trends you identify can be hugely helpful in targeting your marketing efforts.
We are GIS professionals, so how do we go about doing marketing? My first suggestion is to get help! Work "community engagement" funding into your project to hire professional marketing and comms support to help you build a actionable plan. If you can not get support for external help then approach the effort the same way you would any project – you need to build a plan and work to the plan. Also, reach out to your Esri Account Manager as they can often help with access to supporting materials and examples from other organizations.
Check out this "Launching your Location Platform" and "Promoting your Location Platform". These resources are a bit dated, but they are still very useful when launching and promoting your geospatial platform.
A key learning for me when approaching this was that we needed a plan that clearly stated the tasks and actions throughout the year – and we needed clear responsibilities for who was going to do each task with responsibility and accountability at the same level of importance as any of our other technical work. One key reason for this is it is always easy to push this to the back burner as technical work comes up… but to be successful it must be a priority throughout the year.
Your plan should look to raise awareness, create understanding, drive commitment and finally end with action. The materials and messages you use and what artifacts support them will change as you work along this journey. The user community you are addressing is most likely diverse from new hires to senior employees and how their receive and consume messages will be different so you will need to use several methods of information delivery.
Here are just a few approaches that have been successful to other. Leverage traditional newsletters and email campaigns. Print the logo and URL on water bottles, phone batteries, and stickers. Present at conferences and seminars both internally and externally. Leverage internal communication tools such as SharePoint and Yammer and hold lunch-n-learns or breakfast Q&A sessions. Establish Dr. Office days where you book a room for the day and answer walk-in questions. Place informational posters in the break areas and common spaces and have tables with posters in the lunchroom. Create business value videos featuring users that play on TV screens across the company. A general introduction video is always good, as well as videos focused on specific areas like Operations or Subsurface.
While some of these activities will require a budget to get started many of these can be done with zero cost.
One of the more effective activities used at BP was something they called the "map rodeo". This consisted of picking a floor or two of the building and walking around to look at the maps hanging on the walls.
They would then work to update the map (as they were often far out of date) and print a new copy for the wall along with delivering a new PDF and then they would recreate the same map in portal as a web map with the URL included on the printed and PDF versions.
They would then deliver back to the user explaining they could always find the most current data on the web map version. Often they would visit the link on the users computer and mark the item as a favorite to further encourage the change in ways of working.
Favorites:
This seems like a simple concept, but again it is often overlooked. I encourage you to reference favorites and make it part of your training materials as it is a very useful feature to help people start to personalize their Portal experience. This is a nice blog for a few years ago – the concepts are still valid today. It was also mentioned in this Portal video from BP – see the mention at 1:14 into the video.
Ratings (Stars) and Comments:
Don't be afraid to encourage the use of Ratings & Comments – the portal is your product marketplace showing off your data, map and apps to the company. Like any online marketplace, users are used to seeing star ratings and customer reviews. With the right use these can be used to help promote specific content to the organization or maybe used as a feedback loop for items needing attention. With your monitoring tools set up an automated report to get a summary list of new comments added daily to help coordinate and direct any edits/actions required. Learn more about ratings and comments on this page.
Living Atlas
The ArcGIS Living Atlas of the World is most likely the largest repository of Geospatial information available on the planet! If you haven't looked in a while, I encourage you to go back and review the enormous array of information now available to help support your work. Some of the content is already set up with your Portal depending on what version you are on – but there are steps you can take to make it even easier for your users.
You will want to try and make it as easy as possible for your users to find and leverage this content along with your own content as it greatly increases the data available to your users and will help drive more use cases and analysis that may not be possible with internal data alone. Not sure what you can do with the Living Atlas content? Check out this Ten ways to get the most out of the ArcGIS Living Atlas blog.
Collaboration:
Collaboration is an amazing capability of your Portal. I won't get into how it technically works here – you can find much of this on the Key concepts for collaboration page but I will share some ideas on how you may want to use this in your portal.
The first and most obvious use case is if you have multiple portals, or are running both Internal Portals and ArcGIS Online sites you will want to set up collaboration to share any common services or other products between the environments. For instance, say you have a master version of your wells map service and you want this in all of your portals – collaboration is an easy way to make sure this is available everywhere.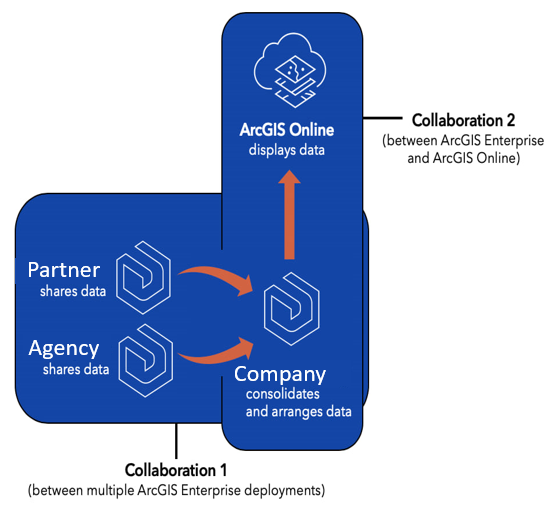 Here's a little less obvious example – lets say you are working with a survey firm that is collecting data for you in the field inside their own ArcGIS Online account and they need access to some of your existing data to support the work. You could set up collaboration between their site and yours where you share your supporting data and they share back the field data that updates as they collect it. Everyone gets live access to the same data and updates in real time, all without transferring files around!
I have also seen this implemented on a large scale project where several different firms are involved building something new next to existing operating infrastructure. Sharing the current system of record, together with the new design, the under construction status, and the new infrastructure as-builts – all coming from the respective organizations responsible for each piece of data. Collaboration ensured everyone was working from the same information daily.
The last example I will share is the vision we have for the PUG Energy Atlas! The goal here is to collect up useful publicly available map services for the industry. One way to populate and share this content could be via collaboration. Your organization could share the publicly available data you collect and curate and/or you could subscribe to the atlas to consume Atlas content data to your organization. We have already had one company share some services… who wants to be next, drop me a line anytime!
Summary:
When I started this write up my goal was to share a short list of "ingredients" based on my personal experience that would help others deploy and sustain a successful portal implementation. Apologies it ended up being a bit longer than planned! As I worked through the information, I kept remembering "one more thing" that was an important part of the overall success. I encourage you to action all of the topics, but for those wanting a summary:
Some of the key points are:
Portal is one of the most powerful geospatial tools you have in your tool belt – it will enable you to take your geospatial products further than ever before significantly extending the value of your team.
Portal is a publication platform, but it is also a citizen user platform! Work to create an environment that shares your authoritative content in parallel to encouraging user exploration and citizen innovation.
To ensure a successful and sustainable effort – it will take some time. Maybe consider making the "Geospatial Librarian" a dedicated role in your organization.
Monitoring and Reporting is key – you need to understand how the Portal is being used to improve it.
Continuous marketing and engagement are critical as your portal evolves.
Thank you for taking the time to read through this long post. Hopefully you have been inspired/intrigued with some new ideas and capabilities along the way. With Portal, there are no perfect answers, the technology is always evolving and different approaches will work better for some than others. If you have ideas for a better approach on any of these topics I welcome you to reach out. I will endeavor to update this guidance as the technology changes and new ideas emerge.