I have just moved, and while I write this blog, I am sitting on my new front porch admiring the bursting buds of some native azaleas we have planted. Native pollinators have already found the blossoms available in our new native garden. The birds are exploring all the vegetation for food and nest sites. It is SPRING! All of this buzz reminds me that everyone has the opportunity to positively impact our environment and that collectively, individual actions become big actions. The new neighborhood has numerous native plant gardens, and while my little plot of land is less than an acre in size, in totality we've created probably 100 acres of pollinator and wildlife habitat that's cozied up against the Blue Ridge Parkway.
I'm feeling especially optimistic – not only for my personal new beginnings, but because globally and domestically, we have an unprecedented focus on efforts to be better stewards of our natural world to which we belong and rely on. The Bipartisan Infrastructure Bill and the Inflation Reduction Act include several provisions that promote nature-based solutions, energy efficiency, more resilient and sustainable infrastructure, restoration of degraded habitats, wildlife corridors, protection of endangered species, equitable access to and benefit from our outdoor spaces, and more!
Another reason I am optimistic is because we also have a very strong and skilled community of GIS practitioners who are uniquely positioned to help us achieve incredible goals related to our environment. I feel that more than ever, this is our community's time to shine brightly. We have long understood the power of geography and geographic tools to bring together environmental, economic and social perspectives. As the technology evolves, we can now also share this information with the world through intuitive maps and apps that allow others to see and understand these complex interactions.
In 2020, NatureServe stood on the Esri stage at the Federal GIS Conference and showcased the work of the Natural Heritage Network and how a nationwide understanding of our most sensitive species and habitats could be modeled to derive incredible maps of biodiversity importance nation-wide. None of us knew at the time that we would soon be facing a global pandemic that drew sharp attention to the health of our environment and, in turn, ourselves. Suddenly, the relevance and practical applicability of these data to help shape our climate and resilience planning is heightened beyond where we may have imagined it.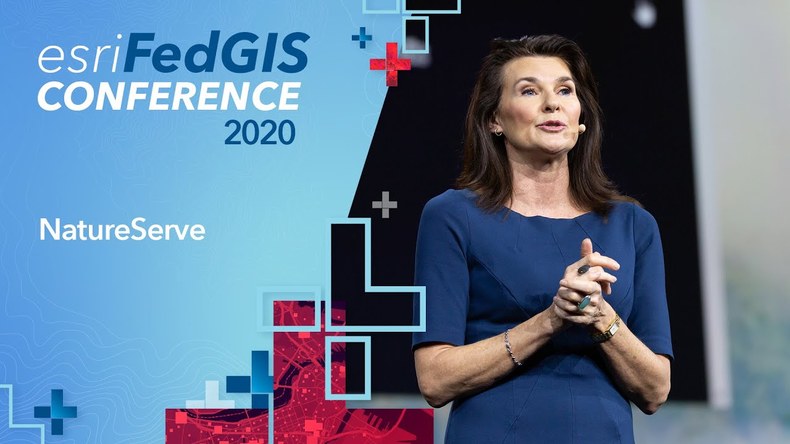 The accessibility of open data sets via the ArcGIS Living Atlas has now also evolved to be queried and explored through ArcGIS Hubs embedded with ArcGIS Dashboards and other applications, combined with rich media for additional context and understanding. One of my favorite examples of this comes in the form of the White House Climate Resilience and Mapping Adaptation (CMRA) portal. This site, built on ArcGIS Hub, allows communities at any scale to understand climate change impacts on their communities now and into the future. These tools are powered by datasets published in the Living Atlas with or by our authoritative partners such as the National Oceanic and Atmospheric Administration (NOAA), suddenly democratizing access, ingestion and understanding of these data.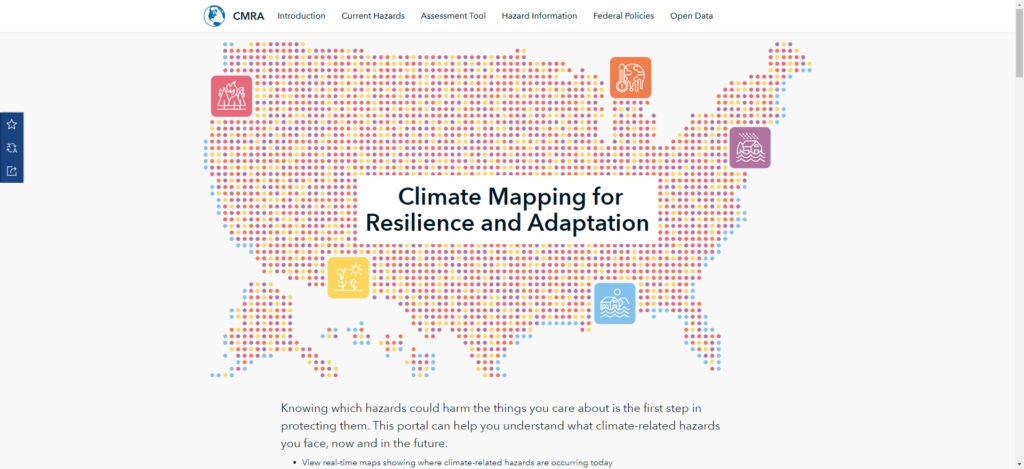 I'm seeing this pattern repeated now at the state level, as well. I was so pleasantly surprised to run across this awesome example of ArcGIS Hub from Massachusetts Executive Office of Energy and Environmental Affairs. The Resilient MA Maps and Data Center allows communities to explore, understand and plan for challenges they may face related to climate change and plan for a more sustainable and resilient future.
We are keen to ensure that our community of environmental and GIS professionals maintains their skill sets and grows with the evolution of these tools, as well. We're proud that the Climate Resilience Toolkit, an aggregation of resources including tutorials, case studies and more, is featured on the front page of the CMRA. These resources will help you navigate funding and build your own climate resilience plans through the power of geography. I'm excited to see our community grow, strengthen and evolve in a time when our skills are in such high demand!
Cheers to our community of environmental and GIS professionals on this Earth Day, and happy learning!