Don't make the symbology for your data layers compete with your basemap!  These tips and tricks will help you make clear, effective, and nice-looking maps by creating high contrast between your basemap and your map's subject matter.
Choose Your Basemap Wisely
If the topic you are mapping is related to demographics or people, you generally don't want to use the default Topographic basemap. The colors and the shaded relief texture in that basemap can compete with the colors displaying your map's subject. The Light Gray Canvas or Dark Gray Canvas or even the Human Geography basemaps (that come in light and dark versions) are more suitable in most cases.
Choosing a good color ramp for the subject you are mapping starts with choosing a good basemap. Feel free to browse through the hundreds of basemaps available from ArcGIS Living Atlas of the World. Choose the one that best fits your needs, or style your own.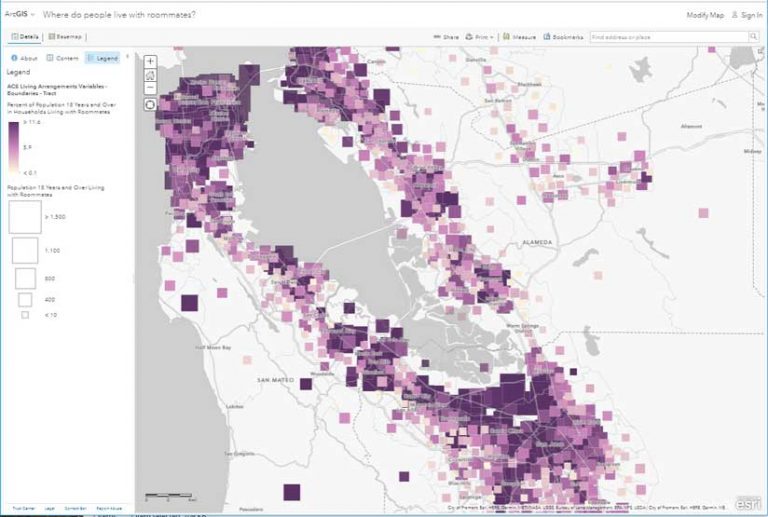 High-to-Low Color Ramps
High to low is a style best for mapping a percentage or a rate. This is an easily understood style. The bright colors depict higher percentages. Notice I said "bright" colors—not "dark" colors. When using a dark basemap, you want high contrast to show high values.
The map Where do people live with roommates?, uses a light basemap with a purple high-to-low color ramp. Just as expected, darker purple means a higher percentage of adults living with a roommate.
Another map, Where are households using a Smartphone as their only computing device?, uses the same purple color ramp as in the roommates map, but it's been reversed because the Nova basemap is dark. Now the lighter color depicts a higher percentage due to its increased contrast with the basemap. The Nova basemap is one of the basemaps available from ArcGIS Living Atlas of the World.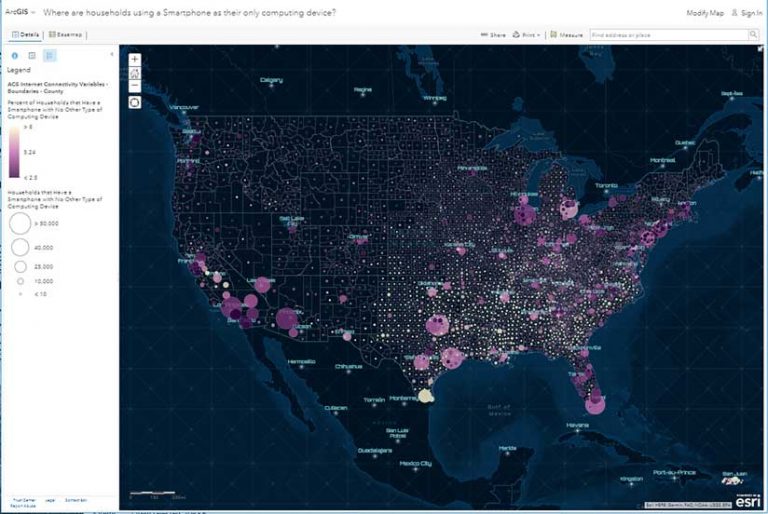 Above-and-Below Color Ramps
The above-and-below style is great when you want to provide an anchoring point. This anchoring point could be a goal, a national average, or some other meaningful value. The two colors—one above and one below the anchoring point—allow anyone viewing your map to immediately see which geographies are above the anchoring point and which ones are below that point while minimizing the impact of extreme outliers on the overall visualization.
Geographies with values close to the anchoring point should be deemphasized. A great way to do this is to give the anchoring value a color that is similar to the color of the basemap. If you're using a light basemap, the center of your above-and-below color ramp should be light.
The map Is a 40-hour Work Week Normal? map is a great example of this technique. It's anchored on a meaningful value for this topic, and it quickly conveys that the population in the Midwest works longer hours on average than the population in other places. Counties that have an average of 40 hours are given less prominence as they fade into the basemap compared to the brighter-colored counties.
If you're using a dark basemap for an above-and-below style of map, the center of your color ramp should be dark. There is some contextual intelligence built into ArcGIS Online called Smart Mapping that will notice you're using the Dark Gray Canvas basemap and will offer above-and-below color ramp suggestions that have a dark center.
The effect is that the features that deviate from the center point are the ones most highlighted, as shown beautifully in the map of Opioid Prescription Claims. The map is centered on a meaningful value (in this case, the national average), and the counties that are close to the national average are deemphasized with a color that fades into the basemap.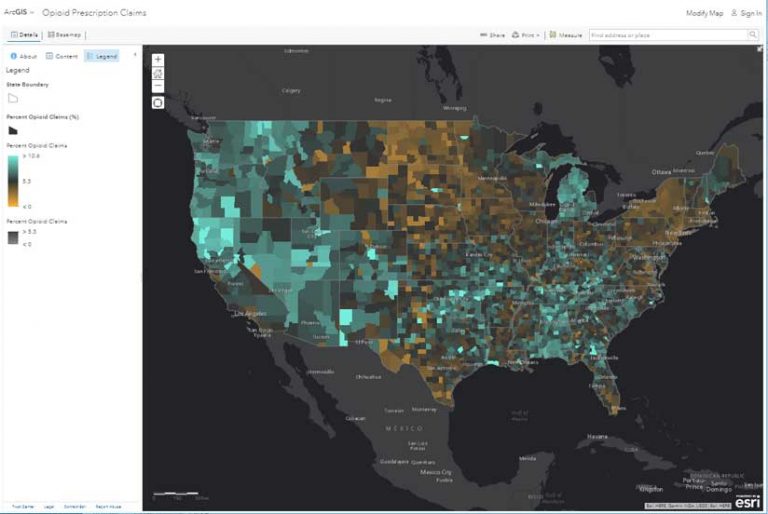 Heat Map Color Ramps
If you're working with point data that has lots of coincident points, one option would be to do a heat map. Just as with the above-and-below and high-to-low styles, you want larger quantities to be shown by high contrast between the basemap and the hot spots in your heat map too. If you're using a light basemap, pick a color ramp that starts with a light color, and vice versa if you are using a dark basemap. By experimenting with color ramps using the Light Gray Canvas and Dark Gray Canvas basemaps, you can determine which is designed to be used with the light basemap and which is designed to work with the dark basemap.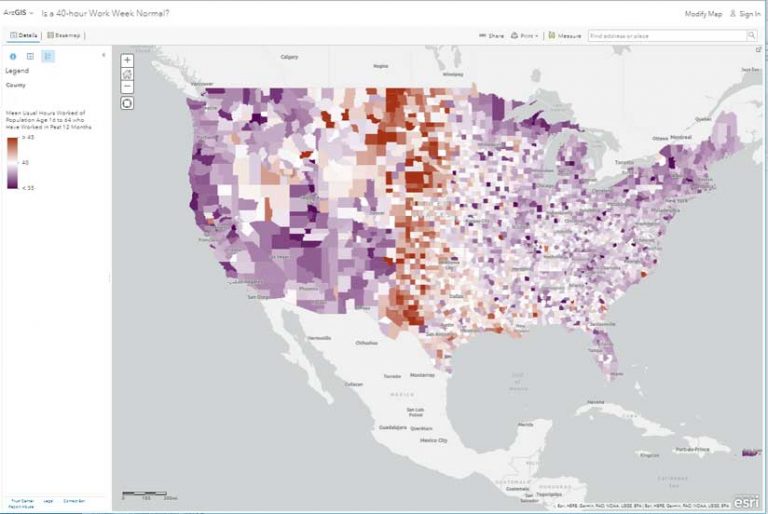 Predominance Map Color Ramps
Predominance mapping is nice when you have a group of different categories with numeric values and lots of features in your map. These categories may have colors associated with them (think red and blue on election maps), or they may not.
Sometimes when mapping predominance, one category dominates most of the map. If this is the case, make the most predominant color a subtle color, and let the interesting parts of the map have a more interesting color. In the map How Americans do their Taxes, CPA or Other Tax Professional is the most predominant method at the tract level. In far fewer tracts, the predominant method is Turbo Tax, Did Manually, or H&R Block. For this reason, the colors depicting these categories are brighter so that they stand out more. When you do this, the interesting places in your map pop, while the geographies that have the most predominant value are closer in color to the basemap.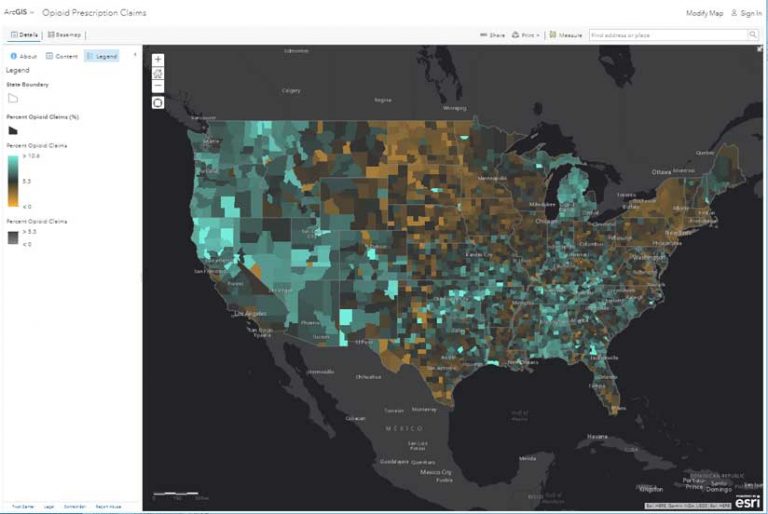 Sequential Color Ramps for Ordinal Data
Sometimes, even categorical data has a natural order. Levels of education and age ranges are two common examples of this. ArcGIS Online has sequential color ramps within the predominance mapping style for this very purpose. Just like high-to-low or above-and-below color ramps, you can reverse these sequential-predominance color ramps to make them work well with your basemap.
The What is the Predominant Commute Time? map uses the first two sequential color ramps to map commutes by census tract in Los Angeles County. Tracts in which the most common commute time is the top-coded category length of 60 minutes or more are shown in an interesting peach color.
Make Better Maps
Once you've decided on a basemap, the next step is to select a color ramp that will create a high contrast between your basemap and the high values of the subject you are mapping. By keeping this in mind the next time you're working in ArcGIS Online, you can #MakeBetterMaps.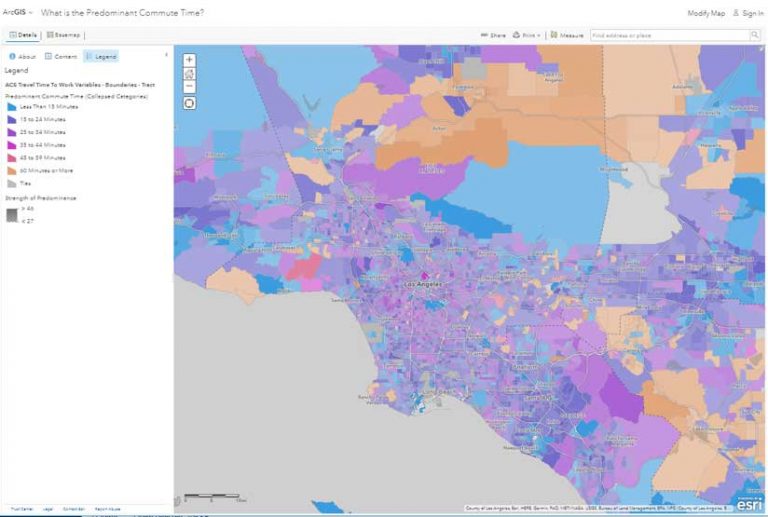 Choose Your Basemap Carefully
Be careful with filled-polygon maps that use high-to-low ramps on dark basemaps. The connection of dark colors with higher values is deeply entrenched in our minds. The technique of reversing the color ramp against a dark basemap works well for graduated symbols and proportional symbols because the basemap is so visible but if you are making a filled-polygon map, be careful.
A reversed color ramp against a dark basemap can work if the basemap is still visible. However, if you're zoomed in to a city or town, and not much of the basemap is showing, step back and ask yourself if a dark basemap works or if you should switch to a lighter basemap to avoid confusing your audience. Try dark and light basemaps to see which version portrays your data more effectively.