For thousands of years, mystery has swirled around the question of what dwells deep beneath the seas that cover 71 percent of our planet. Sailors and early cartographers imagined monsters.
Today, the ocean depths remain largely unmapped, unobserved, and unexplored. Mapmakers have covered less than 10 percent of the ocean floor at high resolution, and scientists have much work to do to describe the physical, biological, geologic, chemical, and archaeological aspects of the ocean. That means the ocean is more of a mystery to us than our own moon.
"Our planet is an unknown entity to us. It's like living in a three-floor house and we only know what's on the first floor," said Jyotika Virmani, executive director of Planet and Environment at XPRIZE Foundation, a nonprofit that organizes public competitions for technological development to benefit humanity.
To address this deficiency, XPRIZE has convened a series of ocean-focused challenges as part of its XPRIZE Ocean Initiative. In 2015, the group created the Shell Ocean Discovery XPRIZE, a three-year, $7 million international competition that challenged teams to map the seafloor using autonomous robots.
This challenge required unmanned, ocean-going vessels to map hundreds of square kilometers of seafloor at a depth of up to 4,000 meters and a resolution of 5 meters within a 24-hour period.
The ultimate goal is to create a high-resolution seafloor map of the entire ocean. Virmani notes that, relying on current technology and methodology, without the benefits of the autonomous platforms from the latest challenge, the mapping effort could take 200 to 600 years.
Teams Tackle the Challenge
Seafloor mapping takes so long due to vast distances and the risks and cost involved with sending mappers into the ocean environment. Among the challenges: Seas have intense pressures and temperatures, salt water corrodes equipment, there is no light beyond a depth of 200 meters, and violent storms can be tough to avoid.
This XPRIZE challenge focused on finding new ways of mapping that would eliminate humans from the point of data collection to reduce these extremes, and providing scientists with information to make discoveries.
Thirty-two teams responded to the challenge, with members from more than 25 countries including Japan, Norway, Germany, and Ghana. Some were junior high school students, while others were lifelong ocean mapping professionals. Most of the teams used sonar—a sensing technology that bounces sound waves off the ocean floor—to measure distance for 3D models, while a one-man team from Switzerland used lidar, which replaces sound with laser light. Each team took a different approach, and each faced significant challenges.
Illustrating the degree of the challenge, the original testing ground was planned for Puerto Rico, but when both Hurricanes Irma and Maria hit the island in fall 2017, XPRIZE had to come up with a new plan. Instead of convening teams on the testing ground for trials, XPRIZE staff visited each team for the early trials and looked for a new location for the final trial.
"We searched around the world to find a place that would work—places like Fiji, Samoa, and Australia—because we needed to be close to a port and have ocean depths of 4,000 meters," said Andrew Remsen, technical lead, Prize Operations, Shell Ocean Discovery XPRIZE. "We have this giant globe, but with these criteria, the locations that fit really shrunk our planet."
After a flurry of exploration and travel, the final round of testing was moved to Greece.
Speeding the Pace of Seafloor Mapping
The Shell Ocean Discovery XPRIZE challenge was designed to push forward the entire field of autonomous marine technology.
The first ocean XPRIZE was launched after the oil spill in the Gulf of Mexico. Technology innovations from the first challenge helped recovery teams clean up oil four times faster, and some teams had a 99 percent oil-to-water separation success rate. The second competition set out to collect lab-quality pH measurements from the ocean, resulting in both accurate and affordable pH sensors.
Before launching the Shell Ocean Discovery competition, XPRIZE teamed with Esri experts to access accurate baseline maps and provision tools to judge the four competition criteria: verifying that resultant maps are of high resolution, quantifying how much area each team captured in 24 hours, comparing the accuracy of each team's maps, and ensuring each team meets the 4,000-meter depth requirement.
"We needed Esri's help in determining the metrics to evaluate each team's effort, understand the area of the map that they gave us, and create an accuracy metric when we compare a team's map versus our basemap," Remsen said.
Each team was given access to ArcGIS Online mapping and data to gauge their own performance and submit the data they collected.
"This mapping competition is part of a broader ocean initiative at XPRIZE," Virmani said, "Our end vision is a healthy, valued, and understood ocean. To make something healthy, you need to value it; and to value something, you need to be able to understand it. And a map is one of the fundamental ways of understanding our planet."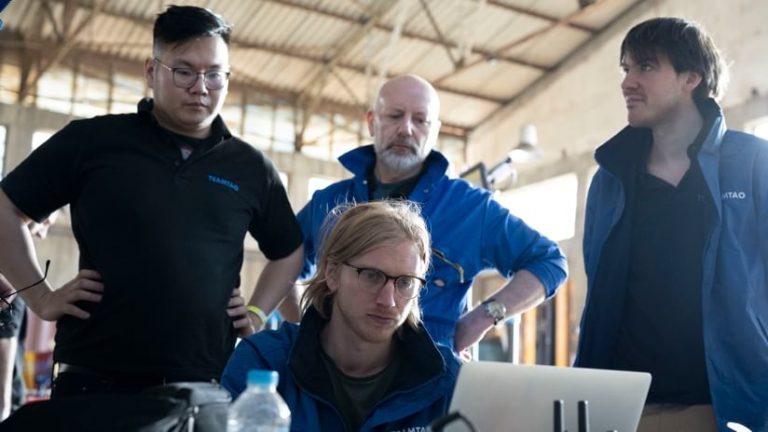 To date, most seafloor maps (known as bathymetry) are derived from satellites that combine signals and understanding of earth's gravitational field to make an educated guess about the locations of seafloor mountains and trenches. Yet researchers can gain more accurate maps by direct measurement from surface ships and submarines. Better maps of the ocean are essential for a broad range of purposes.
"These new technologies will enable the discovery of new ocean species, underwater resources, geological features, and safer methods of exploring the deep sea while illuminating the mysteries of the deep and discovering what has remained unknown since the dawn of time," Virmani said.
Achievable Attitude
In May 2019, XPRIZE announced the winner of the Shell Ocean Discovery XPRIZE award.
The General Bathymetric Chart of the Oceans (GEBCO) Nippon Foundation Alumni Team won based on the team's work to develop a combination autonomous and unmanned surface vessel (USV), which transports a smaller autonomous underwater vehicle (AUV). The USV serves as the mother ship, positioning the vessel and acting as both the data collection platform and the telecommunications hub to transmit data to shore.
The team's concept created a safe and cost-effective seafloor mapping platform that operates at depths of up to 4,500 meters and can autonomously launch and recover the AUV.
Dr. Richelle Wigley, project coordinator for the team, thanked XPRIZE for recognizing the team's work.
"We're all absolutely overjoyed," Wigley said. "Getting to this point has been a truly international effort. Our diverse nationalities, backgrounds, and specialties have been our greatest asset and are the reason we made it this far."
The Nippon Foundation pledged to reinvest the prize money in its Seabed 2030 project, with the goal of mapping the entire ocean floor by 2030.
Autonomous ocean mapping used to be a pipe dream, but now it's a global effort. Virmani said she felt pride and excitement seeing this technology perform for the first time. In February 2017, GEBCO-NF Alumni's surface vessel was an engineering diagram; by November 2017, it had advanced through successful field tests; and one year later, the USV performed flawlessly.
"When we launched into this, more than one person told us it was not achievable," Virmani said. "And now, three years later, with a lot of persistence and the attitude that we have to try, the teams have shown people that you can achieve audacious goals if you put your brains to it."
Learn more about the use of GIS for maritime charting and navigation and review the details about the Shell Ocean Discovery XPRIZE in the story map below (best viewed on a computer).