We hope you have had a chance to check out the June 2018 release and use the amazing features like the new sketch edge style, underground navigation in global scenes and the ability to change the background color of your scene. In June we also removed the 2000 feature limit for point features and improved the number of features drawn in point scene layers. With the September 2018 release, you can now search for features in your scene and use gamepads and 3D mouse devices to navigate your scenes.
Gamepad Device and 3D Connexion SpaceMouse Navigation Support
You can now navigate scenes with gamepad device or 3D Connexion SpaceMouse devices. Use these devices to intuitively view and explore features like easily navigating along a street path, exploring underground assets or going through small and narrow spaces like rooms and corridors.
If you have one of these devices just plug them to your computer and they should be automatically detected and enabled in Scene Viewer or any other scene-based application.
Search for Features in Web Scenes
It is now easier to locate features within your scenes. You can now configure feature search in your scenes to search for features. For example, you can now search for building names within your scene after you create a new feature search configuration. When you search for a building name the result is returned in the scene which will zoom to the result and highlight the feature with the configured popup being displayed. You can use your newly configured  feature search in addition to the locators available to you.
Feature search is supported in web scenes in Scene Viewer and 3D configurable web apps. Web AppBuilder support will be coming in the next release.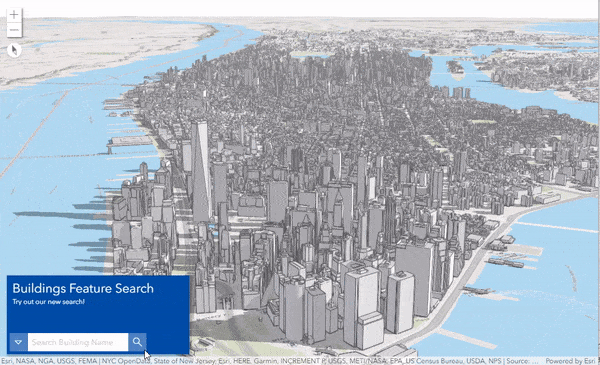 Also be sure to check out the latest 3D Web App Template: Scene with Inset Map which you can read more about here. We hope you take advantage of these new features and look forward to see what interesting web scenes you create.
Commenting is not enabled for this article.