Each year during the User Conference, Esri hosts a 5K fun run. Since we can't run together this year, we're turning the event into a worldwide mapping adventure with GIS!
What is the Esri UC Virtual Run/Walk 2020?
This is a virtual event for runners and walkers of all abilities. Runners and walkers can run anywhere, any distance, anytime during the UC. You can even run multiple times throughout the week! Your route and photos will be added to an event map that will showcase our global running community. Our goal is to track enough miles together to complete a run all the way around the world (that's 40,054 kilometers, or 24,888 miles.)
You can run/walk anytime during the Esri UC week, July 13–July 16. Participation is free and Esri UC registration is not required.
Get more details and register for the run on our UC Virtual Run/Walk 2020 Hub page.
How it works
Sign up with this form. You'll get a confirmation email that describes how to map your route.
Go for a run or walk anytime between July 13-16 (the week of the 2020 User Conference). You can submit as many runs throughout the week as you'd like.
View your route on our global event map, receive a participation certificate, and explore runs around the globe.
Run to win, or run for fun
Since this year's run is virtual, we have more flexibility in creating some fun goals individually or as part of the community. Win bragging rights for:
Fastest 5k+ run
Longest single run/walk
Most time on feet total over all runs/walks
In addition, your participation adds to our group stats. Here are the goals:
Run around the world (40,054 km or 24,888 mi)
Run up Everest (29,029 feet of elevation gain)
Run in 50 countries
Use Esri software every step of the way
ArcGIS Hub is being used to organize everything and create a centralized location for everything race-related. ArcGIS Survey123 is being used for registration, you'll use the ArcGIS QuickCapture mobile app to track and submit your route, ArcGIS Dashboards to show current event stats, such as participant counts, leaderboards, and other important information (like if we made it up Mt. Everest yet).
After the event is over, we'll be creating another blog on how we did it all, so you can learn how to set up your own fun run or virtual event.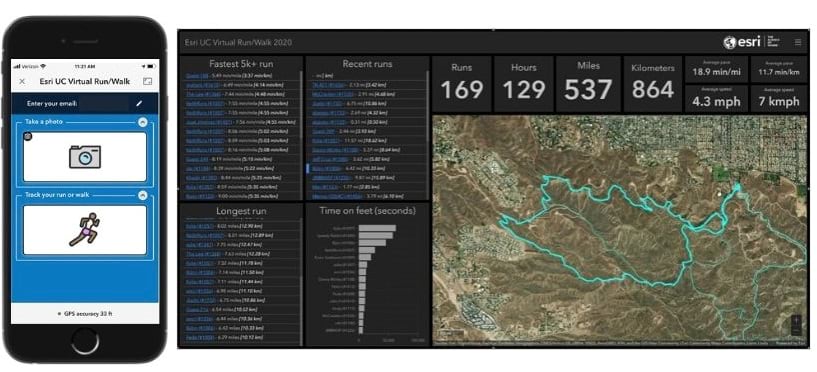 Who can participate?
Everyone! This year's virtual UC is available for free, so go sign up if you haven't already. However, you don't have to be registered for the UC to participate in the run.
During the event
Wear your Esri t-shirts and/or other fun Esri swag to show your spirit and post a photo on social media using #esri2020run. We're excited to see everyone's selfies or even group pics. (If you are running or walking in a group, please observe social distancing guidelines.)
You can also take photos while you run with the ArcGIS QuickCapture app. Photos taken with QuickCapture will appear on the global event map along with your route. Running throughout the week is encouraged, so you can submit new photos each day if you'd like.
For more information, visit the Esri UC Virtual Run/Walk 2020 Hub page.