With more than 50,000 beta testers from both Android and iOS, the ArcGIS Earth team is excited to announce that ArcGIS Earth Mobile 1.0 is now available in both Google Play and the App Store!
System Requirements
ArcGIS Earth Mobile is supported on the following devices:
For iOS
For Android
Android 4.4 KitKat (API level 19) or later
OpenGL ES 3.0 support
CPU kernel: armeabi-v7a or x86
Screen resolution: 1280×720 or higher
Get Started
To help you start your hand-held immersive 3D experience faster, we help you learn four navigation gestures when you launch ArcGIS Earth Mobile for the first time. You can review the gesture instructions using the left panel in the app at anytime.

Browse 2D and 3D Content
ArcGIS Earth Mobile introduces 3 methods to add data – Add data from Portal Content, Add local files, and Add data by Url. ArcGIS Earth Mobile is capable of browsing GIS content both online and offline. When connected with a network, you can add web scenes, map services, image services, scene services, and feature services. You can also browse rich content provided in the Living Atlas. ArcGIS Earth Mobile supports intermittent connectivity usage by allowing you to add local files including mobile scene packages (MSPK), KML, KMZ, tile packages and scene layer packages (SLPK).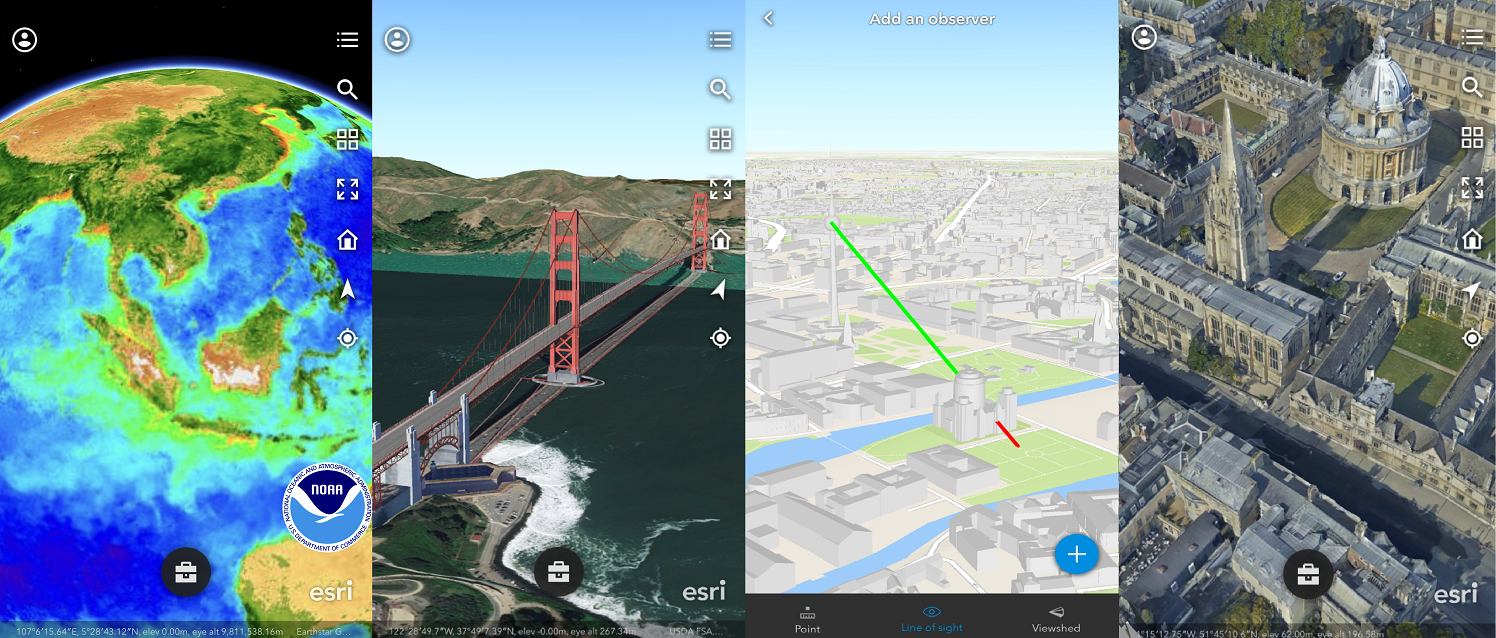 Collection workflow
Collect – Using Geosearch capability, you can find a place of interest and save it as a placemark. You can also record your own location information by creating KMZ placemarks.
Edit – Tap a placemark to change the name, size, color and location.
Share – Placemarks can be shared as a single KMZ file using email. Later, you can add the KMZ file to ArcGIS Earth on your desktop and modify it, if needed.
Use Tour feature to share your memories
Some of you might have seen the preview video of Tour feature from my last blog – ArcGIS Earth Mobile Beta – A little bit more (July 2019). Now it's your time to create and share your memories with geotagged photos.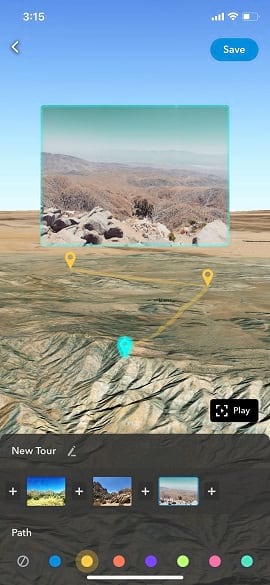 And more
Features
Connect to ArcGIS Online or ArcGIS Enterprise
Tap to identify feature
Interactive analysis tools – Measure, Line of Sight, Viewshed
Search for places and switch locators
Locate to your location
Startup tips and hand gestures guidance
Also, numerous enhancements were added, and many bugs were fixed since the beta version.
Download and get started
To get ArcGIS Earth Mobile 1.0, visit the Google Play or App Store on your supported mobile device. You can also find ArcGIS Earth Mobile on our launch page. NOTE: Please note that we have disabled the beta version. We recommend that you remove the beta app now and download the released version to avoid any interruptions.
For more information about ArcGIS Earth Mobile, please visit our documentation site to see what's coming next! Feel free to comment in the user community GeoNet. A special thank you to all our beta testers and for all our new users, please let us know how we are doing by emailing ArcGISEarth_Feedback@esri.com
Commenting is not enabled for this article.