The July release of ArcGIS Earth Mobile and the August release of ArcGIS Earth desktop are both now available. The latest release for mobile includes new and improved measurement tools and the ability to view temporal data. The new desktop release includes the ability to filter for layer, draw templates, and add drawings for the Automation API.  
Release highlights:  
ArcGIS Earth Mobile 
New Features: 
Distance and Area Measure 
In the latest mobile release for ArcGIS Earth, measurement is getting an upgrade. With the new release, you will now be able to measure both distance and area on ground surfaces.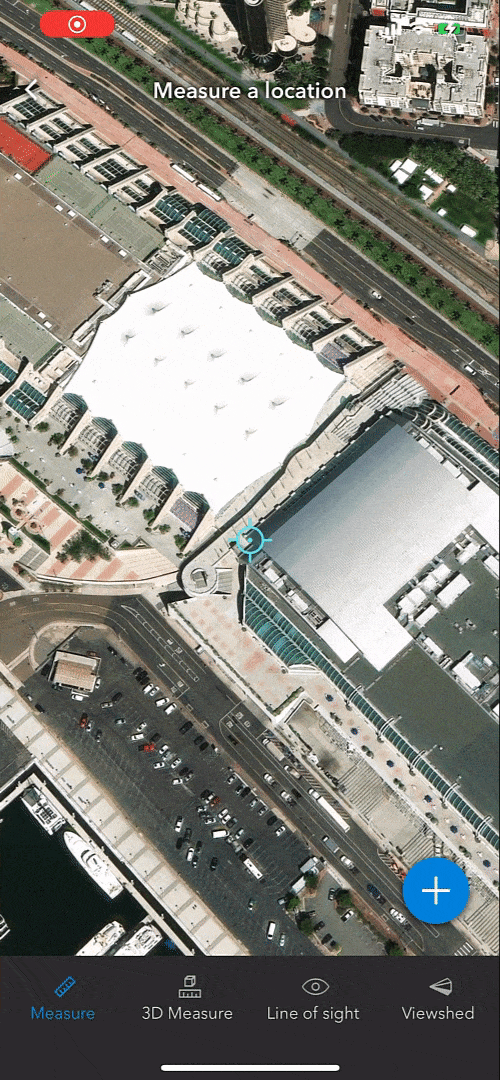 3D Measure
There is additional support for 3D measurement capabilities in this release. You can also measure direct, vertical, and horizontal distances between two points in a 3D scene.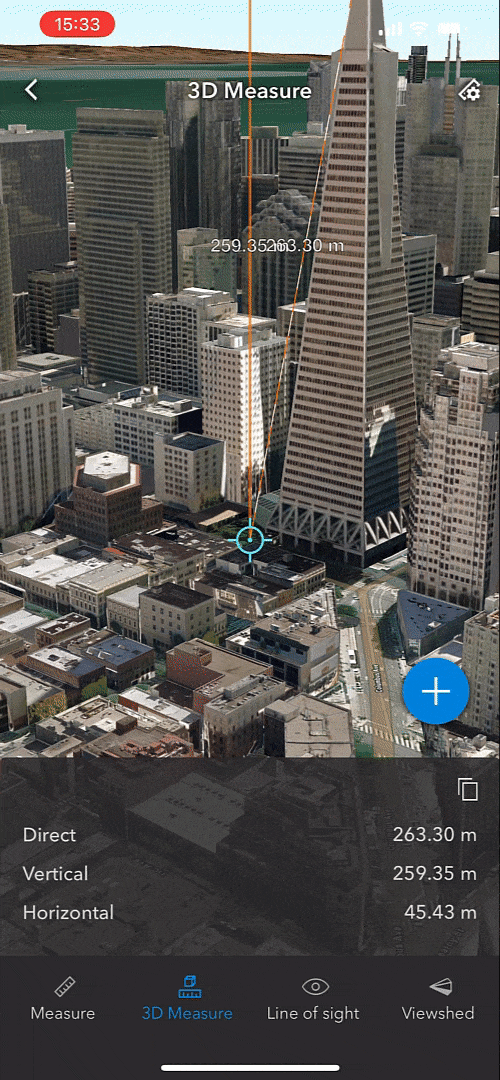 Temporal data support
A brand new feature that is being added to ArcGIS Earth in the latest Mobile release is the ability to visualize the change in temporal data over a period of time. This feature includes control over the time animation.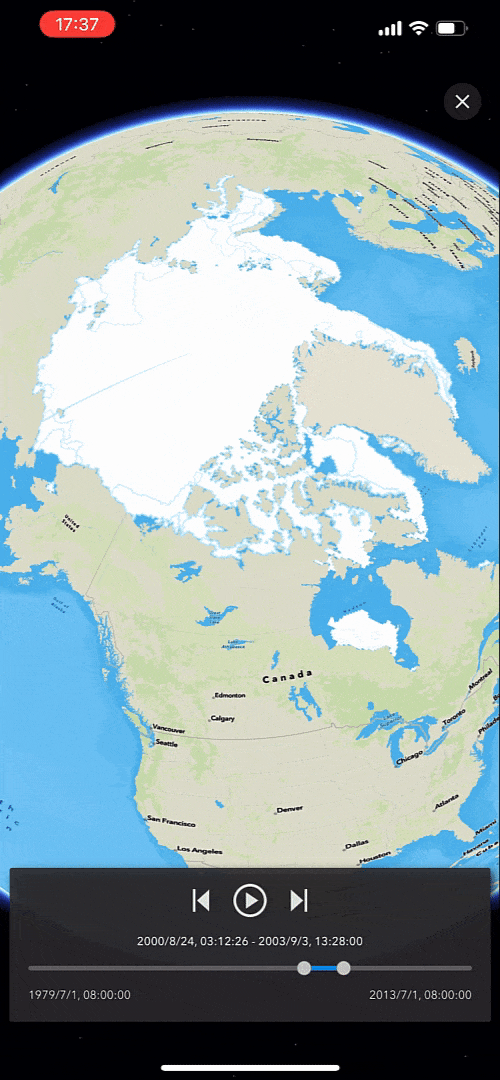 Enhancements 
AR Screen Capture Tool 
This release features an added enhancement to the AR capability. We improved the AR mode visualization of the data and added a native screenshot button for you to share your favorite AR scene to the social media with just one click.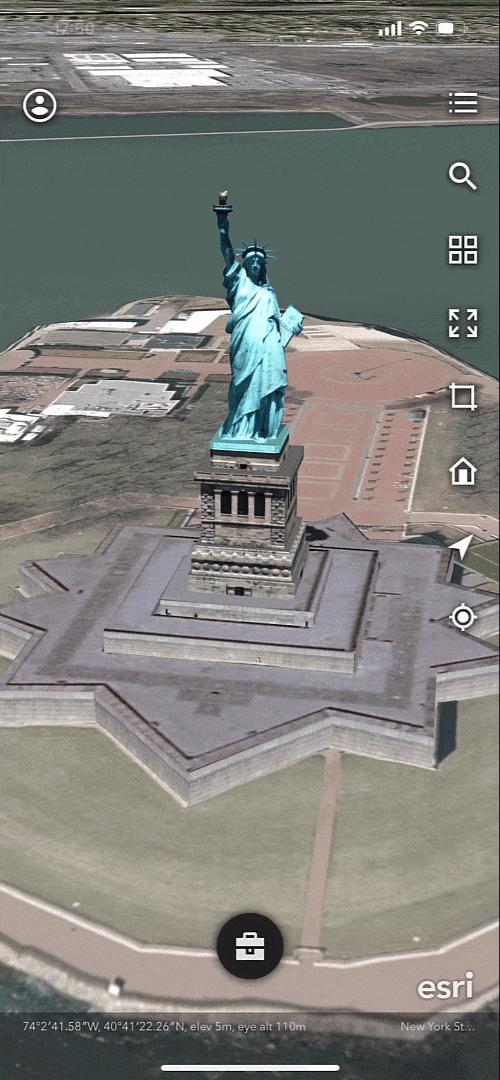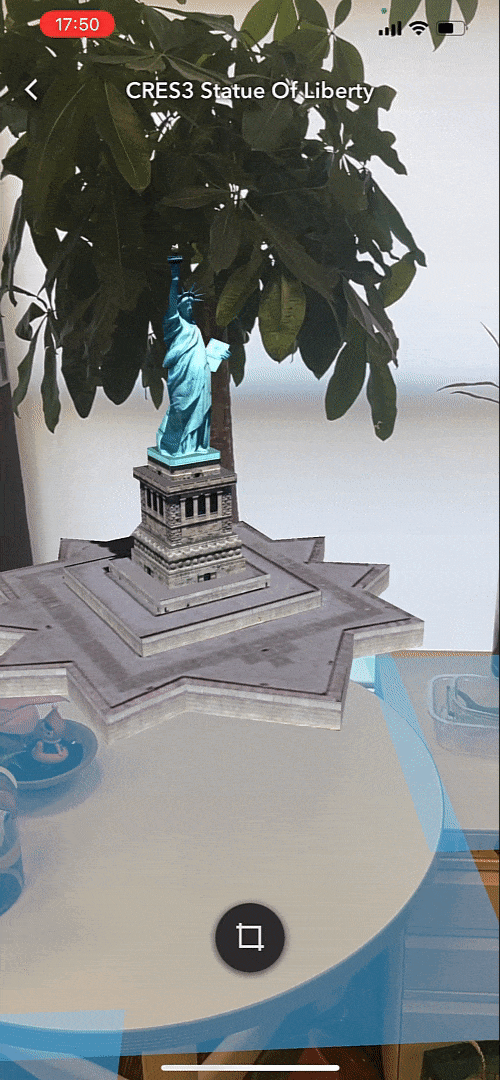 Optimized fly-to animation 
The fly-to animation has been optimized when identifying feature items within the 3D scene.  
Renaming Tracks in My Tracks 
Track names can now be renamed in My Tracks, the tracking feature within ArcGIS Earth Mobile. 
ArcGIS ArcGIS Earth mobile version 1.6 was released in July 2022 with several exciting updates as well! Check it out on the Apple App Store and Google Play Store.
ArcGIS Earth Desktop 
New Features: 
Filter for Layer 
Filter is a key new feature we added to this release. You can define a single expression or a combination of expressions as a filter to determine a desired subset of features shown on the map. The filter panel can be accessed through the attribute table's filter icon or layers' right-click menu. By applying definition queries to the layers, you can filter out the data you don't need and only have the desired data display on the globe.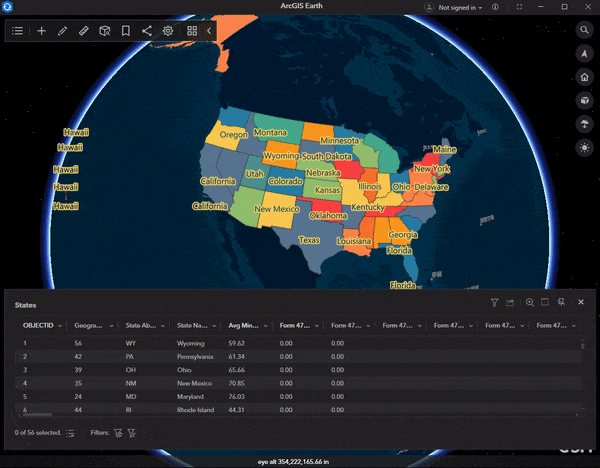 Draw templates 
Various KML drawing templates are now available to draw lines or polygons in free shapes or predefined shapes. Line templates include the  regular line, right angle line, and freehand mode. Polygon templates includes rectangle, circle, ellipse, and freehand as well. All of these shapes can be extruded to a proper elevation and configure size, transparency as needed.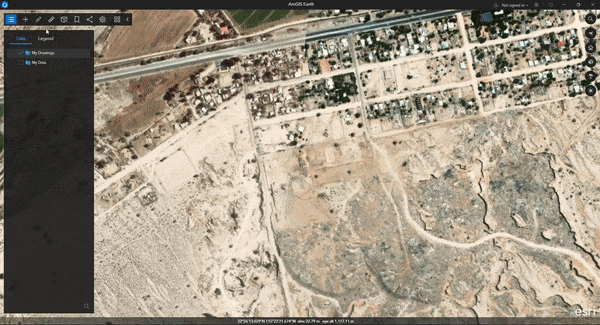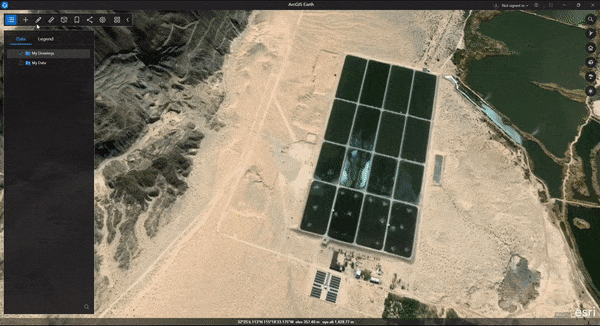 Add Drawings for Automation API 
New methods of Automation drawing API are added to this release, including Add Drawing, Remove Drawings, and Clear Drawings. With the Automation drawing API, you can add the placemark, path, and polygon in ArcGIS Earth. Clear all graphic is also supported in the new release. 
As demoed in the below video, we first enable a html window to perform navigation using ArcGIS online geocoding service. Once navigation is complete, we can save the start point and the destination point, including the route as KML data and have them added to Table of Contents automatically.  These data can be grouped together and be shared to online or your portal connection all at once.   
Enhancements
Added the ability to disable all basemaps  
There is a new capability to disable all basemaps added to the new desktop release of ArcGIS Earth. The basemap can now be disabled anytime by clicking the "No Basemap" thumbnail at the end of the basemap gallery. 
Remember certificates for PKI authentication  
Users who utilize PKI authentication for ArcGIS Earth will now have their certificates and credentials saved for future use. This should make user the authentication process more seamless.  
A new Select a certificate window has been added. A certificate can now be remembered when being selected in the window for the corresponding portal. It can also be conveniently removed by clicking the Forget Certificate option in the portal context menu. 
Layer properties enhancement  
Under the Summary tab in the layer properties window, description, data source, and spatial reference are redesigned. First, image, table, and hyperlinks, as well as various HTML formats including paragraph, list, font size, bold are now honored in the layer description for a portal item or service layer properties. Second, the data path or service URL can now be copied or open in an external browser with one click. Third, spatial reference information is organized and presented in table format and is more readable. 
KML "save as" enhancement  
The "Save As" panel is redesigned specifically for KML layers to clarify the Save as process. For an edited KML layer, the Save option in the right-click menu is removed and combined with Save as. The original KML data will not be modified only if you check the Replace the layer in table of contents once exported check box to ensure your edits are saved and automatically added to the table of contents to replace the original layer. On the other hand, unchecking this option will perform the common Save as function. 
To learn more about ArcGIS Earth, visit our website. You can download the newest release of ArcGIS Earth desktop and also download it through the Microsoft store. Visit the ArcGIS Earth Resources page  for free training materials and tutorials. And as always, we love to hear user feedback and encourage users to get involved in the ArcGIS Earth Esri Community.