How fast time flies! With the 2018 User Conference now behind us, we're reflecting on the highlights from ArcGIS Enterprise sessions. This year, the Enterprise track covered 45 presentations total – many of these being brand-new sessions – addressing concepts such as service types, content security, SSL certificates, and more.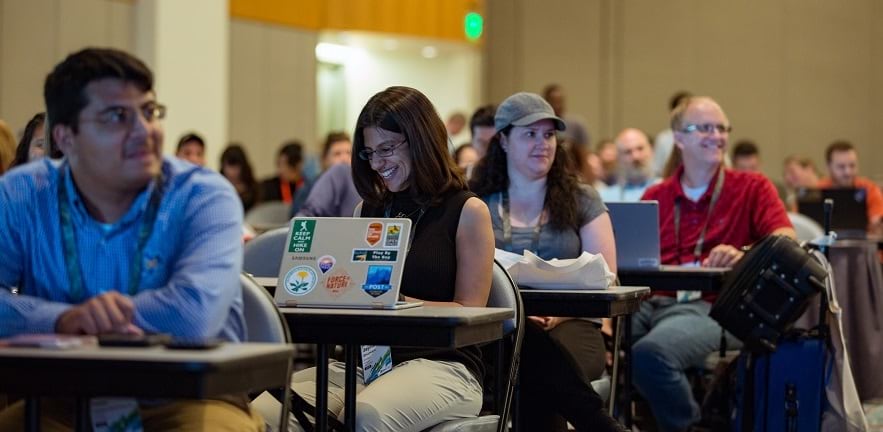 Let's recap some of the top takeaways from a few of the Enterprise sessions at this year's conference, including a slide (or video!) from each:
Introduction to ArcGIS Enterprise
5-4-3-2-1. That's how Shannon Kalisky, one of the Product Managers for ArcGIS Enterprise, introduced and explained the product. In addition to being catchy, it's a memorable way to both think and talk about ArcGIS Enterprise as a complete GIS. 5 server roles, 4 software components, 3 ArcGIS Data Store types, 2 named user licenses, 1 product: ArcGIS Enterprise. This session provided an excellent overview of the product and its capabilities. Keep a look out for the complimentary recordings of UC sessions, as this one you don't want to miss!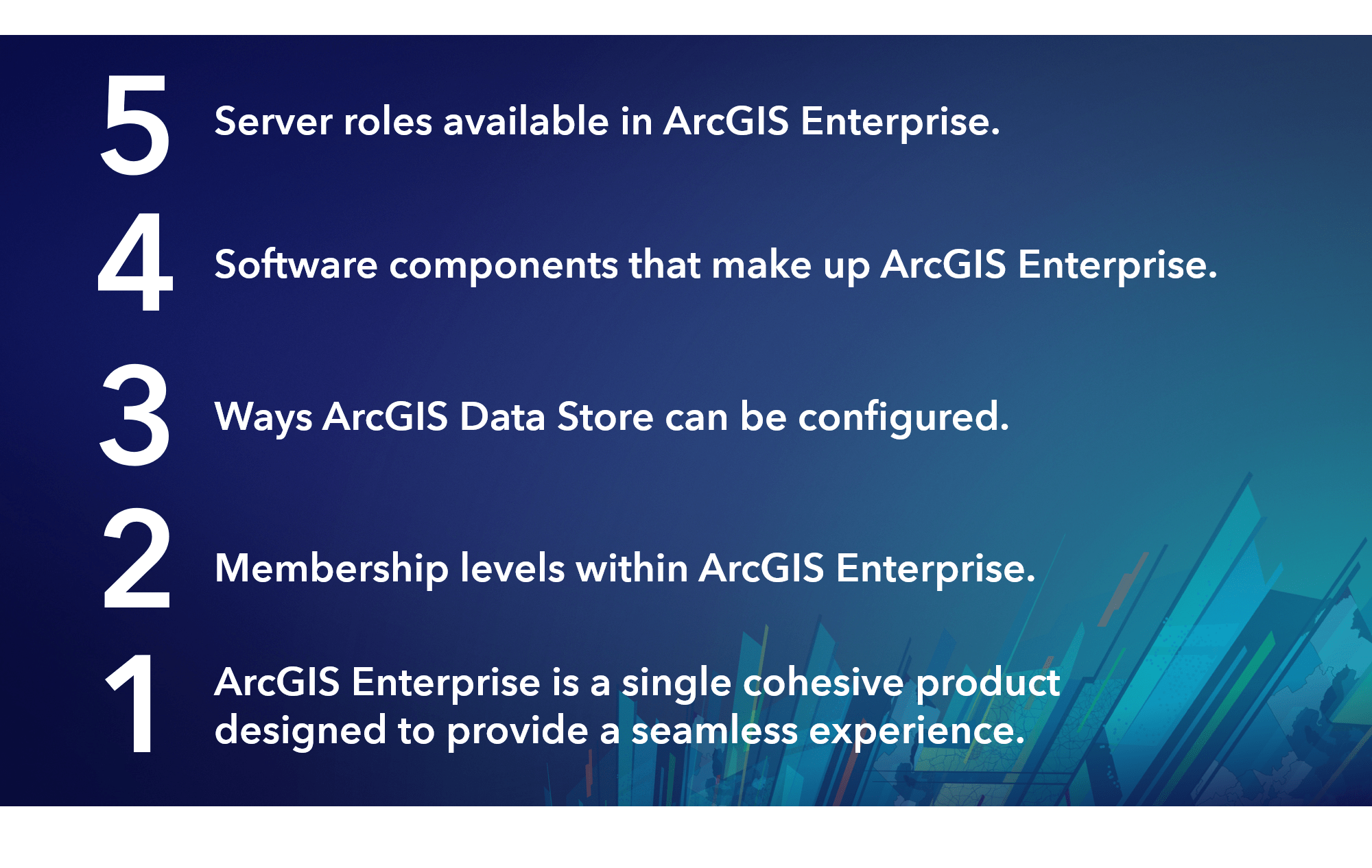 What's New in ArcGIS Enterprise
Our users always want to know what the latest features and enhancements are in our software, and this year is no different! ArcGIS Enterprise 10.6.1 was released last week, and we covered it in two different ways – a tech session by Hilary Curtis and Philip Heede, and a demo theater by Katy Nesbitt and Marley Geddes to show new features in action!
Among the many new features in 10.6.1, one feature in particular generated a notable amount of interest: ArcGIS Enterprise Sites. The biggest takeaway for Sites is that it allows you to tailor how your users experience and interact with your GIS data. To see Sites in action, watch the plenary demonstration on setting up Sites for a city and its departments!
To implement and get started with ArcGIS Enterprise Sites in your organization, attend one of the free training seminars on August 16th.
Architecting Your Deployment
At the ever-popular architecting session, Philip Heede presented strategies for designing and deploying ArcGIS Enterprise, primarily for system architects and IT administrators. Philip's big reminder: "Don't panic!"
A major point from this session was that it's not about deploying components by hand anymore; ArcGIS Enterprise has several automation tools available to suit your deployment needs, from the ArcGIS Enterprise Builder, to Chef, to cloud tooling. To brush up on your architecting knowledge, be sure to read through the Architecting Your Deployment document, and for more information about all of the automation tools available, check out the new update to the ArcGIS Enterprise Functionality Matrix, with automation on page 9.
We'll let Philip's takeaways speak for themselves: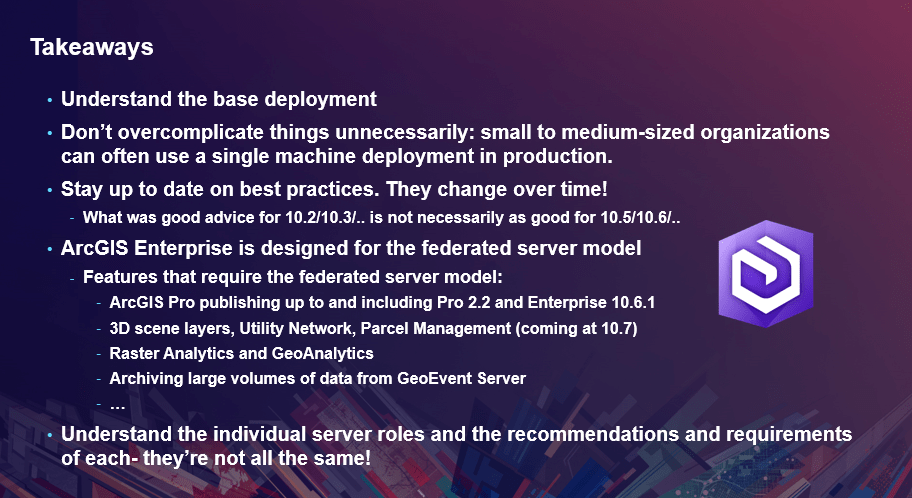 Best Practices for Layers and Service Types
Anyone responsible for publishing services (or designing a publishing strategy) takes many factors into consideration: from their audience to scalability and capability needs, and more. This brand-new session from Philip Heede and Wittaker Mathot addressed these considerations head-on. The major takeaway from this session is to be knowledgeable on what types of services are available, what their capabilities are, and how they could be leveraged in your own publishing workflows. We recommend reviewing the complimentary recording of this session once it's released as well; it will provide a lot of perspective when picking and choosing which service types to incorporate into your publishing strategy.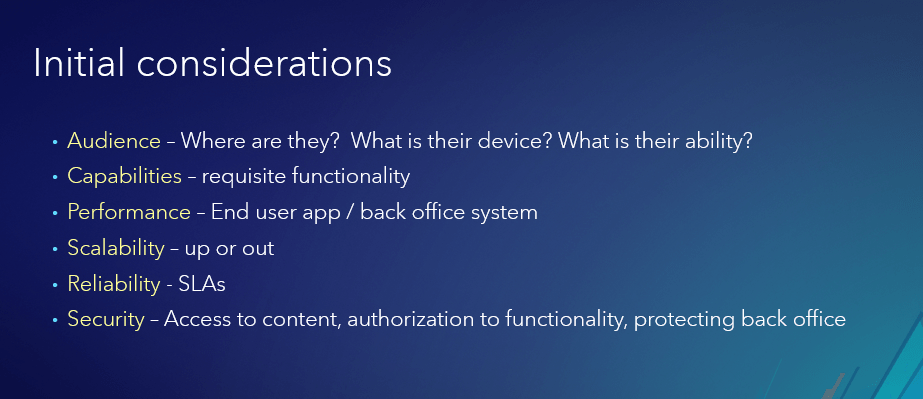 ArcGIS Enterprise Security: SSL Considerations
If you attended the SSL Considerations session at this year's Esri Developer Summit, you can attest that it was a jam-packed room, and UC was no different! From the fundamentals of secure communication to implementation tips, Bill Major and Craig Cleveland's session was a must-have for any IT teams. Our top takeaway from the SSL session was that as standards for web security continue to become more strict, and ArcGIS Enterprise implementations become more distributed, understanding SSL principles and touchpoints is essential. ArcGIS Enterprise provides the tools and capabilities to establish a secure, trusted environment and meet the security needs of your organization.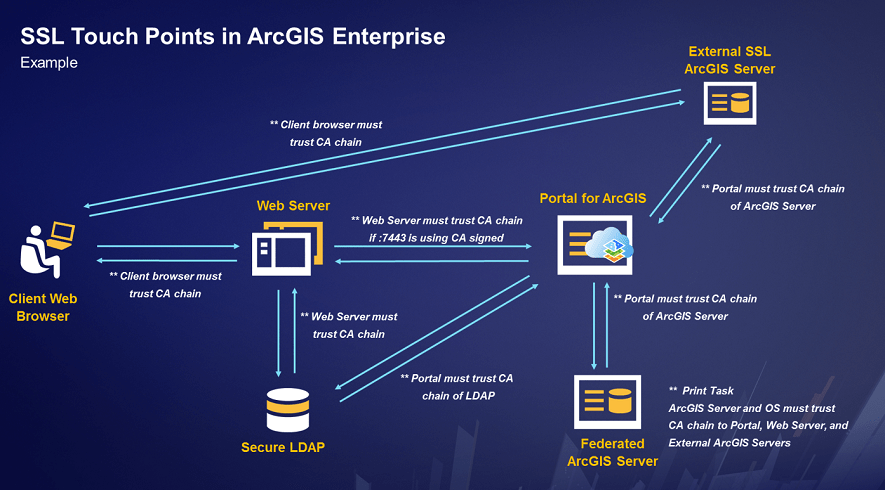 Distributed Collaboration in ArcGIS Enterprise
We're excited to see that distributed collaboration is becoming an integral part of Web GIS, as teams use the feature to share content between environments. The top takeaway from Caroline Wright and Hilary Curtis' collaboration session was – let us indulge ourselves – the benefits of the feature. Really! Collaboration is a no-scripting-required approach to sharing data, both within and outside of your organization, and automatically synchronizes all content that you share with others in familiar formats like feature layers and web maps.
To get started using collaboration, there are a number of resources available in our documentation and on the ArcGIS Blog – start with the Administering Your Collaboration – Tips and Tricks blog.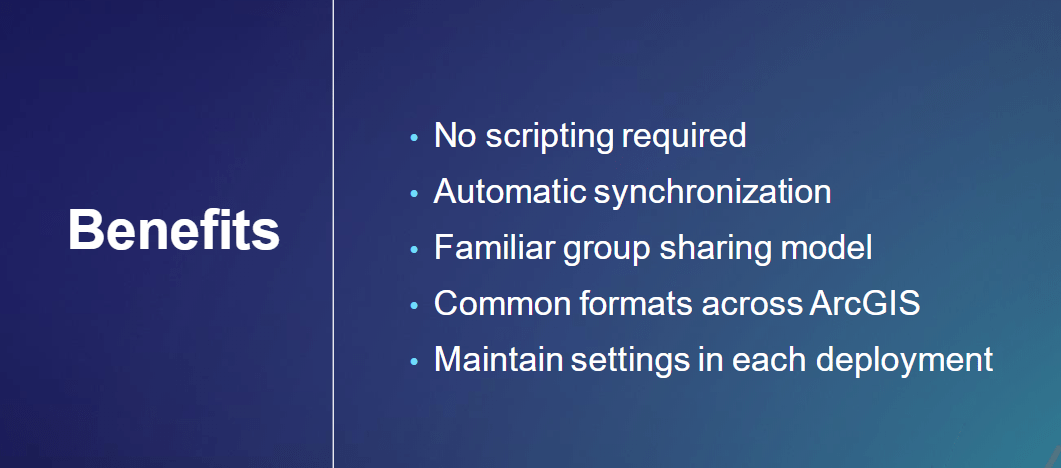 ArcGIS Enterprise Security: Securing Content
A full room showed up for this new session, which discussed security best practices and decision points for ArcGIS Enterprise portal administrators. Jeff Smith and Scott MacDonald focused on the concepts of content confidentiality and data integrity, and demoed a range of actions, from sharing an individual portal item to designing a custom role. The overall theme of the securing content session was that the ArcGIS Enterprise portal gives administrators a high degree of control and flexibility when it comes to content security – and the top takeaway was to develop a proactive strategy to stay in control of who can view and edit which items in your portal.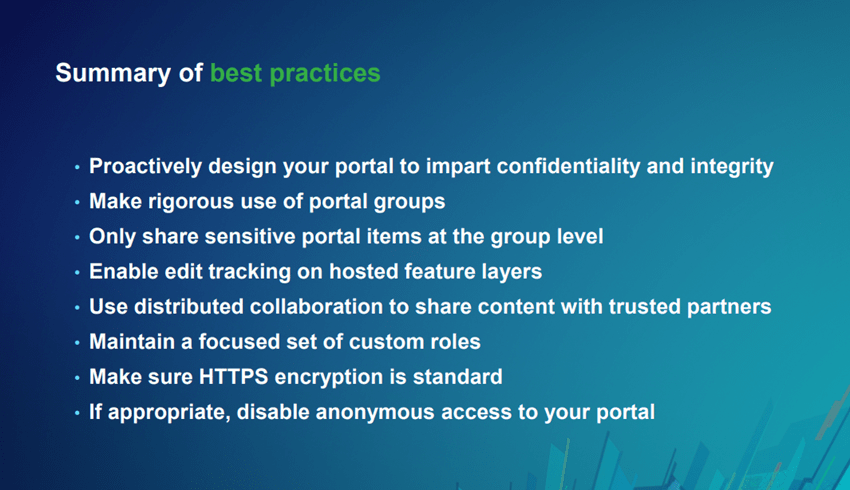 Data Store Management Best Practices
In this session, Bill Major and Laurence Clinton covered best practices for installing, backing up, migrating, and upgrading your ArcGIS Data Store(s). The ArcGIS Data Store component can be configured as three different types: relational, tile cache, or spatiotemporal big data store (remember it's the "3" in the "5-4-3-2-1" description of ArcGIS Enterprise). Laurence and Bill provided several takeaway tips on installation and configuration – from the minimum amount of disk space required to guidelines on planning where to locate your spatiotemporal big data store.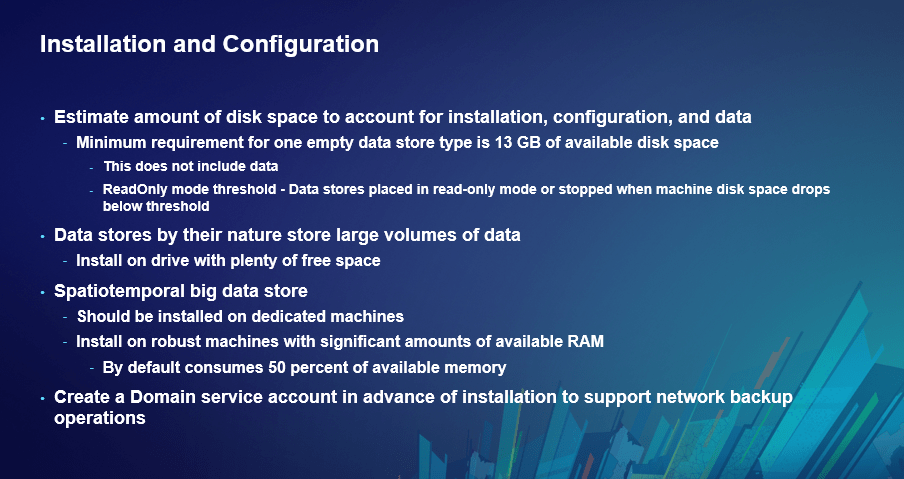 Watch these sessions
We hope you had a great time at the User Conference and were able to attend ArcGIS Enterprise sessions and visit the showcase. In the coming weeks, certain sessions with the tag "complimentary recording" will be posted online, as you see below. Slides from the sessions will also be included on the events proceedings page.

Thank you for attending, meeting with us, and providing valuable feedback at this year's User Conference! See you in San Diego July 8-12, 2019 to do it all over again!