Communities face complex challenges. To tackle local issues, community-based organizations can collaborate with a range of stakeholders to identify challenges and find effective solutions. Fortunately, there are many groups that can provide the local knowledge needed to improve public outcomes, including neighborhood residents, advocacy groups, higher education institutions, healthcare networks, and non-profits.
Bringing people together to collaborate can be difficult sometimes, especially when you're unsure of whom exactly you need to work with and how to make it happen. One way to get started is by creating a landing site for a project or initiative and using it to share opportunities for people to get involved at pace that suits their availability and level of interest.
Project landing sites
When you use ArcGIS Hub to make a site for a project, you're creating a place where members of your team and the public can find the information they need to learn more about a topic or take an action.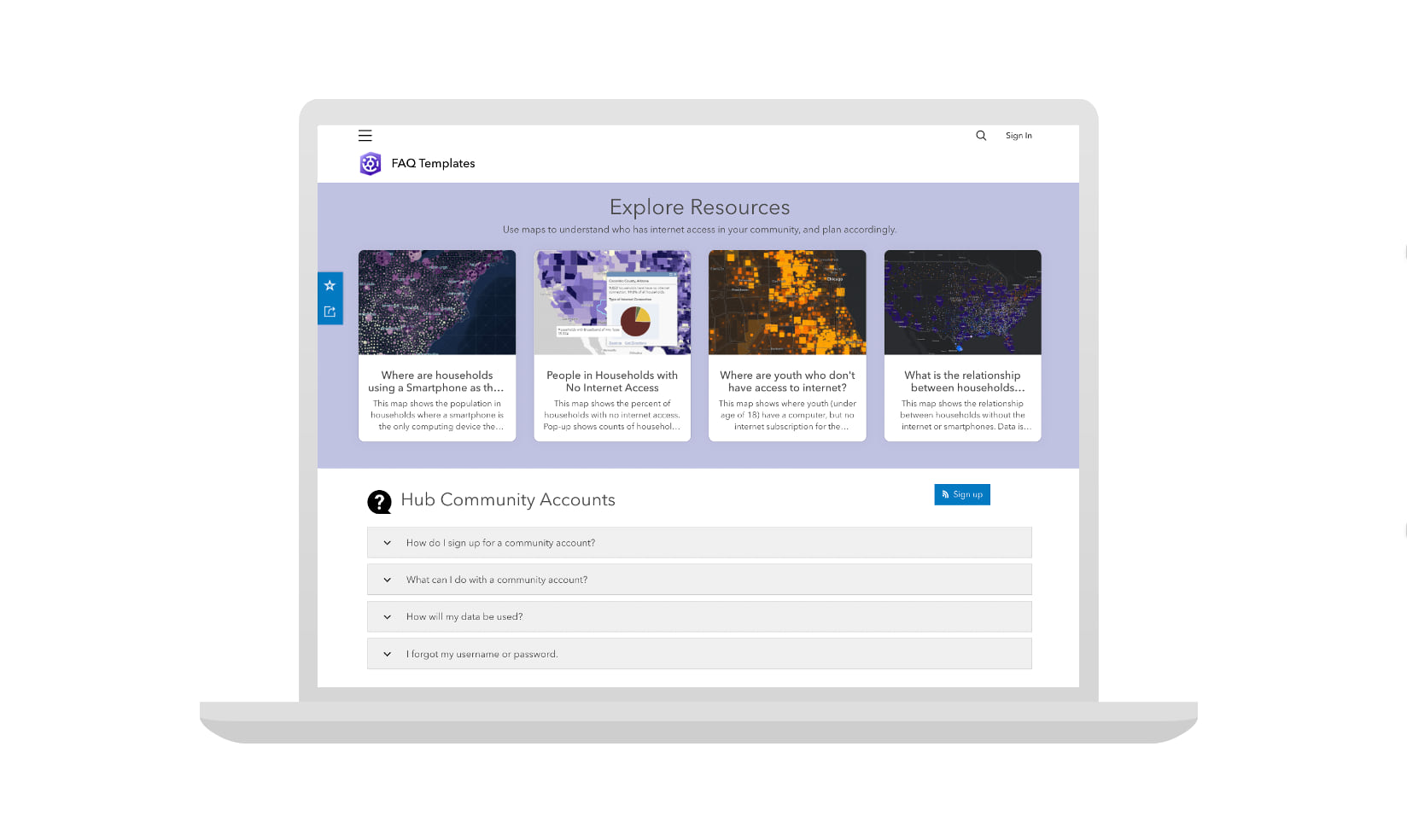 Setting up a site is simple, no HTML is required. You can share your site with internal stakeholders using teams or with the public. To learn how, see the following resources:
Community accounts and sign-up prompt configurations
Once you've set up a site, you can add calls-to-action that link to a survey, event, or poll if you're looking to generate feedback or collect sign-ups.
You can also make community accounts available to the public so that people can sign up for email notifications from you or your team. People can create a community account free to them using their email address or an existing account with Facebook, Google, GitHub, or Apple.
If you want to make community accounts available to someone you already know, set up a community account for them and onboard them to your project site's team. As a team member, they can review, edit, and contribute content to a project and assist in public outreach activities, including survey creation and analysis, email messaging, and event management.
Feedback and outreach
Feedback from stakeholders is important to ensuring that you're on the right track with a project idea, goal, or action. Facilitate conversation and generate feedback by adding the following to your project site:
Onboard collaborators to a team
Known collaborators, such as students or partners from another organization, can use community accounts to sign in on a site to  contribute and update content for a project and its site. Use the following resources to onboard new members to your site's teams:
Administrative settings
For general resources on how to administer your Hub Community, refer to the following: