Ensuring the quality of your indoor map
The foundation of an indoor GIS is creating a visual representation of the indoor environment and spatial data through indoor maps. To create an indoor map powered by ArcGIS Indoors, you can use several data sources including CAD (Computer-aided design) files, BIM (Building Information Modeling) files, PDF files, and even site scans that capture LiDAR or 3D meshes of building interiors.
As with any project, data quality is key when implementing an indoor GIS, so keeping your floor plan data accurate, complete, and up to date is paramount.
One way to ensure that is to make the source data, like CAD or BIM files, the authoritative source for floor plan line work and perform update loads of this source data into the geodatabase whenever there are changes.
However, what if the turn-around time to get updates from CAD and BIM and then load them into the geodatabase cannot meet the timeline of the business needs for the data?
Simplified and faster floor plan editing
To help address this, ArcGIS Indoors will offer a new web-based, map-centric application to create and modify floor plan data. Its key benefit lies in its user-friendly experience, enabling operations staff to take direct control of managing and maintaining their floor plan data outside of ArcGIS Pro.
This new application is called Floor Plan Editor and releases to BETA this July.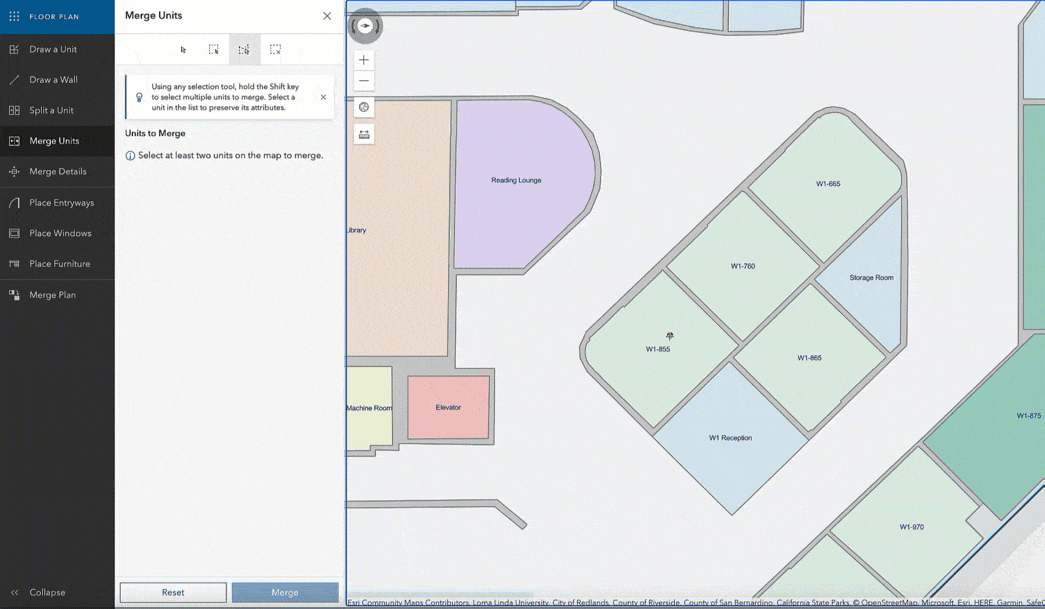 Operations and facilities staff need to be able to modify floor plan layout data in a user experience that is intuitive to them. They need to be able to:
Create floor plan data when no digital source data exists, and then maintain it.
Maintain floor plans that were loaded from source data that won't be updated, like building site scans.
Correct or update floor plan data that can't wait for upstream source data, like CAD or BIM, to be corrected and re-loaded.
Do what-if scenario planning for floor plan layout modifications.
Floor Plan Editor is designed with these needs in mind. Its capabilities include:
Digitizing new spaces (units), floors (levels), and facilities (buildings).
Splitting, merging, reshaping, and attributing spaces.
Placing entryways, windows, and furniture from drawing palettes.
Copying and pasting floor plan elements to create new ones from existing ones.*
Snapping and distance measurements while digitizing.*
Deleting, rotating, moving, and annotating features.
and more.
* These capabilities will be included in the next release of the Beta.
In addition, GIS Managers can enable their stakeholders to edit floor plan data while still maintaining the ability to load floor plan data updates from CAD and BIM files. The ETL (Extract-Translate-Load) tools provided with the Indoors extension to ArcGIS Pro (ArcGIS Indoors Pro) are being enhanced to create more flexibility around what data to update load from CAD and BIM file changes. ArcGIS Pro users will be able to selectively load portions of a floor plan so they can honor floor plan updates made with Floor Plan Editor by their business stakeholders.
Don't take our word for it, check it out for yourself. Sign up to our Early Adopter Program now to get early access and provide feedback to help steer the development of Floor Plan Editor.
Sign up for the Early Adopter Program
Commenting is not enabled for this article.