Esri recently added a new extension to their ArcGIS product line that takes mapping, resource management and analytical data indoors. Additionally, it is complemented by an indoor positioning system (IPS), allowing for real-time wayfinding inside buildings.
What is ArcGIS Indoors?
ArcGIS Indoors is a holistic GIS system designed to activate indoor spaces and optimize business operations. By leveraging precise indoor mapping and positioning technology, companies get access to the information they need to take their workflow efficiencies to the next level.
ArcGIS Indoors allows you to create a 2D or 3D digital indoor map of your building, visualizing all rooms and amenities. The system gives all stakeholders of a company a common operating picture by providing enhanced insights into resource management and work processes.
Employees are empowered to interact with their workplace environment more actively and connect with each other face to face more easily. By increasing the transparency of workplace operations and encouraging engagement from all parties, workflow efficiencies and productivity can be increased.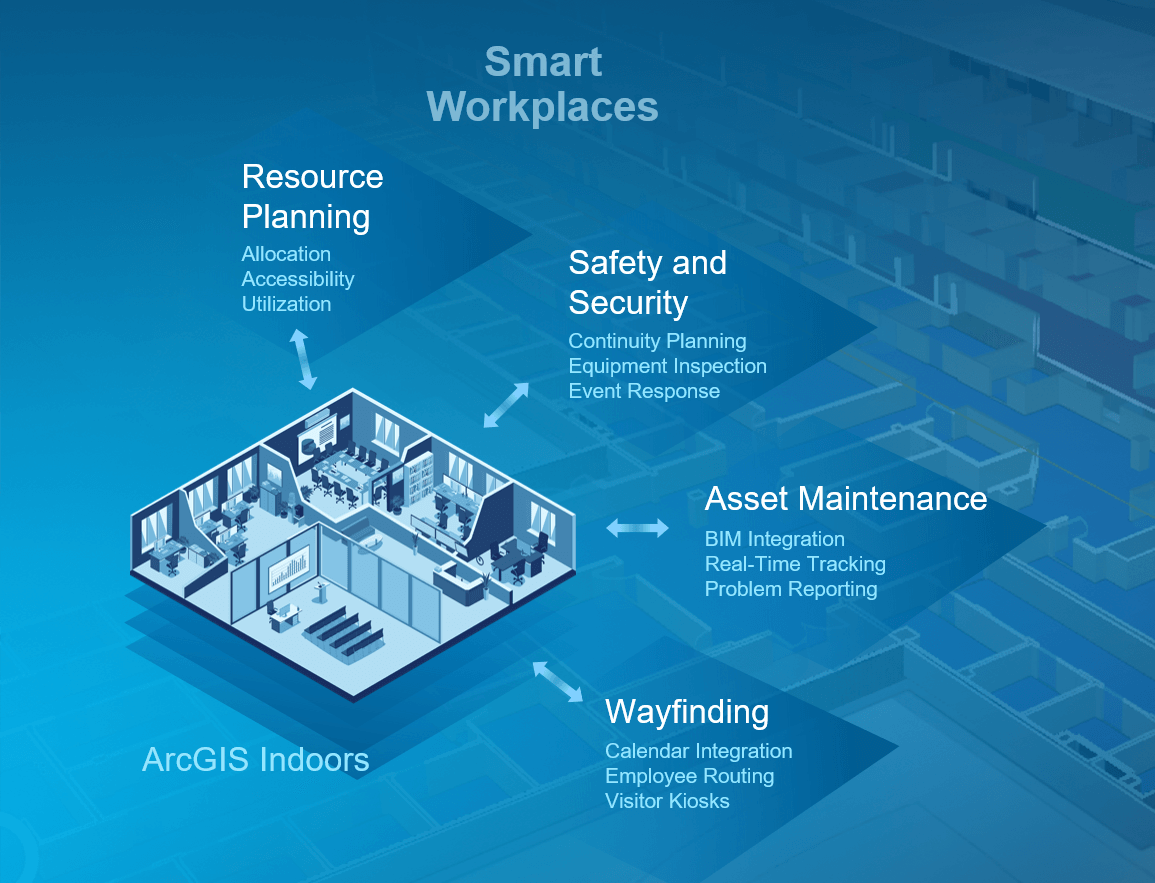 The core capabilities of ArcGIS Indoors are:
Digital 2D/3D indoor maps

Building intelligence and resource planning

Incident management

Problem reporting and maintenance

Indoor positioning and mobile wayfinding

Analytical data
Creating smart workplaces across all industries
Riding the next wave of digitalization is crucial for businesses to maintain a leading edge and attract young talent. The younger workforce is made up of digital natives, and they want their ideal workplace to be technologically integrated too – a smart workplace.  
The concept of a smart workplace is the application of innovative technologies to improve information flow, increase efficiencies and facilitate daily operations. The management as well as employees are technologically connected to and actively engaging with their work environment.
ArcGIS Indoors is a novel solution that makes this possible in many different areas of work and across various industries such as transport, healthcare, corporate campuses or security.
Sample use cases for ArcGIS Indoors
Mobile wayfinding
Patients are able to locate themselves on the map via mobile app and navigate to their appointments individually. As a result, they don't keep personnel from working on their core tasks by asking for directions.
Travellers at airports are able to follow the route displayed on the digital map to the right gate. Especially at big international airports or in case of a tight time frame for connection flights this can reduce anxiety and significantly improve the airport experience.
Resource utilization optimization
A nurse at the hospital is looking for a vacant wheelchair to transport a patient with reduced mobility to their treatment. The ArcGIS Indoors system provides staff with the real-time locations and availability status of each individual wheelchair. After booking a wheelchair, they can navigate there easily and pick it up.
Incident management
In case of an incident inside a building, e.g. a person collapses and needs medical help, witnesses can alert first responders or emergency teams and share their location. First responders in turn are then able to pinpoint the incident location on the map, reach it and provide first aid much faster.
Problem reporting and maintenance
An office employee notices that one of the lighting fixtures in a meeting room is coming off the ceiling. The employee takes a photo of it, uploads it to the corporate app along with a note describing the problem, and marks the exact location on the map. A technician is then instantly notified by the system and assigned to the task.
Analytical data
Through the use of indoor positioning technology, valuable analytical data such as footflow patterns, dwell times and frequencies can be obtained. These anonymized data streams increase situational awareness of how people move inside buildings and can be used to improve layout planning.
These are just a few of many use cases ArcGIS Indoors can be applied to to improve efficiencies and productivity by saving time and costs and enhancing convenience and transparency.
Learn more in our webinar series!
We will hold a series of webinars about ArcGIS Indoors and how you can benefit from it. In the next one we will focus on the indoor positioning component, so make sure not to miss it:
Register now for our Indoor Positioning webinar!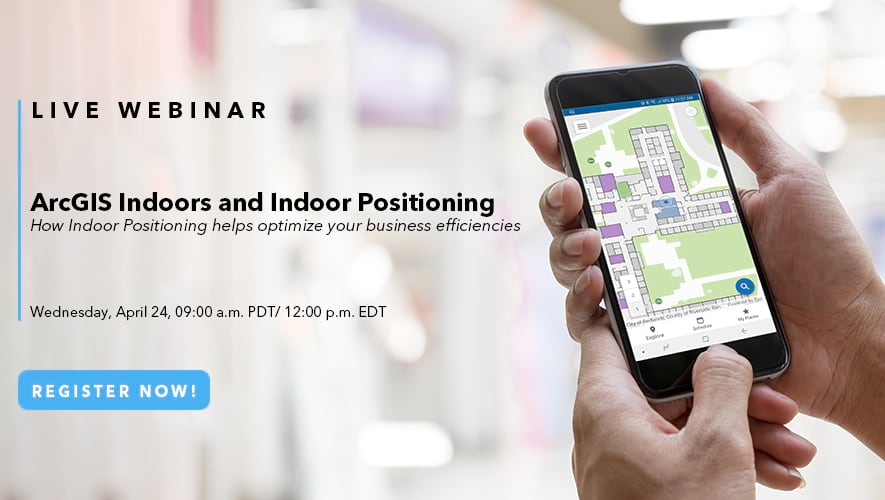 For more information, please visit ArcGIS Indoors
Commenting is not enabled for this article.