ArcGIS IPS is an indoor positioning system that puts the blue dot on indoor maps. It enables users to locate themselves inside a facility, navigate to people, places and assets in real time, and share their position with others so they can find you more easily. ArcGIS IPS is available for ArcGIS Indoors, ArcGIS Field Maps and ArcGIS Runtime to build custom mobile apps.
The August 2022 release of ArcGIS IPS (ArcGIS IPS Setup 1.2 and ArcGIS Runtime 100.15) introduces improvements in the indoor positioning accuracy, making for a better user experience. In addition, the usability of the ArcGIS IPS Setup mobile app was enhanced to allow for a better and more intuitive surveying experience.
ArcGIS IPS Setup
ArcGIS IPS Setup is a mobile app for iOS and Android that is used in the setup process to plan paths, survey and collect radio data and test the blue dot inside your facility.
Optimized survey path auto-reverse logic
After planning paths inside the facility, radio signals from Beacons or WiFi are collected in Survey mode. It is best practice to reverse planned and walked paths for optimal coverage. With this release, when selecting 'existing planned/surveyed path', the user will only be prompted once to reverse the path to allow for a smoother surveying procedure.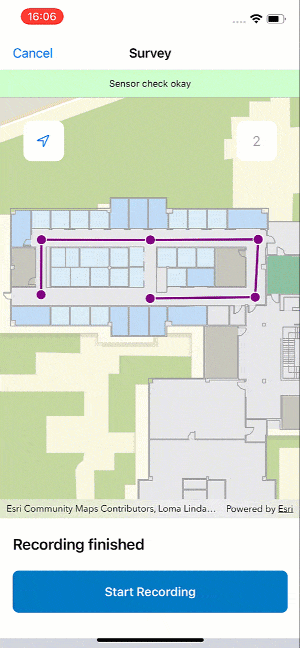 Improvements and bug fixes
Supporting grouped IPS layers
Less strict login paradigms to ArcGIS Enterprise (URL does not require "https://" prefix)
Improved radio type attribute (metadata) capture for survey recordings when planning and uploading recordings
Survey mode auto-zoom improvements
Improved offline support in Test mode
Aligning error messages between platforms
Nearest facility calculation improvements
i18n bugs fixes
ArcGIS Runtime
Improved blue dot experience
Improved accuracy when path snapping is not activated: Indoor positioning output that does not use path snapping is now more stable. The display presents fewer horizontal/sideways jumps and drifts and follows the user's actual position more precisely.
Improved accuracy when location data source switches between GNSS and IPS
Reduced floor level errors
Improved path snapping stability
Improved software stability
Support for large positioning files: In previous releases, the IndoorLocationDataSource (ILDS) did not always work effectively on all platforms when using large positioning files (30 MB or more). With release 100.15, the indoor location data source can use positioning files up to 300 MB.
Improved output
IndoorLocationDataSource will no longer send warnings that are not relevant to the diagnosis of indoor location data source issues.
The timestamps for indoor location data source positioning output are now correct for estimated positions. IndoorLocationDataSource will no longer output the last known position when a position cannot be estimated.
Learn more about ArcGIS IPS and visit us on the Esri Community to provide your feedback, ideas or ask us any questions you may have!
Commenting is not enabled for this article.