ArcGIS IPS is an indoor positioning system that enables indoor navigation and wayfinding, location data capture, and location sharing. With the latest release of ArcGIS Maps SDKs for Native Apps 200, ArcGIS IPS introduces positioning enhancements and fixes that improve overall usability in the ArcGIS IPS December release.
Positions are Now Restricted to Surveyed Area
In previous releases estimated indoor positions could be interpolated and visualized in areas that have not been surveyed. Indoor positioning surveys are performed using the ArcGIS IPS Setup app (for Android and iOS) to collect radio signals inside the facility to enable the indoor blue dot.
With this release, indoor positions will only appear in areas an IPS survey has been conducted in. This enhancement prevents the blue dot from penetrating areas that are not accessible and allows for increased positioning accuracy.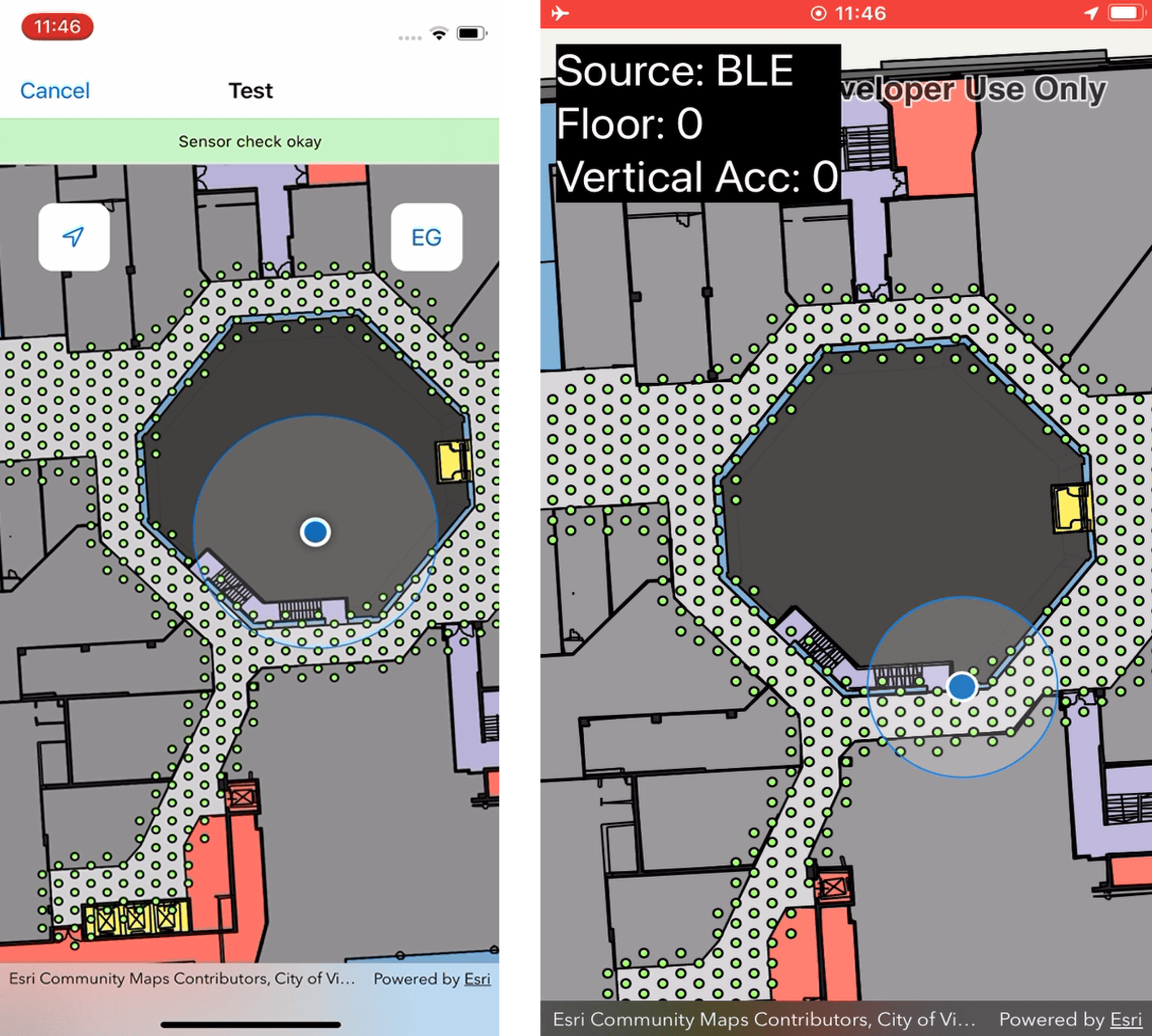 The screenshot on the left shows the blue dot wandering into an area in the center of the screen that is not enabled with ArcGIS IPS, which causes positioning inaccuracies. With the new release this was fixed, so the blue dot stays within the surveyed area that is enabled with IPS (screenshot on the right).
Known & Resolved Issues
The following improvements to ArcGIS IPS are the result of fixing bugs and resolving issues with the IndoorsLocationDataSource. This is an ArcGIS Maps SDKs for Native Apps component that provides an indoor or outdoor position based on device sensor data (radio, GPS, motion sensors).
IndoorsLocationDataSource crash caused by bugs in floor level estimation
IndoorsLocationDataSource output time stamp not in chronological order
IndoorsLocationDataSource position accuracy regression due to time bug in Kalman filter
IndoorsLocationDataSource incomputable with `RouteTrackerLocationDataSource` due to async start/stop
Bug in portal information in positioning file
Altitude (`position.z`) value is always 0 for GPS locations coming from IndoorsLocationDataSource
Learn more about ArcGIS Maps SDKs for Native Apps 200 and check out the release notes for .NET, Qt, Java, Kotlin, and Swift.
Visit us on the Esri Community to join the discussion, provide feedback or ask any questions about ArcGIS IPS. 
Commenting is not enabled for this article.