ArcGIS IPS is an indoor positioning system that shows your real-time location inside a building as a blue dot on a map. It enables use cases such as indoor navigation, location sharing, and location data capture.
The new ArcGIS IPS release comes with a new set of geoprocessing tools (GP tools) in ArcGIS Pro 3.1 that help analyze and improve the quality of your indoor positioning deployment. The ArcGIS IPS Setup 1.3 release supports the new quality assessment checks and brings improvements in usability.
ArcGIS Pro
Basic visualizations
Identify accuracy level
The Identify accuracy level tool provides insights into how accurate your indoor positioning system is based on the distance between your actual location and the location computed by the ArcGIS IPS Engine. Accuracy is reflected in the traffic lights-like color scheme.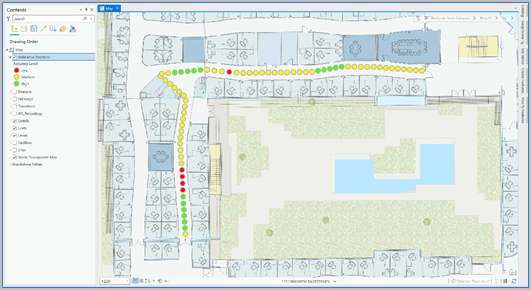 Match location level
This tool helps you identify if the position calculated by the IPS Engine is on the same floor level as your actual position. A gray dot symbolizes a mismatch between the two location levels which means the indoor positioning system locates you on the wrong floor.
Visualize line of sight
You can also identify when the calculated position is outside the line of sight of your actual position. This is represented by red dots on the map.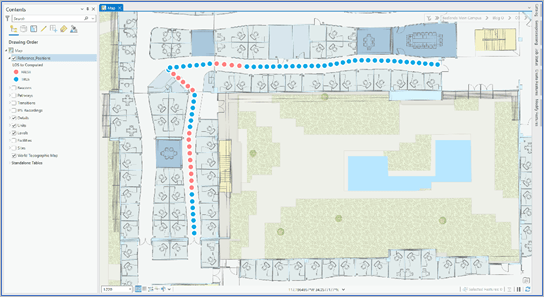 Set the location source
Multiple location sources, i.e. Bluetooth, Wi-Fi, Apple IPS, or Global Navigation Satellite System (GNSS), can calculate a position inside the building and it's critical to know which one is being used. This helps correct unexpected behaviors to ensure your IPS performs with the best possible accuracy.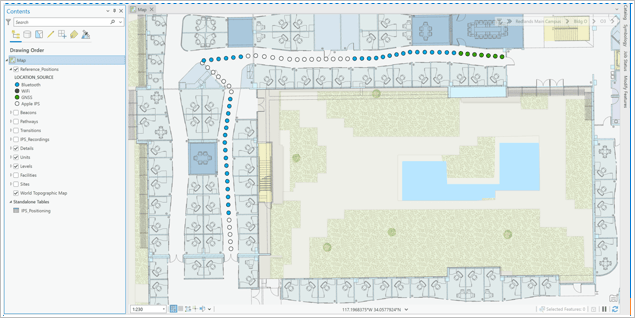 Advanced visualizations
In addition to basic visualizations, use advanced visualization tools to explore temporal performance, more details on accuracy levels, and better identify quality issues by combining analyses.
Set a custom accuracy level
By applying a color code to the Reference Positions features and creating custom classes you can get a more granular overview of all accuracy levels across your whole IPS deployment.
Use spatiotemporal analysis
You can also explore positioning performance temporally. A time slider visualizes the Reference Positions and Computed Positions feature classes in intervals, providing you with information on the development of IPS Engine performance over time.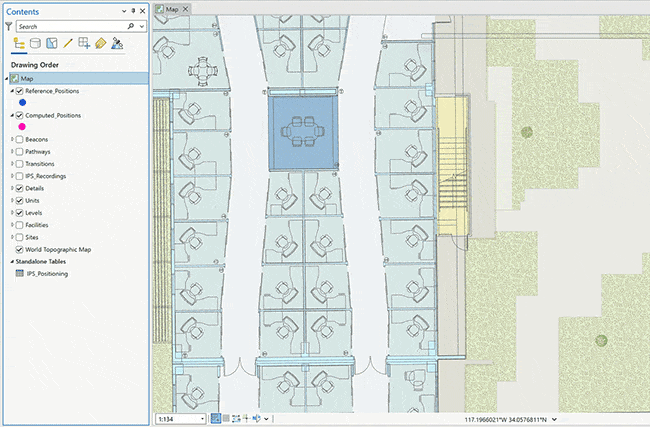 Combine the analysis
Combine multiple checks in order to get a general overview of your IPS quality and identify trends based on field correlation that may lead to performance issues.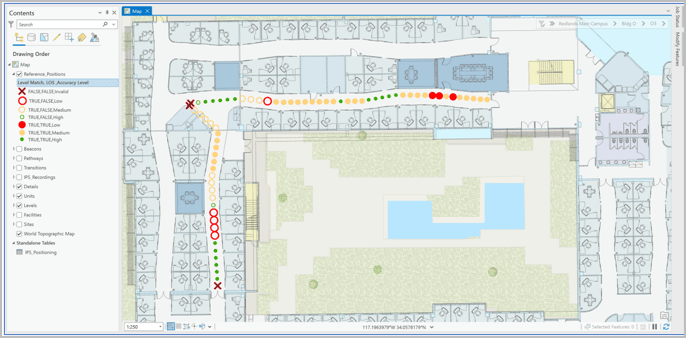 Learn more about the new positioning performance interpreting workflows in ArcGIS Pro and how to implement them here
ArcGIS IPS Setup
Survey recordings icon and user profile screen
With every release, updates to the user interface are added to enhance the user experience. This release introduces an icon for survey recordings and a new user profile screen. Information on the user profile and configuration is now visible at a glance and includes the "path snapping" option which formerly used to be restricted to ArcGIS Pro and the WebMap viewer. Below is an overview of the user profile updates:
Sensors and permissions status overview: location, compass, Bluetooth
Modified sensor check status bar behavior
IPS Survey configuration: network, path snapping
About section
IPS quality assessment support
To support utilization of the above-mentioned quality assessment tools, the ArcGIS IPS Setup app now enables users to create quality recordings which can be visualized in ArcGIS Pro for evaluation purposes.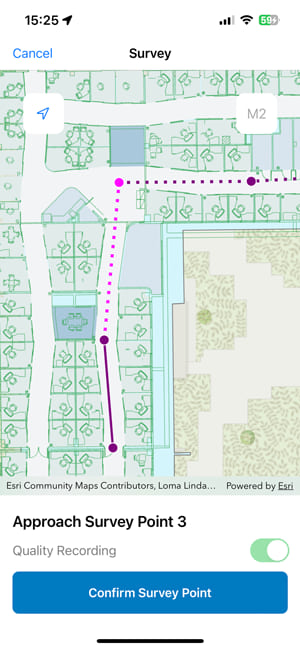 Improved IPS survey workflows
The workflows when creating a survey in the app have been optimized. This includes improvements in the logic behind automatically reversing paths and progressing to the next one, which is especially evident when a user has any existing planned paths to execute.
Check out the latest version of the ArcGIS IPS Setup app for Android and iOS and explore the comprehensive documentation on the new ArcGIS Pro GP tools.
Learn more about ArcGIS IPS and visit us on the Esri Community to provide your feedback, ideas or ask us any questions you may have.
Commenting is not enabled for this article.