As we head into the User Conference and the second half of the year, we recently updated the Esri Vector Basemap and our OpenStreetMap offerings. The Esri Vector Basemaps were updated with content from commercial data sources, open data, and community contributions. These maps are updated on a regular cycle, currently every three-weeks. Our OSM maps feature the Daylight Distribution Data and are updated every four weeks.
In other important news, the non-imagery Raster basemaps are now in Mature Support. There's a companion blog that shares information on which services are no longer updated as well as listing the suggested replacement vector style. If you haven't already made the switch to vector item in your maps and apps, we strongly encourage you to do so now.

---
Esri Vector Basemaps and Community Maps
Your input makes a difference! In addition to HERE commercial data updates, the latest Esri Vector Basemap updates included substantial data contribution to improve the maps on a country level in Japan, Grenada, the Netherlands and Switzerland. Other levels of contributions (counties and cities) were provided to update the map as well. More details about these recent updates are available here.
Joining our Community Maps Program is a way to contribute authoritative data. Another way is to provide feedback. Our Community Maps Editor is a third way to add content to the maps.
No matter which path you choose, know that your contributed data will be added to Esri basemaps to enrich the maps for all ArcGIS users as part of the ArcGIS Living Atlas of the World. Watch this video for a tour of what you can do!

---
OpenStreetMap Daylight Distribution
Our other vector basemap initiative, OpenStreetMap using the Daylight Distribution, was updated last week. Esri created this vector tile basemap from the Daylight map distribution of OSM data, which is supported by Facebook and supplemented with additional data from Microsoft. The OSM Daylight map will be updated every month with the latest version of OSM Daylight data. The OpenStreetMap Vector Basemap is available in multiple styles, with the default rendered using OSM cartography.  Additional styles match the cartography of Esri Vector Basemap styles.
When we made the switch to incorporated Daylight Data last month, this change impacted certain users of the OSM maps. For full details of that impact, see this blog for ArcGIS Online users and this one for ArcGIS Enterprise users.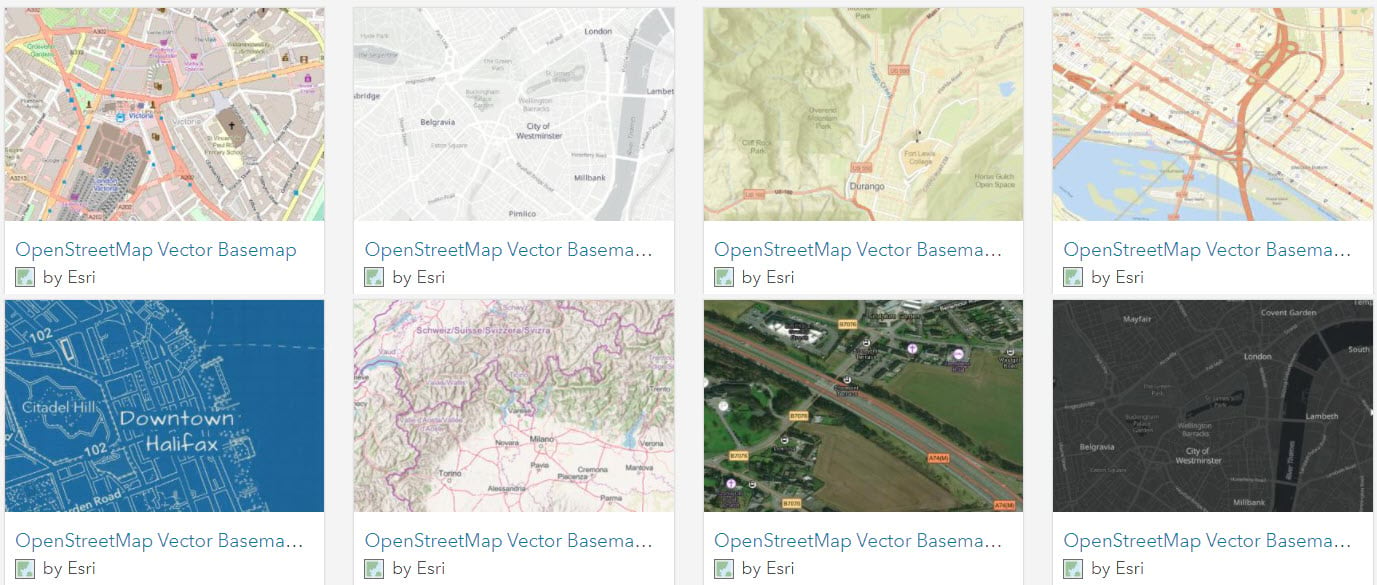 ---
Esri User Conference 2021
The 2021 Esri User Conference (Esri UC) is a fully virtual experience. Join us at the Plenary Session to hear from Esri president Jack Dangermond, Esri staff experts, and special guests. Learn to use the latest tools in technical sessions. Get inspired by user presentations and the Virtual Map Gallery entries. Find solutions in the Expo, and shop at the Esri Merch Store. There are several technical workshops dedicated to topics from the ArcGIS Living Atlas of the World, including Esri Vector Basemaps and OpenStreetMap on Wednesday, July 14. See the related Living Atlas sessions in the daily agendas (Monday, Tuesday, Wednesday).