It's time to refresh your browser—ArcGIS Online has been updated with the following new features and enhancements. This release includes updates and new features for 3D, smart mapping, authoring apps, and more.
Map Viewer
The map viewer is the ArcGIS Online application that enables you to author and share web maps, perform analysis, and work with your layers. The following are map viewer enhancements for this release.
Multilayer Basemaps
Multilayer basemaps can now be created in the map viewer. This is useful when you have two or more layers that you want to use together as a background for other operational layers. For example, you can combine your imagery with one of the reference layers. Or can combine hillshaded terrain and other layers with a reference layer. The example below shows the Multi-Directional Terrain with USA Geology and the World Reference Overlay. See Create a multilayer basemap for more information.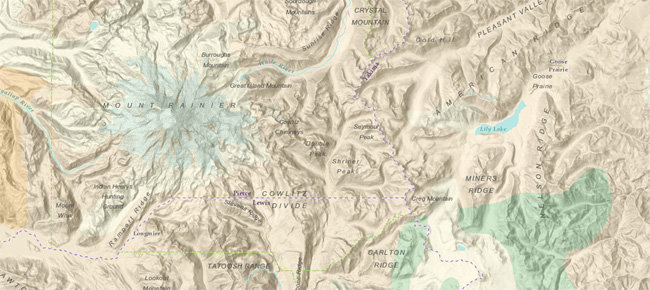 Drag to Change Route
Changes can be made via mouse interaction by clicking and dragging a route to alter the route and the turn-by-turn directions. See Use your route.
Optimize Offline Data
New offline options allow you to optimize the amount of data downloaded when taking a map offline. For example, you can choose to only upload attachments when synchronizing, without having to download attachments when taking the layer offline. This is especially useful when using Collector for ArcGIS. See Choosing offline options and Take maps offline for more information.
Smart Mapping
Smart mapping provides data-driven tools that enable you to explore your data to unlock information and easily author visually appealing web maps. When feature layers are added, the data is analyzed and appropriate layer styling options are presented in a streamlined user experience appropriate for your data.
For this release new smart mapping styles are added that illuminate multiple attributes in your data. Use Predominant Category and Predominant Category & Size to compare multiple attributes in a layer, and show the predominant attribute. View the Mapping Predominance story map to view examples and learn more.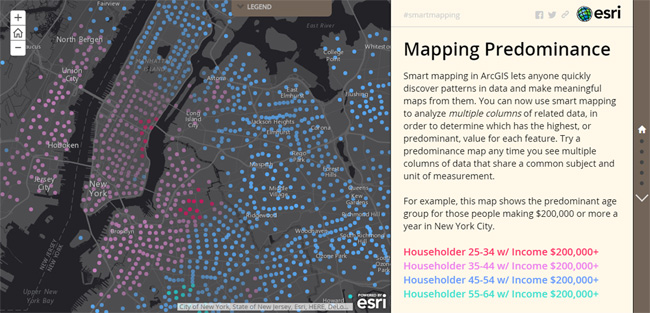 See What's New in Smart Mapping (March 2016) for more details.
Analysis
A new Choose Best Facilities tool will help you determine the optimal facilities based on your criteria. The tool finds the set of facilities that best serve demand from surrounding areas.
Configurable 3D Apps
Configurable apps enable you to create user or workflow-focused apps that meet specific needs. This release includes new configurable apps that allow you to create 3D web apps that compare, visualize, and showcase scenes, as listed below:
3D Data Visualization
Visualize numeric data based on a global scene. Use with a scene containing a feature layer that has at least one numeric field.
Simple Scene Viewer
Present a global or local scene with a custom color theme and more context, such as a title and subtitle, than the scene viewer provides.
Compare Scenes
Explore different scenarios or locations with a side-by-side comparison of two local or global scenes.

Story Maps
Story Maps let you combine authoritative maps with narrative text, images, and multimedia content, making it easy to harness the power of maps and geography to tell your story. New for this release:
Autoplay Mode
A new autoplay mode automatically advances the Story Map after a specified time interval. Autoplay is useful if you want to display a story map at a kiosk in a visitor center or exhibit. In this mode a control appears that enables autoplay to be paused and the speed adjusted. Autoplay is supported in the following Story Map apps:
Story Map Journal
Story Map Tour
Story Map Series
Story Map Swipe and Spyglass (for a Swipe series)
Autoplay is enabled for any story map; click the Link button in the header and check Autoplay. Use the short URL to display the Story Map in autoplay mode.
Social media sharing improvements
When a story map is posted via Twitter or Facebook, the post will use the title, summary, and (when possible) the item thumbnail.
Other enhancements
The web map chooser in the Story Map builder has been enhanced so that the most recently modified maps display first.
See What's New in Story Maps (March 2016) for more details.
Web AppBuilder
Web AppBuilder enables you to easily create HTML/JavaScript apps that run on any device, using a gallery of ready-use-widgets. You can customize the look of your apps with configurable themes, and can host your apps online or on your own server. Enhancements for Web AppBuilder for this release include the following:
Support for 3D Scenes
You can now use Web AppBuilder to create custom apps that use 3D scenes. Author a scene, and use it when building your app.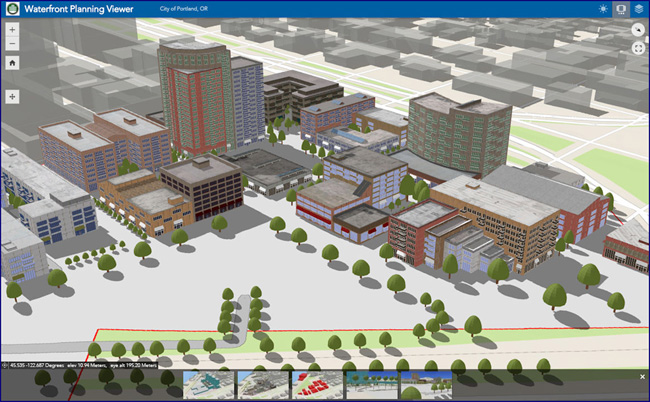 Other enhancements
Other features and enhancements include:
Improved building experience, allowing you to modify the map from within Web AppBuilder.
New Plateau theme supporting a modern and minimalist-styled app with flat toolbars and widget containers.
The Edit widget includes a display field in the setting page so you can choose attributes for display only when performing editing.
The Situational Awareness widget has been released, it is no longer in beta. This widget allows you to create or select an incident on the map and analyze information from feature layers, either within the incident area or within a specified distance of the incident.
New Near Me widget to find features near a specified location, view more detailed information about those features, and get directions to a selected feature.
New District Lookup widget to find point features related to a selected polygon, view more detailed information about the related point features, and get directions to a selected point feature.
New Related Table widget to display values in a related table as pie or bar charts.
For more information see What's New in Web AppBuilder (March 2016).
Publishing hosted web layers
Hosted web layers are used to publish your maps and data in ArcGIS Online, outsourcing the need for your own server and infrastructure, or complementing what you do using ArcGIS for Server. This release introduces the following new capabilities and features:
User settings and Administration
Users can manage communications from Esri through their profile page. Users will be able to sign up to receive emails about ArcGIS software, industry GIS news, and customer stories. To enable these features the account must have Esri access enabled. See Manage Esri communications.
Administrators have more control over security settings, and can choose whether to allow members to edit and display bios, and who can see their profiles. Administrators can also choose whether to show social media links on item details and group pages. See Configure security settings.
Custom roles include a new privilege to publish hosted scene layers. Existing custom roles can be edited to add the new privilege.
You can download a CSV file with information about an organization member's credit usage.
Guides are available to help administrators learn more about launching, promoting, and administering their organization.
Marketplace
ArcGIS Marketplace allows ArcGIS organizations to search, discover, and get apps and data from qualified providers, such as Esri, Esri Business Partners, and Esri Distributors.

Marketplace has been enhanced with the following improvements:
Per-user based licensing options for providers.
E-commerce enablement for Esri and provider listings (coming soon).
Improved help and usability for users and providers.
For more information, see the ArcGIS Marketplace help.

Maps for Office 
ArcGIS Maps for Office brings mapping to Microsoft Office. With this easy-to-install add-in, you can quickly create interactive maps from your Excel data and start gaining new insights and making better, more informed decisions immediately. With this release, ArcGIS Maps for Office has been enhanced with the following:
Smart mapping has been added, enabling you to explore the data and create effective, aesthetic maps.
Find patterns in your locations over time with time-based animations.
Improved experience in PowerPoint, enabling you to find maps more easily and interact with the map during presentations.
Focus on the rows that are important by using map-based filtering.
Support for dynamic data via layer refresh intervals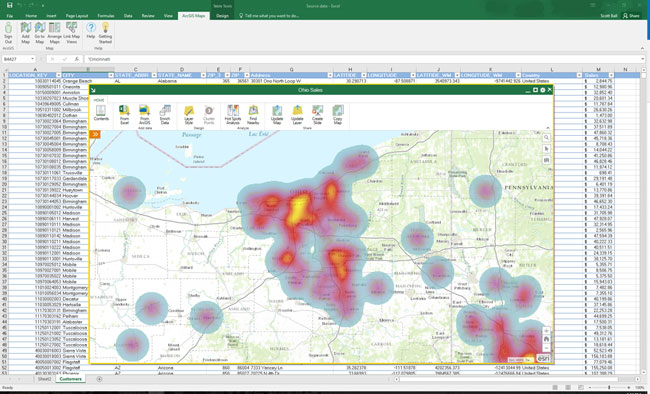 For more information, see What's New in ArcGIS Maps for Office 4.0.
Maps for IBM Cognos
Esri Maps for IBM Cognos enables your enterprise to integrate dynamic maps in your BI applications for more complete and actionable reports, and location-enabled insights, using your business data. New for this release:
Edit IBM Cognos layer properties after data has been added.
Style data using manual breaks classification.
View a new floating, resizable map legend.
Change the order of groups in the legend.
Customize the availability of map tools and elements in the map.
Change the map look and feel using predefined or custom themes.
Modify the default symbols and color ramps available for styling layers, or add your own custom symbol sets.
Improved heat map algorithm with support for weighted measure heat maps.
Improved user experience for working with feature attribute tables.
Support for transparency in PDF reports.
Support for ArcGIS Web Map Service (WMS) layers.
For more information, see the Esri Maps for IBM Cognos help.
Content
ArcGIS includes a Living Atlas of the World, a curated and continually updated collection of authoritative maps and layers covering thousands of topics. These data can be directly integrated into your workflows, and used to complement your data when authoring maps and apps.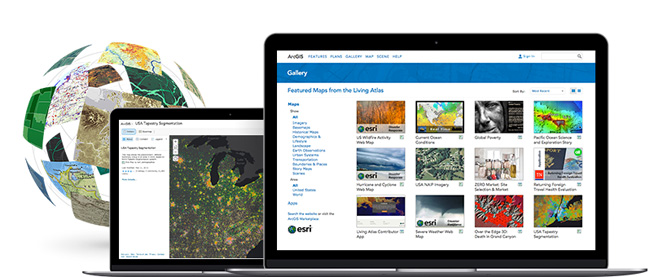 New with this release:
Beta versions of Esri vector basemaps have been updated. Vector basemaps are available as vector tile layers and maps for display in the map viewer and use in custom basemap galleries.
World Street Map, Light Gray Canvas, Dark Gray Canvas, and Reference layers have been updated with more recent data for North America.
A new Imagery Hybrid map, with added detail and improved cartography, is now available as a custom basemap.
The World Imagery map has been updated at small-to-medium scales with the latest available 15-meter TerraColor imagery, with several updates in the Arctic region, Asia, and other parts of the world using recent Landsat 8 imagery. The Arctic Imagery map has also been updated with the latest imagery.
A new Imagery map in Geographic Coordinate System (GCS) WGS84 projection is available. The imagery map includes the same imagery as the standard World Imagery map in Web Mercator, with added coverage in the polar regions. The new imagery map supports 3D display in apps such as ArcGIS Earth as well 2D display for apps that use the GCS coordinate system.
A new Historical Imagery map is available that provides access to medium-to-high resolution imagery for the United States and selected other areas going back as much as 50 years.
For the latest information, see the ArcGIS Online blog.

Social Logins for Public Accounts
ArcGIS Online now offers the option to sign up for public accounts using Facebook or Google logins, making it easier and faster to create public accounts. Existing users will also be able sign in with their Facebook or Google login. Note that a public account is a personal account with limited capabilities, meant for non-commercial use.
For more information about this release, see the What's New help topic and related posts.