Calling hydrographic offices, ports, navies, transportation agencies, and water law enforcement organizations (coast guard, harbor patrols, port police, etc.)… Join us at the world's largest GIS conference—Esri User Conference (UC) 2023—happening July 10-14, 2023, and start planning your activities today!
Below you will find a focused agenda for maritime and bathymetry activities at the UC. Be sure to read on as we have some exciting topics to discuss!
ArcGIS Maritime can be integrated with ArcGIS Field Maps
First release of ArcGIS Bathymetry is now available in ArcGIS Pro
First, what are these products and why might you be interested?
ArcGIS Maritime allows you to produce navigational charts that are compliant with international safety of navigation standards. It uses the geographic approach to automate production tasks, ensure high quality of information products, generate paper charts directly from the latest ENC data (video), and support various marine applications such as shore-based mission planning and situational awareness. With the advancement in Esri technology, ArcGIS Maritime supports workflows beyond just charting.
Organizations often manage large, overlapping bathymetric datasets in non-spatial, file-based systems, which makes it challenging to perform analysis and share the results. ArcGIS Bathymetry simplifies managing, analyzing, and sharing bathymetric data, allowing you to focus on making better decisions faster. It extends ArcGIS Pro with tools and workflows for exploring and modeling bathymetric data and its metadata in a GIS environment. Watch this video series to learn how to quickly and easily get started with ArcGIS Bathymetry.
What's happening at the UC related to these products?
Aside from traditional chart production, you can also import maritime data into the ArcGIS Maritime geodatabase, symbolize the data according to specifications, create and publish a mobile map package (MMPK), and bring it into ArcGIS Field Maps. This workflow is supported in connected and disconnected environments.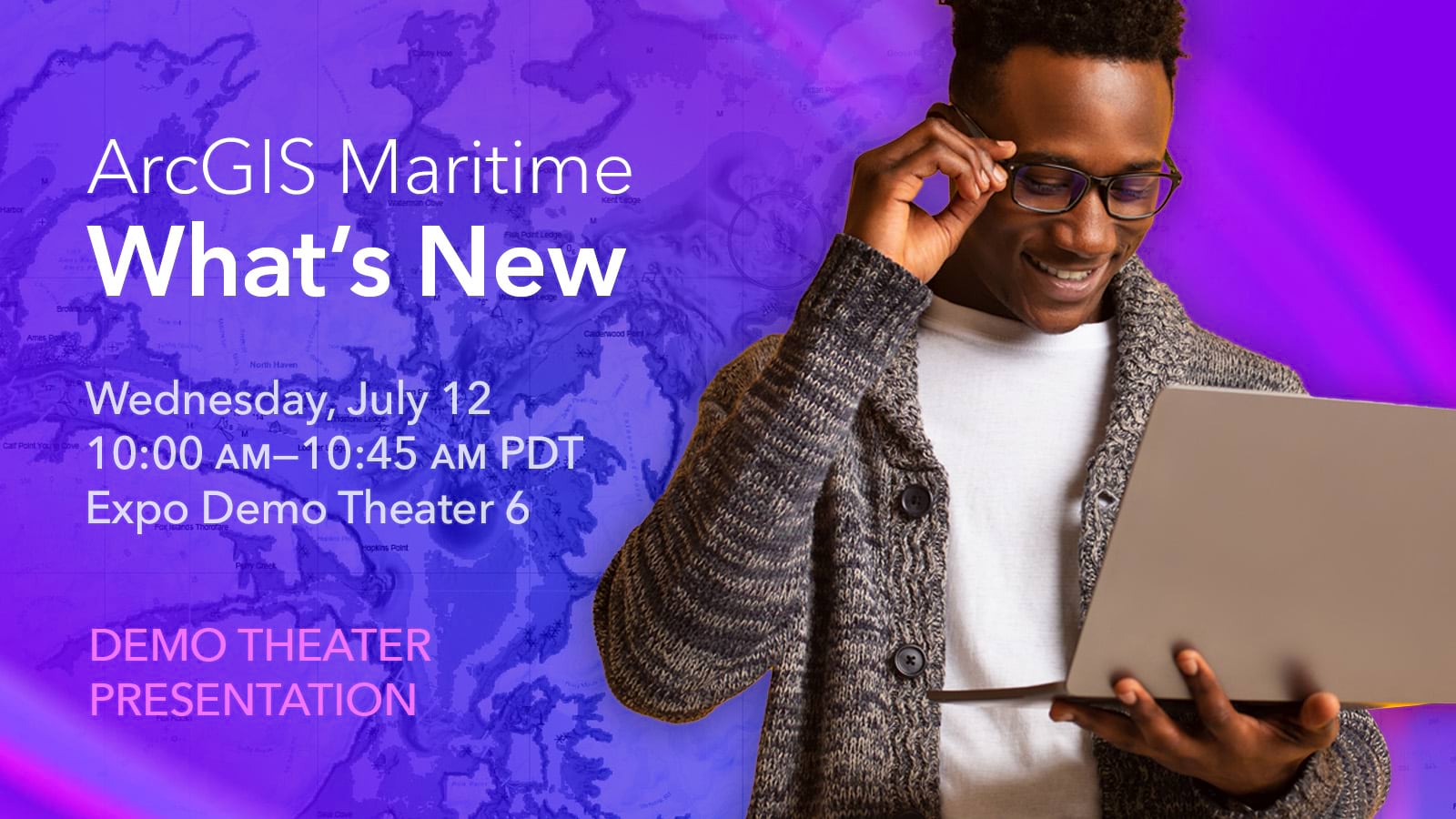 Be sure to attend the ArcGIS Maritime: What's New demo theater presentation on Wednesday, July 12th at 10:00 AM (Pacific Time) in the Expo Demo Theater 6. In this session, our experts will demo this workflow.
This new capability benefits coast guards, navies, water law enforcement agencies, marine freight operators, and harbor pilots, enabling them to perform activities like
Field data collection (markup hazards/obstructions or features such as buoys in wrong locations) and inspection
Emergency response (display data on a mobile device to show routes and locations of obstructions)
Freight delivery management (delivery boat pilots can mark stops on their routes using a mobile device)
Another exciting update is that we recently released a completely rearchitected, modern version of ArcGIS Bathymetry for streamlining and efficiently managing bathymetric data. Ports, for example, manage vast amounts of bathymetric surveys to generate up-to-date charts for safety of navigation, monitor port depths for safe operations, and to plan dredging operations. Natural resources organizations manage aquatic lands and survey these areas to define Extreme Low Tide lines for permitting purposes. Departments of transportation manage sedimentation operations around bridges to ensure safety of navigation for ferries. ArcGIS Bathymetry supports all of these applications and more.
Our experts will be in the Mapping and Statistics showcase area (indicated using a black location pin in the below image) supporting the ArcGIS Maritime and ArcGIS Bathymetry kiosks. The showcase is located on the ground level in Exhibit Hall B and is open during these times.
Tuesday, July 11th 9 AM—6 PM (Pacific Time)
Wednesday, July 12th 9 AM—6 PM (Pacific Time)
Thursday, July 13th 9 AM—4 PM (Pacific Time)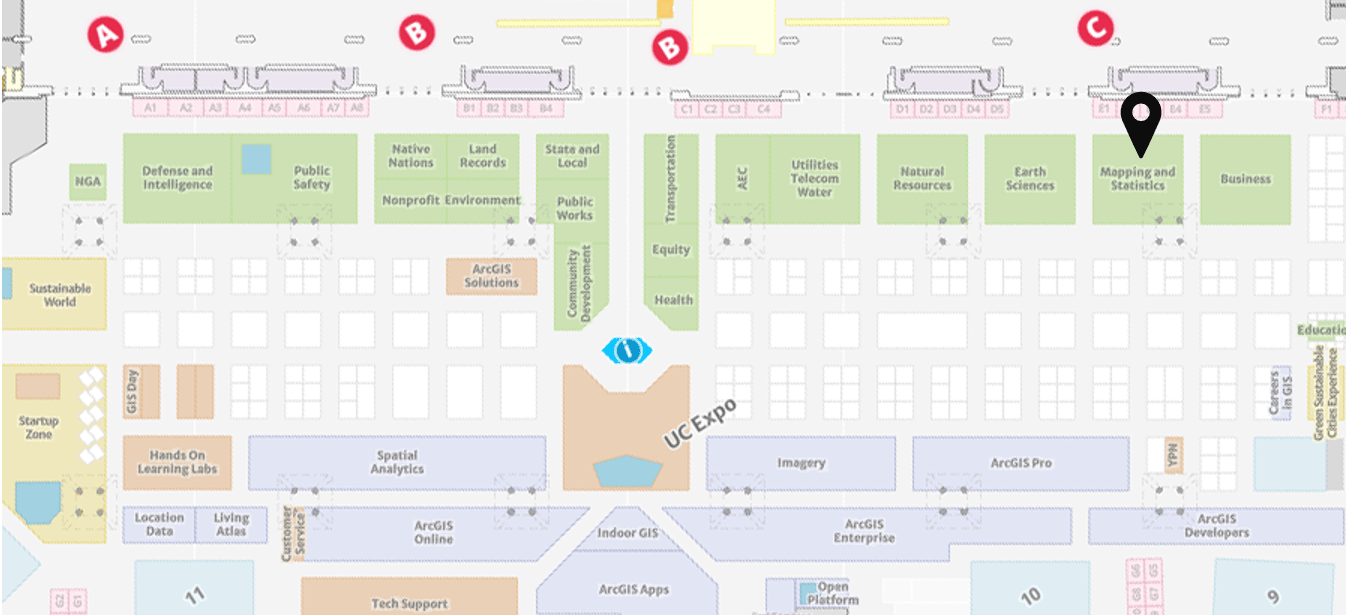 Note that the UC Event Map is now available to allow you to get familiar with the convention center and view locations of sessions and activities before you go to San Diego. You can also generate a route and directions between two locations and view the estimated travel time. Use this map along with the Detailed Agenda and My Schedule for planning your UC experience. The map will also be available in the Esri Events App and at directory kiosks on site in the convention center. Learn more.
Stop by to chat and view cool demos of both these products in action!