Well, the time is here and ArcGIS Pro 2.6 is now live. The latest release of Esri's powerful, feature-packed desktop software is here and come jam-packed with over 150+ enhancements and ideas from our ArcGIS Pro users.
The new features within this 2.6 release will allow users to take their work far beyond what's been "familiar". ArcGIS Pro now enables users to work with their 3D and 4D data in a whole new way. You can now finish the design of your projects within Adobe Illustrator with a whole new export type to meet the cartographic standards of today. ArcGIS Pro 2.6 continues its mission of bringing you the new tools, workflows, and capabilities requested and designed by the community and optimized for the modern GIS professional.
We've created a video of the new features in ArcGIS Pro 2.6 – Watch it now
Here are just a few new items you can expect to find in ArcGIS Pro 2.6:
Voxel Layers
Voxel layers are a new layer type that creates 3D volumetric visualizations from netCDF data. Use them to understand complex, multidimensional data such as atmospheric data, oceanic data, and underground geology models.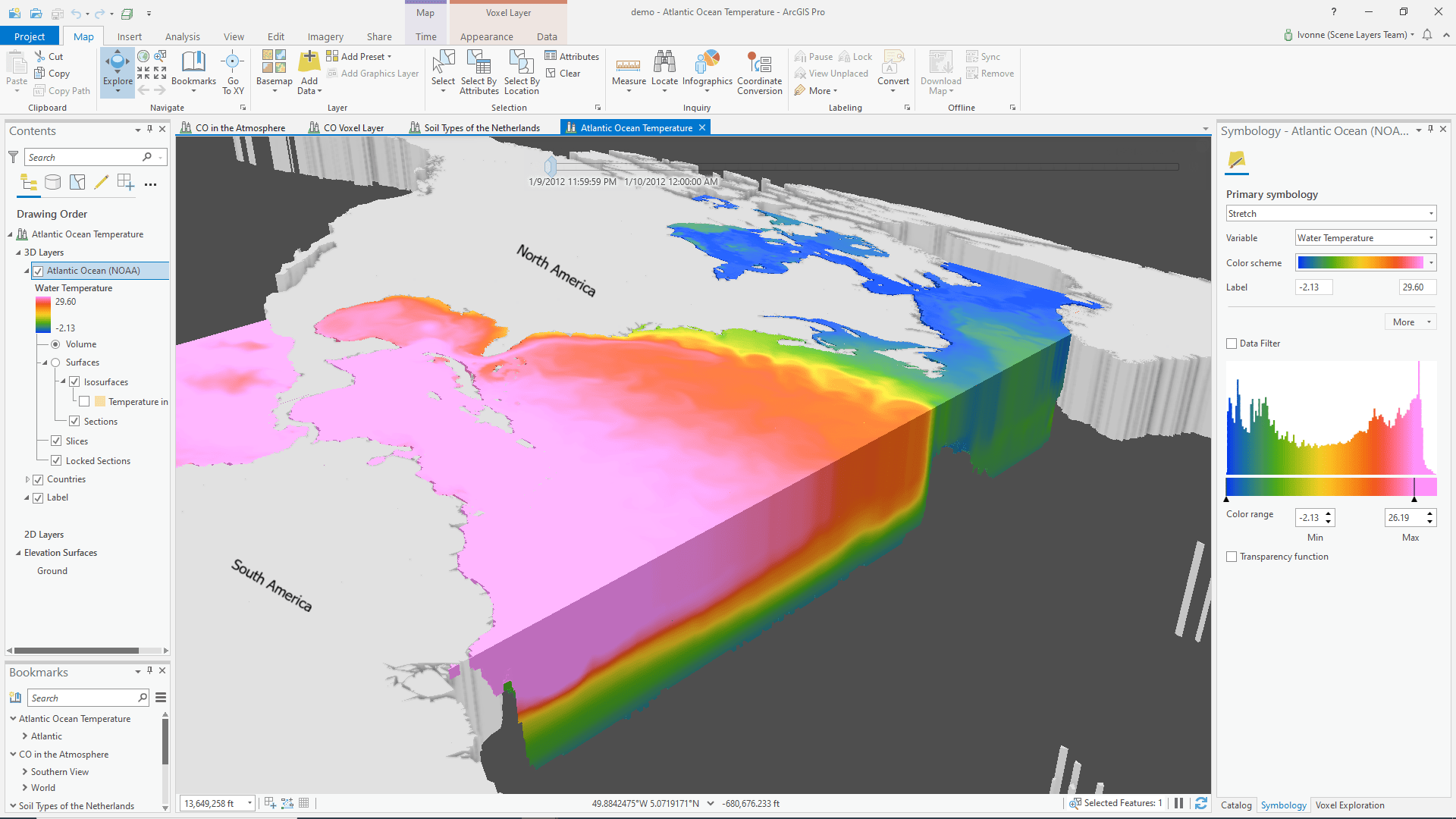 Trace Networks
You can now manage, analyze, and work with simple connectivity models such as rail or hydro in ArcGIS Pro using the new trace network. The trace network uses a set of connected edges, junctions, or both along with network attributes to model the flow of resources through the network. Trace networks can be created using existing feature classes in a feature dataset as source junctions and edges or through direct migration from a geometric network.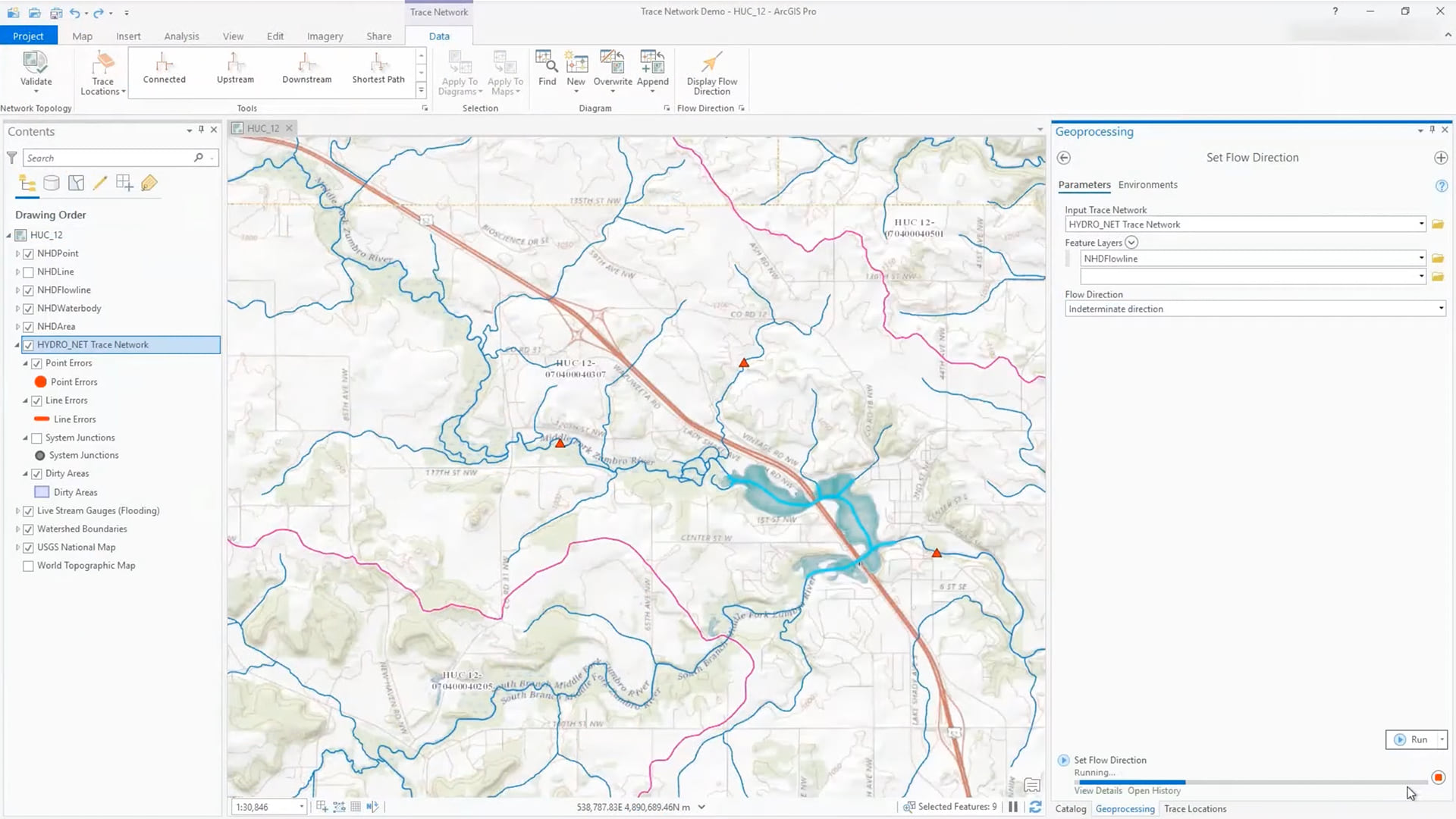 Interactive suitability analysis
Identify the best site locations or areas to preserve using the new Suitability Modeler, which is available with a Spatial Analyst extension license. This dynamic, exploratory environment of interacting panes, plots, and maps allows you to create refined suitability models. Suitability models can determine the best location to build a shopping center, housing development, or a ski resort.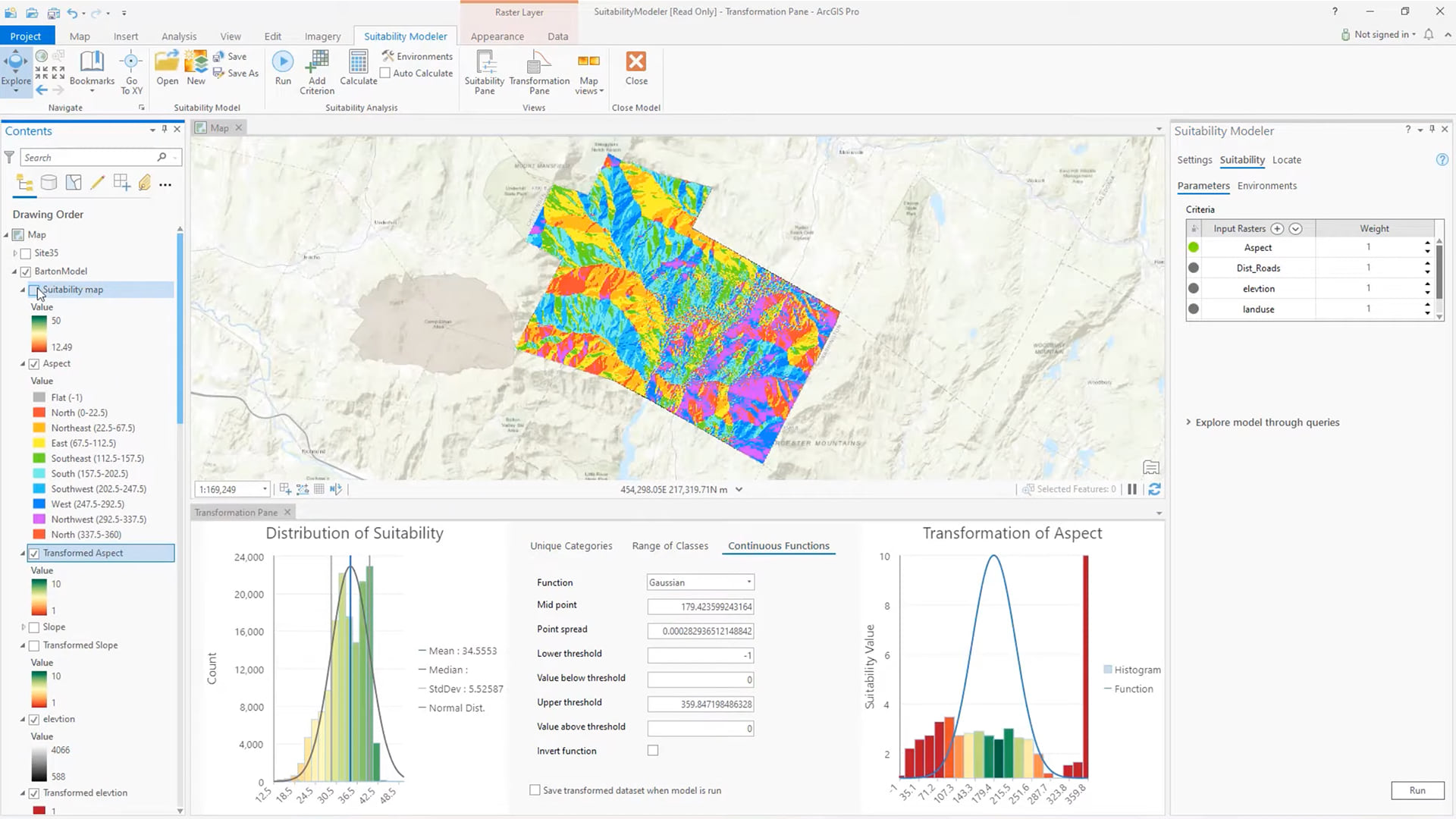 Graphics layers
You can now add graphics layers to maps (and map frames in layouts) to expand the flexibility and usability of maps. Graphics layers are composed of graphic elements, such as points, lines, text, and pictures. You can manually create graphic elements, modify existing graphic elements, or convert feature labels into a graphics layer to adjust the placement of text.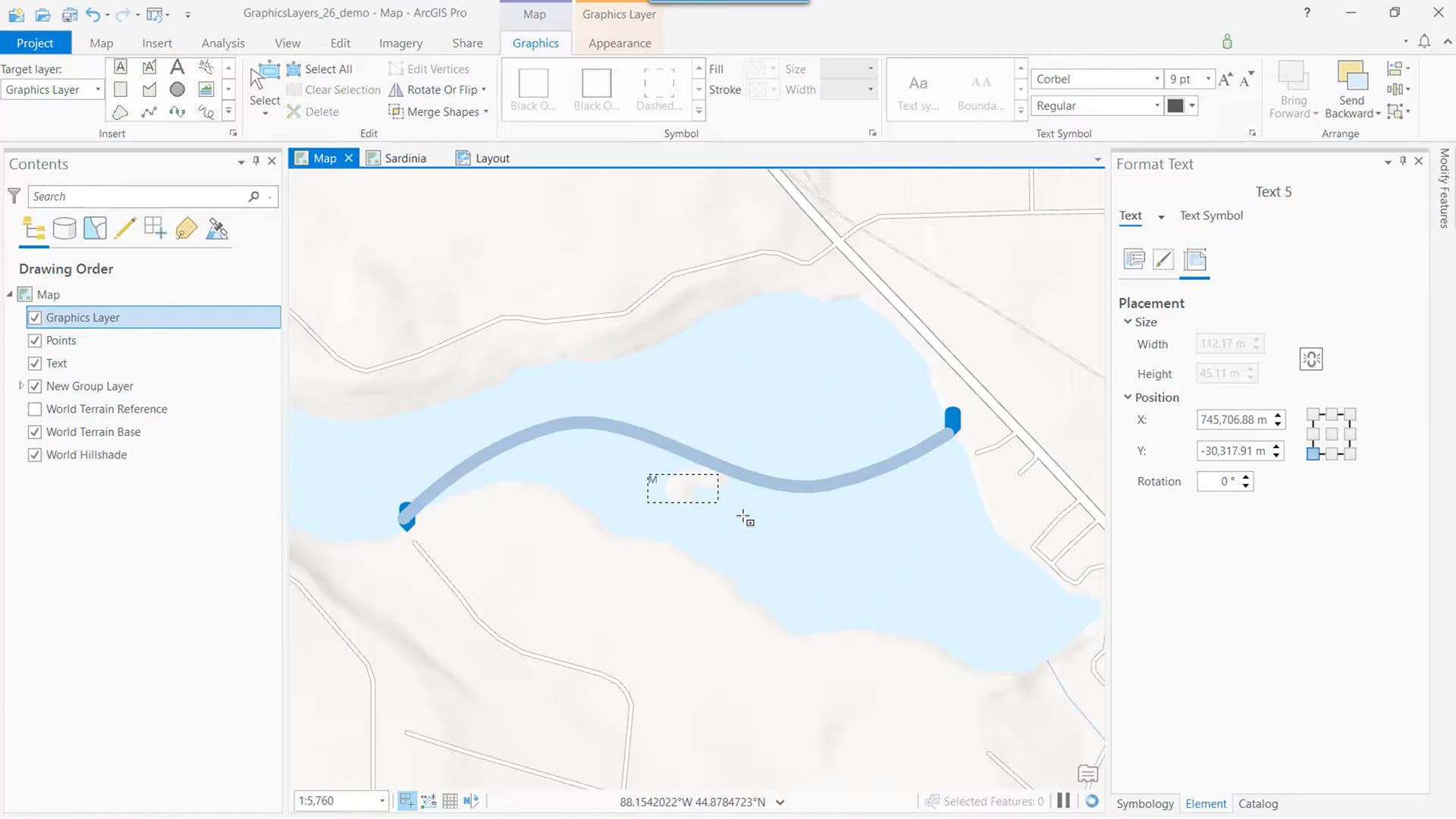 Parcel adjustment
The parcel fabric now supports the least-squares adjustments of parcel data. Run a least-squares adjustment on your parcels when you want to do the following:
Check dimensions for mistakes when entering parcels from new records.
Evaluate how the addition of new parcels affects the spatial accuracy in the parcel fabric.
Update parcel fabric point coordinates to be more spatially accurate.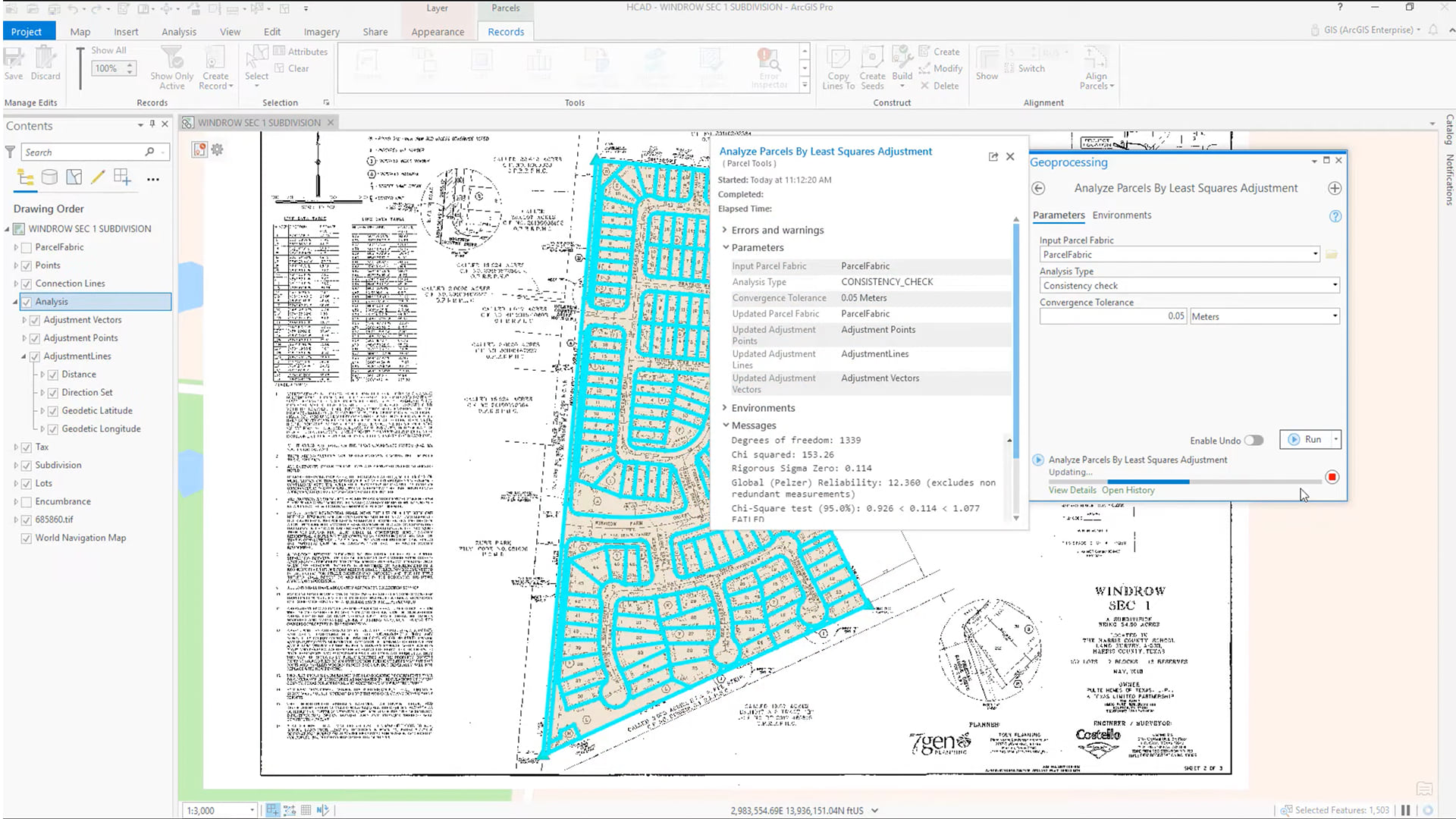 GeoAnalytics Desktop
Big data connections, now available within GeoAnalytics Desktop Tools and ArcGIS Pro. Support for big data connections in GeoAnalytics Desktop tools allows you to aggregate and analyze collections of files as a single dataset, saving significant time in data preparation and analysis. In addition, you can flexibly define time and geometry formats across multiple fields and formats. This is especially useful for observational data that's collected over a long time. Examples include monthly shipping data collected in CSVs, or measurement data collected across multiple shapefiles. Click here to walk through an example.
ArcGIS Pro 2.6 introduces a variety of new tools and features for our users to experiment with. Create your next project in ArcGIS Pro today.