The 2023 Esri User Conference is right around the corner! Join us at the Convention Center in San Diego, California, to learn about emerging ArcGIS technology, hear inspiring stories, and learn about all things GIS. We have curated a focused agenda for ArcGIS Production Mapping and ArcGIS Defense Mapping (topographic mapping extensions for ArcGIS) to help you plan for the event.
Esri's powerful map and data production tools
ArcGIS Production Mapping and ArcGIS Defense Mapping provide national, civilian, and defense content producers the ability to efficiently produce, manage, and share authoritative data and maps across ArcGIS. The two products allow these content producers to collaborate and engage with their users easily.
Our key messages for these products at the 2023 User Conference are:
Modernize your topographic production by transitioning from ArcMap to ArcGIS Pro
Grow enterprise mapping by deploying self-service map production system (MPS) and the new topographic production service
Automate your data and map production processes
Agenda
Sessions
Tuesday, July 11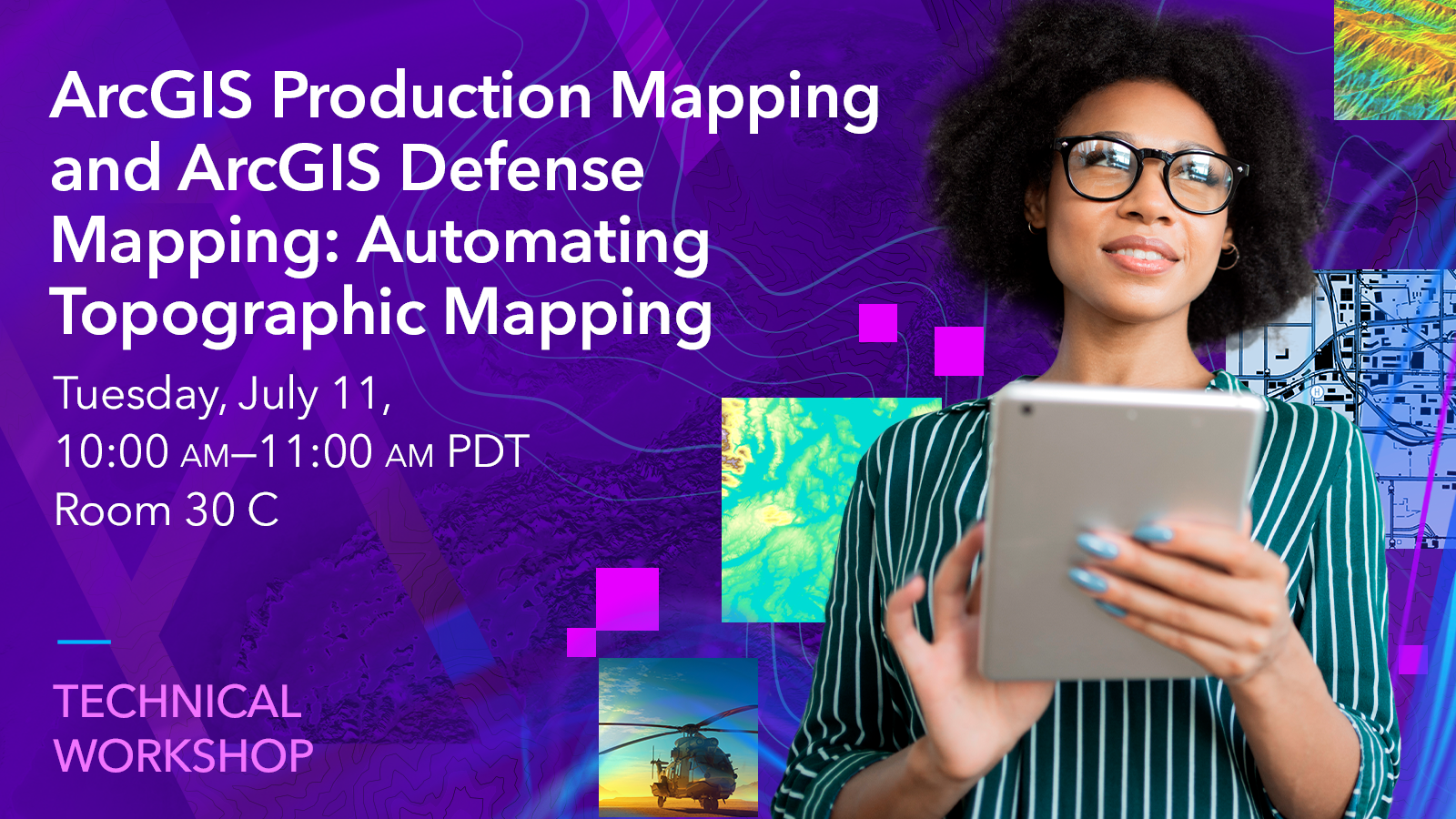 ArcGIS Production Mapping and ArcGIS Defense Mapping: Automating Topographic Mapping
Tuesday, Jul 11 | 10:00 AM – 11:00 AM PDT 
This session will discuss topographic data management, map production tools, and workflows to automate the creation of multi-scale data and cartographic products from a single best-scale database. Learn how the latest developments in ArcGIS Production Mapping and ArcGIS Defense Mapping standardize and streamline data management and cartographic production tasks.
Wednesday, July 12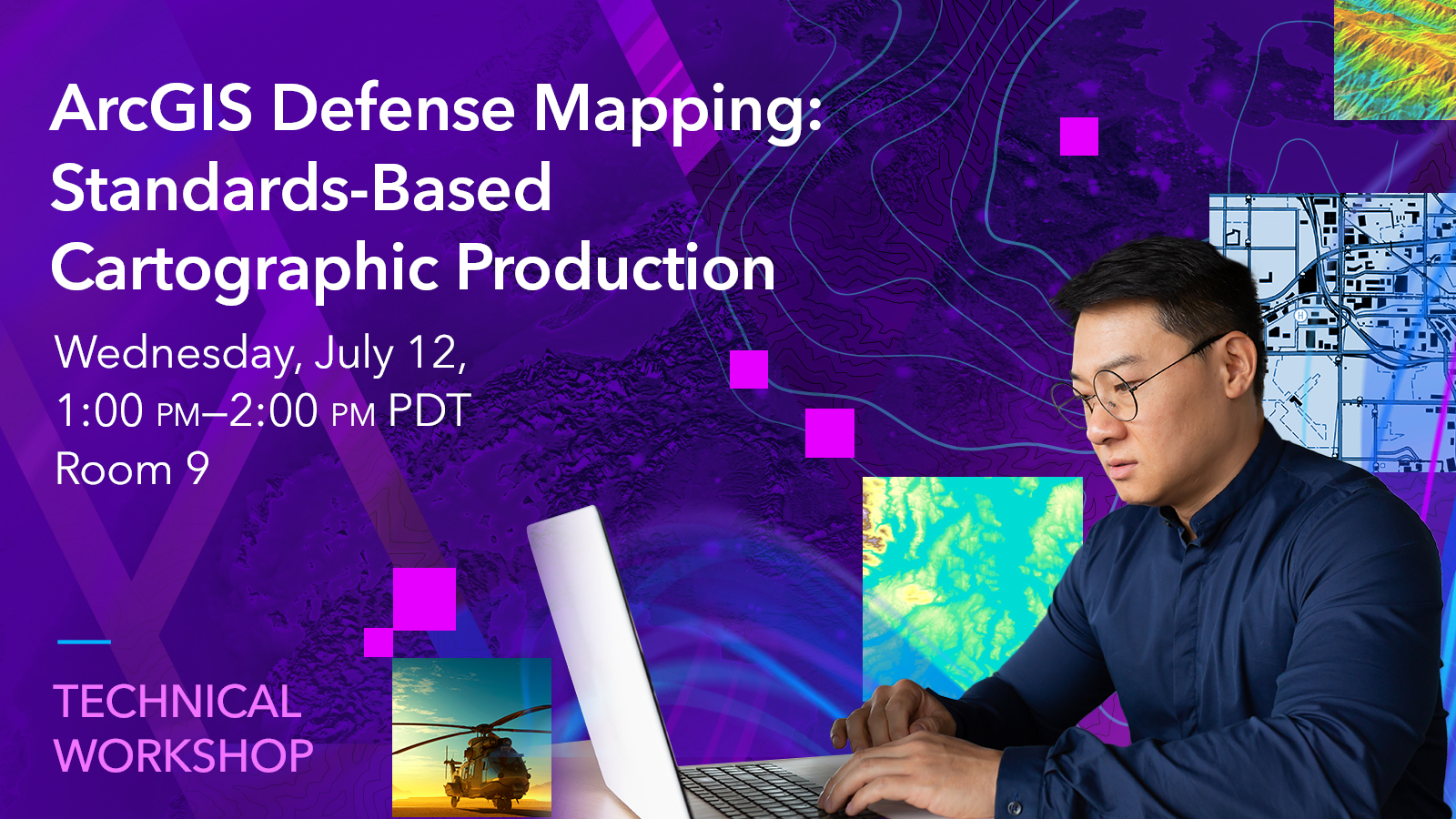 ArcGIS Defense Mapping: Standards-Based Cartographic Production 
Wednesday, Jul 12 | 1:00 PM – 2:00 PM PDT 
In this session, we will discuss the cartographic production process for the defense-based standard topographic map products (TM & MTM) delivered with ArcGIS Defense Mapping. We will discuss how these map products were migrated from ArcMap and the process for creating these specification-driven map products. Learn how the latest release of ArcGIS Defense Mapping can standardize and streamline cartographic production tasks using ArcGIS Pro.
Thursday, July 13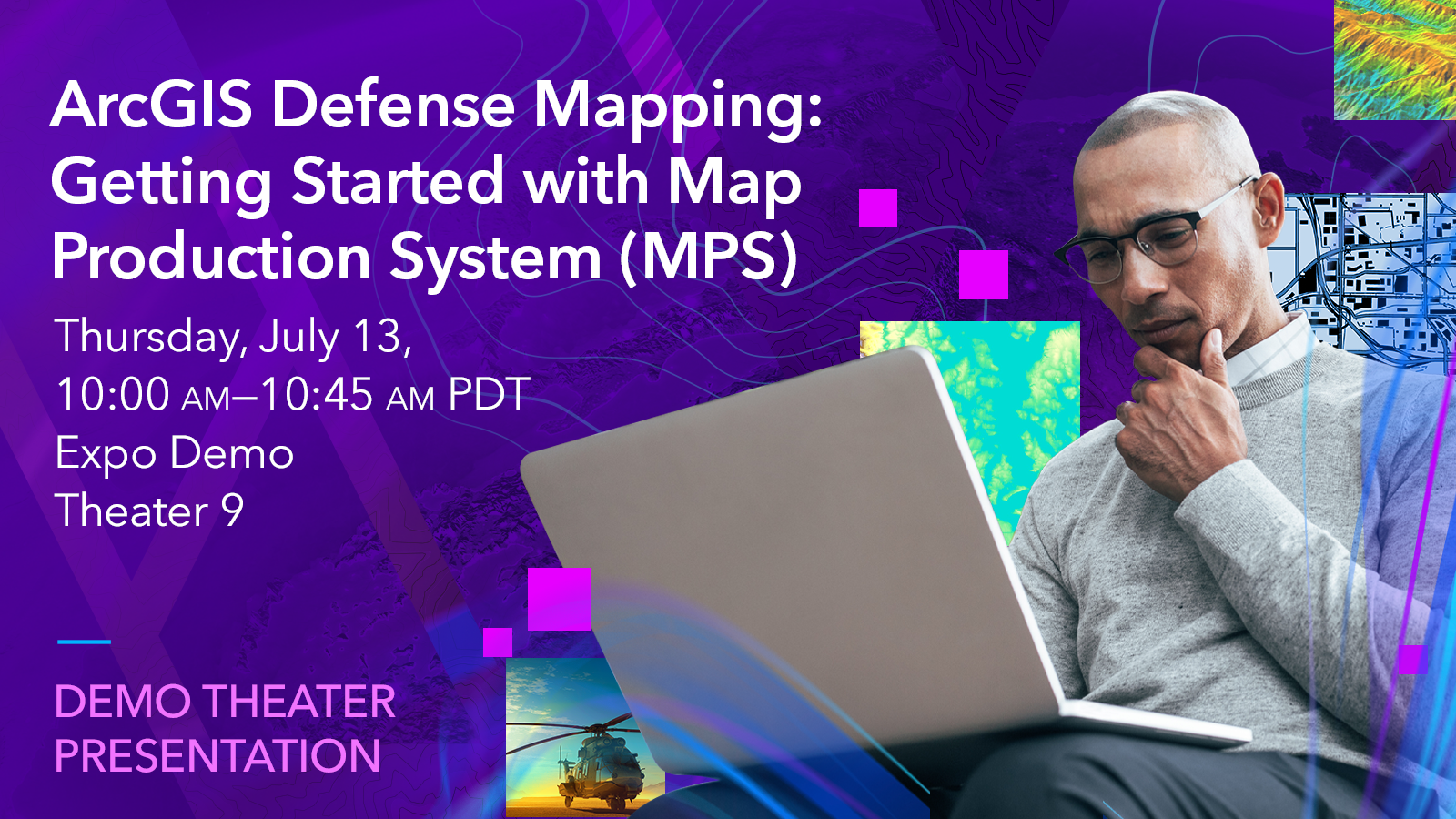 ArcGIS Defense Mapping: Getting Started with Map Production System (MPS) 
Thursday, Jul 13 | 10:00 AM – 10:45 AM PDT 
In this session we will discuss the Map Production System (MPS) web application from ArcGIS Defense Mapping Enterprise. Learn how to deploy the Topographic Production services needed to use the MPS Application for Defense Mapping map products (MTM, TM, JOG) and the deployment of the MPS portal application. We will also go through the functionality of the MPS application and the configuration of the products.
Meet us at the expo
Visit the Mapping and Statistics showcase area (marked with an orange location pin – booth #401) to meet with knowledgeable ArcGIS Production Mapping product experts. For those interested in ArcGIS Defense Mapping, head over to the Defense and Intelligence Public Safety area (indicated by a green location pin – booth #2101) to engage with the ArcGIS Defense Mapping product experts.
Tuesday, July 11th 9 AM—6 PM (Pacific Time)
Wednesday, July 12th 9 AM—6 PM (Pacific Time)
Thursday, July 13th 9 AM—4 PM (Pacific Time)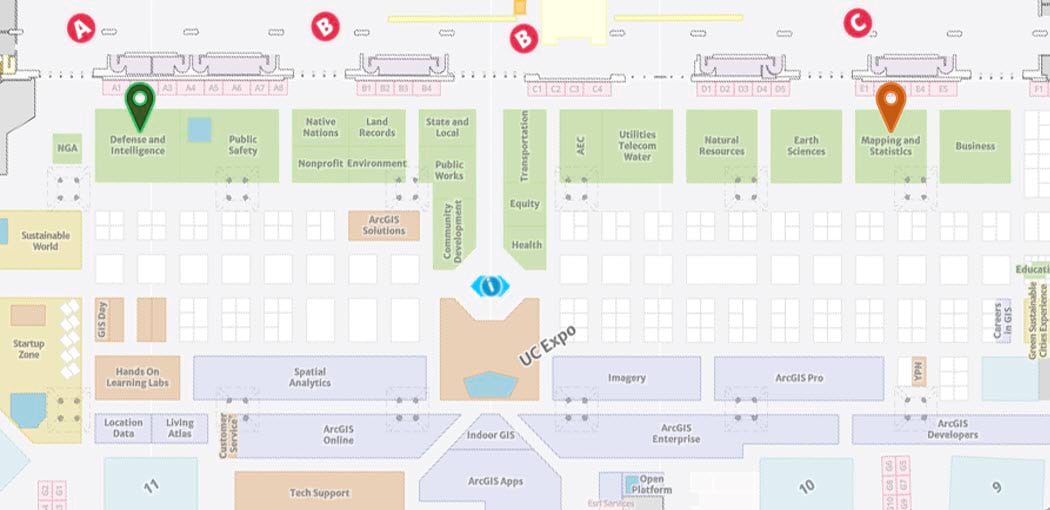 Don't miss the chance to connect with these subject matter experts and gain exclusive insights into Esri's products, capabilities, and workflows. We look forward to seeing you at the event!
We're excited to share that the UC Event Map is now available to help attendees navigate the convention center and view the locations of sessions and activities during the conference. You can also generate a route and directions between two locations and view the estimated travel time. Use this map along with the Detailed Agenda and My Schedule for planning your UC experience. The map will also be available in the Esri Events App and at directory kiosks on site in the convention center. Learn more.
Resources
Dive into these resources to learn more about ArcGIS Production Mapping and ArcGIS Defense Mapping.