As part of the ArcGIS 2021 Q2 release, ArcGIS Pro enables users to expand their GIS abilities with all-new capabilities, performance, and productivity improvements. Below, catch up on all the new features within ArcGIS Pro through our What's New in ArcGIS Pro 2.8  video, or please continue reading to discover just a few highlights of this recent update. To discover all the new improvements within ArcGIS Pro, feel free to click the link here for the latest.
Command Search
Command search helps you find commands and tools by name or keyword. When you find the command you want, you can execute it directly from the search result.
Commands are enabled in the search results if they can be immediately executed in the current software state. For example, the Bar Chart command is enabled when a map layer is selected in the Contents pane.
When you click in the command search box or press the keyboard shortcut Alt+Q, a list of recently used and suggested commands appears. The list of recent commands is updated as you execute new commands from the command search drop-down list.
You can also open help topics related to your search. Topics open in the online or offline help system according to your help source setting; however, the offline help system must be installed on your computer.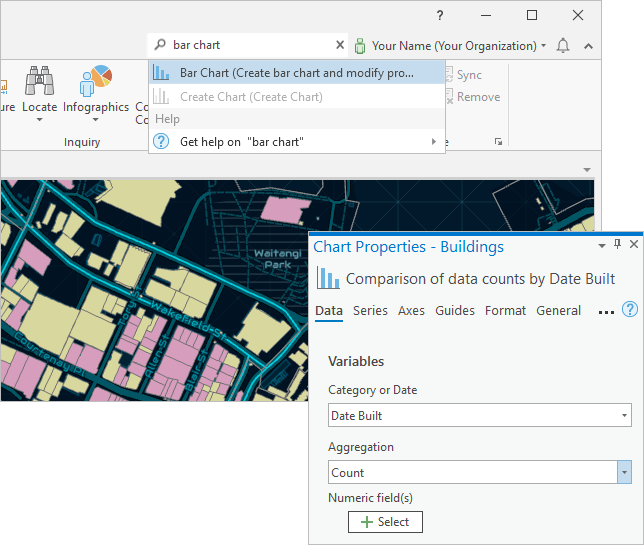 Export Layers As Accessible PDF Files
You can now export layouts as accessible .pdf files. These files can include descriptive alt text for map frames, chart frames, and pictures that can be read by screen readers to enhance comprehension of your layout.
When you compose your layout, you can specify alt text in the Element pane for an element, such as a map frame. When you export the layout as a PDF file, check the box to include accessibility tags in the Export Layout pane. Screen readers will be able to read the alt text in the exported file.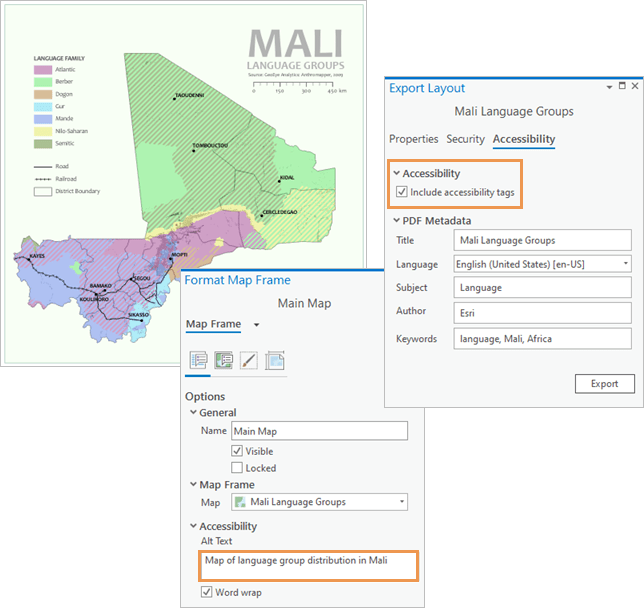 Selection Symbol For Polygon Features
A new selection option allows you to use a fill color or hatch pattern for selected polygon features on your map. The default outline symbol can make it hard to interpret the selection set when unselected features are surrounded by selected ones or when you are zoomed in to large map scales. A solid fill or hatch pattern makes the selection set easy to see.
You can choose any available fill color from the drop-down color palette or mix a custom color, with or without transparency. Hatch lines are drawn with the same selection color that is used for the polygon outlines. Learn more about the many ArcGIS Pro options you can set.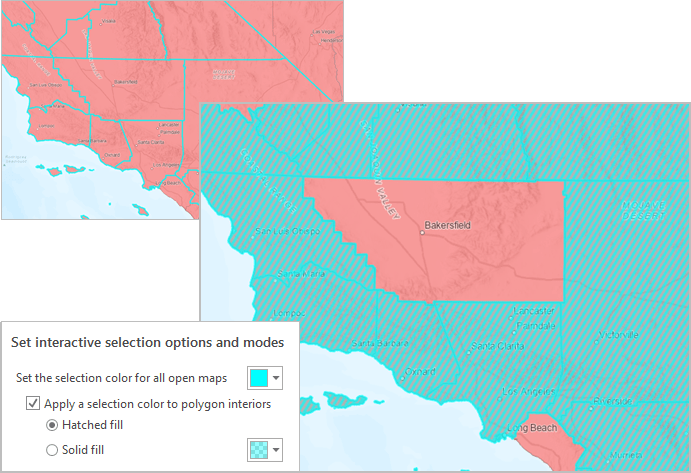 ArcGIS Pro has a number of new and exciting capabilities for users to explore. Be sure to watch the What's New in ArcGIS Pro 2.8 video above, or catch up with all the new ArcGIS Pro 2.8 updates on our website at your leisure. Also, along with a number of new capabilities, the latest release comes with a number of new performance and productivity enhancements. A short list of operations where you may see better performance includes the following:
Opening and saving projects
Opening maps with collapsed layers
Loading and drawing 3D objects
Label placement and label halo drawing
Opening tables
Execution of numerous geoprocessing tools and raster functions
Loading geoprocessing tool input data
Loading and working with 

ModelBuilder

 models
Rendering of feature layers that use data from enterprise geodatabases or feature services
Drawing of vector tile maps
A brief sample of productivity enhancements includes the following:
You can search for user interface commands and execute them directly from search results.
New keyboard shortcuts are available for 

ModelBuilder

 and other application areas.
You can copy geoprocessing commands as 

Python

 snippets without running the tool.
Banner messages appear on geoprocessing tools when alternative tools may give faster or better results.
The Geoprocessing History messages window has been redesigned for greater clarity.
You can capture images of maps and layouts to the clipboard for use in other applications.
You can duplicate label classes with a context menu command.
You can duplicate selected layout elements by pressing the 

Ctrl

 key and dragging.
You can control how new rows are added to tables.
You can customize new symbols quickly using the <all other values> symbol as a template.
Not Yet An ArcGIS Pro User?
That's fine, feel free to try ArcGIS Pro for yourself through our ArcGIS Pro Trial below.